40 of the Most Magical Gifts That Any Potterhead Would Love
Do you have a friend who is a little slightly obsessed with Harry Potter? Or perhaps a family member who has confessed to re-watching the movies multiple times. It could also be you, a certified Potterhead who is always on the lookout to find magical and wizardry things to add to your growing collectibles.
While the acceptance letter from Hogwarts might still be pending, we rounded up the next best things and tons of Harry Potter gifts that any fan would love.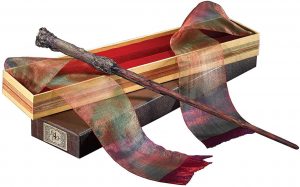 First on the list is what every wizard should have. This wand from the Noble Collection store is a recreation of the wand used in the Harry Potter film. The wand is meticulously made from high-quality materials and comes complete with a replica of the Ollivanders wand box. Overall, a great gift for Harry Potter fans.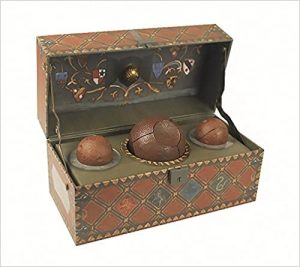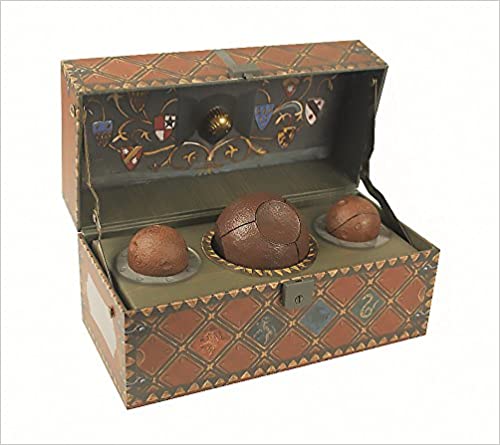 This one-of-a-kind deluxe gift will surely be treasured by any movie fanatic. The Harry Potter Quidditch Set includes one Quaffle, two Bludgers, and a non-removable Snitch. It comes in a trunk and makes a splendid addition to anyone's Harry Potter collection.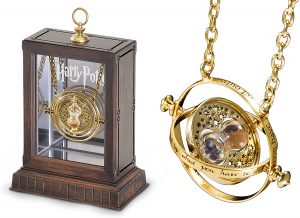 The Time Turner necklace was famously worn by everyone's favorite half-Muggle and Noble Collection was able to replicate it. Although you can't really go back in time with this necklace just like how Harry and Hermione did, it's such a special novelty item that any Harry Potter fan would be excited to keep. This intricate piece is plated in 24K gold and comes with a beautiful display box.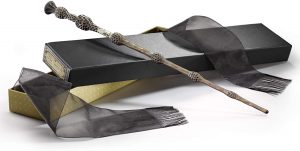 If you already have Harry's wand, why not get the Elder wand too? While wizards can only have one wand, the same isn't applied to muggles. This is the exact replica of the props used and comes with a collectors box. It's not going to give anyone superpowers but would surely make a great addition to someone's collection.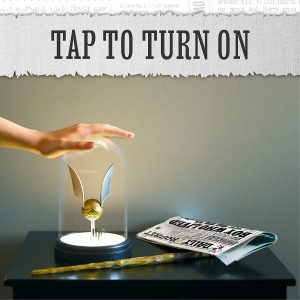 The Golden Snitch is hard to catch, but this quidditch memorabilia will make any fan a winner. This lamp is ideal to put on the bedside table for those nights of rereading the Harry Potter novels or could serve as an interesting table piece. This makes a great birthday gift or holiday present for Harry Potter lovers.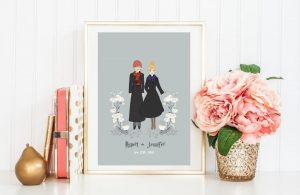 This personalized wizard illustration could be a great addition to any room. Perfect to give to Harry Potter fans who just recently married or as a birthday gift to that friend who always wanted to be a wizard. Plus, you can include their pets in the digital illustration which makes it a little more personal.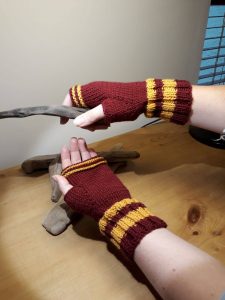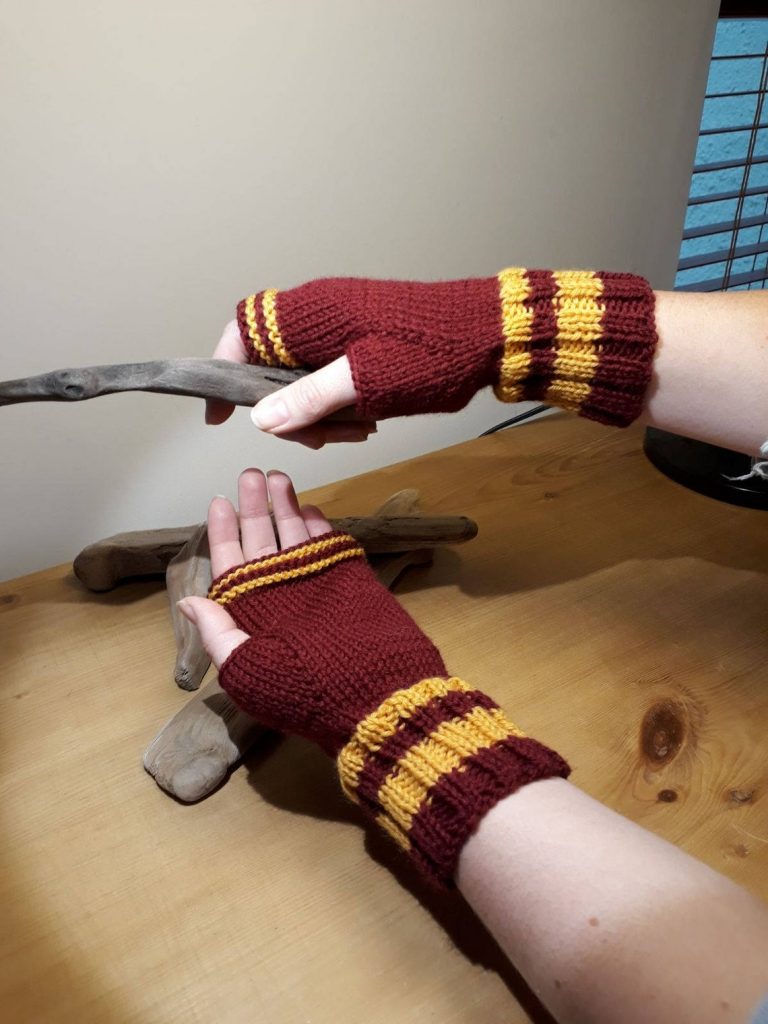 This super cozy fingerless hand warmer is a great gift during the holiday season. Customers have the option to choose from different sizes and different Hogwarts House. It's good at keeping hands snug and comfy while still being able to do minor tasks like using the phone or typing.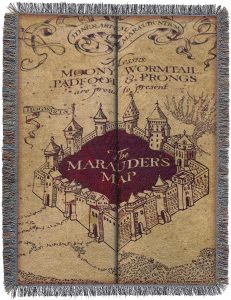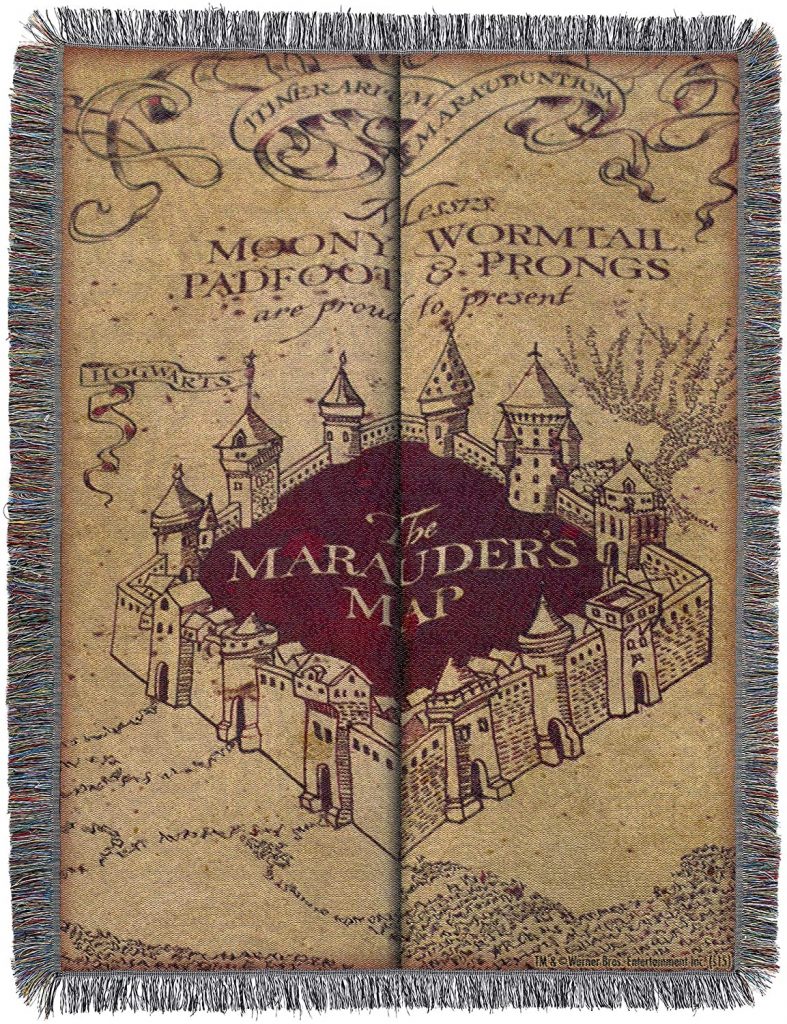 Do you solemnly swear that you're a Harry Potter fan? Then this Marauder's Map throw blanket is something you should have. It's made from 100% polyester with fringe detailing on the edges. Perfect for those chilly nights that call for a cup of chocolate drink and perhaps another marathon of the Harry Potter movie.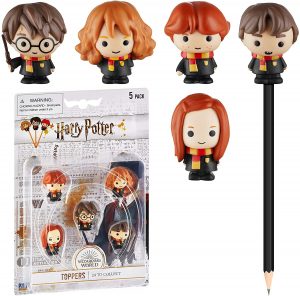 Add a little quirk to boring pencils with these Potter-inspired pencil toppers. The box comes with 12 of the most famous Harry Potter characters, so they will never run out of options. They can either use it or keep it boxed as part of their collection.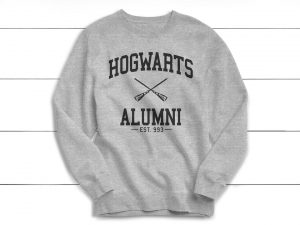 This sweatshirt will make any Potterhead feeling like an alumnus – even if they're not. This Harry Potter Hogwarts alumni sweatshirt comes in different colors and sizes so customers have different variations to choose from. A staple must-have in any Harry Potter fan's closet and an upgrade from the typical statement T-shirt.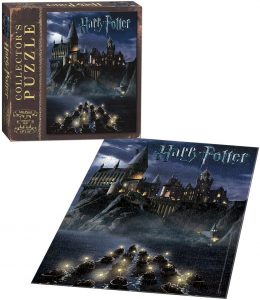 People of all ages will love this 550-piece puzzle. This would be a wholesome gift to families with kids who want to share the magic with the little tots. Reminisce the first year of Harry and all the first-year wizards as they travel aboard boats to Hogwarts School of Witchcraft and Wizardry.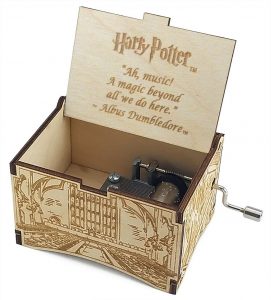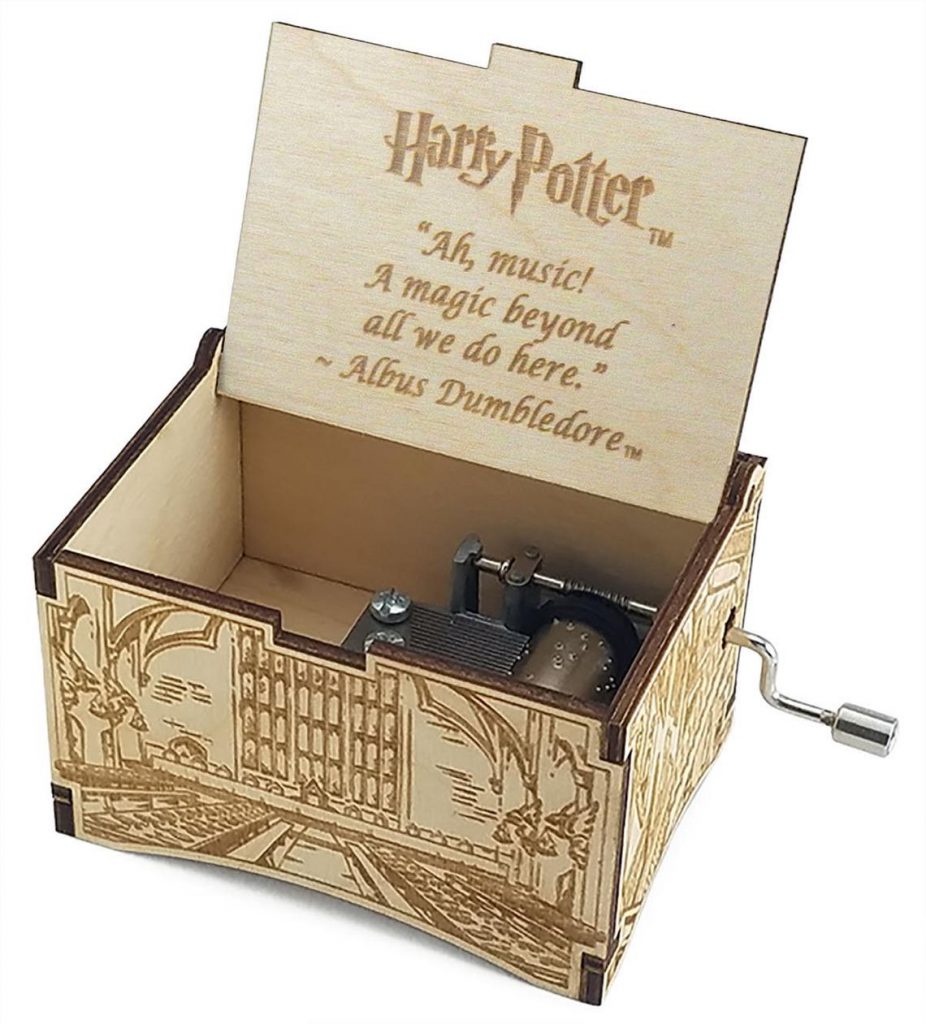 Close your eyes and be transported to the magical world of Harry Potter as you turn the crank of this mini music box. The box is made from birch wood with laser cut engraving on all panels. A personal message can also be engraved on the top or inside the musical box. Turn the crank, close your eyes and be transported to the magical Harry Potter world.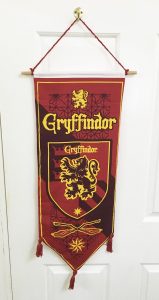 With these banners, any Potter fan will feel like they belong to any of the four houses of Hogwarts. Nevermind the sorting hat. Take a pick whether your friend belongs in Gryffindor, Hufflepuff, Ravenclaw, or Slytherin. Perfect to hang in a child's bedroom or for a teenager who can't get over Harry Potter just yet.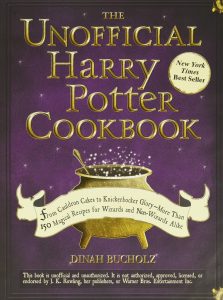 With this book on hand, you'll never have to wonder what dining in the Great Hall feels like. The cookbook has more than 150 easy-to-follow recipes including Harry's favorite dessert – a treacle tart. Pick from entrees, lunches, or snacks and add a little bit of magic to your ordinary Muggle meals.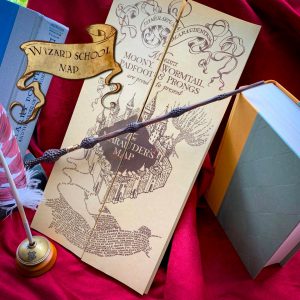 Surprise your Potterhead friend or family with this convincing acceptance letter from Hogwarts. You can personalize it even more and have their names and address written on the parchment paper, enclosed in a wax-sealed envelope. Unfortunately, it doesn't come with an owl delivery service. Nonetheless a solid gift for a loyal Potter fan.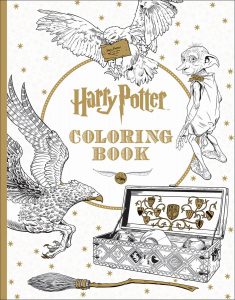 Who said that coloring books are just for kids? Well, certainly not the case when you have in your hands a Harry Potter coloring book. This is a perfect pastime for adults and kids of all ages – whether they know Ron's hair color or not. Every page is an illustration of beloved characters and memorable events that only true fans would know.

For the female friend or family member who is both a sports and Quidditch fan. The set is made from cotton and modal, making it the ideal to wear when you just want to lounge around the house. It's designed with brooms, a snitch, and a Gryffindor logo that'll help any Muggle sleep soundly at night.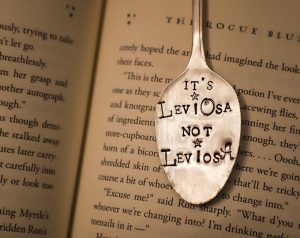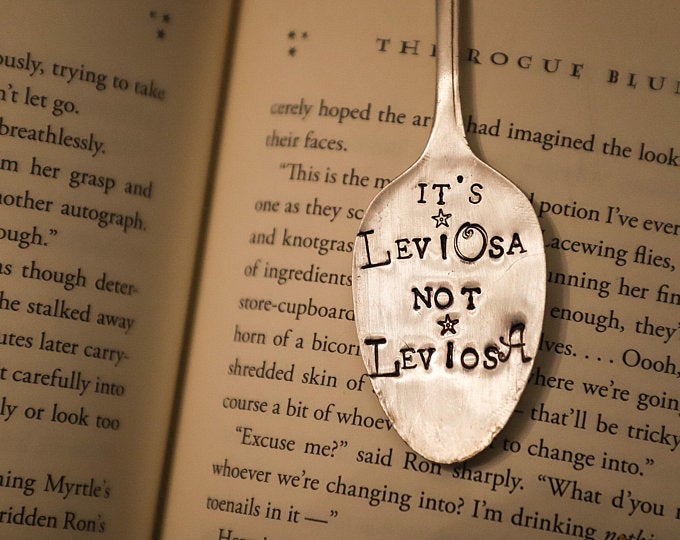 Who could forget that infamous line from Hermione? Well, apart from Ron Weasley. This small novelty gift would make any fans of Ron or Hermione happy. Each spoon is flattened and stamped letter by letter so there will be slight differences in products. But that's what makes it even more special since one isn't exactly like the other.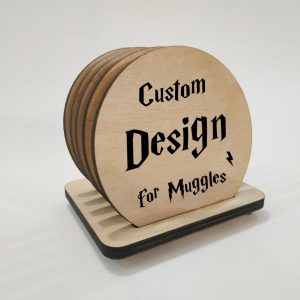 This would be a fun housewarming gift for that newlywed Potter fanatic couple. There are five wooden coasters per set and each piece is engraved with Hogwarts house logos. Customers can also choose between three wood color finishes. A coaster stand also comes free if you order the set. The package comes wrapped in brown paper, secured with a twine string, and sealed with a wax stamp.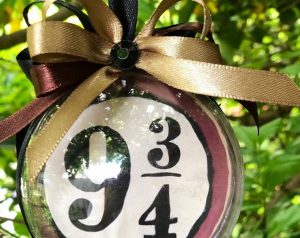 There's something about personalized Christmas ornaments that make any person warm and fuzzy inside. Add this Harry Potter-inspired bauble to any fan's collection. Hang this handmade stunner on the Christmas tree or even on your dresser to get a nice view of it all year round.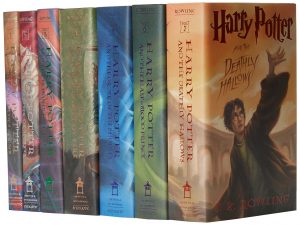 Any certified Harry Potter fan should have a complete set of books, if they don't then this is your opportunity to give them something that they'll never forget. This comes with the seven hardcover books written by J.K. Rowling. Indulge in fans' favorites like Sorcerer's Stone, Prisoner of Azkaban and Deathly Hallows. All the books are kept inside a collectible trunk-like box secured enclosed with a privacy lock. This gift is definitely the kind of memorabilia that they could eventually pass down to their children and future generations so that the magic of Harry Potter lives on.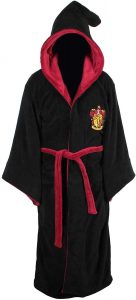 Any fanatic would fit right into the wizarding world with these fleece hooded Hogwarts inspired bathrobe. Made from 100% polyester and boasts that soft hotel quality feels, this will make any Potterhead swoon with joy. Each robe comes with an embroidered patch that tells which Hogwarts house the person wearing it belongs to. So, do you think your friend is a Gryffindor or a Slytherin?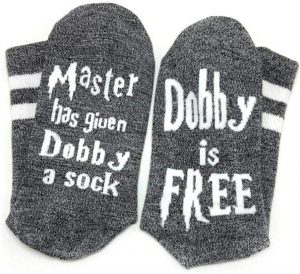 Who can forget that moment when Harry freed Dobby by giving him a sock? These cotton Dobby inspired novelty socks are perfect stocking fillers during the holidays. There's also the funny and infamous line from the movie sewn at the bottom of the sock.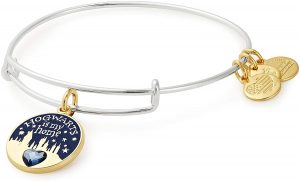 This beautiful bracelet by Alex and Ani would be a sure hit to the woman in your life who has forever aspired to go to Hogwarts. It comes in silver and gold tones so it can match any piece of jewelry. A big round charm serves as the statement piece and is made even more pretty with the addition of three small gold charms.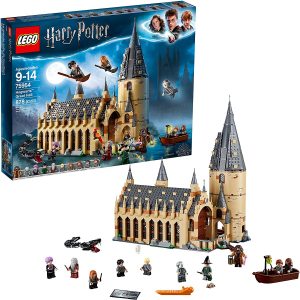 Summon the fun with this collectible Lego Great Hall set that's perfect for boys and girls. It comes with 878 Lego bricks and 10 fantasy figures. Help them recreate the iconic four-level Great Hall or do a sorting house ceremony just like in the film. This will be an enjoyable and magical activity for adults and kids who are certified fans.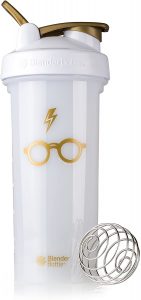 Upgrade their tumblers with these ones made by Blender Bottle. This tumbler comes with a blender wire whisk inside, ideal for making protein shakes and smoothies. Made from sleek and durable materials, this tumbler also features a SproutGuard flip cap to keep germs at bay. Match their personality with any of the 12 designs to choose from.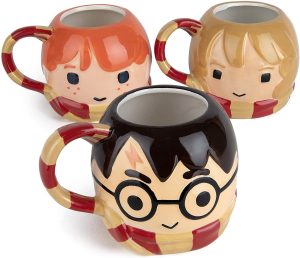 Complete the famous wizard trio with these adorable ceramic Chibi mugs made to mimic Harry, Ron, and Hermione. They would be a cute display item but also make a quirky kitchen addition to any home. Use it for coffees, teas, hot chocolate, soup, and many more. A sweet gift that would make even the grumpiest Lord smile.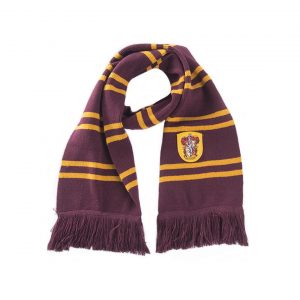 Keep the Gryffindor hopeful warm and cozy with this winter warmer scarf. Made from 100% polyester, this would fit kids and adults just fine. Use it for those chilly months or even when time calls to dress up like a wizard. This is a foolproof gift to give to a family or a friend.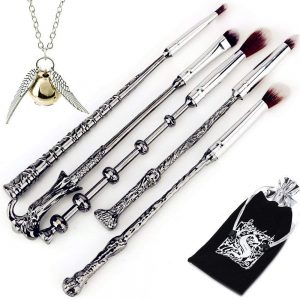 Make that someone special smile when they receive this cosmetic brush set made to look like wizard wands. It comes with five different brushes for specific makeup needs. Made from detailed metal handles and fiber soft bristles to make blending seamless and easy. Once received, it's sure to be a staple in the makeup kit.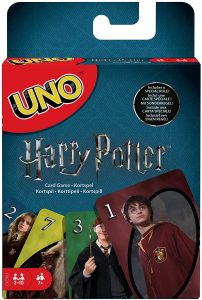 Now you can play UNO with your friends with the company of Harry and his crew. The mechanics of the game is still the same but made even more fun with the cards that feature your favorite Harry Potter characters. Similar to the basic UNO game, the first person or team to get rid of their cards wins the game.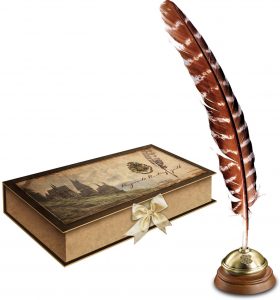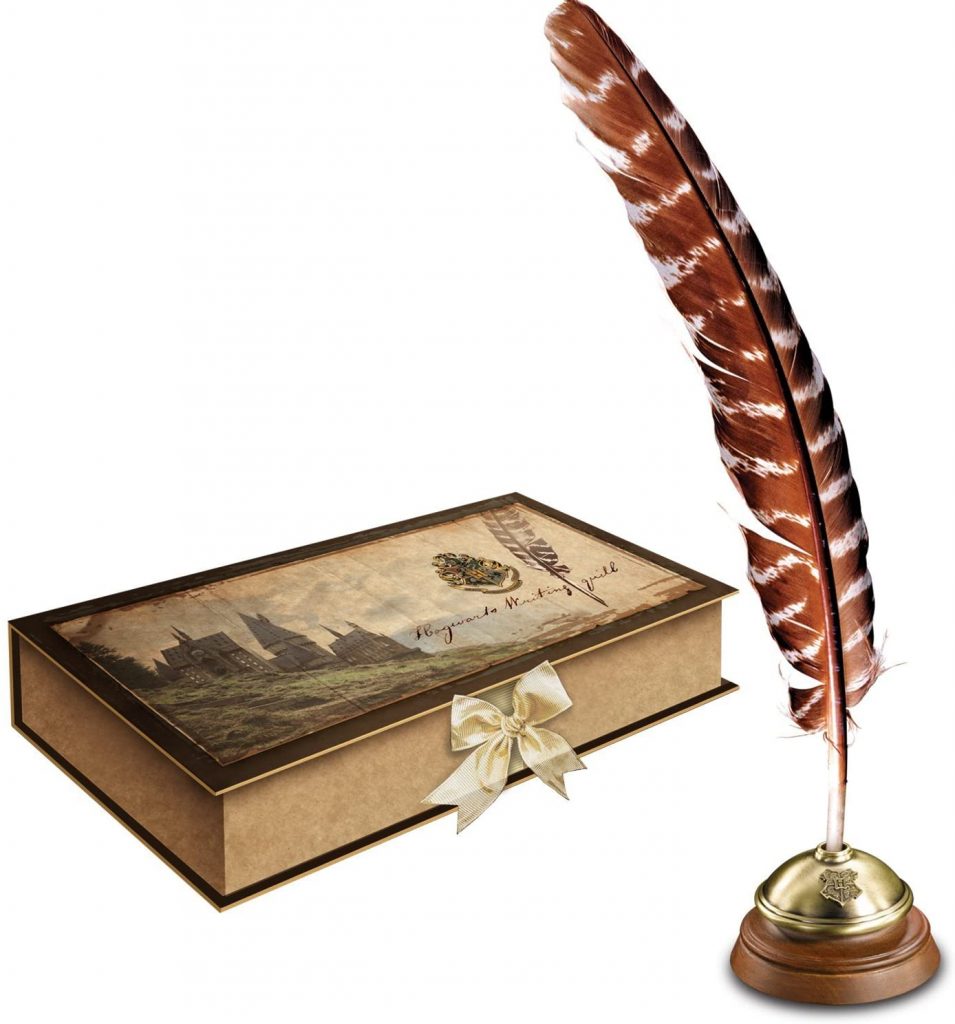 Live the life of a real Hogwarts student with this writing quill and stand by the Noble Collection. The set comes with a quill, ink, and stand and stored in a Harry Potter collector's box. That friend or family member might soon bid farewell to their pens and use this set instead.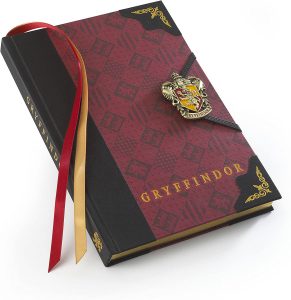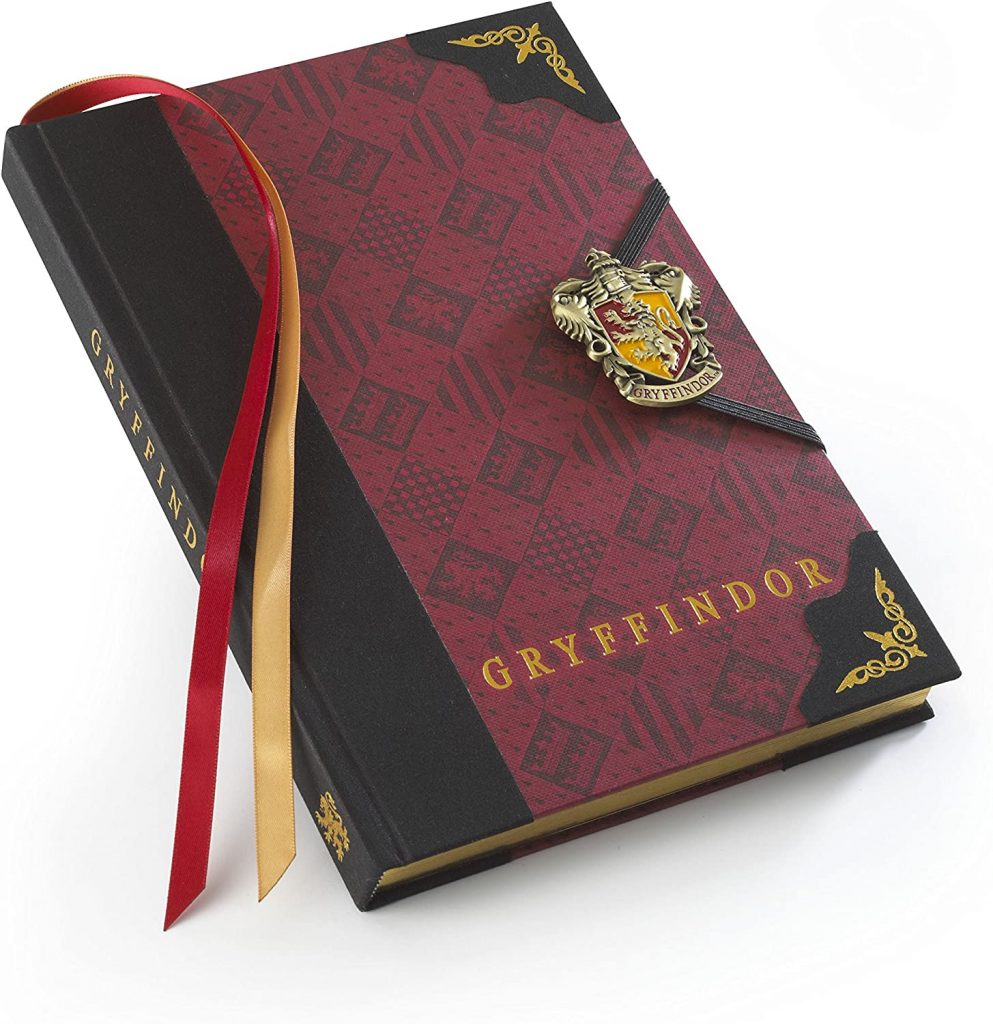 What's a better pair with the quill set than this exclusive Gryffindor journal, also by the Noble Collection. The die-cast metal crest of the Gryffindor house on the cover adds a really nice touch and serves as the journal's lock. Each page bears the Gryffindor logo and is a sure way to make any fan feel like they're attending a wizarding class while they write their notes.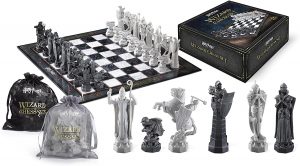 Challenge your loved ones or friends to a chess match with this licensed Harry Potter set. It includes 32 chess pieces, a board, and two drawstring pouches for storage. Each chess piece is made to replicate the Wizard Chess set seen in the movie "Harry Potter and the Sorcerer's Stone". This could be a thoughtful gift for yourself or any Potter enthusiast who happens to love board games.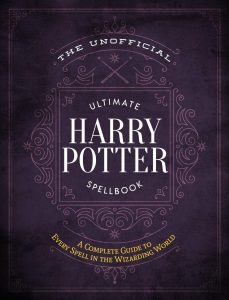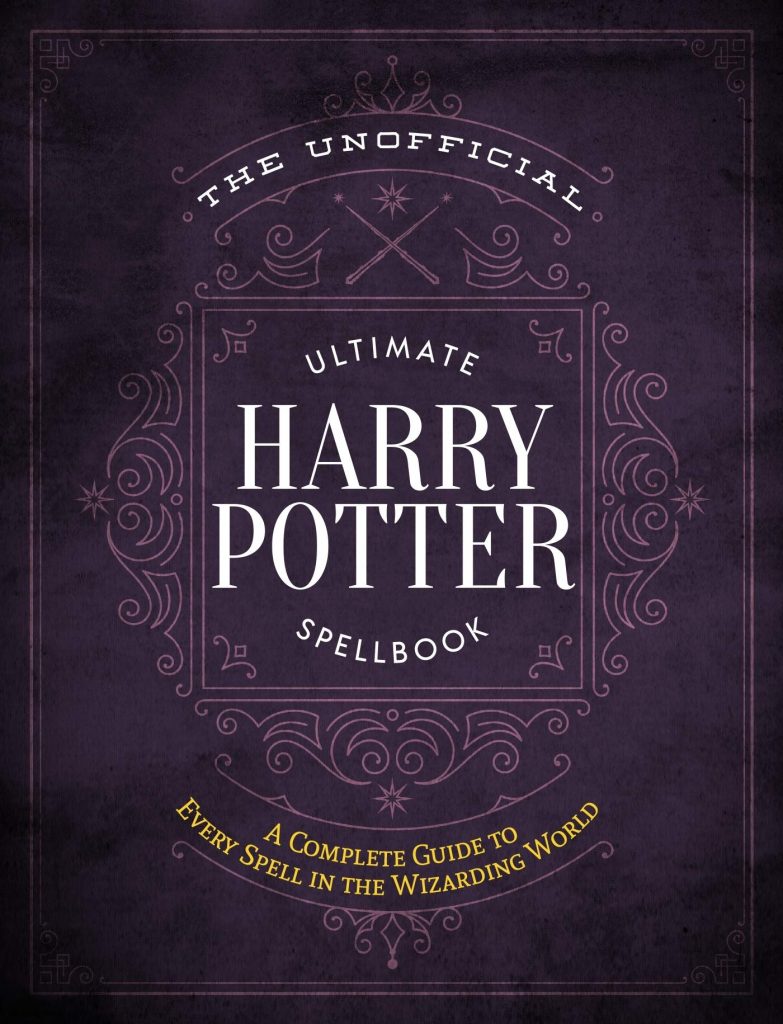 Aside from "Expecto Patronum" what other magic spell do you know of? Well, this elaborate Harry Potter spellbook will guide any Potterhead to become the best wizards they can be. The book brings together all the spells, each with a reference to what it's for. Impress friends and family by chanting spells and magic that they probably never heard from the movie.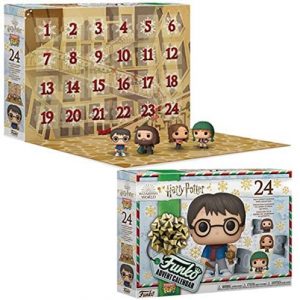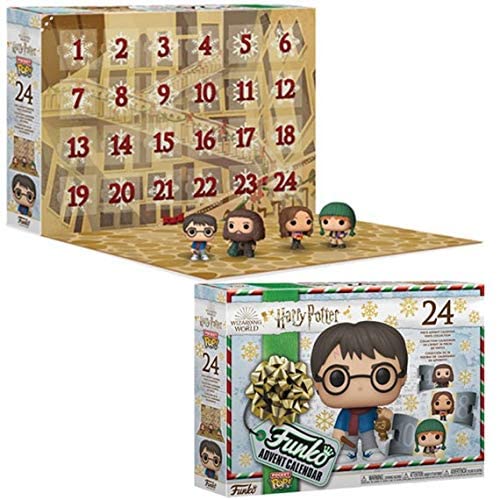 A superb holiday gift for the Harry Potter lover in your life. Make each day magical every time they open one tiny door for a surprise miniature Funko. The cool thing about this is you're kept guessing what you'll get next. The box has 24 pocket Pops! Vinyl ready to join the collection.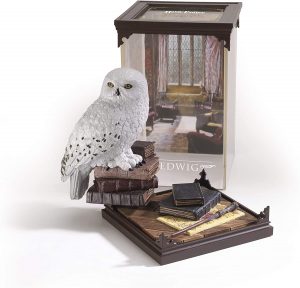 Add a little bit of magic to your desk with this Hedwig decor collectible. It's delicately detailed and painted to resemble the most loved owl in the novel. This high-quality statue will surely please any collector and would be a great addition to any room or office.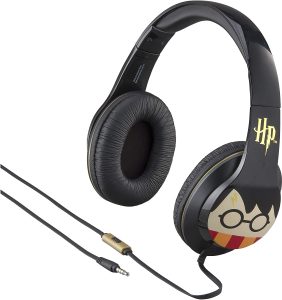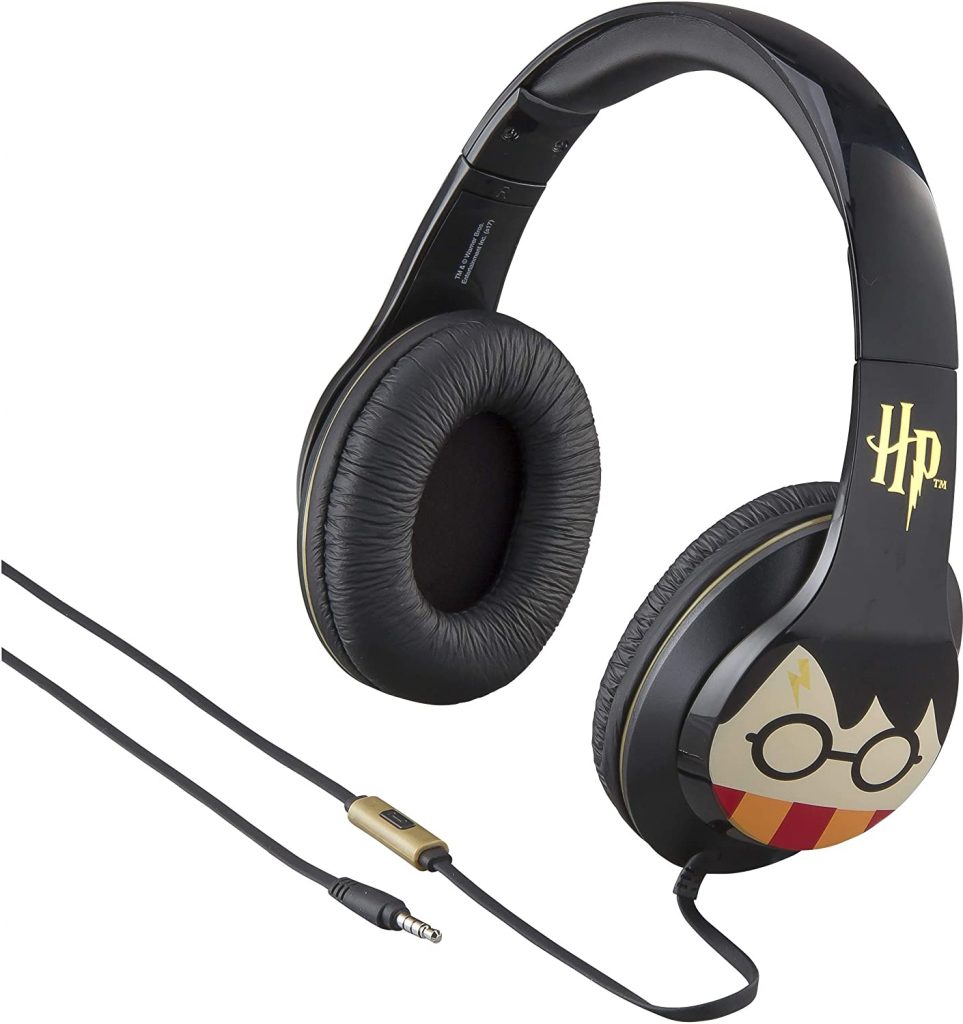 From the makers of iHome, they present these cool Harry Potter designed headphones that any kid or kid-at-heart would love to have. It offers a sleek and contemporary design that would suit kids, teenagers, and even adults. Plug it into your phone and listen to some music or take a call using the built-in microphone.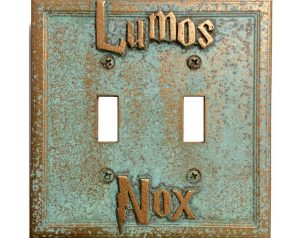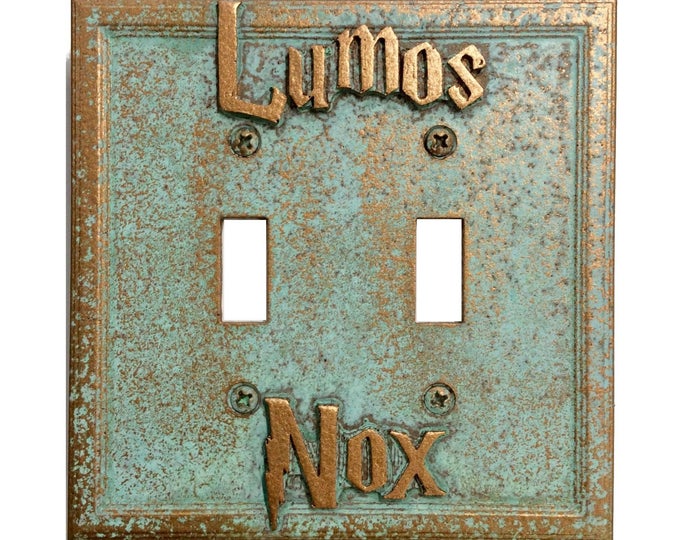 Replace those boring light switch covers with this unique and quirky Harry Potter spell inspired switch cover. It's made from resin and finished with patina paint effect to give it that aged look. This would be a special little detail to add to any Muggle home.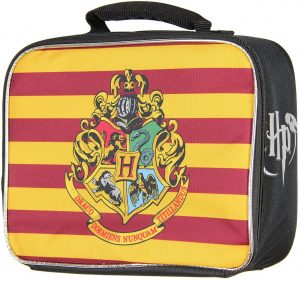 Get this whimsy but functional lunch box that any kid would love to carry to school. It features the Hogwarts crest logo and a striped background along with a zipper enclosure. This lunch bag will not only attract compliments but also keep meals warm to last until break time.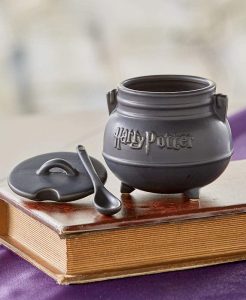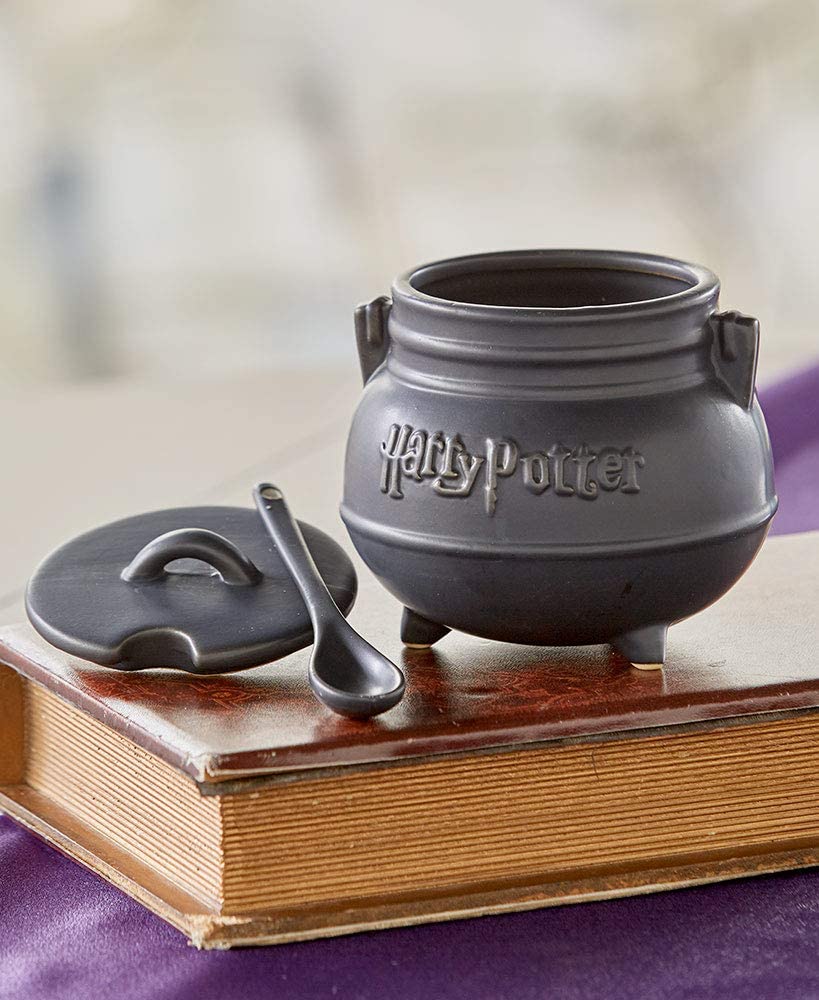 This isn't typically what to use for mixing potions but this would make a great soup mug for days. It's made from ceramic and comes with a lid and spoon to replicate the real thing. This would even make perfect serving bowls in case you want to throw a Harry Potter-themed dinner.