Leggings vs Tights: Here's the Difference
In your everyday affairs, the last thing you'd want is to wear something that's not meant to be worn in a certain way or else that's going to be the longest day of your life! With so many fashion clothing pieces that look alike, it's easy to get confused, especially when it comes to legwear. The hottest ongoing debate that we have is on whether leggings and tights are actually different from each other. 
Right off the bat, yes, they are individually distinct. Leggings are what you can wear as pants, but when it comes to tights, girl, you need at least a short dress or a skirt to cover up the rear! 
Here's a quick comparison overview on leggings vs tights:
| | | |
| --- | --- | --- |
| Feature | Leggings | Tights |
| Opaqueness | Most if not all leggings are non-see-through.  | Tights are generally sheer. |
| Fit | Leggings are moderately tight in fit.  | Tights, from its name alone, offer an extreme body-hugging fit. |
| Material | The usual fabrics used are cotton, polyester, wool spandex, faux leather, and nylon. | Manufactured using thinner materials like fishnets. |
| Length | Extends from the waist down to the calf or ankle. | Some tights are about ankle length, but the common ones extend down to the toes. |
| Appropriateness | Can be used as a standalone garment. Perfect for casual wear. | Only considered as an undergarment. Best suited for skirts or formal dresses in a professional setting. |
What Are Leggings?
No doubt, this skin-tight garment is popular for women across the globe! Leggings may be mistaken as tights if based on appearance alone, but the fabrics used would definitely tell you otherwise. This should not be sheer and should leave something in the imagination. For a comfortable experience, a pair of leggings can be worn daily and the perk is that you will never get tired of it! This fashion statement is so versatile that it can help you pull off various outfits and looks. Unfortunately, this won't be the best pick for your attire when it comes to the corporate world. 
These leg coverings come in various colors and designs that cater to almost everyone's tastes and preferences. Keep it simple with plainly-colored skin-tight leggings or show off your quirkiness by showing off a boldly patterned or abstract pair of leggings.
Due to the thicker material used for leggings, it's just fair to place a price tag that's costlier than tights. What you can get are leggings great for summer or those that can keep you warm in the winter!
Aside from the fact that these are excellent fashion statements, leggings have also evolved and dominated the market of activewear. You won't get back to wearing your old sports attire once you savor the convenience and relief whilst wearing your new workout leggings.
Different Types of Leggings and Their Uses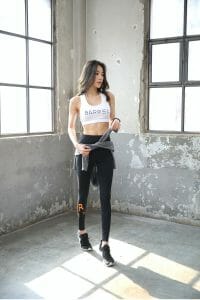 For guaranteed airflow without sacrificing convenience and comfortability, athletic leggings are made for gym junkies! These are, what most can say, the upgraded pair of leggings. For an immeasurable experience, mesh athletic leggings are the ones to go for. Your movements, no matter how vigorous, won't make you feel restricted thanks to how this piece is constructed.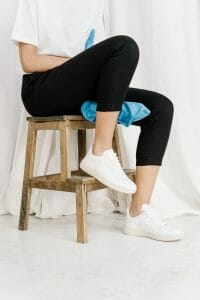 With this, you'll get a pair that doesn't go down to your ankle, because the fabric ends on the calves. A cooler sensation can be felt not only because of the material used but because half of your lower legs are exposed to the breeze. Cropped leggings intended for athletics are great for running, jogging, and other intensive workouts. Plus, this is a great choice when the day's too hot!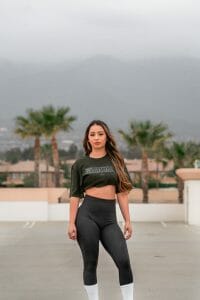 Flaunting off your curves and figure can be done better by choosing the right rise on the leggings. It's undeniably flattering if you consider throwing on a pair that has a high rise. This is the ultimate game-changer for those who love to show off their figures during a night out with their gals or a simple meet-out for a quick "catching up". With high-waisted leggings, you won't have to constantly pull up your pants every once in a while because the waistband hugs your torso perfectly!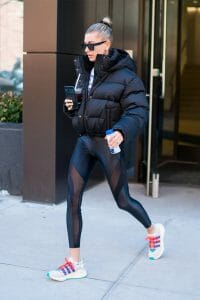 Don't ever come close to thinking about yoga classes or gym workouts when we talk about urban or street-style leggings. These are, instead, appropriate to be strutted down the streets! It screams more fashion than utility. This is often the go-to style used by popular models like Hailey Bieber and her BFF Kendal Jenner. This looks great on sneakers or high heels if you feel chic during the day. Adidas and Nike are not uncommon when it comes to manufacturing urban-type leggings.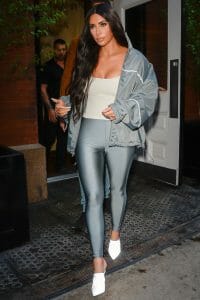 This term is vague, but one thing is clear: you can go vogue with these leggings. Ideally, these include leather, metallic, velvet, or wool types. The only time you shouldn't consider wearing these is when you're more in the mood to sweat out than to walk on your runway. Keep updated on what most celebrities wear for leggings for inspiration!
What Are Tights?
The best way to show off your body contours is to wear hosiery or tights. In its simplest definition, tights are what you would wear that cover the waist, as well as both legs and feet. With its appearance and feel, you can definitely tell that it's made out of flimsy or sheer material. One of its purposes is to show off, but not totally, the skin underneath.
This is the exact reason why tights shouldn't be worn as pants. They won't cover you as ingeniously as leggings would. If you have really short skirts and you don't want to feel too exposed and bare, a pair of tights will bring you back that confidence! Mini or mid-length dresses will do as well. You'll go from boring and average to classy and sophisticated.
Another good thing about tights is that they come in varieties. They can be designed with knitted flowers or be tailored without covering the toe tips. These are called "footless tights". They're something you won't find often, but they do as good a job as any other tights would. 
As mentioned, while leggings are great for relaxed, informal settings, tights can be worn in ceremonial, solemn, or stately affairs. No one flaunts a pair of tights in a subtle way better than how the Duchess of Cambridge, Kate Middleton does it. With her constant need to show herself publicly in exquisite ensembles, tights would really add a respectably royal effect.
Different Types of Tights and Their Uses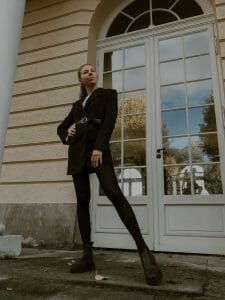 If you aren't in the mood for leggings but you need some cover-up, opaque tights will be the top option for you. They're neither sheer nor translucent, so there's nothing for you to worry about when it comes to over-exposure of the skin. Opaque tights can be worn at practically any event as they can match almost all kinds of outfits! Whether you go for boots, high heels, or shoes, guaranteed, you'll look posh.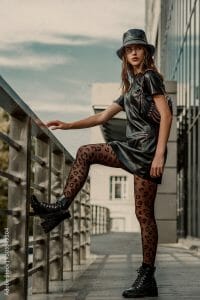 You can ditch your normal tights for a day and replace them with a pair that has geometric or floral patterns to add up more detail to your look. These appear great with plainly colored outfits although the designs may make any observant focus more on the intricate details found on the legs. Patterned tights are great undergarments for loose, tattered jeans, cosplay outfits, and more. Don't be afraid to get creative with your style.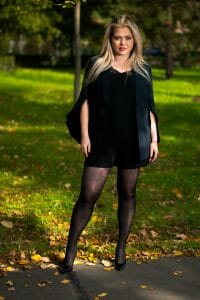 Contrary to opaque, sheer tights are translucent and glossy or shiny. Whatever body shape you have, these will definitely make you look even more stunning while you work your office job. Tights would make your legs look slimmer and the skin being reflected through this legwear can transform anyone into an urbane fashionista. Although black sheer tights can make any outfit stand out, black attires complement these better.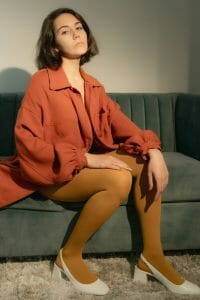 Despite being deemed as undergarments, tights don't have to stay boring and well, repetitive as in just sticking with black! They now come in unlimited colors and shades that would satisfy anyone's liking. With a pair of colored tights, you are showing off your individuality and uniqueness, or perhaps even your mood! For an eye-popping look during a girlfriend's day-out, try out plum or burgundy tights.