Pantyhose vs Leggings: A Comparison Guide
Both pantyhose and leggings are considered legwear which you can put on at any time of the day. They're great outfit additions thanks to how appealing they look on the legs. Whether you want to upgrade your fashion game, experience better coverage, or simply want to keep the body heat at a normal level, these are your go-to garments. The problem is, both of them feel and look somehow similar to each other. Surely, you don't want to set the bar low when it comes to outfits by wearing the wrong one.
To give you an idea concerning their differences, we have come up with a brief comparison table on pantyhose vs leggings:
| | |
| --- | --- |
| Pantyhose | Leggings |
| It offers coverage from the waist down to the end of the toes. It also often has panty support. | These are skin-tight leg garments meant to cover the waist down to the ankles or sit below the knee. |
| Pantyhose can be worn in formal gatherings. | Leggings are commonly worn in casual settings. |
| Cannot be worn alone. | Can be worn alone. |
| Helps prevent ankle-swelling. | Keeps the blood flow normal thanks to compression leggings. |
What Is a Pantyhose?
If you're looking to have an extra layer of fabric that covers the waist down to the feet, then a pantyhose is what you need. This close-fitting legwear is considered hosiery that is worn by women all over the world. One feature that would tell you it's a pantyhose is the thinness of the fabric. By far, among the hosiery types, this one only has around 8 to 30 denier (a term used to measure the thickness or thinness of the fabric) and is generally made from nylon. Experience a barely-there added coverage if you go for a quality pair of pantyhose. 
Wearing one is beneficial for many women who feel insecure about their legs. Having visible veins, blemishes, hairs, or scars can really down one's confidence, but these shouldn't keep you from shying away from those glamorous dresses and skirts you've long purchased because a pantyhose is an excellent undergarment that will help up your level of body positivity.
When To Wear a Pantyhose
There is a long list regarding when you can wear pantyhose. Even though they're not stand-alone garments, it doesn't mean that your opportunities to wear them are limited. Check out all the times when it's perfect to wear this timeless hosiery:
Ceremonies. In a ceremony, black pantyhose will give a classic addition to evening wear. But, if you want to follow others in breaking the norm, you can definitely sport them during the day. Since some pantyhose come in different shades, try not to feel daunted about mixing and matching your ensemble. 
When you feel sexy and spicy. Feeling good about yourself? Then it's time to go daring without being too much. It's crazy how a pair of pantyhose can transform you dramatically appearance-wise. Keep having heads turning in your direction by wearing a black sheer pantyhose in office wear matched with fiercely red lipstick on your lips. 
When it's cold outside. You certainly don't want to get your skin exposed to the cold breeze outside, do you? Throw in your thickest pantyhose to trap the heat. Now, you don't have to stop wearing the dress or skirt designated to be worn for the day.
During a night out. Want to go clubbing with the girls? A mini-dress without anything else is boring! Instead, add a simple yet stylish effect by wearing very sheer pantyhose. Black would never fail to amaze you. 
5 Types of Pantyhose You Should Buy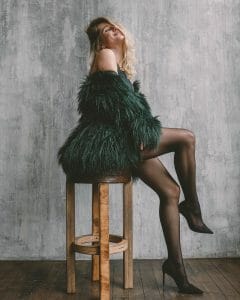 I know, I know, a pair of pantyhose can come off a bit costly, but you don't want to sacrifice your comfort and appearance just so you can save a few dollars. Low-quality legwear can end up getting easily torn or worn out, but an excellently-made one can last a long time. In a formal event, the last thing you'd want is a pantyhose with a run, so go ahead and invest in a nice pair that would actually withstand the test of time.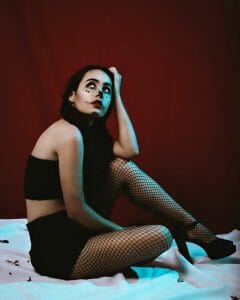 Celebrities like Taylor Swift and Katy Perry keep the fishnet pantyhose alive even until now. You know what that means- they're still in style no matter what events you'd attend. This looks good in short shorts, mini-skirts, skater skirts, or mini outfit coordinates. High heels in black are most recommended for footwear.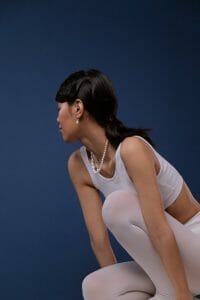 You might usually see ballerinas and other dancers wearing white pantyhose, but since fashion has no limits, you can absolutely try complementing your white undergarment with other pieces of clothing like a white tank top and a patterned skirt or an all-white winter dress. Some are sheer, but there are opaque ones too available in almost any clothing store.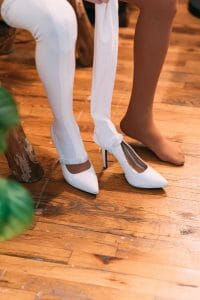 These are such a great blessing for women out there who feel uncomfortable with pantyhose that are closed down the toes. Toeless ones offer a more breathable and non-suffocating feature without putting a huge difference when worn compared to the normal ones.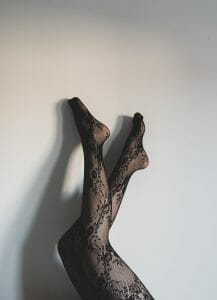 If you find plain pantyhose dull, then why not go for the lacey ones? They add up a certain dramatic and girly effect as some are patterned with flowers or vines. They're great to be worn in formal events or if you want to bring back the spark in your marriage.
What Are Leggings?
Leggings are more robust than pantyhose. These are considered to be more versatile than the others due to their thickness in fabric. That means you can wear them as undergarments or stand-alone pieces if you feel like strutting your figure in public. 
These days, leggings are considered to be a multifaceted piece of clothing due to how they can be used for casual wear and sportswear. When these boomed during the 2000s, their popularity never stopped waning.
We know how tiresome it can be to repeatedly wear jeans or any other type of thick and rough pair of pants. They're not the most comfortable, especially when you come home tired and want to take a quick nap on the bed without changing. Leggings are great replacements since they're also tight-fitting trousers that are stretchy and soft to the touch, opaque in nature, and ranging from about 40 to 120 denier.
When To Wear Leggings
Oh boy, the list is not short on this one as well. Leggings are super flexible and can be worn to complete any outfit. Since they come in different prints and colors, exploring different options is not a problem. If you are yet to widen your horizon, here are some ideas on when to wear leggings:
During the winter. Fleece-lined leggings are perfect for keeping you warm outside even if flurries of snow fall from the sky! Layering also helps but whatever works for you.
In the gym. Athletic and compression leggings are now IN these days. They provide you with extreme support without making you fix them every once in a while like a waistband falling down its place. They're made to be breathable and cool so the sweat doesn't get trapped in your skin.
For day-outs. Don't be afraid to experiment when it comes to leggings. Show off your chic vibes or look creative by using colors other than black. These are usually nicely paired with sneakers or pumps depending on what type of look you go for.
If you want to look badass. Leather leggings are seductive in every way. With pumps or stilettos and a simple top with a jacket on, you're ready to fire the gun and stay stylish throughout the day. 
5 Types of Leggings You Should Buy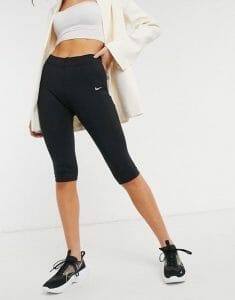 If you have casual to formal tops, know that they'll seamlessly merge with a knee-length pair of leggings. You can definitely have the same style for your yoga pants, but if you prefer using these for your everyday wear, then it's no problem. After all, these are comfy and stylish, two qualities you'd always want from an outfit!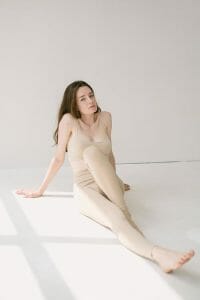 You'll see people wearing these everywhere. It has a classic length that shows off the whole figure of the legs and they look good in sneakers and any other type of shoes. With the right color, fabric, and style, comfort is guaranteed. The tops that go well with these leggings are long shirts, formal blouses, crop tops, and sleeveless. Jackets and coats are a great add ons too.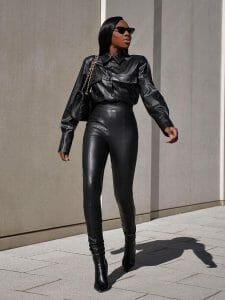 If you love long rides or have a heavy preference for tomboyish looks, invest in a pair of quality leather leggings. These exude a matte shine for a low-key but noticeable outfit in the evening. Go all black if you want to look bold or add white in your outfit's range of shades. High-heeled boots or shoes will give you extra trendy points.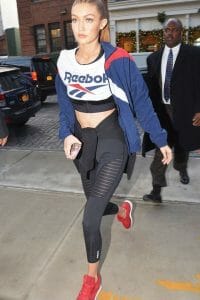 Stand out from the rest of the crowd by wearing patterned leggings! These can be worn at any season. If this suits your taste, you are lucky to have so many options when it comes to designs and styles. Some leggings have patterned prints, while the others resemble that of what Gigi Hadid wears which are subtly embellished. Look good in athletic or casual wear with these pants paired with sporty jackets and shoes.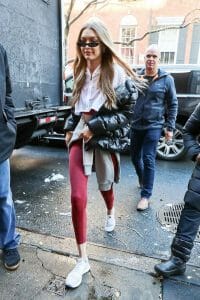 You can break free from the black leggings fever by going out of your comfort zone and trying out other shades! I can't write down all the colors for you, but you do know that there are loads of them. From vibrant ones to darker hues, whatever your preference dictates. Nude ones are available too or if you like pastel colors, then why not go for them? The legging trend is for everyone.