Best Black and White Polka Dots Scarf Influencer-Inspired Outfits (and Where to Get Them)
Seasons come, and seasons go, but here's what you need to know: the polka dots trend is like a fashion boomerang—it never goes out of style. Polka dots pattern is considered a "timeless" fashion, thanks to designers and influencers who always come up with modern ways to style one.
In fact, it reappears in oh-so-many ways you can't even imagine, from blouses to skirts, pants, shoes, and now scarves! Ahead you'll know scarf types, outfit ideas, and product picks to inspire the next polka dots prints you can wear this upcoming season.
Scarves 101: Types and Styles
The Square Scarf
Square scarves come in handier compared to huge ones. They're usually a great accessory if you want to create ascots or chokers.
The Rectangle Scarf
It is considered the most versatile type of scarf because of its longer fabric, which can be wrapped twice on the neck.
The Infinity Scarf
These scarves are more oversized, letting you make two or three loops around your neck. They're lightweight and go along with jackets, denim, or coats.
The Wrap Scarf
Also known as the shawl, the biggest of them all. These scarves can be paired with winter outfits on chilly days or worn as a beach outfit cover-up.
See How Influencers Are Styling the Polka Dots Scarf Trend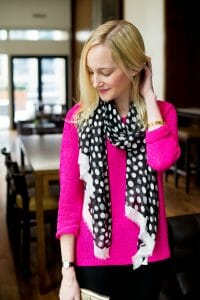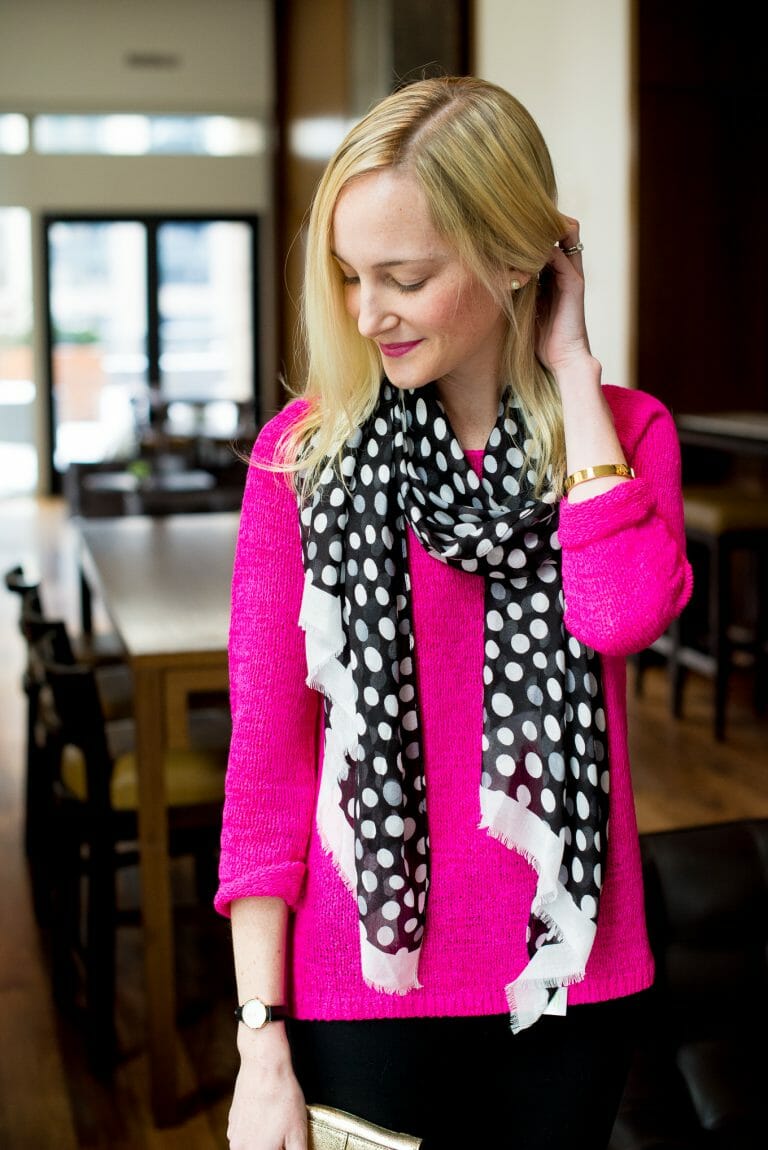 A black and white polka dot scarf can bring any plain-colored sweater to life! The best combination you can wear in the winter season, keeping flakes out of your sweater neck. This pretty outfit is great for casual dates and occasions or just want to add an accent to your sweater.

For a more simplistic and retro style, opt for an infinity polka dots scarf paired with a striped knee dress and a black cardigan. This could be your next winter outfit, keeping you warm when the environment and office get colder. To perk up your outfit, flat shoes or boots will do.


Go for a more versatile and sleek look with a plain shirt and gray cardigan topped with a polka dots scarf. Whether you're heading for work, traveling with family, or meeting with friends, this would be your go-to street-style look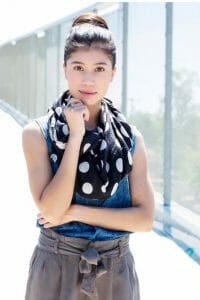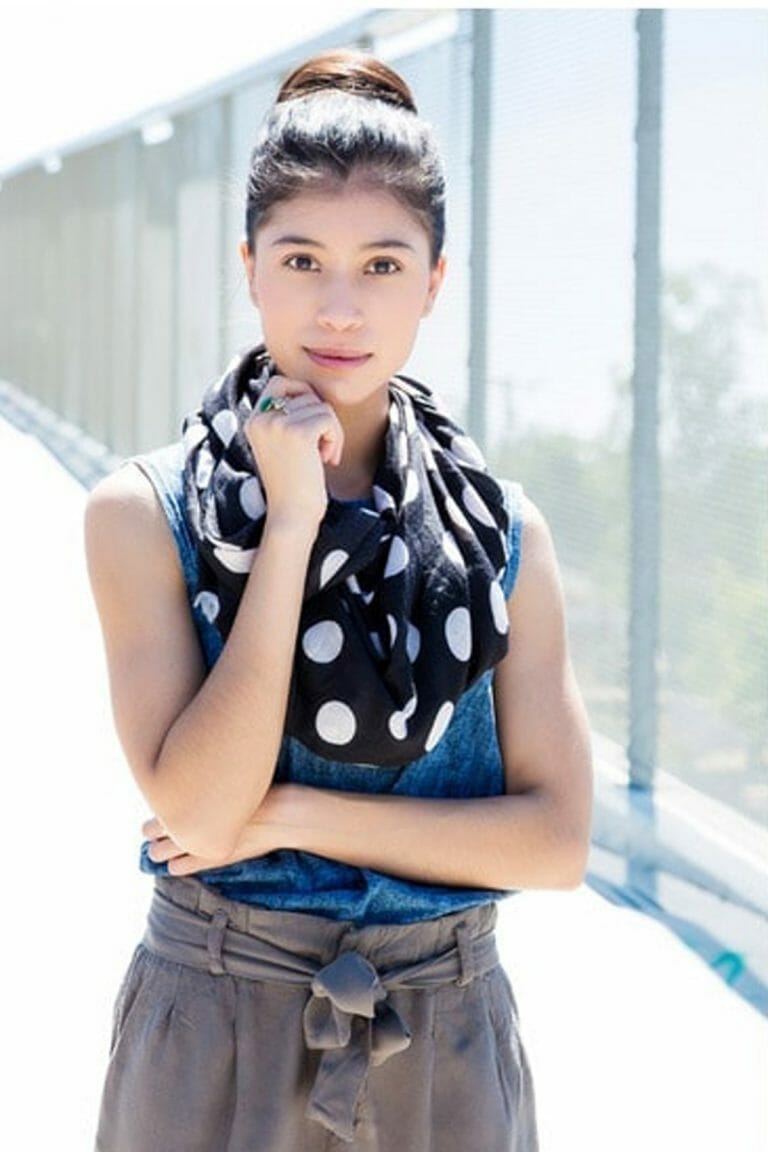 The summer season shouldn't stop you from wearing a scarf! Add a flair and fun look with a polka dot-patterned neckerchief, and you'll stand out from the crowd. You can also try pairing distressed denim or loose shorts and a plain t-shirt, plus flats to keep you more comfortable.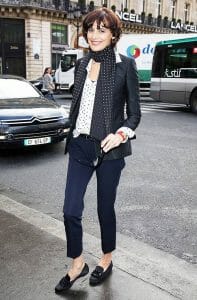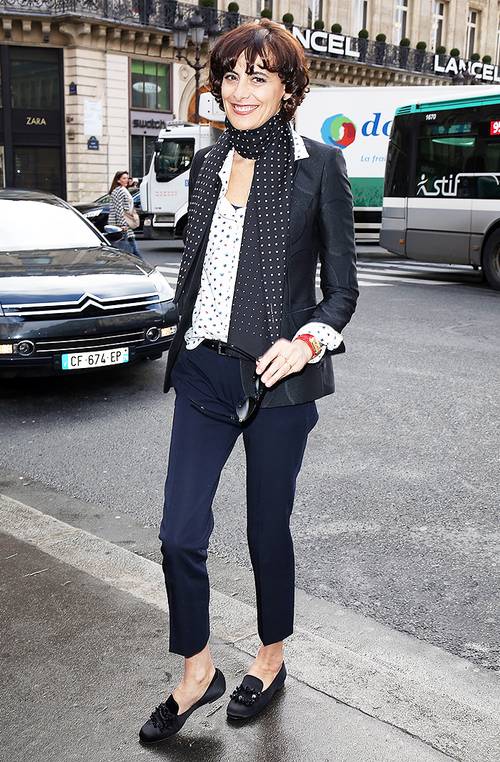 You can be the next Inès de la Fressange by mixing a polka dots scarf, printed blouse, and loafers. A pretty lightweight neckerchief wrapped around your neck adds versatility regardless of the wardrobe items you pair with it. Definitely a retro-but-chic style outfit worth noting in the list.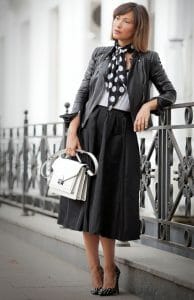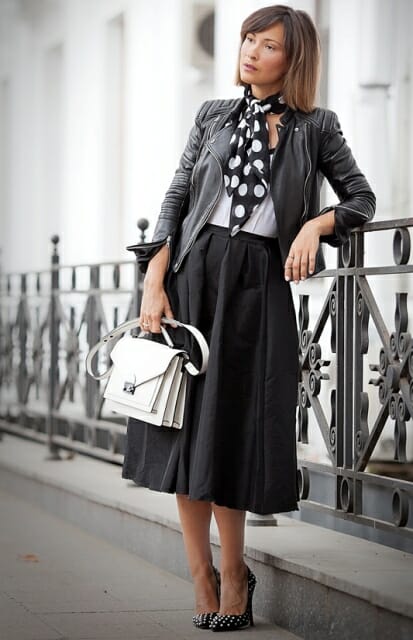 If you have a midi skirt, you can combine it with a polka dots scarf, a black leather jacket, embellished heels, a handy white bag. With the black and white color palette throughout, you'll look super chic and elegant in no time. This outfit is excellent for formal meetings and casual dates.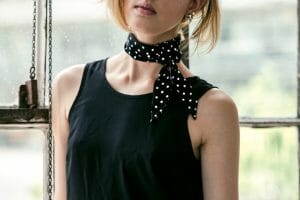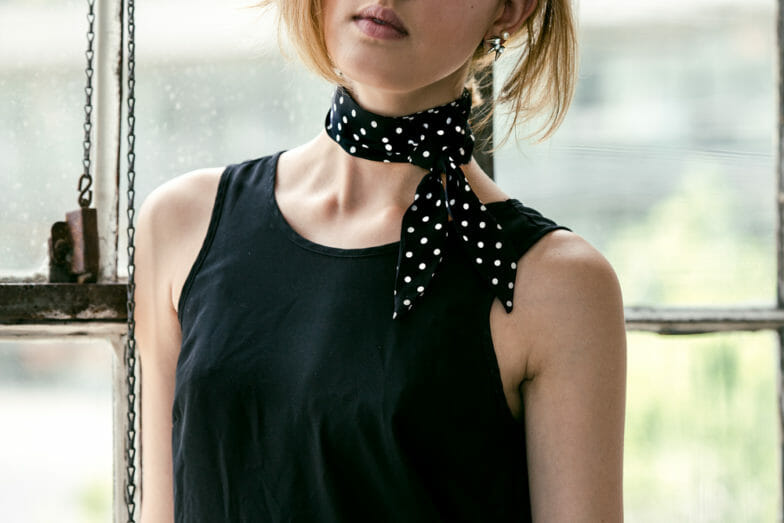 It's definitely a pain in the neck when your office rules don't let you wear chokers at work. Fortunately, scarves come in different sizes. You can opt for a square and dotted one to rock the style without looking sexual. This style works wonders on off-shoulder or sleeveless tops.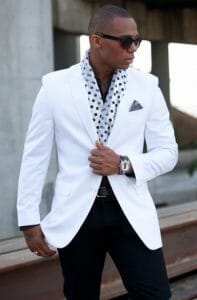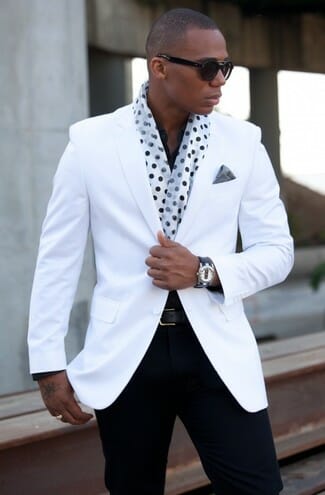 Who said men can't rock a playful scarf while wearing a professional ensemble? Men can also be fashion savvy with the sheer nature of black dots (and sticking to a lighter suit color), as the scarf lets your style stand out flawlessly. It guarantees a bold tribute to your style while in a formal setting.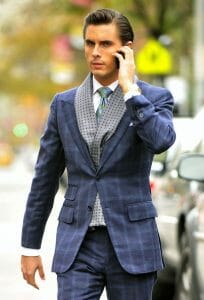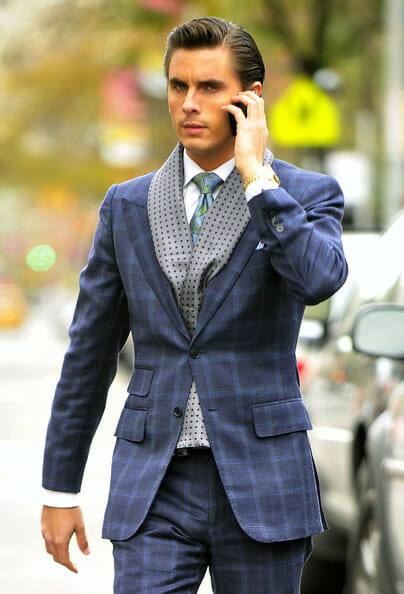 Finally, dotted scarves don't necessarily need to be paired with a plain and simple look. Influencers love more sophisticated patterns that turn heads on the street. You'll love how the polka dots scarf goes along well with a checkered denim outfit on this look.
Top-Rated Black and White Polka Dot Scarves on Amazon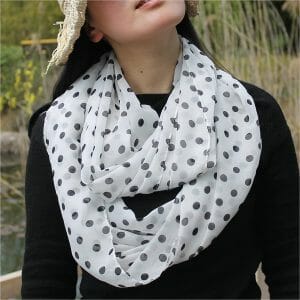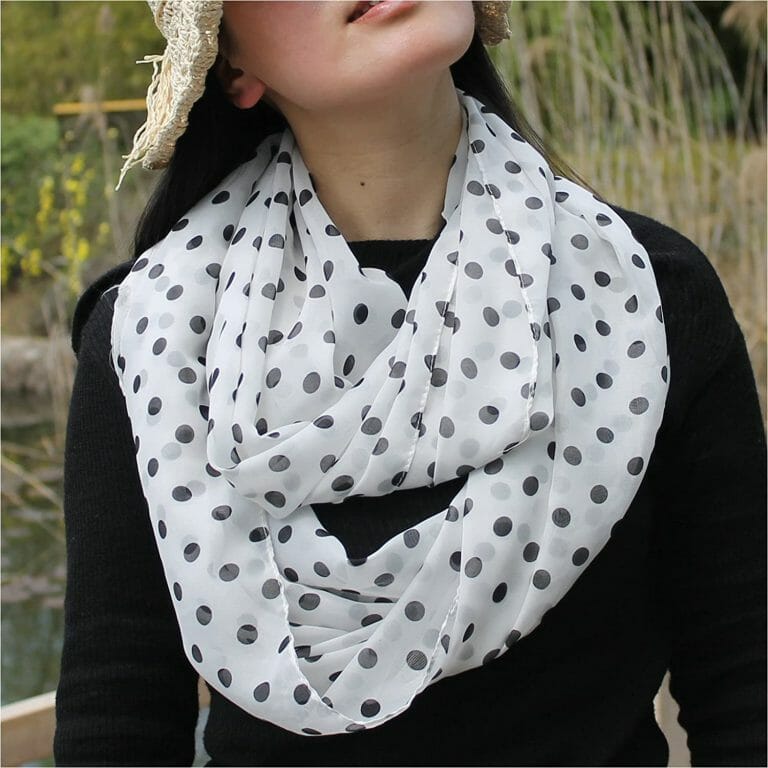 Dimension: 2.3 x 5.9 ft.
Material: Polyester
Style your imagination with Tapp Collections' infinity scarf featuring polka dots. Aside from its sheer texture, you'll get a silky soft scarf that's perfect for the winter season. Customers love how comfortable and warm the feel is when it's wrapped around their neck. The fabric used is light but not wimpy. It can go with any outfit, such as formal or casual attire.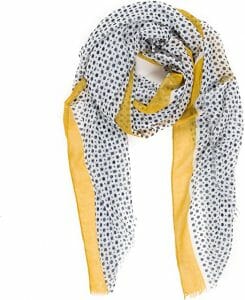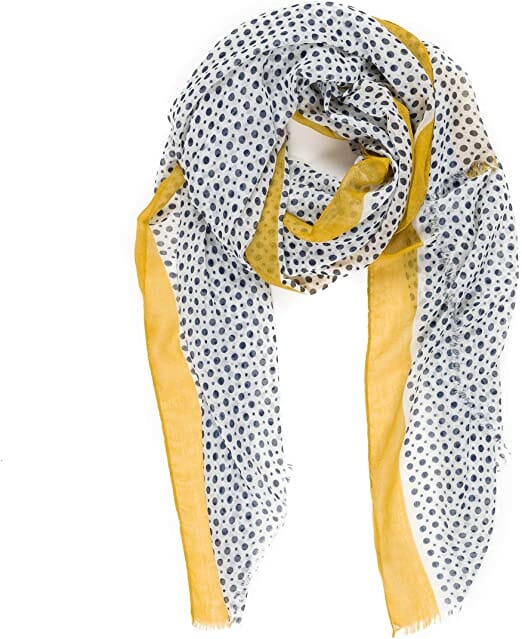 Dimension: 6 x 3 ft.
Material: Premium viscose
You could never go wrong with Melifluos black and white polka dot scarf that accents a yellow hem pattern for a more stylish look. Its dimension makes it a versatile scarf you can use as a neckerchief, headscarf, shawls, and beach cover-up. If you're wondering how to wrap this stylish wrap in different ways, a helpful card comes in handy as well. Stand out from the crowd by pairing this polka dot scarf with your favorite jeans and blouse.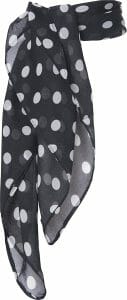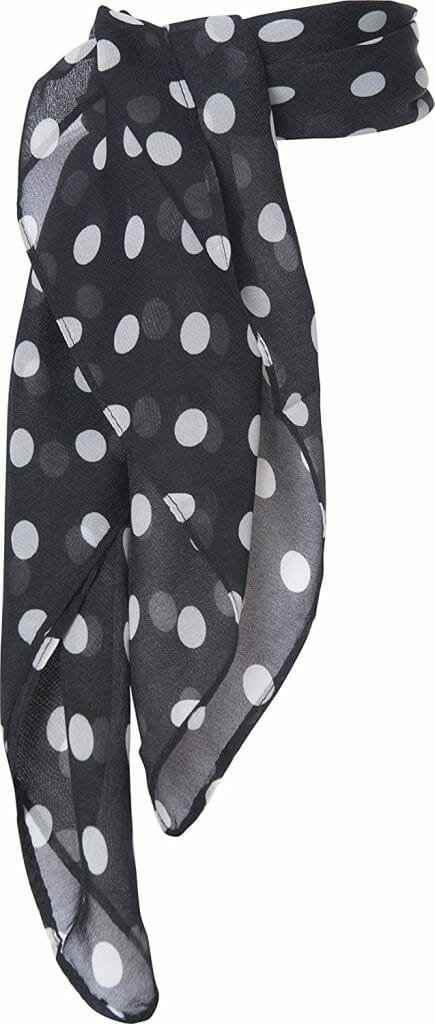 Dimension: 1.8 x 2 ft.
Material: Polyester
Channel your inner retro style with the help of this sheer chiffon scarf from the Hip Hop 50s' store. Wearing this scarf around your neck (or head) wouldn't make you feel you're wearing one, as it's light and soft enough for your skin. Its delicate polka dots pattern, well-sewn seams, and excellent sheer opacity are perfect for several occasions. You'll love how this chiffon scarf brings back the 50s' vibe by pairing it with a poodle skirt or a vintage dress!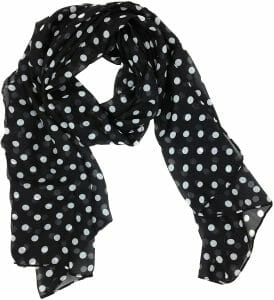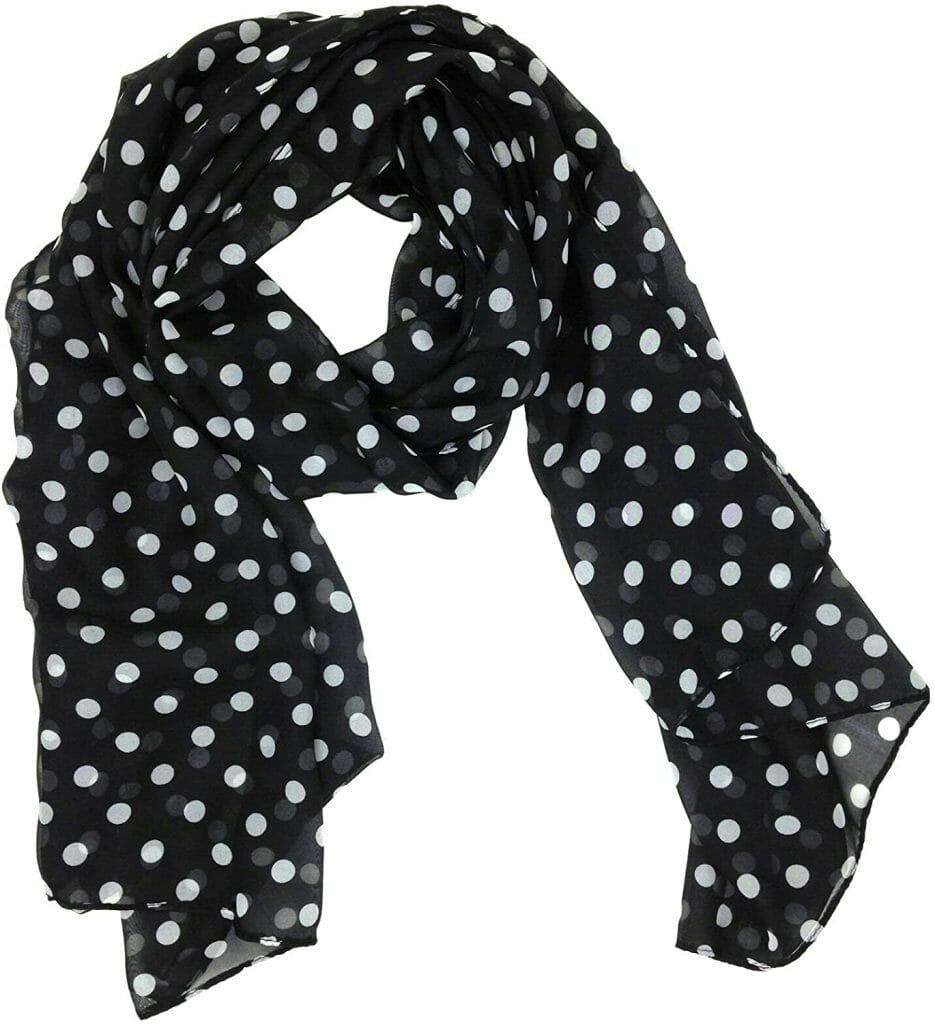 Dimension: 2.3 x 5.8 ft.
Material: Silky soft polyester
Another Tapp Collections scarf in this round is its soft chiffon scarf like no other. Highlighting a see-through black fabric embedded with symmetric dot patterns, we're sure you'll get a million-dollar look in no time. Great for wrapping around the neck or using it as a shawl, your choice. While it may not give a cozy feeling for winter, it indeed gives you a nice touch for warmer weather. Be ready to receive compliments any time of the day by pairing this lightweight scarf with red heels!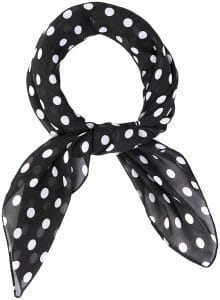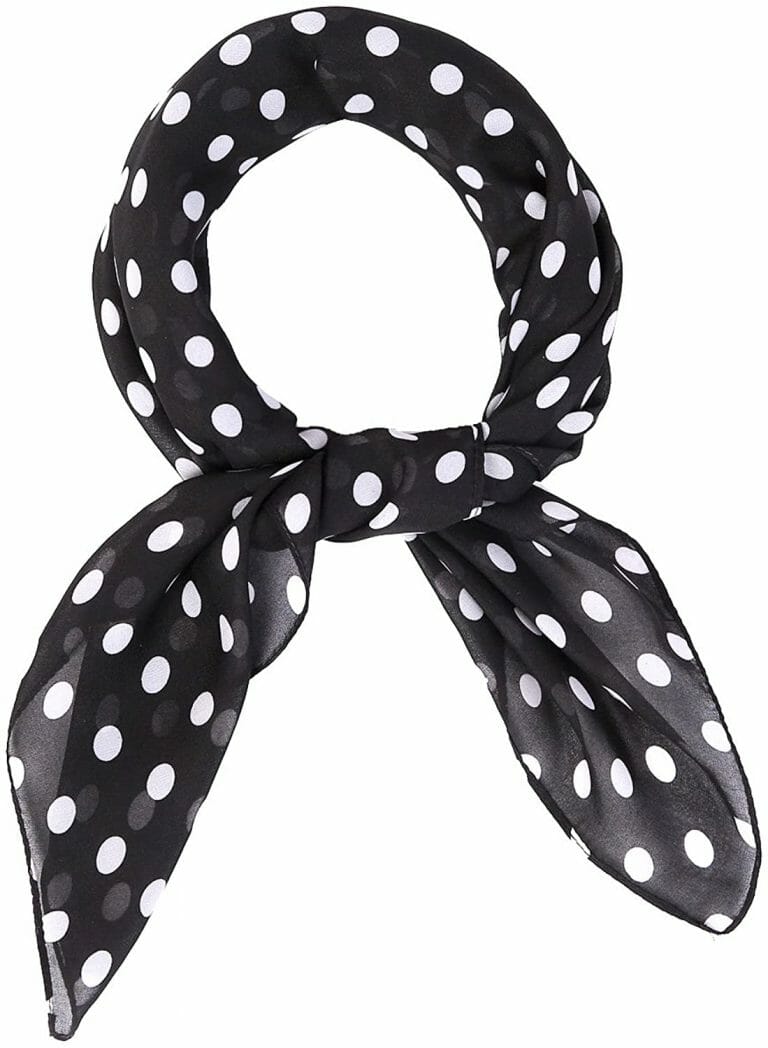 Dimension: 2.3 x 2.3 ft.
Material: Chiffon
This dotted-glam fabric is ready to set the perfect vintage style in no time. You can use MissShortHair chiffon sheer with its great dimension as a neckerchief, headscarf, and hair tie! You'll feel the chiffon fabric super soft, silky, and cozy to wear any time. It's stitched tightly on the corners, unlike cheaply-made scarves in the market. The chiffon is not flimsy, indeed a great style for its value.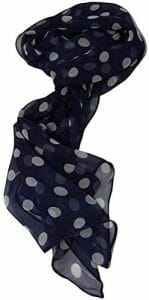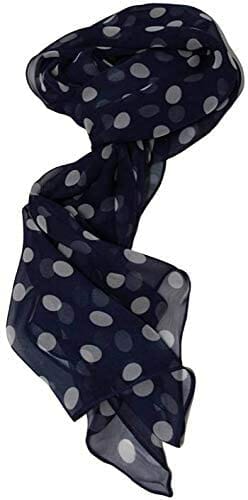 Dimension: 1.5 x 5 ft.
Material: 40% silk, 60% viscose
The perfect summer scarf is here! You can actually feel how lightweight the silk-blend scarf is once you shawled it around your neck and shoulders. If you love accenting your neckline, the Love Lakeside polka dots-inspired scarf is a no-brainer. Perfect when paired with sundresses and matching sandals!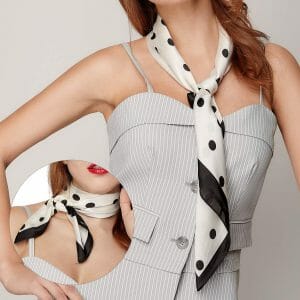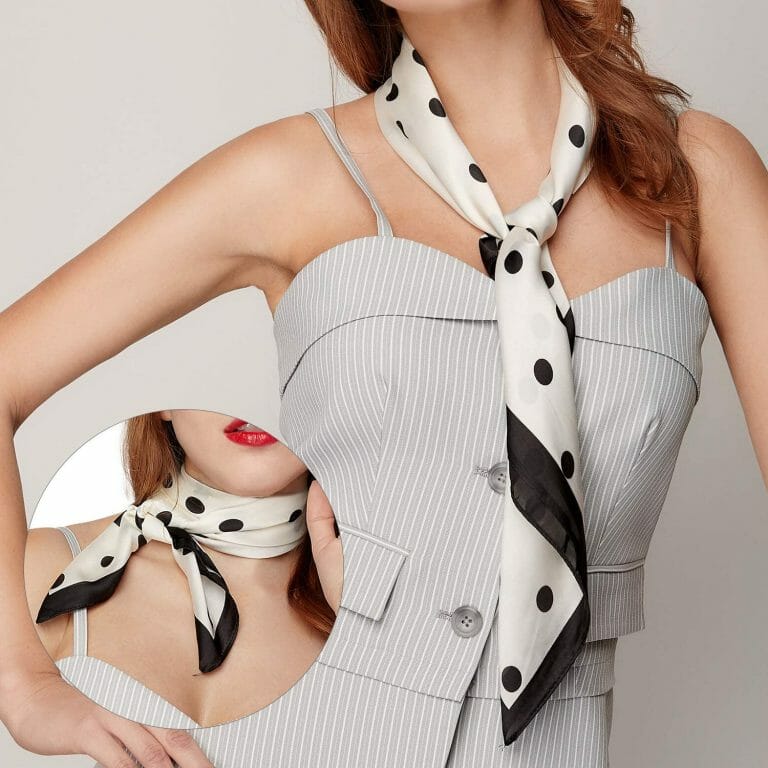 Dimension: 2.25 x 2.25 ft.
Material: Polyester
Be bold and turn your ordinary scarf into a vintage one with a SOJOS vintage neckerchief accenting a white fabric, black polka dots, and a black border. It's made with 100% premium polyester fabric designed to give your style a smoother and more delicate appearance. Customers particularly love its multi-pack features, excellent quality, and soft material. You wouldn't dislike anything about it at all.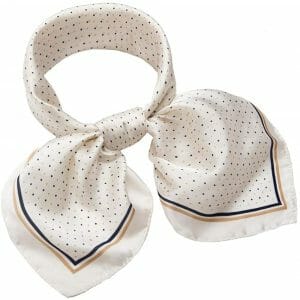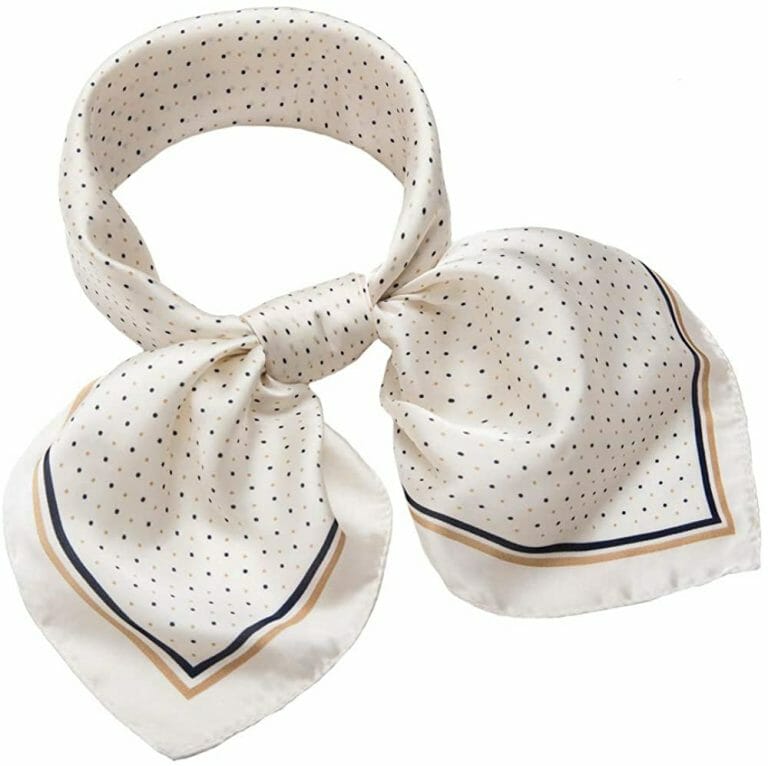 Dimension: 2.25 x 2.25 ft.
Material: Polyester
There's no other way to embrace your minimalistic style than NaSoPerfect's scarf. It highlights white fabric with tiny black dots on the background and adds intense black and yellow borderlines. You'll not be disappointed with the style as the colors don't fade quickly after several washes. With its soft and high-quality feel, you'll definitely get what you pay for.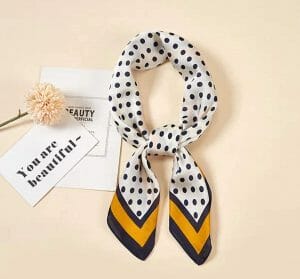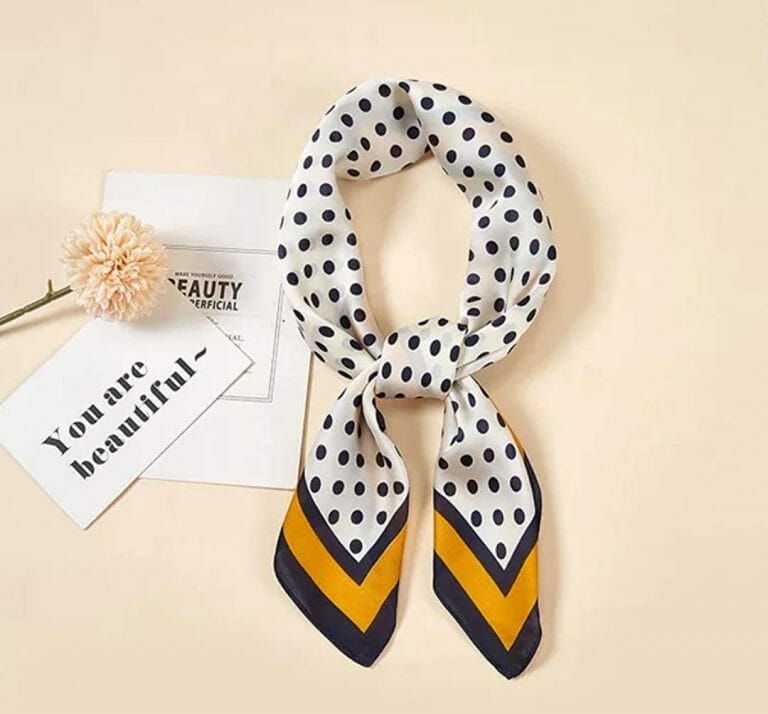 Dimension: 2.22 x 2.22 ft.
Material: Mulberry silk
ANDANTINO is well-recognized for its real-silk fabric. The materials used pass the burn test, as most customers point out. Unlike cheaply-made scarves, these mulberry silk polka dots features a smooth feel like satin. It doesn't have any peculiar smell and is a great accessory you can add to your casual look. Extremely cozy even at a glance and a perfect add-on to bring coolness in hot summer.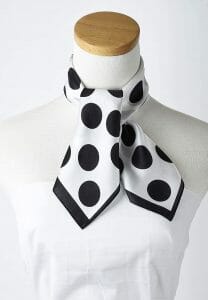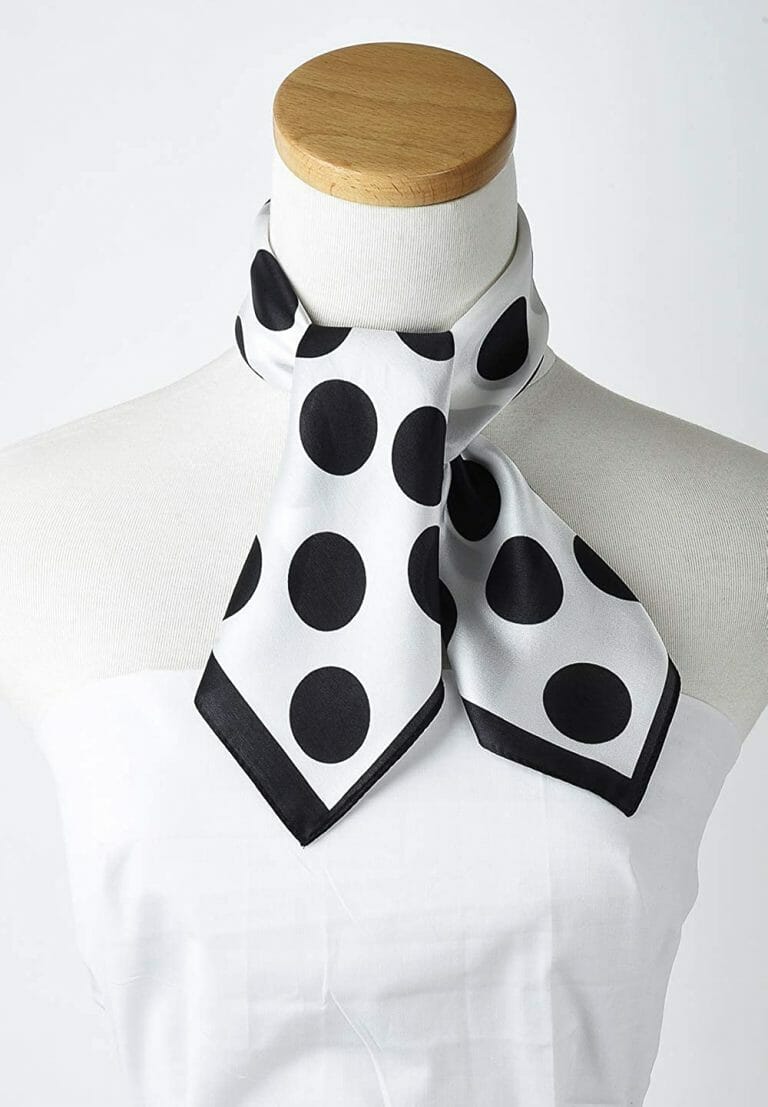 Dimension: 1.75 x 1.75 ft.
Material: Mulberry silk
What could be more elegant than a scarf featuring black polka dots in big patterns? Despite its silk fabric, your skin won't feel any "cold" like another polyester carves. It comes in a vibrant print that will surely go along with any style-inspired in mind. Besides, you can do numerous ways to wear this silk scarf. Great when paired with denim pants and a shirt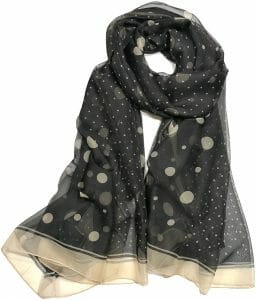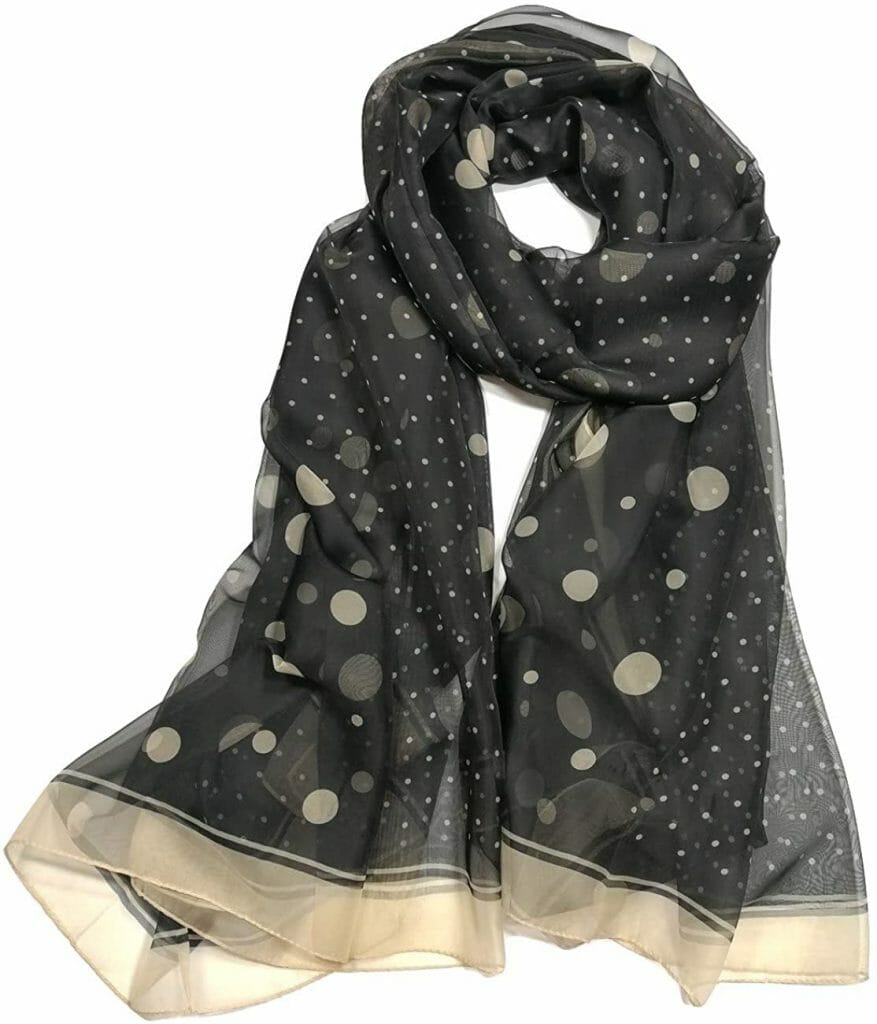 Dimension: 5.8 x 4.6 ft.
Material: Polyester
This gorgeous black and white polka dot scarf accents a see-through fabric large enough to be used as a shawl. You can either use a Shanlin scarf to add a retro accent to your style, like tank tops. The deep shade of black and solid embellishments and borderlines add a dreamy look as well. Best matched with a dress and heels.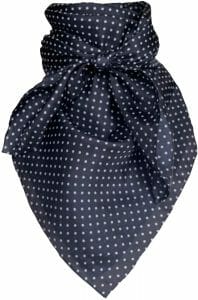 Dimension: 2.8 x 2.8 ft.
Material: Silk
This black and white polka dot scarf works best for wearers who always feel cold. It also protects your neck from getting sunburn and keeps it warm during the cold season. Despite the black dye it has, it never bleeds when washed. If you're not a fan of black, there are several colors available: green, gray, and red.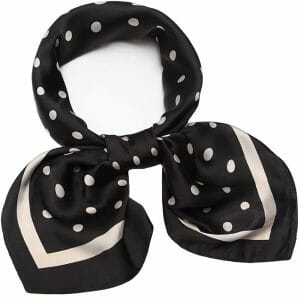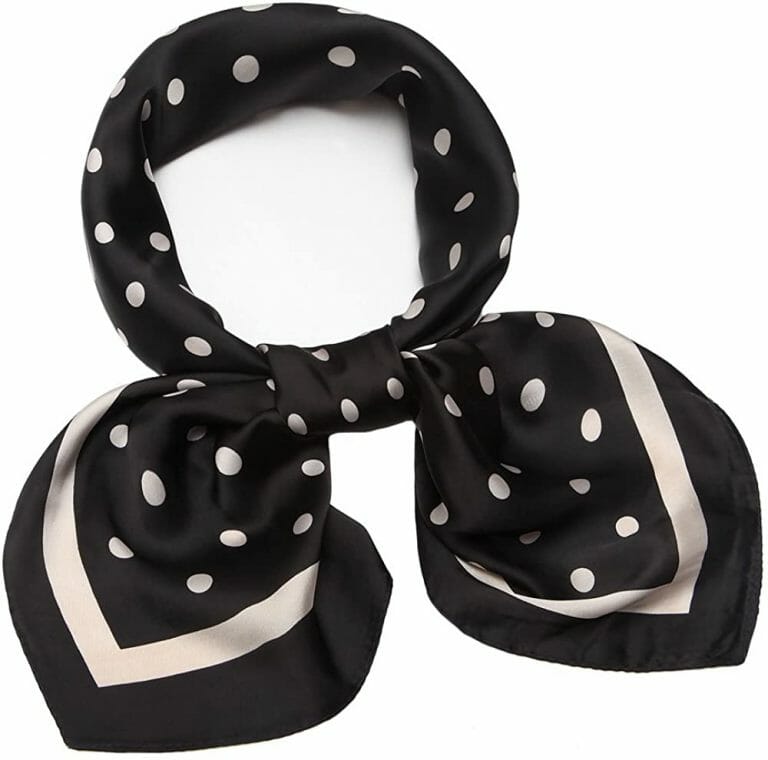 Dimension: 2.9 x 2.9 ft.
Material: High-quality polyester strain silk
Another wonderful accessory you can wrap around your neck is a NaSoPerfect square scarf. This polka dots scarf brings life to any outfit, considering it's soft, smooth, and gentle for your skin. As one of the customers said, this scarf definitely gives "sassiness" to any ensemble. Plus, it's large enough so you can wear it in a variety of ways.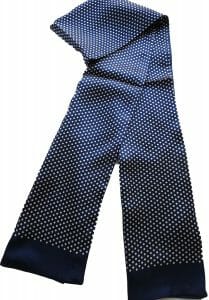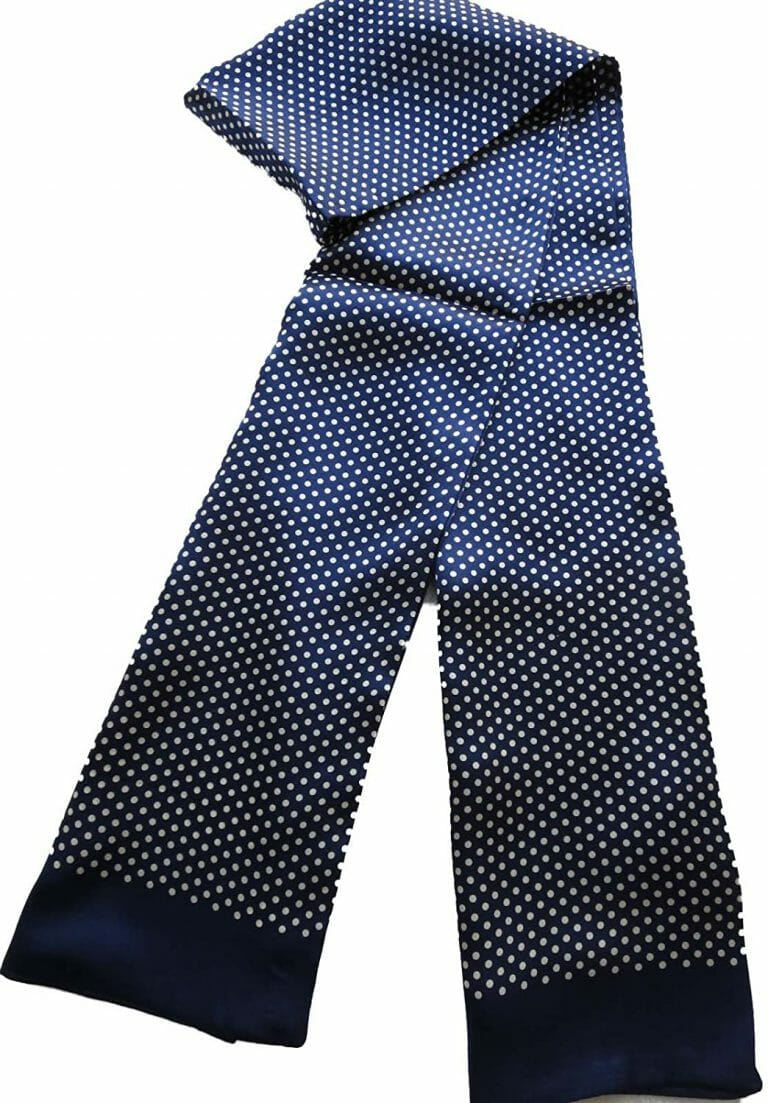 Dimension: 5.1 x 0.9 ft.
Material: Silk
Men can still look fashionable with XUYUZUAU men's scarf with polka dot prints. It's almost every man's dream, given its premium quality like no other. In fact, the image from Amazon doesn't do justice, so it does exceed your expectations the most. Despite its silky material, it keeps the winter wind a bay. Great for men who prefer alternatives to wools.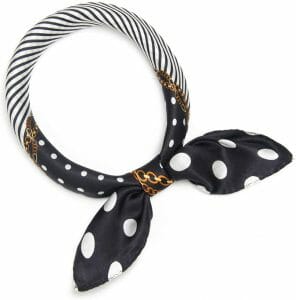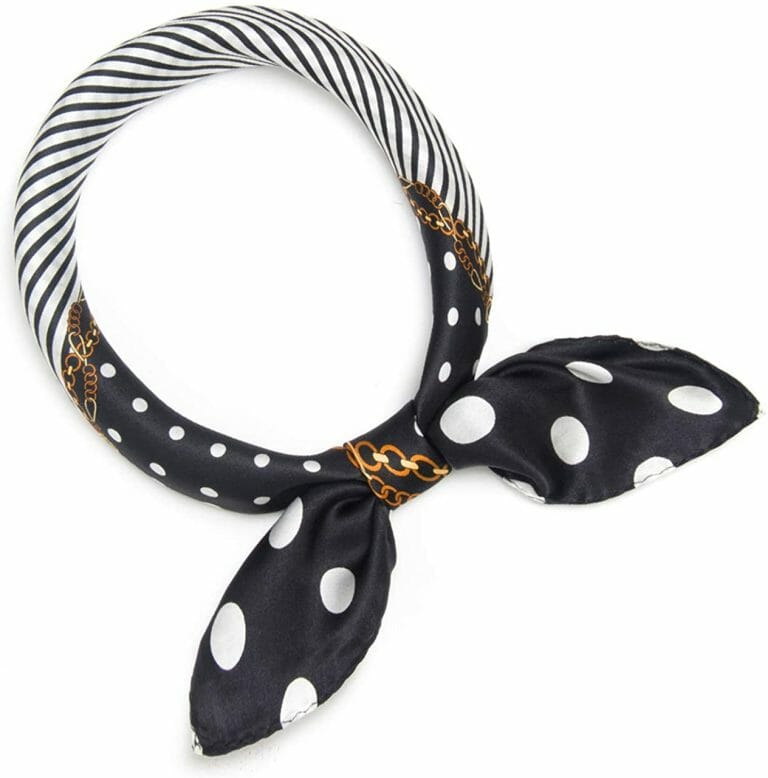 Dimension: 1.75 x 1.75 ft.
Material: Mulberry silk
Chokers are a significant trend, but corporates don't really give a thumbs up to this clothing style at work. With SILIQUE's mulberry scarf, you can easily recreate a neckerchief resembling a choker but in a more sleek and chic style. Works best when hair is tied, so you can flaunt that collarbone in a lowkey manner.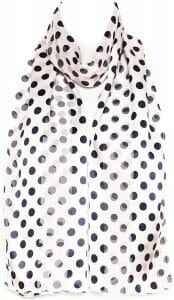 Dimension: 4.8 x 1.1 ft.
Material: Polyester sheer
Complete your chic look with this polka dot chiffon satin scarf from Hat to Socks. You can opt for this look to add a finishing touch to your 50s and retro vibes. Perfect when paired with vintage cocktail dresses and casual attires.