Cute Polka Dot Headbands: 13 Trendy Headbands 
Unlike other prints, polka dots exude a more approachable and fun aura. Interestingly, we automatically associate someone who's wearing a polka-dotted garment as positive, happy, and probably comedic as clowns and jesters would usually sport an attire filled with this kind of print.
While the fashion trends come and go, a good few have firmly stayed with us. From Yayoi Kusama's art to Minnie Mouse's dress and headband, the pattern just shows prominently and they wear it with confidence and coolness. Can you show the same vibes with a polka dot headband?
If that's a resounding yes, then here are some of the cute hair accessories with mini circles all over them. These are a perfect gift for your mom, sister, or even for yourself!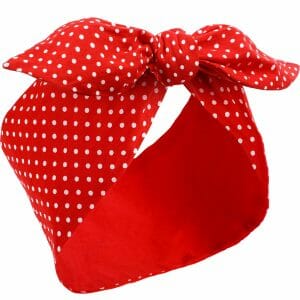 A real throwback item you can wear any time of the day! This retro headband in tiny polka dots is designed to have a knotted ribbon on top for a twist. It looks like a wrap, but really, this is primarily a headband for ladies who are into the 1950s culture. It is adjustable so it can fit anyone's head. Have this worn during a party, dance events, or even at school. Aside from acting as hair decoration, this will also help keep your hairdo in place. Know what hairstyles look best with a headband here.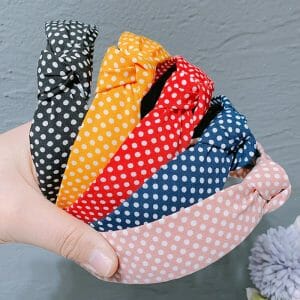 If you have a thing for wide headbands wrapped in polka-dotted fabrics, then this Anbala knotted headband might just be what you are looking for. It's not bulky, but rather moderately wide in the band with a small knot in the middle for a subtle effect. You can wear this with curly hair, braids, or a messy bun. Without any hesitations, sport a vintage hairstyle if you really want to feel like a lady born in the wrong era!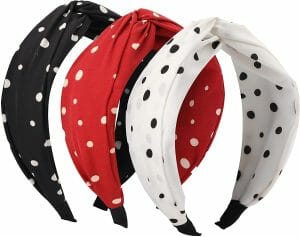 Turban headbands just never go out of style and they surely will be seen in fashion for many more years to come, especially if it's in the classic polka dot pattern. For sure, you don't want to look boring so add a dazzle of fun in your head! With keen eyes, you'll notice that the fabric is filled with big and small polka dots scattered all over. You're not just adding aesthetics to your look but also experiencing the comfort you deserve. Who wants to constantly have to pull their hair back anyway when you have a headband like this at your disposal?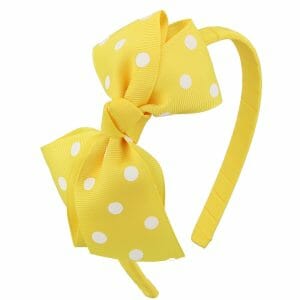 Although polka dots already scream fun and merriment, you'll never look too much if you sport it in a yellow headband with a giant bow on the side. This is a great addition to your kid's style and she'll certainly love it on her head all the time. The bow is wide and eye-catching and the band is thin so it can be buried beneath the hair. It's perfect for any occasion like birthday parties! Her friends will be asking where she got this from, I bet!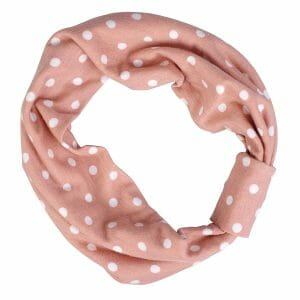 If you're a new member of the polka dot club and you want to take it slow in showing off your liking for circle-filled fabrics, then perhaps this peach headband will give you a wonderful first-time experience. It still has polka dots in it, but since they come in white, they won't really cause a contrasting effect with peach as their base background color. From afar, people would see it as probably a boring all-peach headband, but up close, they'll realize they're dealing with someone cheerful and upbeat.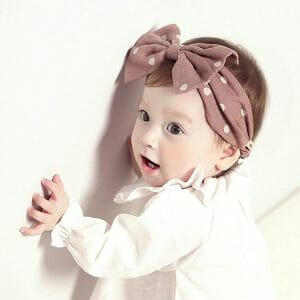 The fun thing about having a daughter is that you can dress her up in cute outfits. Should you want her to match your heavy preference toward polka dot headbands, well, we have one for your mini-me. This Ragecraft headband comes in dusty pink and navy blue–colors which are undeniably perfect for toddlers. The giant bow on top makes them even more adorable and their faces a little tinier!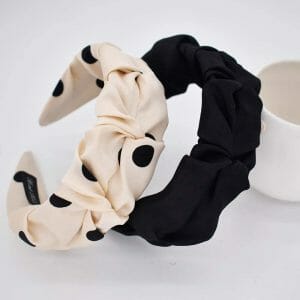 Want something extraordinarily unique? Because for sure, you are flooded with basic headbands out there. If you want something that's quite rare in the eyes, grab a ruffled headband for yourself. There are two options for you– either you get a plain black headband or indulge in a girly cream, polka-dotted headband. It has a thick band, perfect for ladies who want to put more emphasis on how their hair looks. The folds created as the headband's design are striking, to say the least.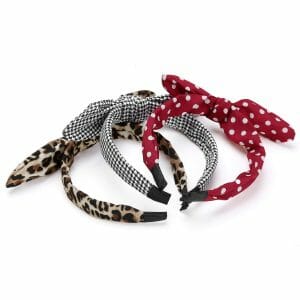 Wear a lovely headband for any occasion you'll be attending. Whether it be birthdays, Christmas parties, or if you simply want to visit Disneyland, wear something fun! This hair accessory is moderately not too thick on the band but it has sizable bunny ears that lay flat on the sides. There's one more we need to tell you. If you aren't in the mood to display your bunny ears, you can just take them off so easily!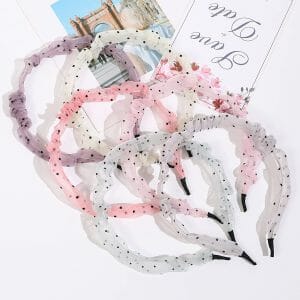 I'd be lying if I said this mesh headband didn't put me in the mood to impulsively buy it. It's one of a kind whether you agree with me or not. It's slightly ruffled and there are polka dots all over to create an alluring illusion. This comes in different soft colors which are attractive to chic girls making it easily match any wardrobe outfits you have. Feel like a princess all day when you wear this!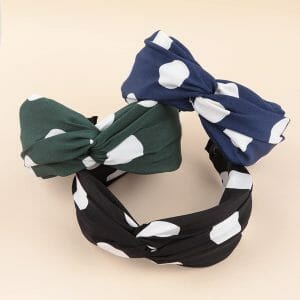 It shouldn't be just your headband that would be noticed by everyone but as well as the prints on it. This twisted thick headband has large polka dots that are spaced generously. The black and white colors sure do look like a stylish and classy sight for women who want to channel their inner vintage spirit. It's a style made simple for holidays, parties, proms, and dates. You can wear this with your hair down and a fringe.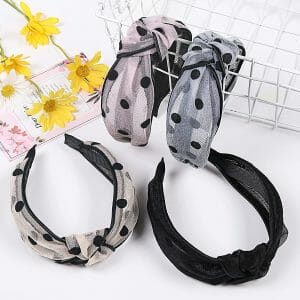 Another hair accessory made out of mesh that you can try is this one from Manshui. Don't even worry about the material. Although it's thin and see-through, trust its durability, this will last a long time, certainly. There's an alloy hair loop in the center and it's covered by a thick band of mesh in polka dots. Get yourself this and notice the exquisite handwork they poured into this piece. Once worn, you'll absolutely feel prettier!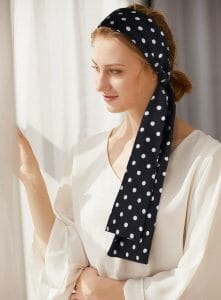 In looking for the perfect headband, some of us also think about donning this type of hair accessory in different ways. Not only would you be able to flaunt a polka dot headband with draping tips at the back but also use it as a scarf for the neck or for your favorite handbag. This multi-purpose satin headband isn't just merely a piece of fabric. It's a practical item that you can use differently every day. It's thick, effective in keeping your hair at bay, and flexible. What else would you want?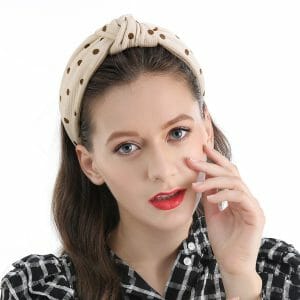 Last but not least, a cute headband you can buy is one from Qianxuan. It comes in various colors but brown is a personal favorite. The polka dots are tiny but are visible enough to catch someone's interest and create a good impression about you. Just wait and see, the guy you want to talk to for so long might be the one to approach you first. You can wear this headband daily without feeling strained, especially behind your ears. Beauty doesn't always mean sacrificing your comfort after all!