Can You Wear Slacks to a Wedding? 5 Things to Bear in Mind
Most weddings these days have fewer rules compared to the decades past, hence why it's worth knowing that slacks can be worn in the event. Be mindful of what type of slacks to put on, however, since not all pants in this category would look flattering or acceptable in the eyes of other guests.

In all honesty, this is a type of question that can't be answered by a yes or no. Considering that there are a variety of factors that may come into play, your newly-bought slacks may or may not be suitable for such a prestigious and remarkable event.
In an unwritten rule, pants are not the best choice for an upscale, fancy wedding, but there certainly are slacks that come in luxurious fabrics that would qualify them as "formal enough". 
With that in mind, hold yourself for a bit from whipping out your slacks in celebration and find out more about when it is right to wear them and which ones are commended as acceptable in weddings.
5 Things to Bear in Mind Before You Wear Slacks
There are a few stipulations to be cognizant about before you wear slacks as a wedding guest. 
1. If Wearing Pants Are Allowed
Find out what the dress code is by looking at the invitation card sent to you or at the couple's wedding website or page. Once you have confirmed that pants are seen as a decent choice, you can absolutely pull off a pair at the wedding. Of course, as long as you do it right.
As we kick the gender norms out of the window, that doesn't mean you no longer have to bring out more effort to your whole fashion ensemble. Not all pants adhere to the dress code, so be sure you search high and low for slacks that are deemed allowable.
You can definitely upgrade your look by matching your pants with the right accessories and a fancy top with stilettos. Further the lavish factor by throwing on a coat or a blazer and adding a jewelry statement for some bling. 
2. If the Wedding Is Casual
Some couples wouldn't mind opting for a casual wedding, therefore, wearing slacks won't be a problem. Still, you have to know well the details regarding which pants are appropriate in respect to the ceremony.
Usually, couples will state it very clearly in their invitation cards. And, even though your semi-formal slacks are given the green signal, you still should look your best. As my mom would always say, "It's much better to go overdressed than underdressed". 
Avoid edgy slacks, those with torn designs, or too vibrant prints. Complete your look with an off-shoulder blouse and cute matching shoes. 
3. If the Outfit Might Upstage the Bride
As we all know, slacks are loose-fitting pants and that means they can be flowy. Avoid such types, more so if they come in white, ivory, or cream. The last thing you'd want to happen is to upstage the bride and God knows how many eyes will stare at you with judgment. 
If you think your slacks come close to looking like a wedding dress, ditch them. You can still wear slacks, but they should come in a different color. 
Another reason is that some brides want to break the tradition of wearing a wedding gown like Kaley Cuoco and Amal Clooney. They found favor on pants over the typical dress, so you really have to go for different shaded slacks to ensure the spotlight remains on the couple.
4. If It's Unacceptable to the Culture of the Bride and Groom
Not everyone goes along with the progress in societal norms and you have to simply respect that. After all, the day belongs to the bride and the groom. If you know that wearing pants to their wedding is a big no-no to their culture and tradition, you have to ditch the idea, no questions asked.
It's a bummer, for sure, but that's the least you can do as an invited guest. Do your friend who's about to get married a favor! Your new slacks will have their time sooner or later but not at the wedding.
5. If It's Too Unconventional 
In the wedding venue, you'll be seeing and meeting loads of different people. Some of which are the bride and groom's relatives and let's include their families' elderly friends. There's always a chance, no matter how big or small, that some other guests will frown upon your chosen wedding outfit, the slacks, most especially.
Avoid this by making sure you truly rock your style! Who knows, they might change their view on pants as a wedding attire after seeing you sport yours with confidence and glamor.
5 Slacks You Can Wear as a Wedding Guest
Since every pair of slacks come in different styles, looks, construction, and level of formality, it's already known that you have to thoroughly scrutinize them before ultimately deciding what you should wear to a formal event. 
Unsure about which ones to choose from? Here are five slacks you can consider putting on as a wedding guest: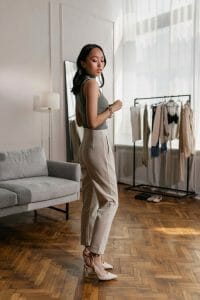 For a relaxing wedding theme of neutral colors, you can absolutely go for these muted brown dress pants. These are formal enough for the guard to let you in the venue! This type of slack is loose and comfortable so your legs can move freely without feeling constricted. Match it up with a pair of formal heels, a contrasting top from the same palette, and a coat to complete your laid-back yet ceremonial-ready outfit.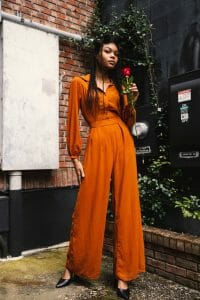 Palazzo pants are extremely wide-legged slack pants that flare to the ankles. They aren't exaggeratedly loose, but rather gloriously flowy, like a dress with a division in between. Go for different colors other than white to get yourself out of the competition with the bride. Go for the jumpsuit look by wearing a top that matches your bottom as if you are wearing a jumpsuit. Don't forget to accessorize as well as fix your hair before you head your way to the affair.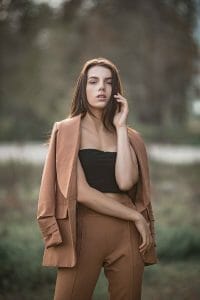 Look effortlessly presentable at your mate's wedding by going for unicolored suit pants contrasted by a black tube as an inner. The whole ensemble won't be too eye-catching, with respect to the bride, and at the same time not too boring to the point you're no longer worth the attention. The suit pants are roomy for a more breathable experience, but unlike wearing a dress, you can do a lot more movements during the entire program!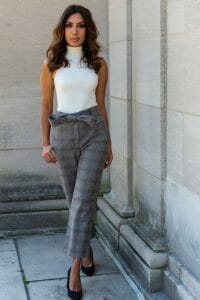 For a semi-casual wedding, a pair of drawstring slacks won't be a social faux pas, provided you give it your best shot regarding how you look as a whole. For this type of slacks, it's great if you go for one that has a design statement like a huge ribbon tied around your waist. It sure adds up more finesse. Include a minimalist necklace and bracelet as well as a refined top and shoes to fit in with the standards of the event. Put a coat on depending on your preference and match it with a cute basic bag for your necessities.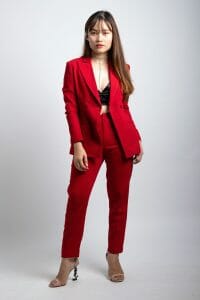 In aiming for a more formal appearance as a wedding guest, you definitely must wear something that would align with the expected dress code of the occasion. Since throwing on a dress is not an option for your comfort, suit pants are not a bad idea. Channel your inner Victoria Beckham vibes and sport a fierce red suit outfit paired with Saint Laurent open-toe stilettos. Add statement jewelry that drapes between your chest and go for a decorous bralette. But remember, weddings are a family-friendly gathering and there could be kids present around. Keep the plunge in moderation!