How Much Do Bralettes Cost? (Know Their Worth and Celebrity Trends)
Bralettes have made it to the basic women's wardrobe for a reason and that is mainly for comfort. Since bralettes tend to be unstructured and wire-free, this can be very comfortable for many women. It has also become such a superb piece of apparel that it has evolved to become a huge fashion statement considering that it doubles as innerwear and outerwear. Simply put, you can wear your bralette in public in place of a bra as a sort of mini crop top and still rock it. 
The Price You Pay
With all these in mind, how much then are you willing to spend on a bralette? Brassieres in general consist of a lot more pieces than a typical item of clothing which is why many women pay anywhere from $30 to $300 per bra depending on comfort, support, fit, better construction, and materials. Let's say you invest in a high-quality bra which would cost you about $85 compared to a $20 bra, experts say you should be able to get an average of 115 wears out of a high price point bra before it loses shape or starts to wear out. Meanwhile, a low-quality $20 bra loses shape in only a month, then once it becomes shapeless and uncomfortable to wear, you would need to replace it. Ultimately, you'll be spending more replacing the low-quality types so you really aren't saving. It's best to have a quality piece regardless of brand, just choose quality over quantity and definitely comfort over design. But what if you could have both and at a very reasonable price, would you switch to bralettes? Let's dive into this!
Bralettes of All Sorts
You'll be surprised to learn that with a wide variety of bralettes out there, price is not really an issue. Bear in mind that women who prefer to buy bralettes are primarily after the comfort then the style factor would come into play next. You can pick a stylish yet comfortable bralette online for $10 to $30 so there's absolutely a bralette for your budget, size, and style preference. Celebrity-approved branded bralettes on the other hand range from $35 to $75 while luxury high-end bralettes can shoot up over $100 to as much as $600.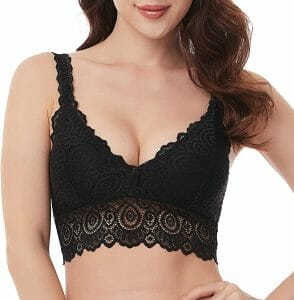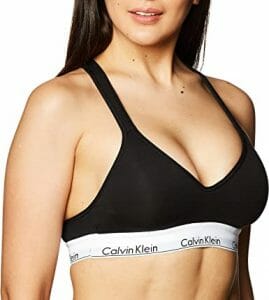 The iconic Calvin Klein CK style bralette is worth mentioning here since it has an outpouring positive review of over 7,000 satisfied Amazon shoppers. Even our go-to Hanes undergarments line has an Ultimate Comfy Support Wirefree Bralette for only $15.
In view of the fact that the Covid-19 pandemic resulted in a global lockdown, more and more women have been working from home. The next thing we knew is that this lingerie item has become essential for a lot of women resulting in a surge of online purchases in the first quarter alone of the lockdown. The Bralette has been described to be the next best thing to going braless without unnecessary exposure. Even as women adjust to the "new normal", we're not ready to give up the comfort we have experienced with the feel of the bralette. We now have a wide selection of styles to choose from without compromising comfortability.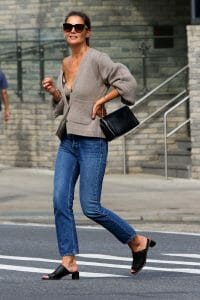 Sweetheart Katie Holmes stirred up the internet when she was seen wearing a cashmere bralette with a matching cardigan. The cardigan bralette is valued at $550. Stocks of the said brand instantly sold out as soon as photos of Katie flooded the internet.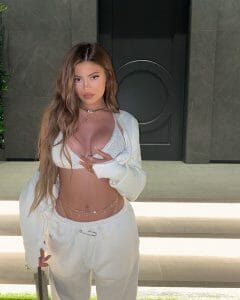 Other A-listers who love taking this bralette trend to the next level and flaunt their amazing figures include Kylie Jenner and Olivia Culpo. Kylie for one lit IG on fire when a photo of her in a white knitted bralette with matching designer sweatpants was posted on Instagram. The Bottega Veneta piece is valued at around $400.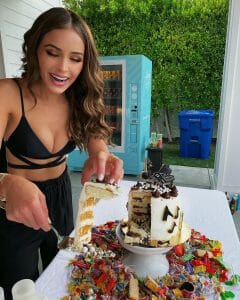 Another revealing photo posted on Insta was Olivia Culpo, the daring Miss Universe brunette. Olivia looked chic in a midriff-baring black bralette with a price tag ranging from $15 to $25.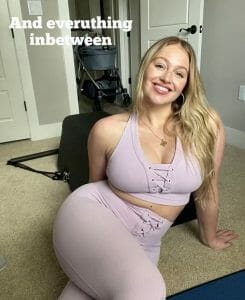 Trendy Iska Lawrence who is also inspiring us to go natural and embrace bralettes posed for this sensational post-pregnancy photo of her wearing a lilac lace-up bralette in a strapped neckline feature with matching lace-up leggings. Similar pieces can be sourced out for around $25.
Swedish supermodel Elsa Hosk showcases several bralette designs from her Victoria's Secret photoshoot and various fashion shows. Get inspiration from these flattering looks with a price tag ranging from $15 to $45 when you shop online or in big box stores.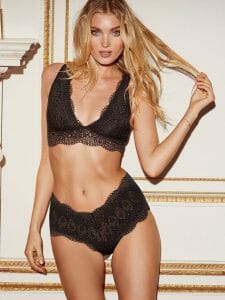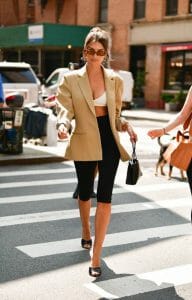 Fashion-forward Emily Ratajkowski braved the streets of New York when she stepped out in a white bralette with a trendy mix and matching blazer and cropped pants.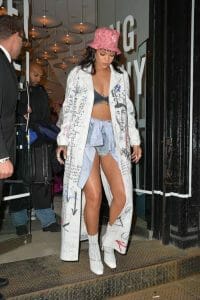 Ever gorgeous Rihanna was spotted wearing a navy blue bralette under an extraordinary fun printed trench coat.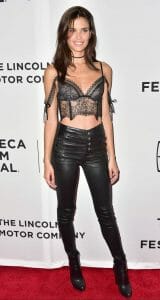 The lovely Sara Sampaio hit the red carpet in a fancy lace bralette with matching edgy leather pants for the screening of The Clapper at the Tribeca Film Festival. A similar lace bralette costs $110.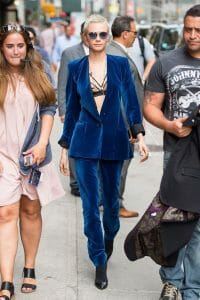 Cara Delevigne was spotted in a modish velvet tailored deep blue suit with a strappy black bralette peekaboo. Surprisingly you can grab a similar lace bralette design for only $24 and look forward to your next date night.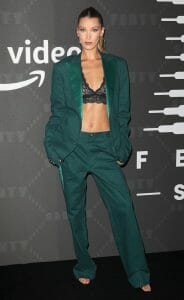 Justin Bieber's babe Bella Hadid wore a lacy black bralette for the Savage x Fenty fashion show. The supermodel rocked the look with a teal blazer with matching pants that emphasized her nice physique and an eye-catching six-pack.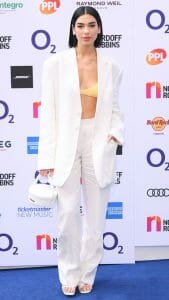 Now we know that pairing a well-tailored suit over a bralette is a no-brainer. Here's a refreshing photo of "New Rules" singer Dua Lipa donning an oversized white blazer and matching pants with a sexy yellow bralette underneath. This simple piece in warm yellow has a very affordable price of $10 – $30 when you shop online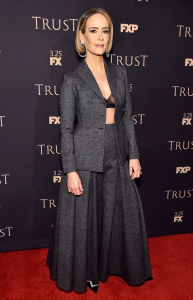 Award-winning Sarah Paulson did not disappoint when she attended the FX Annual All-Star Party in NYC in a fashionable yet classic Dior suit paired with a semi-sheer bralette. Search online and add a similar sexy bralette to your shopping cart for a reasonable price tag ranging from $15 – $50.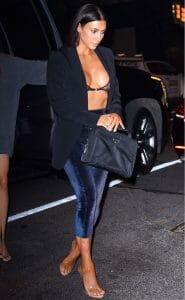 Also spotted in NYC wearing a sheer Gucci embroidered bralette underneath a black blazer is Kim Kardashian. This sheer luxury piece comes in a set with a hefty price tag of about $1,000.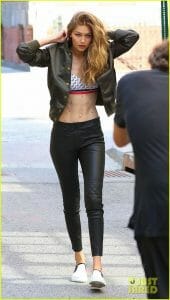 In a photoshoot for the 'TommyXGigi' Collection, Gigi Hadid is seen sporting a cute customized bralette designed especially for her. This is a good steal for $30.