How to Wear a Headband With Short Hair: 10 Inspos You Can Try
Lacking in length when it comes to your hair shouldn't be enough of a reason to settle with just a handful of styles. With the right accessories such as the headband ready in your closet, you would be surprised how transformed your hair is going to be when done properly. 
If you're still clueless about what inspirations to take on and still haven't established what hairstyle to wear in a specific important event, we got your back. 
We will lay out all types of headbands you might fancy, the kind of fashion you may want to sport your short hair in, as well as 10 references that would help visualize everything. Let's get started!
What Headbands Can You Use for Short Hair?
Oh, there's lots to choose from if you're still unsure what headband to put on the shopping cart. You can go for floral, colorful, embellished, puffy, and turban style.  In fact, headbands do not really discriminate when it comes to hair length. They can work on any hair type provided the right one is being used.
If before, you were doubting about utilizing this popular hair decoration because of how juvenile someone would look with it, now would be the right time to shatter those stereotypical expectations.
Here are the top headbands that would nicely match a short hair, from shoulder length to pixie cut.
Puffed Headband
Also known as hatbands, the puffed headband doesn't seem like vanishing away from the fashion world. Over and over, certain remarkable figures would flaunt themselves in public with padded puffy toppers like Kate Middleton, Gigi Hadid, and Kaia Gerber.
In the spring of 2019, Prada has showcased exquisite puffy headbands and people are loving them. They're great in leveling up the short cut whether it be pixie or bob.
Embellished Headband
Looking flashy can garner anyone's attention. Too much of it though can seriously wound everyone's impression of you. Too little and you won't be embedded in people's minds. So, to do it just right, an embellished headband would be a way to go.
This type of hair accessory can either be beaded or decorated with rhinestones. Some are colorful while others stick to one or two colors. Embellished headbands transform plain hair into one that's royal and classy.
Turban Headband
Turban headbands never go out of style. The subtle design at the front captures interest from others making it a classic head-turner. This is typically made out of soft fabric and can be worn either over the hair or underneath it. For short hair, a wide turban is not recommended.
Minimalist Headband
Any monochrome thin band on short wavy hair is like a cherry on top of a cupcake. This is perfect for those who want to upgrade their hairdo without putting too much in it, yet the way it's executed can create a positive impression on everyone. 
What makes a minimalist headband the perfect accessory is its underappreciated balance concerning the size, design, and color.
Scarf Headband
Of course, you can make use of your scarves too. For women with pixie cuts, wrap the scarf around your head and end the knot with a ribbon on top of your head. Others can fold it up and make it seem like a DIY turban. A rounded knot on top is stylish as well. 
There are various options of style you can take on from a single scarf, so have one ready in your bag.
Short Hairstyles That Are Perfectly Paired With Headbands
Got no idea how to wear your short hair? It's definitely boring to just wear it down without any extra touches. Drying and combing your hair shouldn't be the last step in your everyday morning routine. 
So, to keep you from regretting your current hairstyle, here's what you can do to stay fashionable without looking ordinary with short hair.
Curled
Curling irons would really make your hair look splendid. Whatever length you are in when it comes to your hair, curls would always be possible unless, of course, you have opted to sport a bald look. 
Braided
If it's attainable, braids would also add an exquisite touch to your hairdo. You can do cornrows on the side or do french braid halfway. Have the liberty to choose whatever possible braid styles you can do with your hair.
Low Ponytail
This might be very simple, but a low ponytail would do you justice. Whether it be done messily with a few hair strands on the side or do it neatly with vertically parted hair on the side or at the middle. 
Low Bun
If you can still twist your hair in a bun, this would also be a great stylish choice. Technically called "chignon", this hairdo connotes formality and vintage style. This chic and sleek look would make you on the go to a cocktail party.
Sleek Bangs
Having a fringe sure does give off a certain effect. This will accentuate more your whole look and hide away the forehead if you're uncomfortable showing it off. The bangs are best divided from the back section of the hair through a high-quality headband either in fabric or metal form.
Textured Pixie Cut
Have a tousled hair look by blowdrying your hair whilst running a comb through it to achieve the desired results. A texturizing spray would keep everything in place. Of course, at parties, it's best to have a nice knickknack on the head like a headband that would match your outfit.
10 Inspos You Can Try For Your Short Hair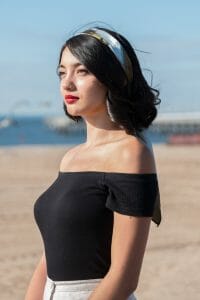 As mentioned, curly or wavy hair would really upgrade your chic vibes. In this image, a scarf folded diagonally can serve as a dependable headband that would hold your hair together. Let the ends flow freely instead of ending it up in a thick ribbon or else it would cause an undesirable bump beneath your hair. Expose a small portion of your front hair or let the scarf conceal everything.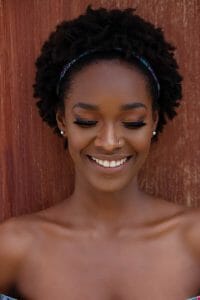 Afro hair is natural to many black women. Don't let the media and magazines tell you that they have to be straightened up! Strut your God-given crowning glory with a thin headband in wonderful colors or patterns. Ribbon it up or keep it simple however you want it.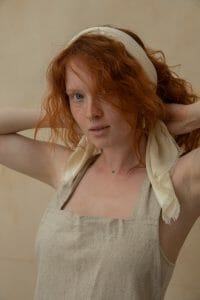 For a beach or picnic look, let your hair down the whole day. It's best to have some character to it like waves or curls if you may. It would look absolutely effortless without sacrificing the beauty we're after. A vintage fabric-made headband in white or cream would perfectly match a white beach dress or a nice summer outfit you've always been wanting to wear.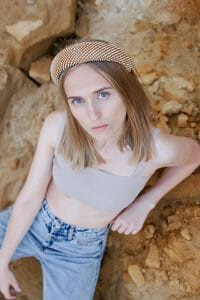 Puffy headbands can be worn by women with long or short hair. The picture above shows a balanced and well-proportioned look. The hair is parted into two sections and left to be worn straight. Typically, puffy headbands look majestic in neat hair, so this would be a great choice for those who are about to attend a formal event.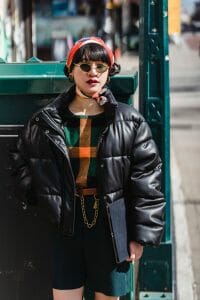 Don't worry, you won't be looking like Dora the Explorer on this one. Short hair with a fringe is fashion no matter how everyone else would put it. Do whatever you want with your hair, braid it, resort to a low ponytail, or simply wear it as is, but don't hide your bangs away. A nice headband around your head will make you look popping in public.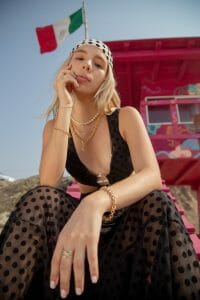 This would also scream "boho", but it all depends on the design of the headband you use. Whatever your preference dictates, it's definitely a big YES to wear it over your head. Let your natural short hair flow or have a few single braids done on the sides of your head. Don't forget to accessorize to complete your ensemble but make sure you don't overdo it. Ditch the large hoop earrings if you're already full around the neck.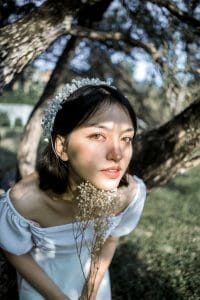 Let's admit it, short hair plus a floral headband is a match made in heaven. Whether you're going to church, a wedding, or simply meeting out with friends, wear the confidence to flaunt it in a trendy way. A dress in a matching color would really make people take a second look at you. Don't forget to snap a shot before the sun sets.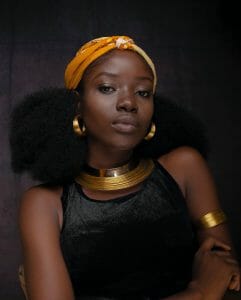 Be proud of your natural curls no matter how extreme they would look. A headband in turban style would add up a touch of culture and creativity. Let it be nicely wrapped around your head and let the exposed ones puff out freely. For women with dark skin tones, vibrantly colored headbands would be a great choice.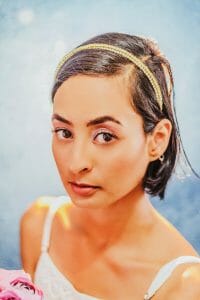 A simple short hairstyle doesn't have to be boring. Go for embellished headbands to add some sparkle to your game. A "no makeup" makeup look would keep your simplicity shining. Of course, since you have the stones on top of your head, there's no need really to wear earrings or necklaces. Bracelets are a must, however.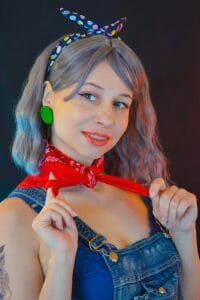 Feeling eccentric? Choose printed headbands like those that have polka dots all over. Wear it around your head and end it in a stiff ribbon if it has a bendable metal inside it that can support the figure. Bangs or without bangs, this would enhance your entire garb. Slightly curl your short hair to make it even more attractive and eye candy.