12 Best Headband For Short Hair 
Short hair is all so adorably in-demand for whatever season it may be. The haircut seems to strive as a signature look when it comes to looking modern or cityward. Well, needless to explain, but we all know that it is all because it is easy to keep and wear especially since we women can always be out and about with our careers and in-betweens.
With that in mind, let us share with you a few of our best tips on wearing those pixie cuts and bobs! Browse through and you will see that even if you are not much into headbands, then you'll get to see how one in effect can give your short hair the glance it deserves!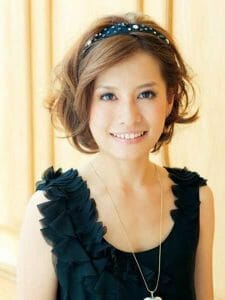 For your cute pixie cuts or curls, a headband full of embellished beads or dewdrops can beautify it more! You can match that blonde hair with some blue headband and, of course, any dark-colored headband effortlessly for that subtle afternoon styling.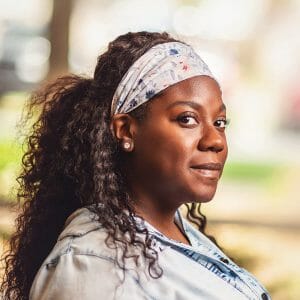 We love tie-dye designs! By giving that short hair easy fashion for any outdoor affair, this style right here can let your bob cut have that chic impression of your unique personality! Remember to let loose any color likings you have, as the style is meant to look chill and uncontained by patterns. Pop on some bright lipstick to feel a bit extra, too!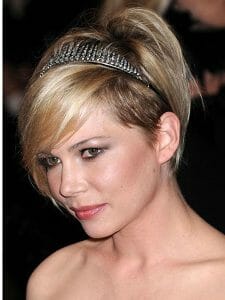 As looking royal, and sophisticated is somehow visceral to us women in fashion, it is not new knowledge that crown-like headbands are always a must. With that said, this also meant that it doesn't rely much upon how long your hair is! With short hair, know that you are rocking like that glamorous movie princess style!
The embellished headband looks perfect for those who have choppy pixie cuts, or even to those bobs with beautiful long hair bangs. Note that hair highlights can also be part of the game here.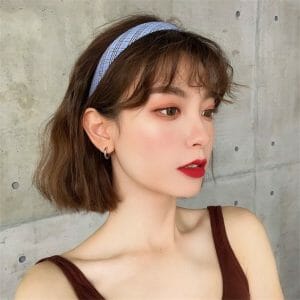 But then you have those days that you feel like doing a pretty Korean flow style of short hair. Then have it well, with this plaid-design headband that you surely would love buying in sets! Patterned headbands are effortlessly your ally when it comes to adding an accent that is different from the rest of your clothes but, at the same time, share a balance of colors in the overall outlook!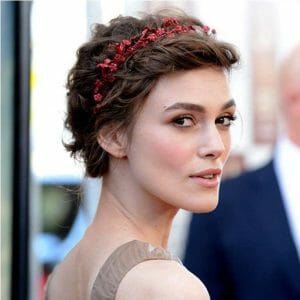 If you like persuading a crowd that you own your fashion, then how about trying a headband that has that touch of holiday wreath? For sure, you would love something out of the box, something that may seem uncalled for from time to time, so why not a garland of flowers in your hair, right? Take this one here where it doesn't have to go with the natural colors of flowers, but just goes as a plain glittery red wreath!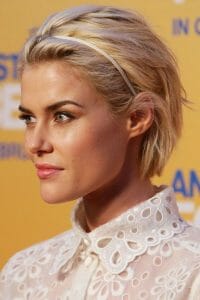 Then there would be times that you don't have to keep looking for the perfect headband, really. Something simple and not too compelling to the eyes, can be all you need. And for those moments, if you need one, just pick a thin white cord headband! It will do well along with your light-dyed short hair, and does not pose too much attention if that is something vital for you. Plus, it suits your white-accented clothes, so why not?
Style from an animation? Then go do it in your next bond with pals! This black headband here can never go out of fashion. Looking for something buckled with metal or alike, can make you look like wearing a quality vintage scarf. So this one here is a keeper, especially if you love retro fashion!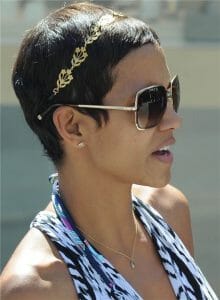 The laurels, yes! Never ditch those gold or brass headbands, too! They are so Greek by the way, and very matching with our short-haired ladies out there. Knock out the usual casual cloth headbands with this one, and take it to a key role in those special events that asks for something out of the ordinary! Wearing one is like affirming that you are a bespoke elegant lady all along!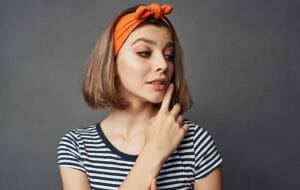 Neon colors are dramatic on their own and if you love knot bands on your short hair, then welcome them to your daily hair accessories! Not only do they give you a bold poise of a vibrant personality, but they can seemingly get you looking more trendy in your daily styling! Take this orange one here, that does well for a sunny aura!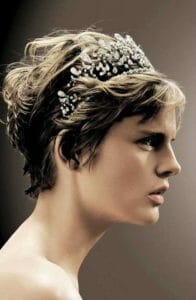 Embellished crowns don't have to be for the noblest people only, don't you agree? Here comes another definition of splendor touch for those rare occasions of yours! For the good news, nowadays you can find tiara-like headbands online, in not-so-expensive values, too. If you ask us, maybe it's time to delight yourself in some royal vibe for the next formal event!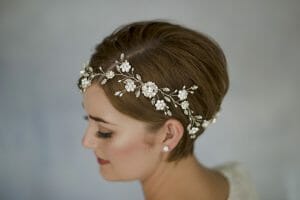 Maybe you are worried that you will not be having the same wear of long hair swirls and tendrils for the next big occasion. But with short hair, your creativity for hair accessories can be endless! Go look bejeweled in this vine-like metal headband that is gem-filled in an aesthetic way!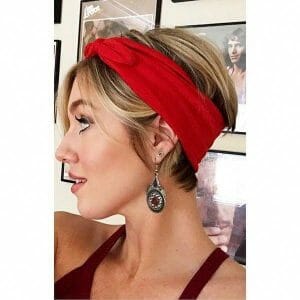 For those who have Rosie the Riveter as their animal spirit, then take on the day on this piping look of a blood-red headband! Perfect for those with an asymmetrical short pixie cut, layered short bob, or even on your classic to messy bobs! Couple this all up with some dangling earrings, and we're sure you're incontestably a stunner in this style.