20 Leggings Outfit Ideas [A Guide In Styling]
Sure we love leggings, too! How well it goes for almost any thick and structured layer of clothes we wear from time to time. They are made of thin, snug fabric, making it easier to slip onto some ankle or knee-high boots. Not to mention that they are also flexible to wear for streetwear or any endeavors you have during any clement season.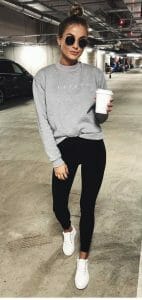 You don't want to look slouchy? Then no to baggy pants! Pick those leggings instead for that big-sized sweater that you will be wearing out to your friend's house. The leggings will help emphasize your body outline despite wearing bulky knit sweaters or the like. It simply gives the impression of a slim form in you, even in a not-so body-flattering top. Jersey white sneakers are also an asset in achieving this whole look.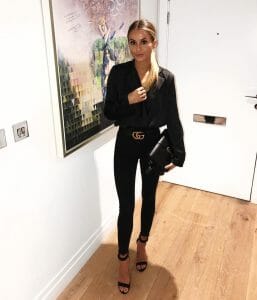 Leggings with a semi-formal top? Why not! The whole ensemble is quite chic and feminine, too, as you wear high heels or wedges. Try to have that long button-down dress shirt with a ribbon-tie feature in the front to serve as a waist design. Such style for a top will be so complementing to the beltless design of leggings!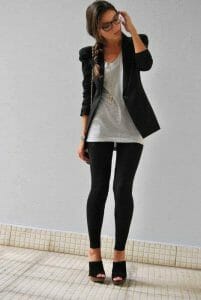 As tees are utterly commonplace with leggings, we have here a simple layering together with a fine blazer. It is convenient to use in those simple project days, where you don't want to look extra tailor-made for the day. The whole outfit is remarkable to wear in those easy errands. Whether it'd be to meet someone on short notice or just down to a small business down the road, you are good to go with this set.

Do you know that you can also look important, too, even in those leggings? Try some peplum or boxy blazers to get that smart impression wherever you go. Also, get your shoes to be in the same color as your shirt to set the day right!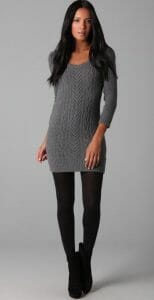 Go comfy from top to bottom! Some dress-like sweaters seem like they occupy more than half a portion of a woman's body, and so a pair of good ol' leggings must always be to the rescue! The structure of leggings would evenly distribute your slim features too, but mind you, even while staying comfortable in those long blouses or shirts, too!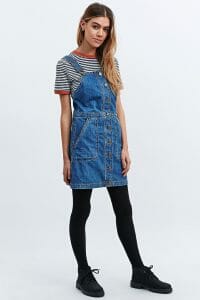 Oh, how we love denim jumpsuits! Wear it with some fancy striped tees underneath and classic black leggings, and you get that version of yourself, called fun-loving or coltish. Step on some black-laced boots, and take the day off!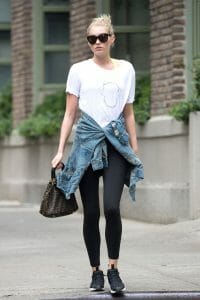 Here comes one of the most straightforward stylings we have on this list. Though not as fashionable as the others, leggings and white tees are easy-breezy for all your undemanding indoor or outdoor trips. Tuck a jacket in your waist, and on a trice, you get the on-duty mood on!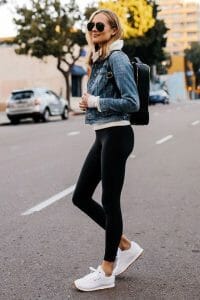 Adding class to your leggings outfit here, we have an entrenched blue denim jacket. For all your set vacations this weekend then you might want to go a little bit easy on which clothes to wear. And with that, the leggings will be very handy for all those strenuous hiking or mountaineering you are to do! Do it with the denim jacket— which of course, is a classic to any outdoor fashion—and you get our two thumbs up for it!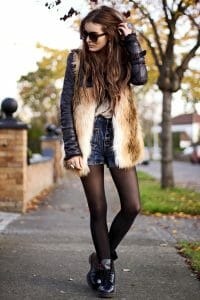 Do you have those fur coats or vests? Then try to give them some more focal point when going out! With a good fit of any color of leggings, instantly, you would be a good model brandishing some luxury top to wherever you go! The whole style will make the wearer look petite, too, on leggings. If you ask us, the leggings are the most ideal in matching those already grandiose-looking fur clothing!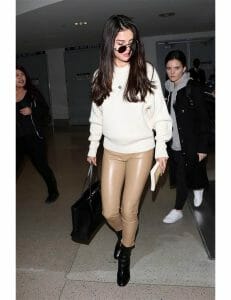 This one is a chill, no-brainer style. No matter how fluffy or bulk your top layers are, leggings can still provide you that thin silhouette underneath and get that slender impression! We are loving how Selena Gomez had once graced her leather leggings effortlessly too. Here we see her with a play of white and nude colors in her sweaters-and-leggings pair.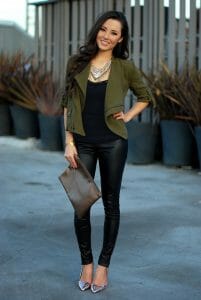 Now you most probably made the black leggings, one of your wardrobe's staples, and you know too how it goes well now with most of your casual clothes. We assure you that another style here will take you to a more fashion-conscious you, especially as jewels and leggings might seem a little bit odd to the hearing. We bet you that the whole set you come up with is not even off-looking! Try it all on with a slate-colored cardigan and a low-neck blouse underneath to finish the look!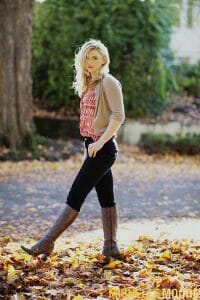 We mean it! A 3/4 style sweater or cardigan looks American in your favorite leggings, too! The layering of clothes goes hand-in-hand with the high leather boots that give that ranch day vibes! Quite a level-up from those old jeans outfits you might have used to wearing if you ask us.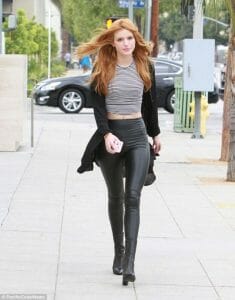 Why not brace for some short tops that will highlight your navel? To get the look, take a black pullover to layer with a gray top. Another key to the whole rig is wearing black form-fitting boots over the black leggings, too. After all, your slim form doesn't end only in the waistline!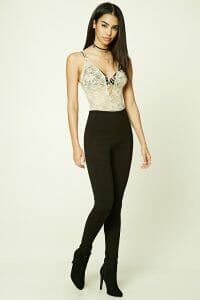 Give your lacy top the attention it deserves! Don into some black, svelte leggings and black pumps to pull all people's eyes to your fancy top. A pair of black form-fitting boots can also be one of your winning options to give that conquering effect of a fashion statement!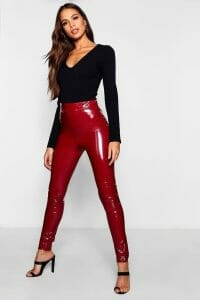 Are you daring to look foxy on occasion? Then we can't help but recommend you this pair of fitted tops with slim leggings! They are indeed a set that makes you think of Catwoman and all those sly women characters in comics and film because, sure, the outfit looks meant for the role! Add that Ariana Grande-style hair and some high heels, and you are finally ready to set the stage on fire!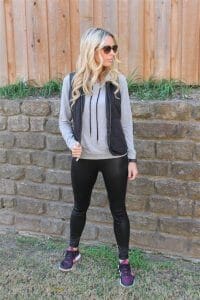 To look athletic or swag, then the hoodie and dark-colored vest should be your thing! Do not forget to pair it up with some fab leggings! For some gym-lovers, leggings are quite an indispensable item in their closet. That is why the whole look you will have implies both a sporty and active lifestyle, too. Of course, any of your favorite sneakers will do to complete the outfit, we promise!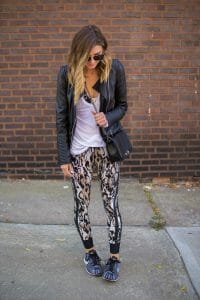 We could say that this pair of leggings cannot be on everybody's bucket list, but come on! For sure, there would be an instance that only the printed leggings can do the takeaway for you! If you don't love plain-colored clothes, then you would give this style a go, too. Not only do they help you emanate some aura to wherever you go, but sure it is like showing your bold perspective towards fashion!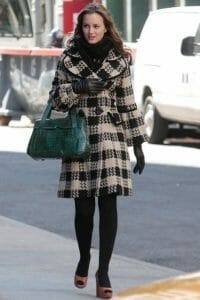 You have seen this style in movies and soap operas, sure. It is quite a woman's go-to style who lives in parts of the world where winter is always lurking in the corner. You can see this style a lot in countries close to cold extremities. And so, if you are to clad yourself in some trench or double-breasted coat, then leggings should always be one of your options to achieve this chic custom!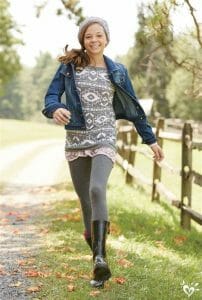 Easy outfit ideas for young girls, too! Any little young 'uns would say that bonnets, long blouses, and leggings are definite stayers in their closets! But why leggings? Well, that's a piece of cake, you see! We know how a good pair of leggings are made from flexy cotton or spandex material—fabrics that support physical activities and continuous movements. So yeah, that's definitely why a kid's department store would never run out of leggings!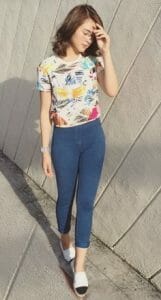 Are you looking forward to wearing something for a vibrant youth look? Then a short printed crop top can be one of your favorites in matching those leggings! If you have a short hairstyle, then the better! Not only will you be able to display your enthusiasm with a teeny-kind of fashion, but it makes you look younger too, in more aspects than one. Make your day with navy blue leggings with the white top of an abstract color pattern!