21 Palazzo Pant Outfits Ideas [A Guide In Styling]
Including pairs of fancy palazzo pants in your wardrobe, is such a good investment if you are trying to put a new array of fashion in your daily OOTDs! The palazzo pants are very much a unique style of pants that can be used for almost any occasion you get to attend. But hey! of course, these are perfect for your simple getaways, too! The pants are styled to add flare to your silhouette and so for you to look more graceful in your walks!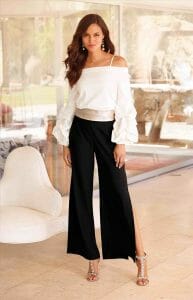 Why not match your flowy pants with a flowy-designed blouse, too? Here we see white off-shoulders that have ruffled sleeves smoothly run down to the wrists. The look gives you a dainty and delicate image when worn with a balletic style of palazzo pants. It is indeed feminine and comfy-looking outfit you'll be getting into!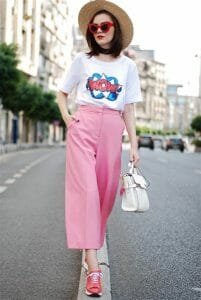 Tired of using the usual denim pants or trousers? Then the palazzo pants are your next best pants for the season! If you are aiming for an easy casual getup, then a white graphic shirt is very much a convenient choice for your palazzos. You can even try to tuck it in and finish the outfit with a brown brimmed hat and sandals or sneakers that have a close hue with the pant's color.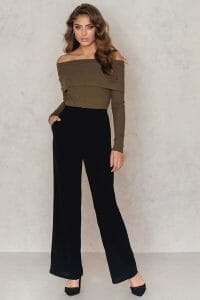 Dark-hued and other deep-pitched tops make the top portion of your body slender and flattering. This is especially true with wide-legged pants such as the palazzos. Classic black palazzo pants can also add extra slimness to the wearer. You may say that palazzos are excellent in emphasizing your sexy fashion style! Try the wide-hemmed pants with some army green color of long sleeves.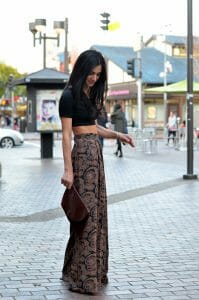 There are palazzo pants that are printed and are really eye-pleasing to look at with a short black crop top. You don't even have to worry about looking for a catchy blouse to match those decorated pants! Like what we have here, where you can even flaunt some belly to achieve that simple breezy summer or beach walk outfit. Who else would not enjoy wearing pants that flare a pattern from waist to ankles?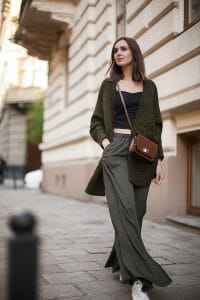 Not only sweatpants will make you able to walk with ease and comfort all the time. There are also palazzo pants that can give you a more prepped-up feel than the simple sweats or jogger pants! So for those errand-filled days down the street, why not try wearing more of those snug and physically appealing palazzos? Pick a pair of white sneakers, and off you go!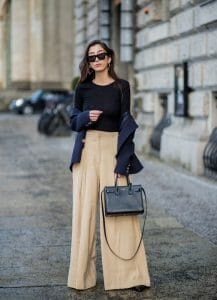 And yes, palazzos are also a great idea for showing off some of your elegance towards fashion! We have here some nude cast for your bottom pants, where you can match it with black blazers or a fitted black blouse. Wear some black shades and a matching leather handbag, too before you start your day!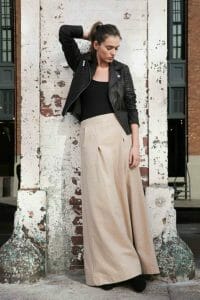 Another style that you can try with those nude to light brown palazzo pants, is pairing it up with a black leather jacket. Wear underneath a tank top or any of your favorite camisoles to give that impression of comfy but still casual garb before getting on to your day! It is like having a layer of unapologetic fashion items all in one outfit! You will even get surprised that you don't have to don denim trousers all the time just to pair that classic leather jacket.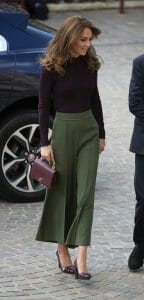 Looking like a royal is not fixed on wearing white to ivory-colored outfits only. You may still look extra groomed with a fitted turtleneck blouse and an olive green shade of palazzo pants! Trying this set in your next outdoor venture will help you give out that impression of being engaged only to the important tasks for the day. That is why you can also wear similar poise on a casual office or business trip!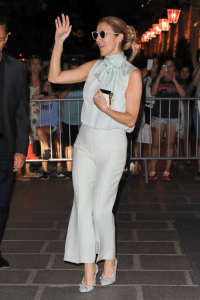 White and other light satin-finished tops can be your next get-go if you are feeling extra special towards a sensational event ahead! White palazzo pants are perfectly suitable for the stunning image you are aiming for. A cowl blouse is a perfect pick too if you simply want all eyes on you! Take it that you are also wearing some shiny pump heels or a small glittering purse to satiate that modest class in you.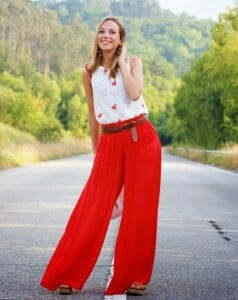 A big yes to bright-colored pants! The structure of the palazzo pants will definitely provide more than enough satisfaction to a wearer who loves to go out in bright pastel colors! It also gives that dazzling look of vibrant mood and summer vibes wherever you go. If you like to flaunt a favorite hue of color throughout the day, then walking in some flaccid-trimmed pants is really the best fashion item you should go to!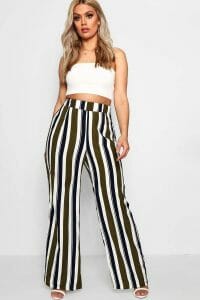 Pants with awning stripes plus a matching white tube top must be one of our favorites here. For your outfit to look so commanding then pick some top to bottom-striped palazzos!. Not only will you look taller but you'll see that you are also brandishing your slim silhouette with no effort at all. You may either go for a hair bun on top of your head or just pride those hair tresses instead!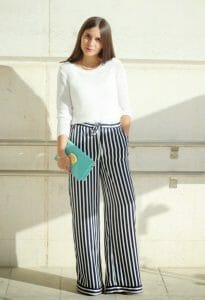 Another pair of striped palazzos! Try those black and white stripes, and instantly get that smart and spruce look! Pair it with a white long-sleeved sweater or blouse and you already look great for any modern-themed get-together. Of course, time to ditch those usual outfits with denim trousers and jeans. Don't forget to bring that purse with a contrasting color, too!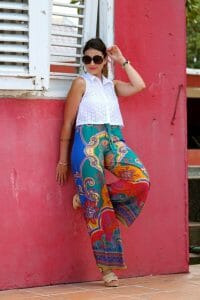 Do you love clothes that display the free-spirited personality in you? Then there would always be an array of particular palazzo pants for you! You can buy the pants in aesthetic designs for the hot summer breeze and are mostly coming from breathable jerseys or crepe fabric. Go for a simple sleeveless collar blouse, and you instantly give that beach-ready vibe!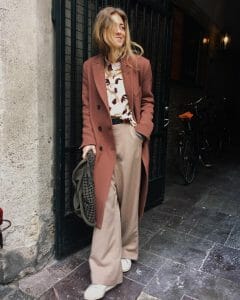 You will be heading west with these fashion items playing on neutral colors! Notice how that light brown palazzo pants blended well with the effortless brown trench coat and printed white button-down blouse. A thick black belt will serve as a good eye-stopper in the middle of your overall garb. What you get is a classy retro throwback outfit!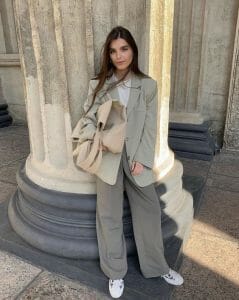 Wide pants, when paired with blazers, or cardigans, make a top-notch choice for runway-style clothes! Achieve the look by donning some same color and texture of clothing, and be comfortable with those white canvas shoes to finish that modish but easygoing look! A shirt underneath having the same color as your shoes would be essential to carry out a charming effect.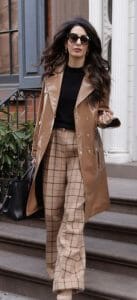 Flair your fashion sense, and look elite in brown! You may pick a pair of palazzo pants with almost the same design with a Gingham pattern, and wear that shiny leather coat you always treasured in your closet! Tuck a black shirt, and, Voila! You are like going to a movie taping to direct the film!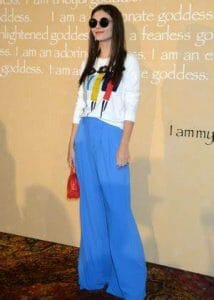 Here we have something that does not conform with a boring fashion style! If you are going to a spontaneous event, why not get it on in a uniquely versatile outfit! Not only will it make you display a bit of attitude, but the overall OOTD is a real hooker for neon color lovers, too. Don yours in a printed long-sleeved shirt and shiny shades before picture-taking!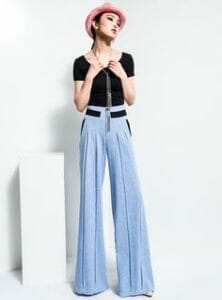 The complementing colors of a black and light shade of blue, of course! Wide-legged pants in sky blue make the bottom portion of your body balanced, with the slim-fitting black crop top. If you are trying to look shorter, then this set can be one of your best go-to on the list! Remember that blacktops do help create a visual that makes its wearer broader in size. Sure, you can take that short-brimmed hat, too, for an extra chic look!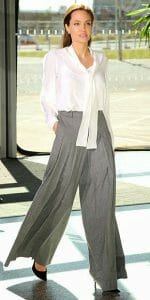 Get that tinge of Western look just by wearing a pair of wide-legged pants! Palazzos highlights your ruffle, tie, or jabot-like collar blouse. Take it that you wear something like a greyish color for the pants and a white top. The ensemble will create that refined look wherever you go! Why not get your inspiration on this Angelie Jolie signature outfit?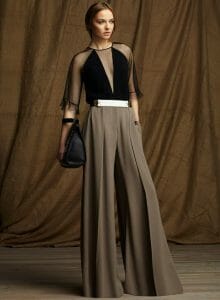 Now, how many times have you seen celebrities brandishing their elegant palazzos in awarding ceremonies and the like? Also for those formal night affairs, the palazzos will make an excellent pick from your wardrobe of sophisticated items. It is indeed a perfect must-have for your next shopping trip!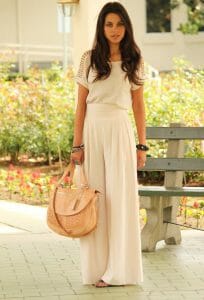 Are you going for warm and relaxed wear? Then take this simple outfit of white overalls which are convenient to put on for those sunny picnic days! Cuff or Kada-style bangles will do the trick as part of your accessories. Set some flare to that clothing, too, by bringing with you a handbag with a dusty shade of either nude or warm brown palette.