Pink Purse Outfits [15 Styles For You]
Posh into some ladylike color with your bag this season! Going out in a pink suede or leather bag might strike your fancy, especially since it is not something you see every day in the streets. Not only does the color give off a sweet style in your overall clothing but it may also remind you of your vintage love for pastel colors!
Plus, pink handbags offer plenty of options for your everyday styling. Ever heard that pink can also be a new black? Then that is how it goes with our set of styles in this article, so read on!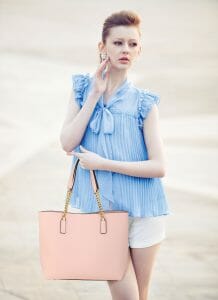 If you are up to doing a nice ensemble of soft colors only for your day's getup then a gentle color of blue blouse along with a light pink handbag can be the irresistible pair for the job! This could also be best for showing some love to your Michael Kors bags, don't you think?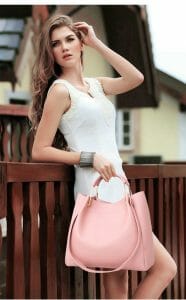 Charm the people around you with a white sleeveless dress paired with a blush-colored bag! The two palettes are always easy to look at and always give off a vibe of delicateness to the wearer. Of course, any lady always looks cute in this outfit!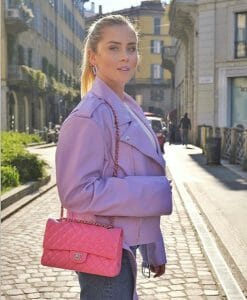 If you love matching your clothes through your bag, then this goes true if you have a top or cardigan of rosy shade, too! See to it that you have matching hues here, for you to achieve that perfect sassy aura. not to mention an off-the-grid style that is so eye-candy!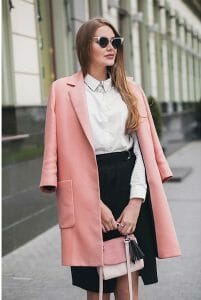 Bring some romantic color to your corporate attire, and oh, how you would still look good and girly at the same time! Play in some pink satchel in the scene, and— Voila! Aren't you a pretty Bella in the crowd!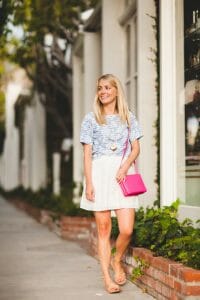 If you are out for a simple chic fashion then do not forget that a smart crop top or tee together with a blooming skirt can do well with a pink bag, too! Slip into some strappy flats and you are set for a casual day off!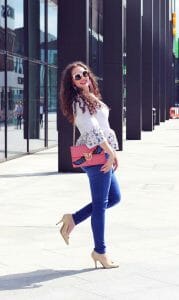 Because we cannot skip our favorite blue jeans at any given time, why not join it with a fuchsia or neon pink bag instead? You also know that the two colors go well in sync, right? So strike yourself lucky if you get yourself a perfect navy denim as your pants!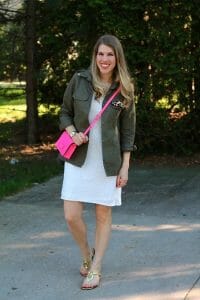 Moss and olive greens do also go well together with pink. So for those who think that only light colors can only match a pink purse then, why not try on a jacket of green along with an inner short dress, to have that trendsetting mode of clothing?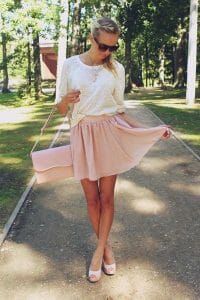 Dressy options, you say? Then match that cherubic bag with a simple set of a tee and flowy blush skirt! The clutch you are wearing would only add to your spirited style, so for sure, no more getting that aloof aura in a crowd, right?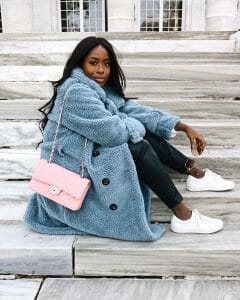 Pink in the cold season? Of course, you would! While a coat is always given fashion wear in those no-sun days, why not take in some warm color to the wardrobe by just slinging a pink handbag in your shoulder? Note that you don't have to wear the usual stale, winter-vibe clothes, okay? Pitching in some bright white footwear will upgrade your outlook, too!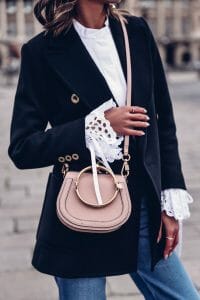 Dash through the limelight, with again a pair blue-pink ensemble! It doesn't have to be blue-white, or blue-black, all the time, you know. This time, the clutch goes to a semi-formal style, and sure captures the fashionable lady in you while you stride!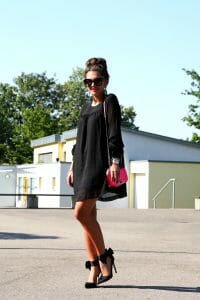 Treat yourself to a little black dress, but make sure that you are bringing a pink purse with you! Match it all up with strappy high heels, and make that hair updo well before you take the night away! The outfit is best for lounging and a late getaway with friends!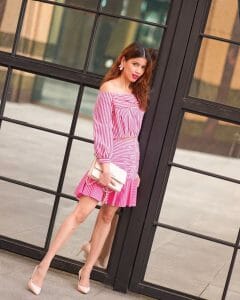 Go on and keep up with that all-pink idea. Take that invitation to the next rendezvous with a bold pink fashion from top to bottom! The bright pastel dress you will wear will surely shove any gloomy mood of onlookers, so yes, queen, just wear it! You can always do some extra on that footwear, too. How about a peach pair of ballet flats? Or a court heel? Or better yet a strappy one that reaches just below the knee? Remember that the shiny pink purse here will be your finishing touch!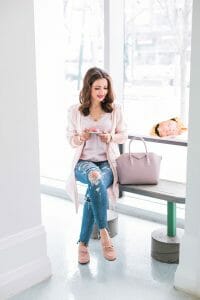 To think about it, we don't need to look far for a good match of clothes for the cute pink purse! All that sweet-looking cardigan and cami set with denim jeans can be all that you need! Go spring to the next afternoon tea with friends with not much hassle to be dainty-looking!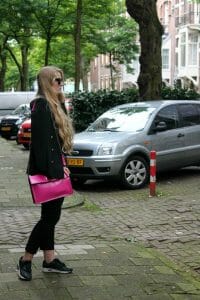 Care to take some spark to your favorite black styling? A fair sanguine color of your bag can be much of a great ally to make that fashion of yours snap some tasteful effect! Just like what we have here. That black hoodie jacket doesn't have to be paired with the same manly colors that are paired frequently with mannequins in malls, don't you think?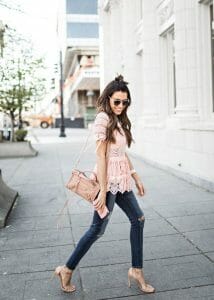 Nothing does more justice to the sweet delicacy of pink-accent items than wearing it with a lacy blouse! So if you are taking that summer stroll this weekend, don't overdo it and just go slip on some easy-to-wear peach-to-pink crop top! You may opt for this top in a knit style or just on flattering long sleeves and whatever you choose you can always add a dash of darling attitude with a blush-colored bag!