Scarf vs Muffler: Let's Compare & Contrast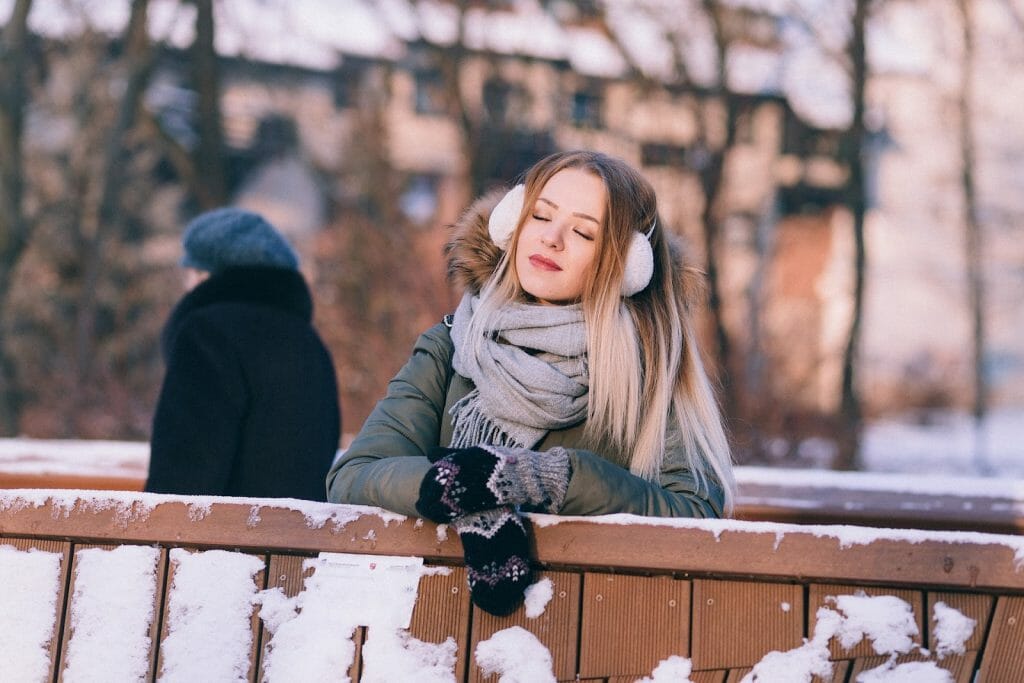 We need different things for different reasons and seasons. But how do we know what to draw out of the closet if the scarf and muffler are totally the same? Save yourself from the common embarrassment of handing the wrong thing to your friend if he asks to borrow something.
If the temperature outside drops below zero degrees, the specific accessory you need is a neck warmer which is called a muffler. On the other hand, a scarf is drowned by a  lot of uses, basically, it's not just for the winter season. A scarf can be a muffler, but not all scarves are mufflers. 
What Is a Scarf?
Generally, a scarf is a piece of fabric that is either worn around the head or the neck for religious purposes, fashion, protection against the heat and cold, or used as an accessory to show your support to a team in sports. It's an all-around accessory that never fades with time.
There's so much variety and prints out there and a scarf can be made from different materials like cotton, polyester, silk, or wool. The ones who often wear a scarf are those who usually live in cold regions and are pretty much not a popular add-on to tropical countries.
Scarves have been around since the old times and their fame just keeps soaring, especially in the vogue aspect. A scarf is a woman's essential piece that encompasses all types. 
How Long Should a Scarf Be?
There are no real figures as to how long a scarf should be. Some are short in length like the neck scarf, while others are longer than the measurement of your arms wide open. Traditionally though, a typical short scarf measures 55" in length while the long ones reach at least 82".
In the case of a DIY knitted scarf, you can go as long as you want. If you have loads of yarns to use, you can certainly try and break the current Guinness record of 4,565.46 m or simply keep it within your limits. 
When Can a Scarf Be Used?
Anytime! You might not know it, but even though people would stereotypically assume that a scarf is only meant for the cold season, it's more versatile than what most of us think. Parties, concerts, music fests, picnics, you name it. You will surely not be the new example of the dreaded fashion faux pas!
At work, a luxurious neck scarf can be worn and tied like a ribbon. It's your stylish way of looking classy or adding more effect to your whole suit. You can even tie it on or around your handbag's handle for a luxurious vibe.
In a fun event, a scarf can be placed anywhere on the body. Teenagers usually sport it in their braids while others love to make it simple like tying it on their wrists. 
On a daytime date with your friends, a scarf can be sported as a chic headband with draping tips. Seriously, there are a lot of instances where you can flaunt every piece you have from your collection.
A scarf can be formal, semi-formal, or informal. You just have to choose the fabric, print, style, and manner of wearing it for it to garner a thumbs up.
4 Scarf Types That Are Different From Mufflers
To help you visualize better what scarves are not considered mufflers, we have made up a list for you. Take note of their quality, fabric, and how they are used: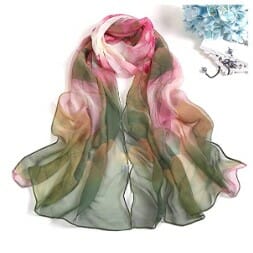 This is mainly for esthetical reasons. It's light, sheer, and flowy which can be worn as a match with summer dresses, casual outfits, and even for office wear. With its texture and thinness, this type of scarf is only practical when it is hot and humid. Since it does not have a lot of fabric weight in it, you can absolutely use it to tie or decorate your hairdo as well.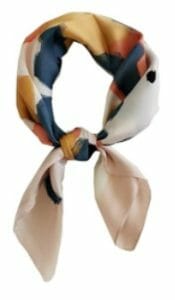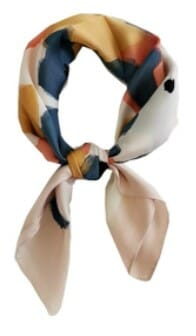 Another type of scarf that falls into the category is the headscarf. This is what a lady needs for sun protection while driving a convertible car on a hot, dry road. It's fashion-worthy as well considering how elegant the fabric of most headscarves is as they typically come in satin and silk. As this isn't a muffler, this is the last thing you'd need against the cold breeze.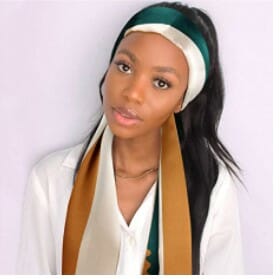 Scarves commit to doing more than what we expect from them. Forgetting to bring your headband at work shouldn't be as annoying as it should be. As long as you have brought at least one scarf in your handbag, you know you're all good. By folding this lengthwise in your desired thickness in width, you can instantly tie this around your head to keep those fringe away from your face. To note, a muffler is usually not suitable for this as it's very thick.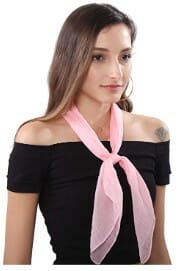 You often see flight attendants featuring their lovely neck scarves as they assist the plane passengers. Admit it or not, this fashion element is eye-candy, to say the least. It's sexy, more so if you're wearing an off-shoulder top. The neck scarf displayed draws someone's attention to your wonderful neck accessory down to your delicately smooth shoulders. Does it add warmth like a muffler? If we refer to the ones that are made light and thin, then barely. But, mufflers can be neck scarves too. It just depends on its features.
What Is a Muffler?
To clear out any confusion, a muffler is a type of scarf that's tossed around the neck and rests on the shoulder to keep the mentioned areas warm. These are the accessories you need to combat the cold weather, in other words.
That means a muffler is thick in fabric and capable of helping trap heat so you wouldn't end up going home with a red, runny nose. If the cold season is intense and there are flurries of snow falling, some would even use a part of their mufflers to cover half their faces.
Usually, mufflers are long and thick in width with signature tassels on both tips. These knotted fringes are often perceived as stylish and people aren't bothered with their appearance at all.
Pros and Cons of Wearing a Muffler
We are clear on the fact that mufflers are a kind of scarf found to be essential when it's snowing outside. But, even though we have emphasized that scarves can be worn any day, a muffler, in particular, might not be your go-to choice without considering what season it is.
Let's find out its pros and cons to understand why:
Pros 
Provides warmth and comfort during the cold.
It gives your neck a gorgeous and eye-catching look.
It's easy to carry and soft to the touch.
Most mufflers can match any outfits you have in your wardrobe.
Cons
Can't be worn on a hot summer day.
It may look too bulky and overwhelming to some.
It shortens the appearance of your neck.
Can be uncomfortable on your neck if you're not used to it.
4 Mufflers That Are Distinct From Scarves
Pretty sure you already have a firm grasp on what mufflers are. If you just got to a cold state in the US like Michigan, Wisconsin, or Alaska unprepared, the first accessory you have to buy is a muffler. 
And with lots of scarves in the market, we are saving you from buying the wrong stuff by listing our top picks here.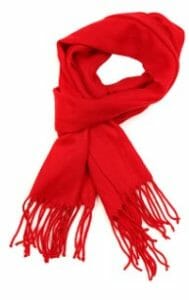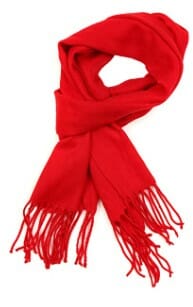 For a more comfy stroll outside regardless of how cold it is, this muffler made from cashmere must be your first pick off the rack. It is much warmer than wool and this will help maintain your body's normal temperature. Unlike other fabrics, you can't expect this to feel itchy around your neck. Since it's unisex, it doesn't matter if you're a man or a woman. What matters is that you need a quality muffler.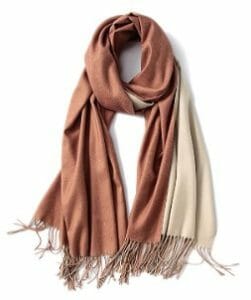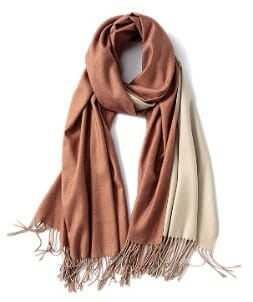 You will be hitting two birds with one stone by going for this two-toned scarf. It's basic yet the shades of choice are what makes it a good buy for many scarf lovers out there. Not only are you kept warm by a muffler but as well as kept looking gorgeous without too much effort laid in! To make this muffler scarf pop, a monochrome outfit would be an excellent choice.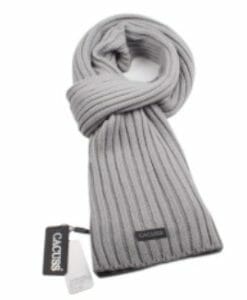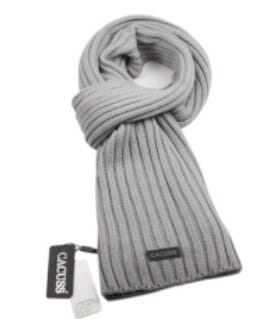 For a more guaranteed warmth despite the harshest cold breeze you'll meet on the way home, perhaps this acrylic knitted muffler will be your best pal for the season. It's made from a synthetic polymer that's eventually turned into acrylic yarns and woven into a type of scarf. It's quite chunky but not overly heavy around your neck and shoulders.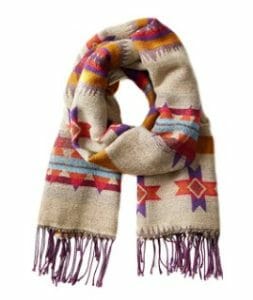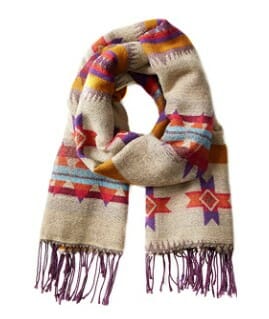 Don't hold yourself back from adding to your collection this South-West-inspired muffler. From the way it looks, you know this will feel super soft and comfortable without the itchy feeling. It can be worn by anyone, kids, teens, or adults. It has the usual attractive tassels at both ends which serve as your accessory's essential detail. This acrylic muffler sure will keep you from any neck-related issues like sore throat caused by the cold air.
Table of Differences
To better differentiate the two, we have made a table that highlights all of their dissimilarities:
| | | | |
| --- | --- | --- | --- |
| Scarf | Includes many types like mufflers, neck scarfs, and headband scarves. | A scarf can be large, small, or just right in size, square, or rectangular. | Scarves can either be thick, thin, sheer, knitted, or silky in quality. |
| Muffler | Refers to one specific type of scarf worn during the cold season. | Mufflers can either be looped or circle in shape (infinity) or rectangular. | Mufflers are generally thick to serve their purpose which is to add warmth. |