Trouser vs Slacks: Let's Clear Out the Confusion
Let's get straight to the point, trousers and slacks are the same garments that cover the waist down to the ankles with a separate part for each leg. There are just little details we have to acknowledge to fully identify which is which from these confusing terms. 
Trousers are mainly the term used in the UK and these refer to outer garments of any kind, the slacks included. On the other hand, the popular slacks are solely associated with loose-fitting pants, usually untailored and off-the-rack. 
Both pants are originally men's wear, but as the age progresses, it's time to revoke the old norm. Men and women, you can definitely style yourself in trousers or slacks, whenever you want. But, before you do so, let's dive in first to their differences.
What Exactly Is a Trouser?
A trouser is a garment with a waistband, belt loops, and a fly front, usually denoting a formal style of pants. It depends where you are, however, as it's how Americans view trousers. When you cross the pond and arrive in the UK, trousers are seen as a bottom clothing that comes in many kinds, and pants are understood as undergarments.
It's a Scottish term, really, or at least, that's where the word trousers originate from. Initially, it was just "trews" and people would wear them as undergarments. Try to say it and you'll hear the perfect Scottish accent out of you! 
The perplexity of clothing terms all boil down to geography, in all honesty. Overall, simply bear in mind that trousers cover all types of pants from sweatpants to jeans, even chinos and cargo pants which fall under the class of slacks.
Garments That Are Considered Trousers
Whether you're on your way to a first date or head to your new company building, trousers are the best clothing option thanks to their range of pants that would suit any type of occasion. It's also a refreshing break you need after weeks of sporting your typical pair of denim jeans. 
In sorting your wardrobe, here are a few trouser types you have to consider: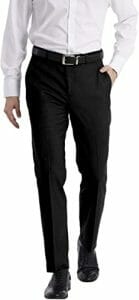 There's a reason why jeans are anyone's go-to pants, but you can flaunt the same tenuous feature in a much smarter look and that's when slim-fit trousers would come in. It doesn't matter if these trousers come as a suit or not, but sporting these pants sure is a way to spice up your game.
The traditional options come in black and navy, while some would go for those with subtle patterns. Don't be too daunted to step out of your comfort zone when it comes to choosing which pants to wear for semi-formal events or your office wear.
The main important thing is to maintain your comfort and move around freely with confidence knowing you both look and feel good.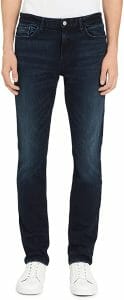 Jeans are one of the most familiar terms when it comes to clothing. Usually, these fall under the informal wear made from dungaree cloth or, you guessed it right, denim.
Since these types of trousers come in the shade of blue, people would often call them "blue jeans" and their common features include five belt loops, five pockets, a fly front, and a yoke located in the back.
For the approaching warmer months of the year, the short trousers are the lifesavers of those who get sweaty so easily. Some can be a bit below or above the knee, but the latter is the more preferred style by people who want to stay fashionable.
Short trousers are a popular choice for dads too. Who wouldn't be able to see in their minds an image of a man in his fifties, wearing short trousers with a tucked-in shirt, sneakers, and medium-high socks?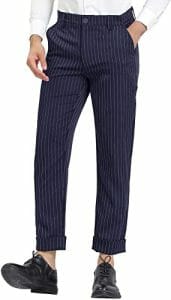 Next up are the formal striped trousers which have been around since the 1900s. Typically, these pants were worn strictly by men matched with an Edwardian era-styled morning coat or frock.
Worsted wool or melton cloth are just some of the materials used for the spongebag pants and the stripes are made out of muted colors in either black, silver, white, or charcoal gray.
What Then Are Slacks?
"Slacks" is an old term. Before it was associated with men's wear, this word that originates from "slak" in Saxon meant anything loose like the end of the sail or rope. These days, slacks are now understood as pants that are loose in fit.
Unlike the fitted pants, slacks are casual, informal, and more appropriate to laid-back settings. These can be worn at the office still, provided that it's a casual business meeting. Remember though, not all slacks can be worn for work.
In some instances, a pair of slacks can be matched with a business coat and people would refer to them as dress pants. Don't confuse these with the suit pants, however, as slacks and business coats generally don't feature the same fit and fabric.
Both men and women can wear slacks although the size and the construction may vary to cater to the different figures of both genders. In a way, some slacks are more dressy in comparison to other casual pants like chinos and cargo pants.
To know more about slacks, check out this Easy Guide for Men's Pants.
Garments That Qualify as Slacks
If you are still unsure about what makes a pair of pants slacks, perhaps a few examples that fall under such a type of category would help you. Bear in mind their characteristics and entailing description to fully understand what the slacks craze is all about!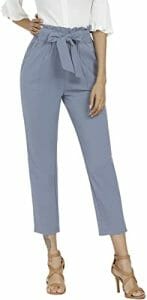 Two things that get men and women on the hook with drawstring trousers are comfort and style. No, you won't be needing a belt to keep the waist in place thanks to the cord which you can easily pull to tighten the grip. This is a perfect choice for men who don't want to look committed but want to retain the style. A basic t-shirt or turtleneck top will help you reach an unmatched casual luxury image.
Wear your drawstring trousers to complete a smart casual look or if you're just heading out for a relaxing coffee.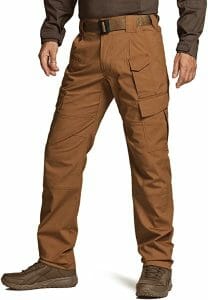 A more streamlined and up-to-date comeback has been made by the classic cargo pants. With Kanye West usually featuring a pair, it's absolutely worth a shot trying out the sophisticated look of this type of slacks.
They do look baggy, but with proper incorporation of other pieces of clothing, these pants can stand out distinctly. Simply avoid those with extremely large pockets on your first try on these former fashion faux pas garments, unless you have the spirit to display them with flair.
Channel your cool and intimidating, elevated aura by matching a nice oversized shirt or a sweater.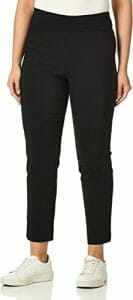 Show off your funky, fun, or unique-looking socks! The best way to achieve this is to flaunt your cropped slacks. Normally, these pants are 3 to 4 inches above the ankles. This gives you enough space to show off your favorite socks.
Of course, the cropped slacks are not on the same level as the formal pants, but these can be worn in some formal events to spice up your style. Cropped pants are versatile in a way that they can be worn with casual tops or formal shirts and coats.
Get to follow the typical Korean look as well by going for a long coat and a neck roll.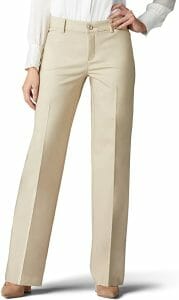 Like many terms in fashion, it is closely impossible to cage down what khaki pants are. Generally, khakis mean beige, brown, tan, or brown color. Before, Khakis were known as the pants various British forces would wear, but they eventually emerged as casual dress pants in light cotton weaves.
While some manufacturers would describe a pair of pants as a Khaki according to its light color, others would sell them in tons of other shades. No matter the color though, a Khaki is only for casual setups.
The Difference Between Trousers and Slacks
There is a thin line that divides both the trouser and the slack pants and it's alright to sometimes get confused regarding these two. Below is a table that highlights the key differences between trousers and slacks:
| | | |
| --- | --- | --- |
| | Trousers | Slacks |
| Style  | Denim jeans, formal-striped pants, shorts, wool trousers, joggers, slim-fit trousers, drawstring, corduroy, and dress pants | May encompass a wide range of pants like chinos, corduroy, cargo pants, khaki, drawstring pants, and other semi-formal to casual pants. |
| Occasion | Can be worn every day | Can be worn every day |
| Usual Colors | Formal: black, gray, and navyCasual: mostly all colors | Black, gray, and virtually other shades.  |
| Material | Can be formal, semi-formal, or casual | Only semi-formal or casual |
In Choosing Between Trousers and Slacks: What to Know
With so much ongoing debate on what term is appropriately used in a certain sentence, the last question is, "Should I use trousers or slacks?" Trousers, once again cover all types of pants and can range from casual to formal types while slacks are a specific category. All pants considered as slacks have one denominator and that is they're loose in fit.
With that, even if your answer is "slacks", in the end, you're wearing trousers. But, not all trousers are fit to be called slacks. 
Also, you have to remember as well how dynamic the terms are, especially if you're in a different place, more so in a different country. Their terms will surely change and shock your vocabulary, especially since the people there may mean different things.