What To Wear With Leather Leggings [18 Outfit Ideas]
You must not take leggings as just any staple fashion wear. With some tweaks, you could make it a perfect pair for most of your clothes! So how about we level up those thin pants to a leather one? You might even be more surprised at how this fashion item's luster is enough to make your OOTD's a total overhaul glow-up!     
We have gathered a couple of outfits that are never off the charts with leggings styling. Glance down to see which item pieces are likely to be on your next wardrobe ensemble!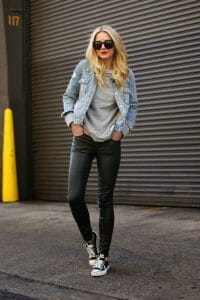 The leggings and denim jacket duo make one of our easy wardrobe items in this list. Both exceedingly cool and comfy to wear, the two are among the timeless fashion pieces that any woman must have readied for those casual getaways! If you fancy wearing tube tops or spaghetti, then give it a go with this set and ramp up yourself outdoors!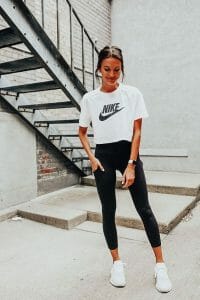 Take it simple and go outside with leggings and a freestyle crop top! Might you, a short, wide blouse and a pair of white sneakers will do the charm! Perfect for those days that you are deciding to look a bit more into some playful or sprightly ventures.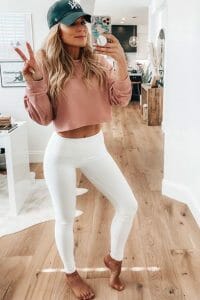 Set the mood with these light pink and orchard green palettes! It's like knowing your colors well by sticking to a theme. Don't forget to get your leggings on either white or another ivory hue!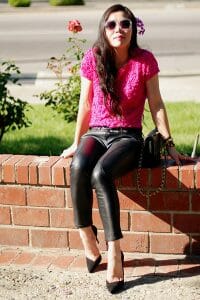 See that pink to fuchsia shades are our second set of glance-stealers here. Well, just don into your favorite blush tops! A pair of black leggings and a black sling bag is all that make this fashion piece an alluring statement. In short, walk confidently on those popping-color blouses!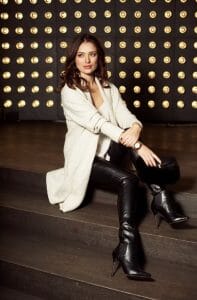 Yep! Black from top to bottom, then go for a cream-colored knitted cardigan! This modest set looks great for those easy travels or errand-running. The contrasting structure of your slim leggings and the loose-fitting cardigan makes you look like wearing a decent fashion set into a business thing.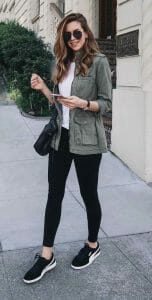 We love cargo outfits! Get other eyes busy by making your pocketed jackets the centerpiece! With the black leggings on, it is natural that all the attention is pulled to your stylish outerwear. Maybe it's high time for pocketed and functional clothes!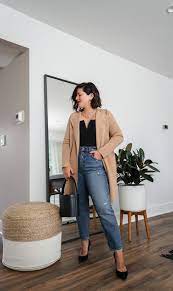 More 'yay!", to those slick-colored vestitures! It is no secret that black is the color for giving that crisp, fresh look in your OOTD, so with brown as a neutral color in the whole get-up, the two colors are not at all boring to look at! Cheer for some more neutral colors to your wardrobe!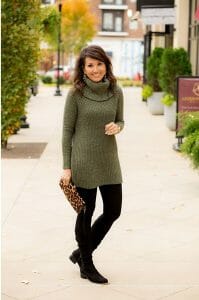 What about the cold season, you say? There are plenty of slender leather leggings out there that can multiply your stylish get-up for the season. Do you have some sleek long sweaters? Perfect! The form-fitting match of top and bottom clothes here can instantly be among your favorites for that femme fatale personality!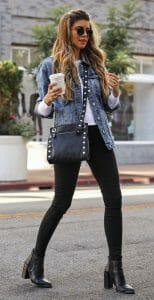 Have your way to that concert attendance! Get this look of leather leggings, form-fitting boots, and a denim jacket that are all screaming, "Rock n' roll!" in a sea of a singing crowd! You know that you are effortlessly doing yourself an extra treat on fashion sense by achieving this whole look —all these three item pieces worn!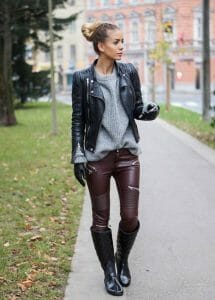 You will love your leather leggings more if you fancy doing it with the classic leather jacket! The entire vibe you get is bold and sporty for whatever time of the year is. Don't forget to take with you that scarf that's left unused since purchase!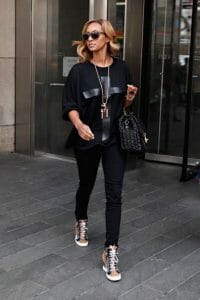 The leather leggings' shine and structure can pop your image even if partnered with an oversized top. Take this black graphic tee, for example, that has an air of posh streetwear mood. Plus, any high-top or tie sneakers can give your day a break!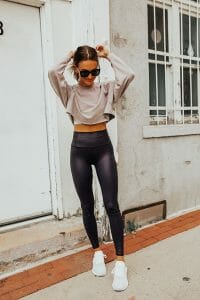 Bring your leather leggings to a higher chic level! Make heads turn in this body-flattering set of the cropped top and slim high-waist leggings, and make the snappy move of picking white sneakers! Finish that sassy active look before prowling the road!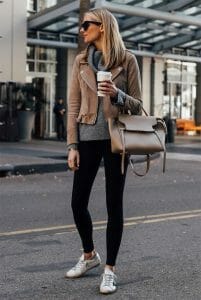 Go candid to that scheduled meeting in this modest garb! Brown cargo jacket over gray sweaters, and you are good to go! Black leather pants are our best color here. Head on with some white pair of sneakers, too, dear!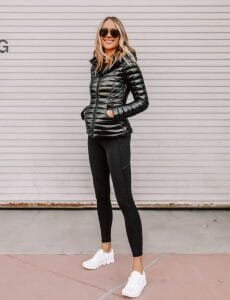 Yes, for lustrous material from top to bottom! For those leather-like puffer jackets, why not pair them up with leather leggings, too? Not only would you look actively spun for fashion week trend, but you give that aura of activeness even in the cold, dreary season!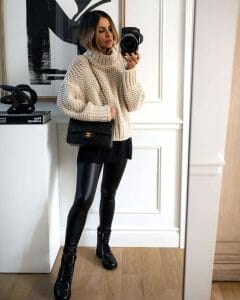 How else to love baggy sweaters but to pair them with sheeny leggings! For sure, you will forget the idea of your comfy sweaters being listless or sluggish once you are prepped with some up-to-the-minute pants! Mind that boots are also trendsetters to these overalls.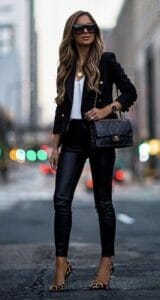 Blazers, sure, are for studio or business statements. But if you are the type of wearer who loves mixing themes in one go, then pairing this exterior outfit with the shiny leggings will make you look like a record-setter to wherever casual place you are set to go! Do not forget to take the spotlight with some flaming-hot design of high heels, okay?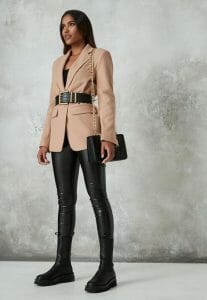 Who says that shiny clothes are only for the club or galas? Take this another bold theme of clothes that are so style-wise for the office! See that that belt is a show-stopper on its own! Slip on to those black boots for those red-carpet-worthy walks, too!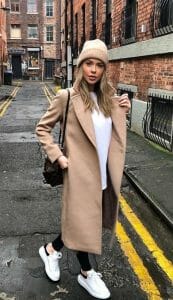 Are you going to wear a trench coat? Then get the leather leggings as part of your light inner clothes! For that showmanship of fashion sense to wherever you go, these pieces are so dapper to be worn together. Steal the look by wearing a white blouse inner top and sneakers, too!