Are Palazzo Pants Business Casual? Plus 7 Tips to Slay the Look
Wearing a pair of palazzo pants will not break any business casual rules since these give off a businesslike impression although it isn't typical business wear. So, yes, you definitely can wear those wide-leg pants you just ordered. However, it's important to stay classy in the office. If it's your first time trying on the palazzo trousers, make sure you wear them correctly without looking sloppy or too extra. By matching, accessorizing, and layering, you'll certainly attract more clients than the previous year!
What's a Business Casual Dress Code?
Several companies worldwide adhere to the business casual dress code as they seem more convenient for most of their employees. This type of wear is less traditional compared to the formal suits for men and women in a professional setting. Although business casual gives more options regarding what to wear, this should not be mistaken as the casual Friday look as each one has different guidelines.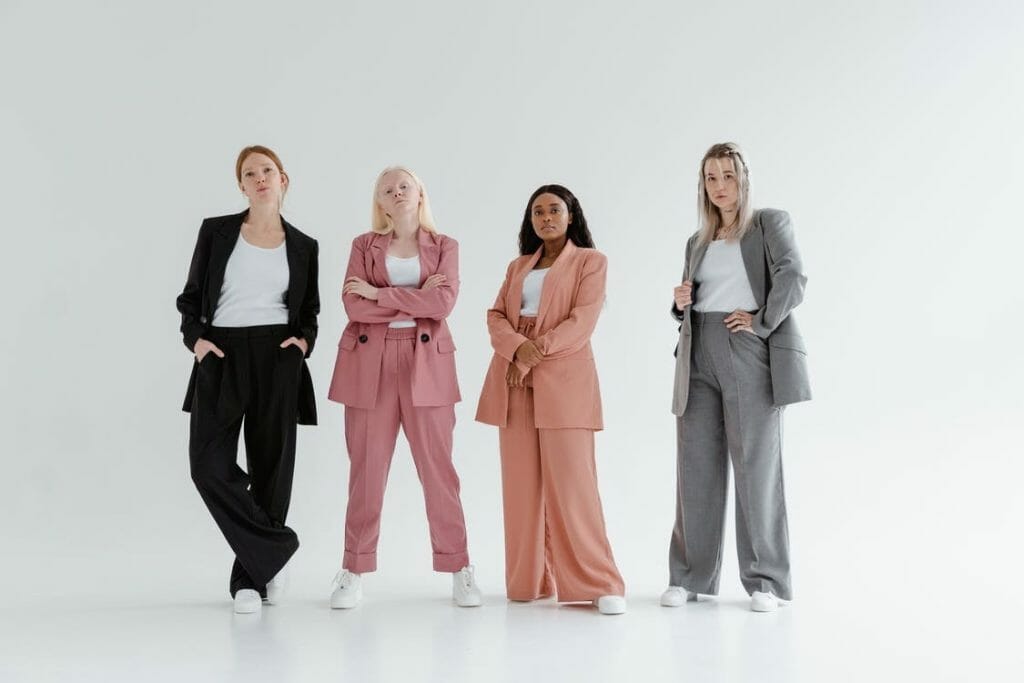 There are some do's and don'ts when you go business casual. The general rule is to look modest by wearing not too tight and non-revealing clothes. The main goal of this dress code is to look chill without sacrificing professionalism inside the company building. We suggest that the prints look conservative and ditch those that have offensive writings and the color must be neutral or friendly to the eyes.
Is It Okay to Wear Palazzo Pants at Work?
If it's worn the right way, then of course! Countless women are now into wearing palazzo trousers thanks to their many features that offer comfort and style. These types of pants meet the business casual criteria, so don't shy away from the idea of wearing them at work. 
With a pair, you can create an incredibly elevated professional look by just adding in a blazer, a jacket, or a blouse. 
Don't ever forget how versatile this fashion piece is and making you look well-respectable is just one of the many looks it can give. This is extremely popular wear during the summer as some of them are made up of light, flowy fabrics. When the winter season approaches, palazzo pants in heavier fabrics are preferred.
7 Tips So You'd Slay Those Wide Leg Pants
For the past few seasons, several runway shows have exhibited differently styled palazzo pants. These pave the way for the wide-leg trousers to attain public recognition, hence their immeasurable popularity among fashion lovers. 
Some may be skeptical toward these unconventional pieces of trousers and would think that they only look excellent on magazine models, but in reality, any woman can pull this off. Even if you're short or you have a plus-sized body type, applying certain rules will make you look flattering and stunning. 
With spring slowly approaching, it's time to think about ditching your old style and welcoming a new, classic one. Here are 7 styling tips so you'd slay the runway to your office building using a nice pair of palazzo pants.
1. Consider the Color
You know you're slaying it when everybody turns their head to take a glance at you, but it can be a disaster if the looks are followed by whispers and giggles. So, the first thing to avoid is to look too much or too flashy in the office. Patterns must look neat, not awkward, and not too bold. For tall women, it's safe to go for bright colors from the waist down. Short women, on the other hand, can opt to wear black or anything dark in color to divert people from noticing the height. 
It's the same with plus-sized women, but concerning designs, palazzos that are patterned with lines have to be vertical, not horizontal to make them look slimmer.
2. Tuck the Top
If you have a high-waisted palazzo, it's worth showing those hips off. Tuck in your top either partially, halfway, or fully to add a certain stylish effect. This will make you appear more slender since the pants are wide and the middle is proportionately smaller. While the pants have a loose-fitting structure, it's necessary that you avoid overly designed tops. Go for basic ones instead.
3. Right Fit on the Waist
With all the heaving fabric on the trousers, make sure that they fit just right on the waist. Make some adjustments by bringing the pants to the tailor if you think they're too loose or too tight. Remember, high-waisted pants are meant to sit on the waist and not a few inches below it. Otherwise, the whole look will look sloppy and incorrectly positioned.
4. Have Some Shoe Sense
Even though palazzo pants look nice on sneakers, business casual wear won't allow the look. There certainly is a time and place for everything, so if you're heading for work, you must go in heels. Chunky heels or stilettos that match your outfit will add more sophistication to your current day's image. If you go for nude heels or those that are of the same color as your pants, it will create an elongated effect, therefore, making you appear taller and your legs longer.
5. Balance It With a Jacket
Show off an hourglass figure with a perfectly fitting jacket. The ones with paddings will make your shoulders look rightly broad. This will balance out the width of your palazzos. Some palazzos have matching blazers so purchase a set to save you a day from looking for the appropriate jacket. 
6. Add Something Extra
This is something that needs not be mentioned. Whether it be a luxury watch, an heirloom necklace, or a pair of earrings, put them on! Of course, you don't have to wear all your jewelry, but you get the gist. Accessorize the areas which you want to highlight. A belt would be perfect to attract people into looking at your waist while a classic watch would create countless positive impressions about you.
7. Show Confidence
Fashion is ever-evolving. Those that we thought looked awkward are now what's trendy and the ones we liked to wear are no longer in. Even if you have all the right items worn, they won't look good on someone who can't carry the whole look with confidence. Own it, instead! Wear what makes you feel beautiful.
7 Palazzo Looks For You to Try
Working all day long becomes easier and more fun when we feel comfy with our clothes. One way to achieve this is to wear a pair of palazzo pants as they let the legs breathe and feel pleasant, unlike tight trousers that restrict your movements. So, we have collected several palazzo outfit style tips that will surely make you the center of attraction, but in a good way.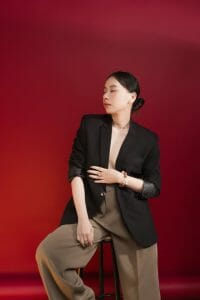 Don't we all dream of becoming our boss? Start your journey to reaching the stars by dressing like a businesswoman. It isn't that hard… the dressing up part. Just always make sure you wear classy outfits from the bottom to the top. A classic suit blazer in the right proportions is best matched with a high-waisted palazzo. Wear your golden minimalist bracelets and necklaces so you'd look seriously expensive!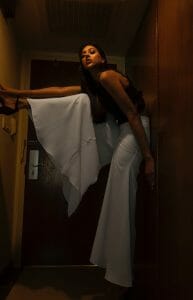 One thing you'll notice about most top employees is that they look a certain way. Some that I know are not only achievers in their field, but they also know how to dress up for success, contrary to the typical nerdy look we see in movies. A nice fitted black tee or a long-sleeved turtleneck paired with white flowy palazzo pants and black heels would be the usual top employee look you can easily try!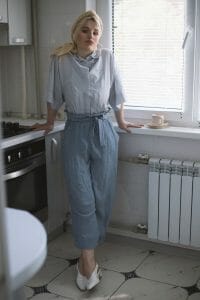 The only part where you can be laid-back and carefree is through your outfits. It's a different story when your boss expects you to maintain your top performance. Culottes, which are also a type of palazzo pants, are perfect for summer. Should you want to use a non-extreme contrasting palette, the pants must be a bit darker than the top or shirt. Your footwear would look complementary if it's nude, white, or black.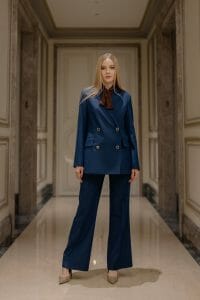 In running your empire, it's a must that you lead people by being an example to them. One way you can influence them is through your fashion sense. Strut confidently in fashionable attire using slimmer palazzo pants and a quite oversized conservative suit jacket. Tie your hair in a low ponytail and add in a neck scarf that matches your shoes.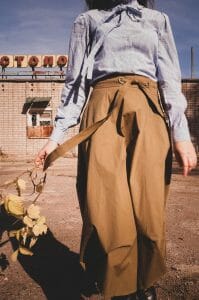 Who says you can't dress the old-fashioned way? In fact, most old-school outfits are getting revived these days. Throw on a pair of culottes with a waistband to tighten up the fit. End it up with a ribbon or knot the ends and let them flow freely. Long sleeves with minimal patterns and subtle buttons are ageless.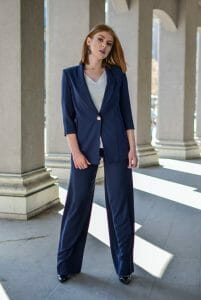 A monochrome outfit is timeless and perhaps, it is also the quickest style to get dressed! Wear a padded suit blazer in blue, black, nude, or cream colors with a button that holds both ends of the fabric together across the waist to somehow hide the casual inner. The trousers you wear must be in the same shade and color, and remember, use heels on this one!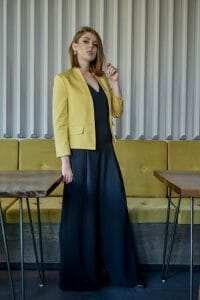 Another way of going monochrome with a twist is by using a dark tank top that's in the same color as your palazzo pants. Your trousers must be ironed well so they flare nicely from the waist down to the bottom. The overall look will make you seem like you're wearing a long gown in all actuality, but it's less casual than that. Have a yellow boldly-colored blazer or a leather jacket to add a significant, but not overpowering effect to your whole fashion game.