What To Wear With Palazzo Pants [ 22 Styling Tips]
We believe that anything goes for the palazzo pants! But not to spoil you in our list, we have included a few styles that we gathered as the best for your taste of clothes. So for a voguish you, we laid here plenty of palazzo pairings that you can grace on any day of the week!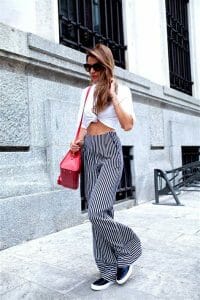 With wide-hemmed palazzo pants, you might like to wear a petite blouse like the one here with the front ribbon tie. The cropped style of this blouse is perfect for the large design of the palazzo pants. See that it also gives Spice Girls' Fashion vibes!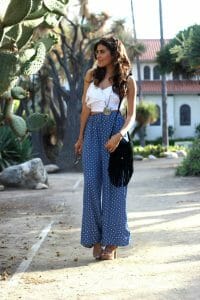 We love wearing those sleeveless tops for palazzos! Something that goes deftly with the pants is that cami with frills in a tiered design! It suits well for the flutter-inspired palazzos. Start your day with the nude-colored pumps, too!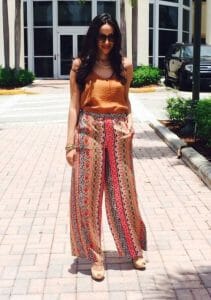 Summer and coral-themed outfits would always be bound together! Stride under the sun with those lovely pair of Ikat-style palazzos, and get to wear a matching top made of the solid color orange. Necklaces are an asset, too, in this pure tangerine set!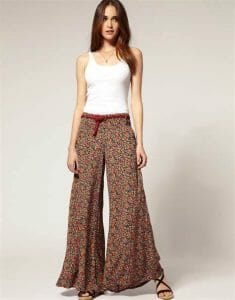 If you have some Suzani-style palazzo pants, you may want to bring it more aglow by wearing a simple white-fit cami top. Yes, a basic cami will do! Perfect for a casual getaway if you are to wear flat strappy sandals!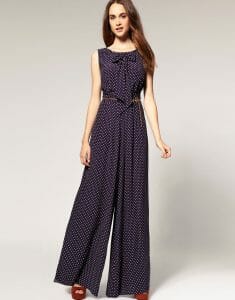 What else can best be paired with the palazzo pants but also the same style-and-color top! For example, midnight blue overalls for casual walks or simple lounging activities are such a wardrobe gem! We do agree that the look is fancy enough to wear on dine-outs during your vacation stints!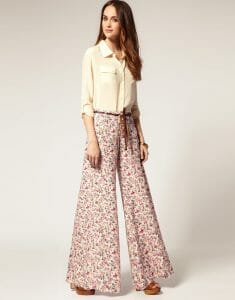 Do you love structured blouses? We do, too! So if you are going out for sunny strolls—pair your palazzos with a pocketed flannel shirt! (By the way, choose a three-fourth sleeve style for this one). Lastly, adorn this set piece with a belt of twisted fabric style to complete the look.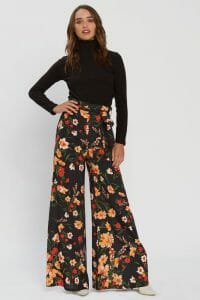 Got any black turtleneck shirts? Cool! This wardrobe staple amplifies the gorgeousness of any stylized palazzo pants of yours. White pointed heels are our best choice for that added dainty attitude, too!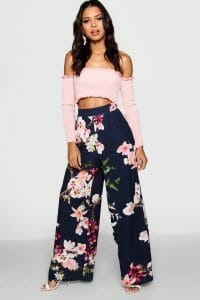 Get your top to match a tint from your palazzo pants! As an example, we have light pink supremacy set here that is a total mood in itself. Get the blue palazzo pants to couple with blush-colored off-shoulders, and you get an admirably blossom-like or pink galaxy-inspired outfit!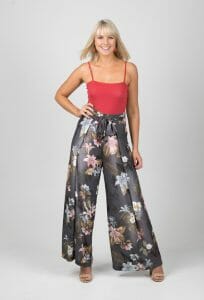 Pastel and neon colors are never in the passé list of fashion. Such colors do have a fair share in runways and galas of any theme! If applied to the blouse you use with the palazzo pants outfits, you don't even have to suit each other's colors! A bright-colored top of any of your favorite vibrant colors is more than okay for your sprightly styling! Do you own a pair of cone-heel shoes? Perfect! You should include it in!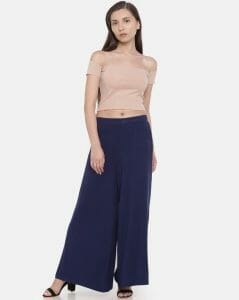 One of our takeaways from the above list is the pink and blue match-up. The ones here are more about the solid pastels being individual for top and bottom styling. Well, you could say that the light ones go mostly on tops and dark ones on bottoms!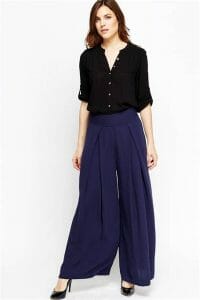 For our love of crop tops, get one of black color! You can pair it with a different dark shade for the palazzo pants, and you'll already feel clad for that dinner date with your family!  Like in our model here, taking a long button-down blouse with those big, candid-looking buttons are a fine fashion steal!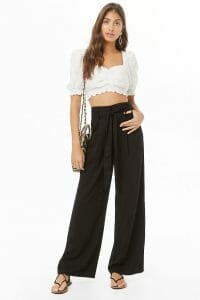 Short structured crop tops are always flattering to look at in fashion statements. They are a favorite for ladies who love the petite design of clothes. It is not even shocking to know that this blouse is popularly paired with palazzo pants, too! Note: You can buy the pants with slit designs to have that overall effect of allure in your style!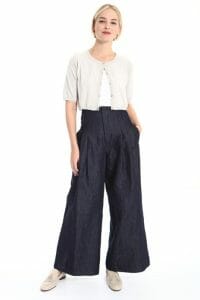 And so there are times to look comfortable without losing the casual vibe! A small rib-knit cardigan, when paired with flowy pants, is a fad on its own! You may choose the not-too brassy colors for this style. Take the loafers on this one!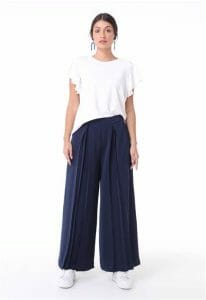 Tees and sneakers can be quite a plot twist in our list. But hey! Don't we love to look more youthful even in palazzo pants? To achieve the style, make sure that your shirt and those shoes are tackling similar colors. Incontestably, your palazzos will take over the rest for you!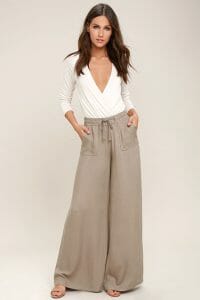 For baring a bit of skin, deep v-neck style wrap tops can become your next favorite. Why not have your beige or nude-colored palazzo pants pair with this prized fashion piece and get all the look that you want all day long? The top will surely be a show-stealer along with your graceful wide-legged pants!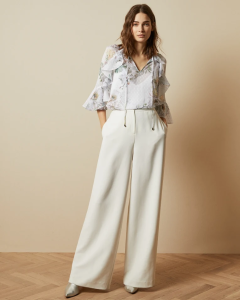 Our model here wears something derived from a utility shirt that can be considered princely in some way. Paired with this 3/4 style top, your palazzo pants that have the same color is instantly a head-turner! Not to mention that you are delivering this whole look with white monk shoes, too.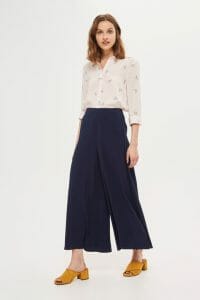 Aside from this white fleur-de-lis styled blouse, get your whole outfit to a dash of color palette variation by applying an opposite hue to the get-up! See that here, with the navy blue palazzo pants— you can wear yellow ochre shoes to make your walks astounding!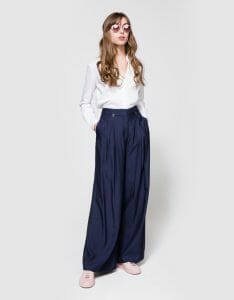 If opting for a bit dressier look, then make the v-neck shirt save you from worries! The top does reveal a great deal of your neck and that which contrastingly will suit the all-covered legs you get from palazzo pants. For your leisure time watching the seascape, have this style in mind!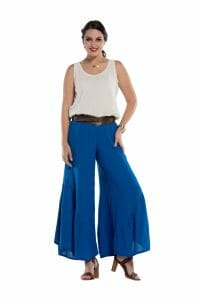 Got some white sleeveless shirts? That's great! For your breezy pants, having a carefree top would only be so fitting! Remember to flair your outfit with a brown obi wrap belt before heading out to the sun!
Note that footwear can always play a big deal in your chic attires. Though palazzo pants seem to make your feet disappear, some shoes, such as chunky high heels, can still be flashy on their own because of their height. How about you try it too with your other heeled sandals!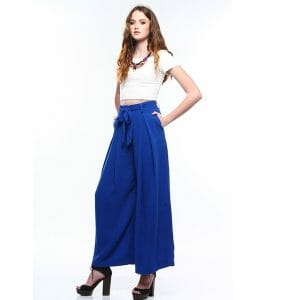 Owning a couple of crop tops can save you a lot of time thinking about what to wear with your choice palazzos! It is even safe to say that such a fashion piece belongs to the essentials group in your closet. For your next styling, try to wear something like this small white cut off shirt before prancing outdoors!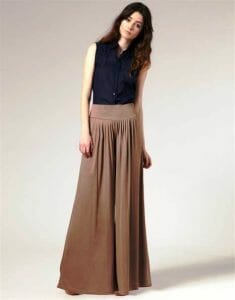 How lovely this black princess vest is! Wear it over brown palazzo pants and see that these neutral colors do still combine effortlessly well! Also, if you don't have many color ideas in mind to match your pants, isn't black a go-to cast anytime?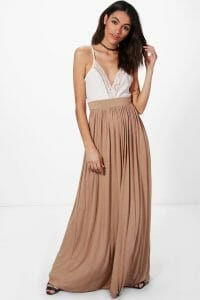 For those nights you are to impress or only to pamper yourself with some fashion before sleep, then maybe you would love to consider this one! Beige palazzos that have a high-waist structure have that glamorous vibe giving you a different level of air. So once paired with an accentuated lace corset-like top, it surely will augment the whole palazzo's appearance!