What to Wear With Palazzo Pants for Plus-sized Women: 12 Ways to Slay It
Confidence is the perfect pair in every garment you sashay, whether it's a street style or a corporate attire. And versatile pieces like palazzo pants are commonly paired with tank tops, v-neckline blouses, and even printed tops. However, you might be wondering if curvy ladies can pull these off since a lot of them are hesitant to experiment with different cuts and lengths. For curvy women like you, all you need are a few techniques to achieve a head-turner combination of palazzo pants. So, here is the list that you can choose and take inspiration from to guarantee a stunning and wholesome look.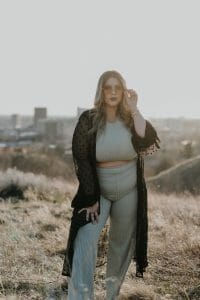 This pair will make you comfortable throughout the day. It will indeed show off a fresh look that is perfect in warm weather. The cardigan will serve as an illusion for thinner arms. And this is perfect when striking a seducing but classy look. Just be reminded that neutral colors are best if you're planning to throw on a cardigan. Go for a contrasting one to make your outfit pop even more!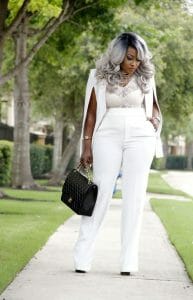 Black and white are never dull colors when put together, especially when walking in the park, finishing office work, and even enjoying a glass of champagne with friends. You can flaunt its top with short sleeves or sleeveless with a deep v-neckline paired with a blazer. This outfit depicts elegance, and this combination will definitely highlight your hips and elongate your legs. To show your extra side, use pumps or other high heels.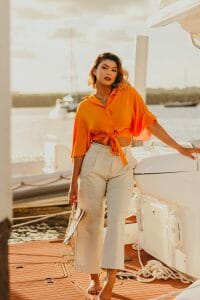 Happy colors are absolutely head-turners when worn at the right place and time. With a well-thought-out color to match your skin tone, this blouse with a front knot radiates a charming vibe. This is perfect on a walk at the beach with your friends or enjoying your champagne at a late afternoon party. Make sure to feel sassier with your flat or string sandals. This outfit doesn't just emphasize your curves but also highlights your legs when photos are taken.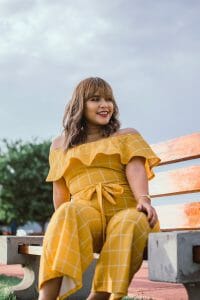 Are you enjoying a new place and looking for souvenirs? Jumpsuits are capable of accompanying you throughout the day of hectic photoshoots and busy strolling around the city. This gives the illusion of a slim body type with the help of its clingy quality. And if you are bothered by your tummy, you can try high waist shape underwear to flatten your prominent middle. With an off-shoulder, you can showcase your shoulder blades and collar bones to achieve a slimmer look.
With some accessories such as a boater or a Panama hat and your comfortable designer sneakers, you will enjoy the rest of the day without feeling exhausted.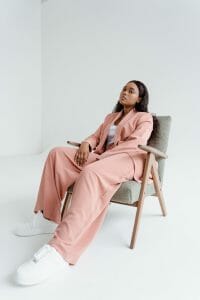 Pair your palazzo pants with a blazer. It is perfect when the weather is cold, and you still want to do the catwalk in business casual attire. For a more dramatic effect, you can just drape the blazer on your shoulders or fold it neatly when you are sitting comfortably on your office table. And to complete your outfit, you can choose your high-heeled shoes to add an illusion to your height or your comfortable sneakers to finish your office work on a busy Friday.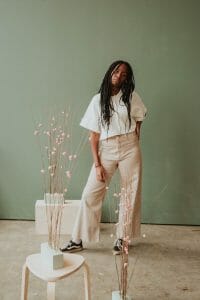 Everything looks good in nude colors. In this cold weather, feeling warm and cozy, and at the same time, fashionable is definitely a big yes for a street-style look. Just take out an oversized top. This will hide your thick arms, and with the help of your pair of palazzo pants, it will have an illusion of long legs.
For your accessories, you can just try a simple silver watch or bracelets to have a bling effect in your style.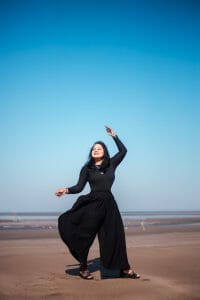 Palazzo pants are not just only for dry escapades! A pair can be worn at the beach with a tankini, bikini, or even a rash guard while enjoying the sea breeze and warm sand. Wearing tight clothes will make your shoulders look broad and your torso slimmer. And as you pull off this look, your palazzo pants flatten your figure by adding emphasis to your hips. You can try your top with plain or straightforward prints, or if you want, you can go daring with a plunging neckline.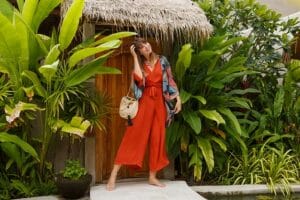 Indulge yourself in unconventional fashion with Bohemian style. Palazzo pants also look good when paired with an off-shoulder top or a jumpsuit. It shows a fresh look and an outfit that you can wear for any casual occasion. If you want one, lighten up your style by choosing a contrasting color of your blazers with your palazzo. You will surely enjoy this outfit because the deep v-neckline will accentuate your neck to look thinner while hiding your prominent middle and showing off your hips and legs.
For your accessories, you can try a headband or Bindi-inspired accessories. Necklaces and bangles will also look good in this outfit. And, you can wear your preferred sandals or heels.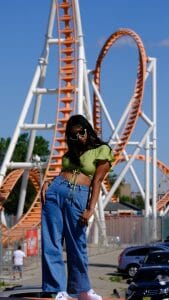 When you want to go out and hang out with friends in amusement parks or cafes, you can match your palazzo pants with a crop top. To add it up, Batwing sleeves will have an illusion of slim arms because of their flowing effect. Crop tops will enhance your waist and give out a slender figure feel. And for a more comfortable hang-out, you pair this outfit with sneakers or a moccasin.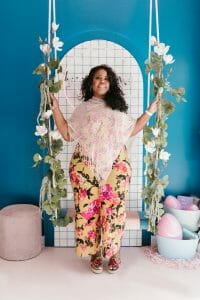 Look fresh and enjoy the spring vibe with your floral prints jumpsuit. You will look amazing since these highlight your hips, and give a mirage of a flat tummy. If you don't feel like wearing a dress, you will look elegant and classy in your jumpsuits, and for plus size with rounder hips, you will rock this look. You can pair this with your tiptoe heels or sling-back heels.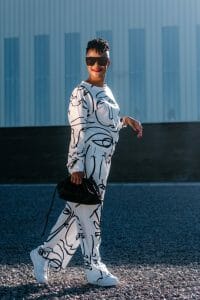 Nothing goes wrong with white! To achieve a comfortable feel whether at home or on a walk in the park, you can slay your look with a palazzo and a long-sleeved top. Simple prints are good to look at when you pair them with your favorite sneakers on the go and a handbag.
With the help of these palazzo pants, your comfortable clothes are ready to be worn in warm weather whether you are enjoying your alone time or with a companion.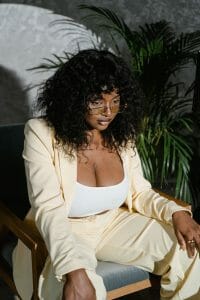 This outfit is perfect for an outdoor photoshoot, and parties after work. With your blazer, you will look daring with a touch of conservativeness in every photo that you capture. With the combination of classic and modern style, it emphasizes slender hips and long legs. Though you want to go daring and chic, this also hides your thick arms and thighs.
For your hairstyle, you can match it with an updo or a ponytail to elongate your neck. And, Lita or Army boots will look good when you walk down the street.
Dos and Don'ts to Remember!
I have mentioned above that Palazzo Pants are the most versatile pieces in the fashion industry. However, plus-size women are not convinced and still lack the confidence to strut this pair of pants. But, for those who want to explore and experiment with different cuts, lengths, and styles of trousers, here are other points to remember. 
Plain is better than overloaded prints. If looking for a perfect pair, white or neutral colors are the best options but make sure that you are not overdoing the designs on your top and pants. It's enough that you can slay a simple attire and not overdo it. 
Palazzo pants are wide-leg pants so go for a fitter top. For the plus-size, you are supposed to enhance your hips and waist area and this can be achieved by tucking in your top or choosing a fitter one. Just remember that you should always consider your comfort.
Split complementary colors. When choosing a perfect combination of colors, make sure that it will emphasize your torso from your legs because the main goal is to look slender!
Don't overuse black. Black is a basic color and is commonly used to accentuate figures and have an illusion of a slimmer body type. But be reminded that black is not always good. Minimize it by using other neutral colors that will suit your style and outfit.
Don't cover up too much. One of the goals of choosing an outfit for plus size is not to look bigger than before so ditch away from your baggy clothes. So it is suggested that you emphasize your neck, shoulder blades, collar bones, and your hips. Just choose among these options and be confident whatever type of clothing you are comfortable wearing.