Sweet and Sexy Look: 18 Bralette Outfit Ideas
Bralettes have caught on the fashion trend and has become an indispensable piece of clothing apparel every woman should own in this day and age. It is a super soft type of bra that is lightweight and without an underwire, making it very comfortable to wear. It is designed primarily for comfort but is oh-so stylish as well, that it is also sometimes worn as a top. Having served an awesome purpose of being a bra and a top all in one piece, bralettes have become very convenient that many women have fallen in love with because of the versatility it offers. It is not only made for you to feel good but also to look good. You will surely fall in love with 
If you are still new to this, hang in there because you are about to learn different ways to sport these bralettes and expand to a broader level your wardrobe and fashion sense. Here are 6 ways to start you off and get you going: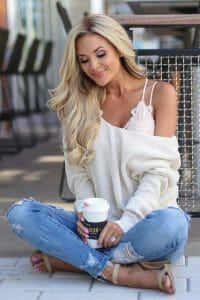 Use your bralette as a cute accent piece to your whole 'fit with this sweater weather look. Incorporate those beautiful details that perfectly complement the plain look of the top and add some flair for an instant chic look. This style is lovely, as it creates the perfect balance between showing some skin and covering up. The bralette is the perfect undergarment to be used as it peeks from the sides of your shoulders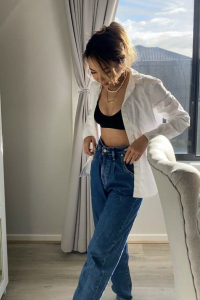 This look is perfect for that chic girl boss look. Match your bralette with your button down dress shirt and have a fresh look with your mom jeans. This is a straightforward outfit that will get you going on an easy day outside for quick errands and some coffee with friends. Move comfortably while being fashionably on-point and slay the day with the added confidence of a beautifully well-put outfit.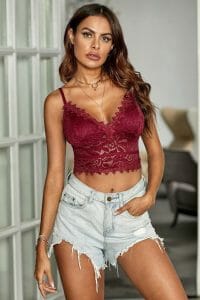 Bring out some flair and wear your lace bralette as a top. Pair it along with your favorite shorts and you instantly have yourself a cute casual outfit. This is the perfect way to maximize your cute bralette. Since it serves as your bra and as a top, it is a very convenient piece to own in your wardrobe. Flaunt it to your girlfriends and show them the power of a woman and a bralette.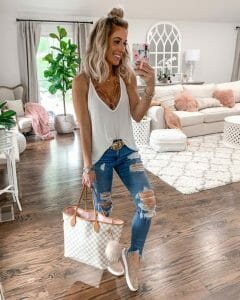 For tops with lower necklines, bralettes are the perfect solution as to shy away from being too revealing. See the magic happen with this elegant layering that perfectly complements a woman's tank top. Let the pieces come together into a complete look with each piece service its purpose. You'll be surprised at how every element makes a distinction. The littlest details make a huge difference.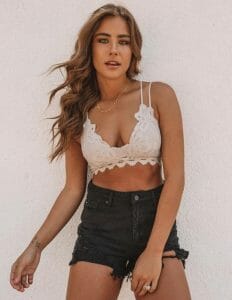 A very fitting look for your much-awaited summer parties and music festivals, this is a very easy, cool, and comfortable attire you can sport during your fun-filled day with friends. Get your most fashionable bralette out and pair it with your high-waist shorts for that complete good-looking Coachella chick. This is very stylish for that memorable day of adventure.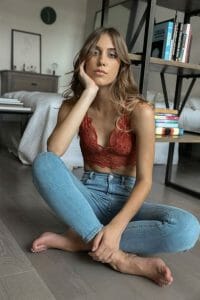 Whip up this simple bralette outfit idea with your jeans and get ready to go! The beauty of bralettes is that you can use it as your top while it serves as your bra at the same time. It is a very comfortable way to dress up on a fine day. Attend to your important events and complete your errands in this outfit. A good outfit is sure to boost your mood and confidence. Pull out these pieces from your wardrobe now and go give it a try yourself.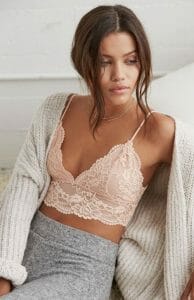 Cardigans are one the best garments to layer up. It adds soft and vibrant textures that create a warm and pleasant look. Pair your most comfortable and stylish bralette with your favorite cardigan and pants, and you're all set to seize the day. This is a very relaxed outfit that you can easily move around in, with pieces that you can easily pull out from your wardrobe. Style your way into getting around your day at ease and with confidence.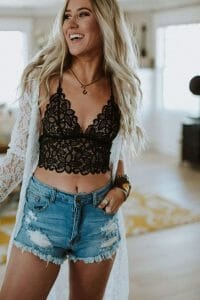 Lace is an elegant and stunning fabric to work with. Wear your lace overall with your lace bralette and create a spectacular lace party with your outfit. Simply complete the look with your favorite pair of shorts and you have one perfectly matched "outfit of the day". Enjoy this easy-breezy look in these stylish pieces of apparel and stand out from the crowd with how unique this fashion style is.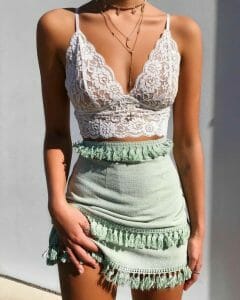 This high-waist skirt with tassels creates a perfect boho look that instantly matches your cute mid-rib lace bralette. Both pieces combined covers your torso yet creates that space and division that looks completely charming and appealing, distinct in their own separate ways. It creates lines and symmetries that add up to the whole look, making it fashionable and stylish for a perfect day-out look.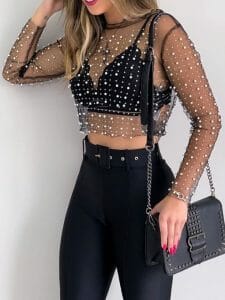 Here is a beautiful and classy look with your sheer top and bralette. Another beautiful way to subtly flaunt and show off your cute bralette beneath your top is this classic style. Look like an elegant rockstar and sport this look. Its fine details make you standout. It creates some real and defined character to give you the confidence you need for your meetings and special occasions.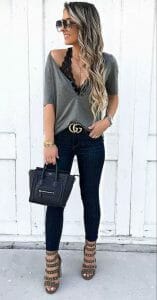 Amp up your simple look in your shirt by spicing it up with your bralette. Instantly create a different look by matching these pieces together into a whole wonderful outfit. You'll be surprised at how your simple shirt can rise up to the next level and be so stylish. Complete the look with your favorite fitted pants and you have right with you a very presentable look people will love.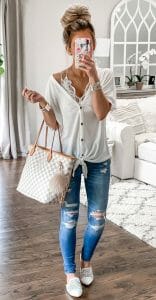 Another good looking blouse to match your floral lace bralette is this sweet and simple button down, loose top. A very chic look for your everyday meetings and errands, complemented by the style your bralette brings. This is an easy outfit to carry out and style. Grab these pieces from your wardrobe and get going with your day feeling light, airy, and uber comfy.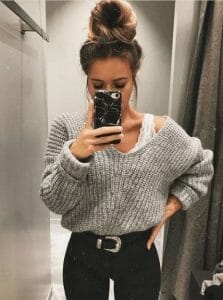 Here is a cozy look to bear with the chilly weather. A knitted top paired with your bralette brings in some real comfort and style especially for when the temperature gets low. Get going in style with this match and stay snuggled with the right pieces you will wear. This look will help you go out and about so you can slay your day comfortably and in the right frame of mind. Make your day brighter with the right choices of apparel that you can easily move around in.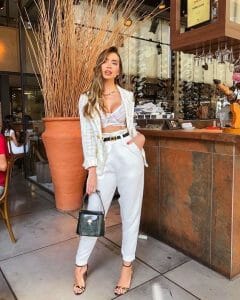 The moment you wear your blazer on, is the moment you exude your power from within. Our apparel may hugely reflect our character and confidence, so better make it a good one – and a blazer is one bad piece of apparel that can easily reflect this. Simply top your bralette with your blazer and you instantly got yourself some attitude that will be hard to put down. This is a very stylish look for the bold to carry. With how the blazer frames your body and complements your bralette makes for a perfect look.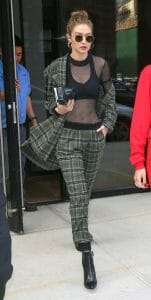 Matching clothes complemented with your bralette creates an accent piece that immediately draws the attention to you. This is a brilliant way to sport your bralette and create a whole look that makes for a perfect outfit. Come out of your doorstep elegant and fashionable, ready to walk the streets confidently and boldly. Matching outfits are a cute way to dress up without much fuss and worry whether they look good together or not. Eliminate the stress of it and invest in matching pairs to get you easily going with your day.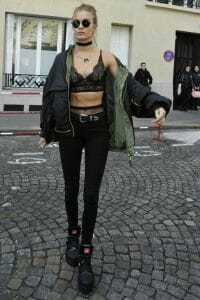 Another piece of apparel to pair with your bralette is your bomber jacket. This creates a strong look to balance the sexy appearance brought to you by your bralette. Not to mention how easy it is to bring these pieces together from your wardrobe. This is a very trendy and stylish look you can rock on the streets for that comfortable day trip in and out of the city.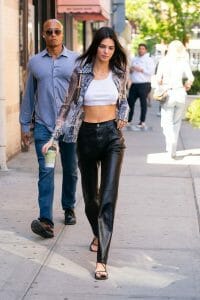 Get your pretty blouse out and simply make it extra with your bralette. This creates a whole new look and approach by altering the way you style it. So, instantly create different looks and variations with your favorite blouses by simply pairing it with your bralette. See how it instantly lifts up the look and find that there are a hundred other ways to mix and match what you already have on your wardrobe.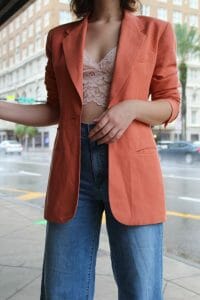 Add a pop of color and you instantly have yourself a fashionable outfit. Sweet and charming in your cute bralette, this look is one of a friendly kind for a not so intimidating look. Perfect for meetings and hang-outs with friends, this is a stylish and presentable look where you can fully face your colleagues and friends with confidence. An outfit style that is comfortable to carry around and move comfortably in.