Hot off the Oven: 12 High Neck Bralette Outfit Ideas
To all the ladies out there, we all know we need all the support we can get, especially there—in our breasts! So, let's get a little up close and personal. Let's talk about undergarments.
For our bras, there are so many different types, such as the push up, padded, non-padded, underwired, wireless, and many more. Any certain type can affect our level of comfort and freedom to move, that is why it's important to check and test out which one we are most comfortable in. So, make sure you are familiar with what is available out there, in order to be able to maximize what's best for you. Among all of these, we will show you and introduce to you a non-underwire bra with no padding or molded cups. Interesting, and sounds comfortable, because it is! It's called the bralette, and it really is comfortable, stylish and sexy. 
If you're wondering when and where to use it, let us show you just exactly how you can make use of this comfortable piece of undergarment. Here are outfit ideas for that high neck bralette to try for yourself: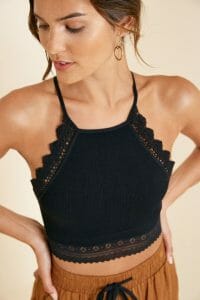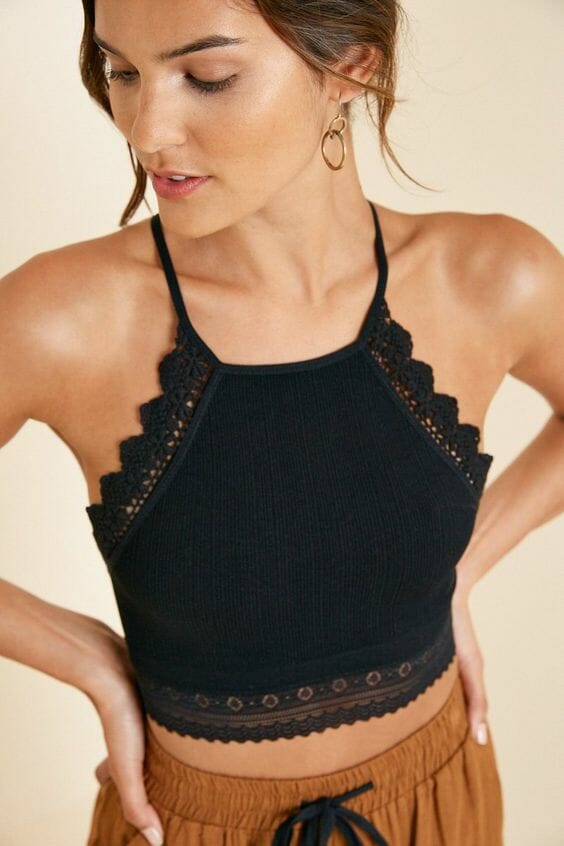 Since a bralette also appears to be like a crop top, it passes as an outerwear so it can actually be worn as a top in itself. It has the advantage of serving two purposes in just one apparel which makes it so easy and convenient to use. Simply throw it on and you already have a beautiful top that already supports and protects your breasts. It is lighter and provides more ventilation which is cool. It also has a flattering fit on the upper waist which makes it a cute outfit to pair with high waist pants or shorts. The tremendous comfort it brings to a woman is almost life-changing and revolutionary to the bra world. If you're new to what a bralette is, you should definitely go give it a try now.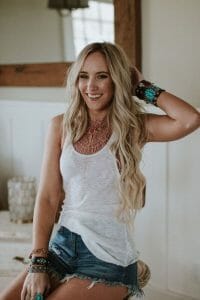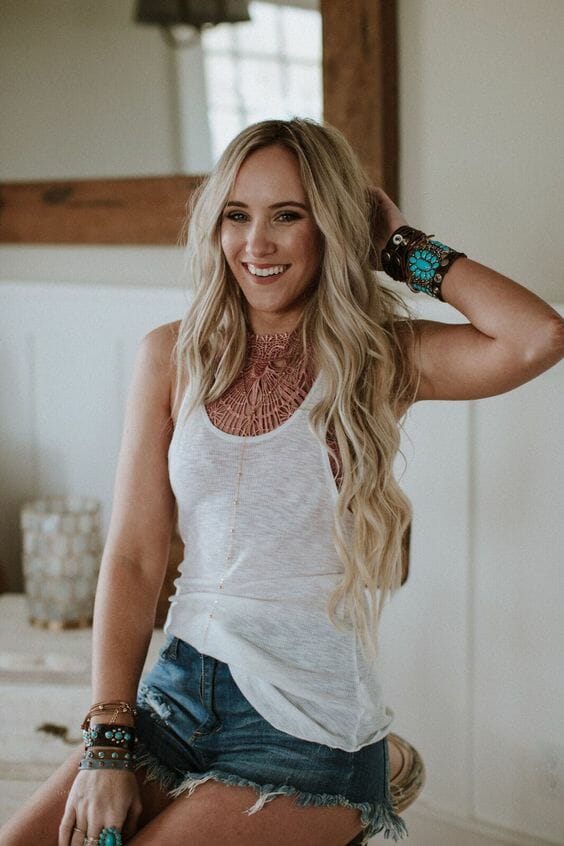 Giving off a hint of being too revealing but reserved at the same time is more sexy! The high neck bralette makes that possible by hiding your chest area behind the beautiful details of the design you choose. A lacey bralette gives off a boho-chic look, while a strappy one shows a more modern look. A low-cut tank top really complements a cute lacey high neck bralette. Pair it with some cute shorts and it makes for the perfect summer outfit that is super cool, airy, and chic. You can now freely move around in your tank while feeling secure in your apparel. How convenient! Style and function really should always go hand in hand.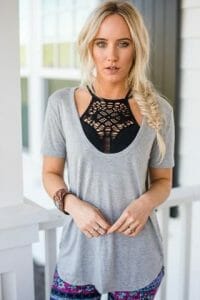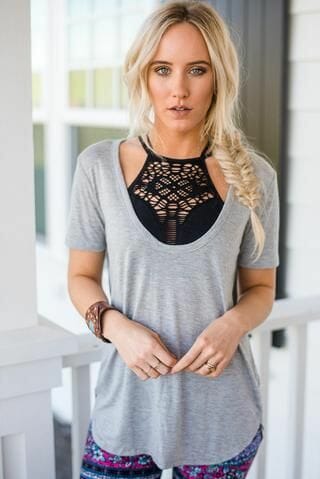 Scoop neck tops are cut low enough to significantly display the chest area. Wearing a high neck bralette beneath this makes for a beautiful accent piece of clothing that displays the intricate lace pattern of your bralette. The halter top that wraps around the neck emphasizes the collarbone which makes this look completely stunning. Make your scoop neck shirt look more graceful with this style using your very own high neck bralette. This is an easy way to spice up your outfit and make it more interesting than usual.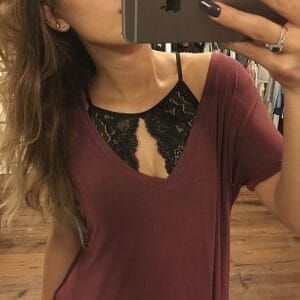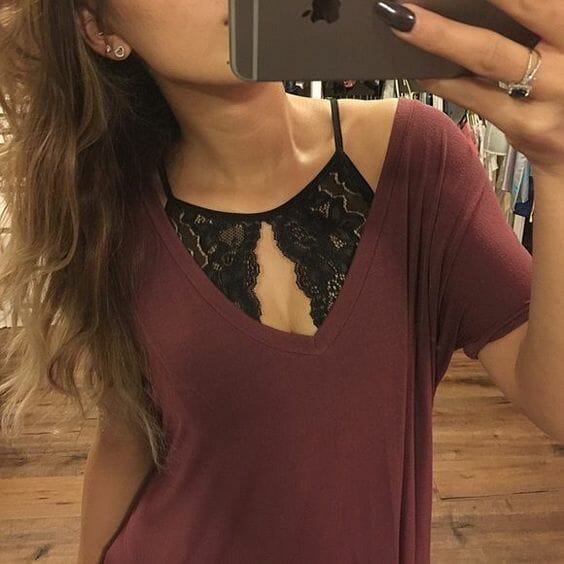 Put a little bit of an edge to your V-neck shirt with this sassy look. Using a simple tee, you can rock your style by matching it up with your high neck bralette. Combining different elements together such as this lace pattern along with regular cotton fabric makes an eye-catching fashion detail every woman will desire. So take your shirt to the next level and make things more exciting for that little piece of clothing that can tend to be boring. Now you know how to style your regular shirt and make it into a fashion statement.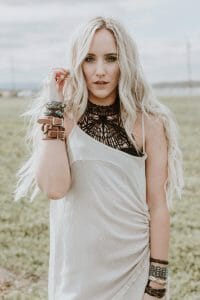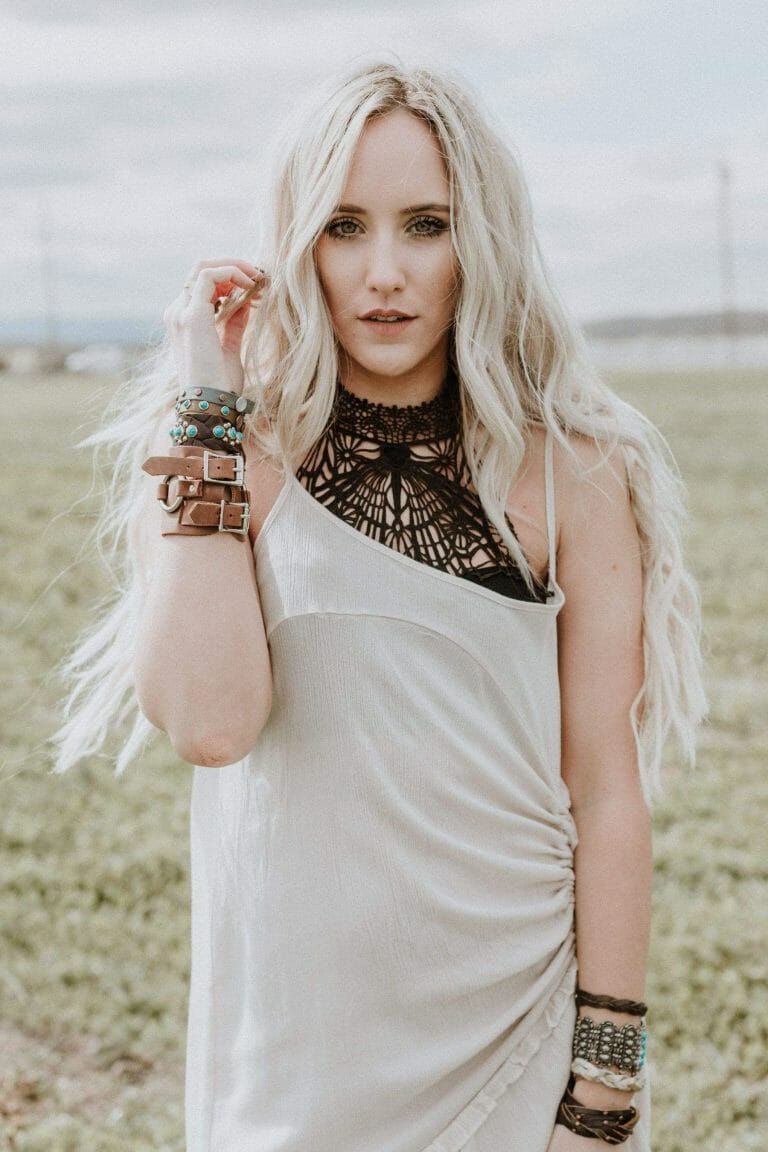 Here is another flattering look for your trendy high neck bralette – worn under your spaghetti strap dress. This is a very fashionable way to dress a cute boho chic look that you can easily achieve. Just like the other outfit ideas, you can easily move around in this one. So find yourself your favorite spaghetti strap dress and try whipping it up with your bralette. See the magic happen as it instantly lifts up the whole look and make it into a totally different kind of style.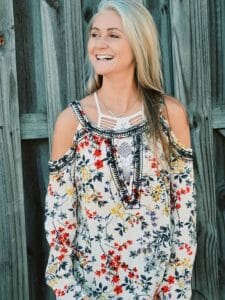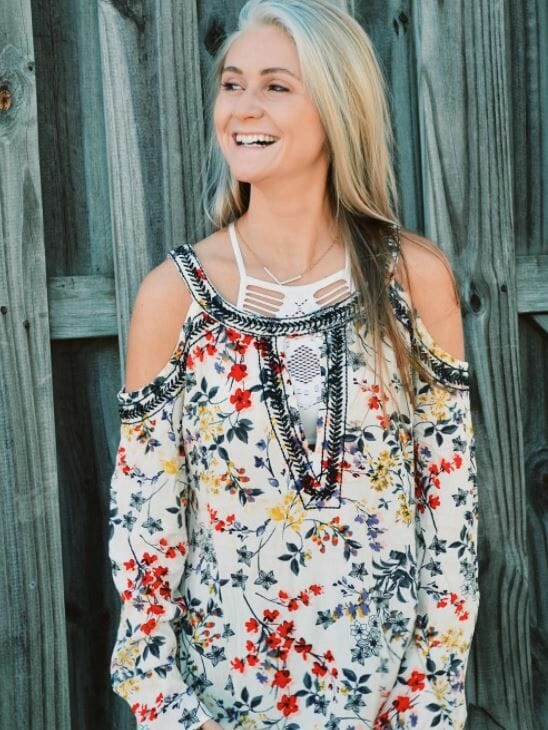 A high neck bralette to go with your favorite blouse is a perfect match for the seams that tend to reveal some parts of the chest, so make a simple change and switch up your normal bra into a bralette and watch that instant glow-up. What you wear tends to say a lot about you, so make it count. While your cute high neck bralette covers up the cleavage to get a little more conservative, it fashionably adds a beautiful element to your entire look. A very womanly outfit that is perfect for a nice day out with friends and family. An easy breezy style you will enjoy moving around in.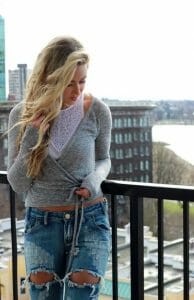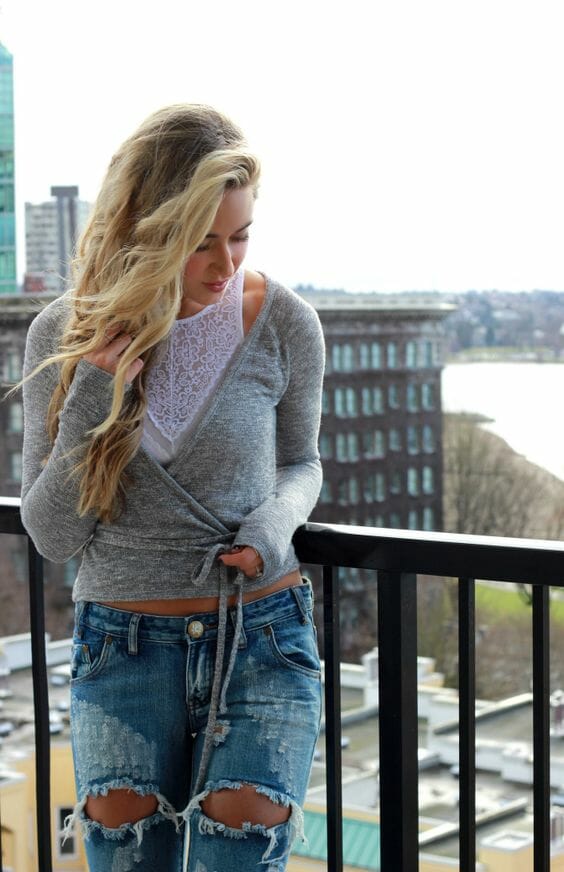 For that sweater top that you're just unsure about how to wear, your high neck bralette is the perfect solution. With the 2-in1 characteristic of serving as your top and also as your bra, this is a great way to keep warm, cozy, and secure in your apparel. A casual outfit you and your friends will adore. Stay in fashion and cover up with both your bralette and cute sweater top for those days when the weather is a bit chilly. With this style, you will look all glammed up in no time.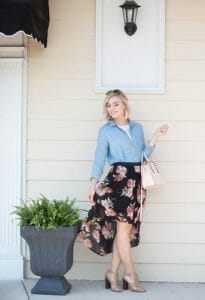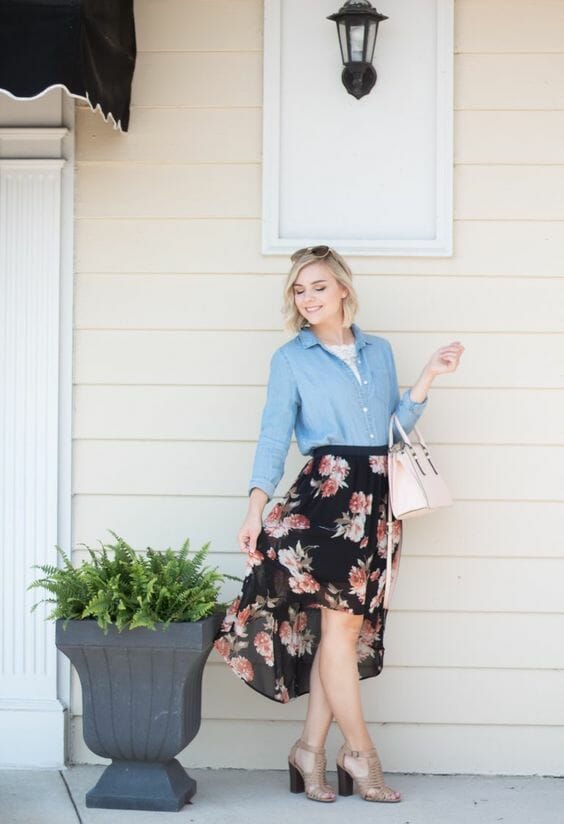 Don't be afraid to style your bralette in many different ways. Here is a sweet outfit style that is modest and reserved for your Sunday church or family gathering. An elegant flow that will make you feel good, because after all, being well-dressed says a lot about your mood and it can also set the tone for your day. So if you want to get off to a good start, begin with the way you dress and everything else will follow. Pick up your high neck bralette and simply wear over your long sleeved button down polo shirt for that extra sophisticated look.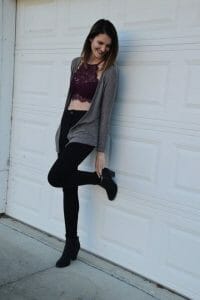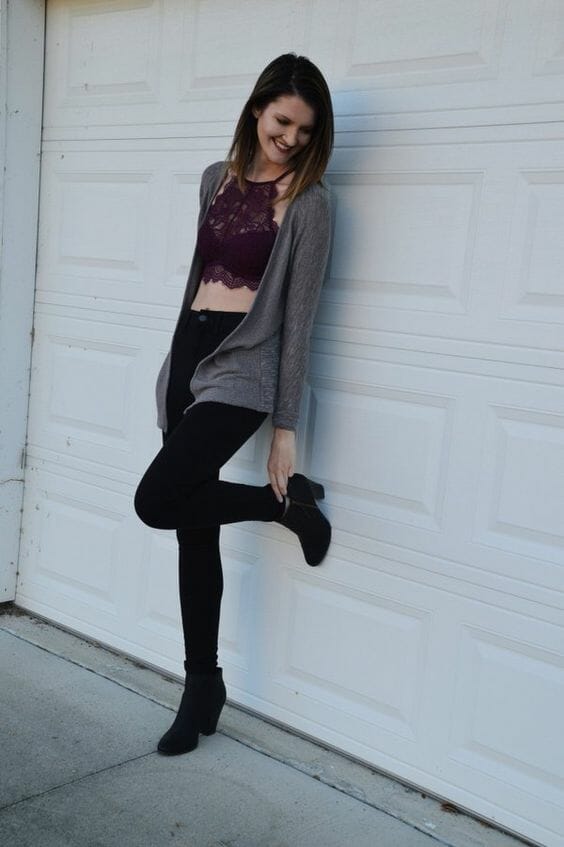 Complete the whole look in your high neck bralette with a simple cardigan and you're all set! The cardigan brings a balance from being too revealing and sexy to still bringing out the sweet girl in you. This is rather a charming look that is perfect for hanging out with your girlfriends and enjoying a whole day in the amusement park. Cardigans are a perfect piece of apparel that can spruce up an outfit. In this look, it frames your body and adds an emphasis to your cute bralette style. So feel free to use it as a cover-up for your high neck bralette fashion styling.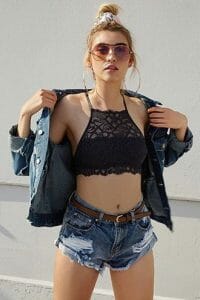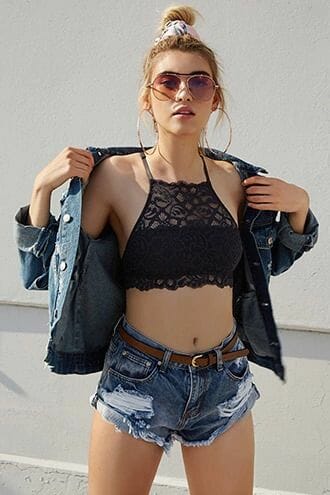 For that wonderful youthful glow, we go denim on denim. A very teenage look to complement your high neck bralette with your favorite go-to denim jacket that will get you rocking the streets in this smokin' hot outfit. Paired with your favorite denim shorts, you're ready to slay the day the fashionable way. Here is a look that won't only make you feel young, but it will also make you look young. Feel free to experiment with this look whenever you feel quirky and extra fun.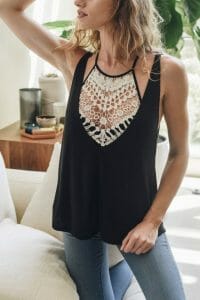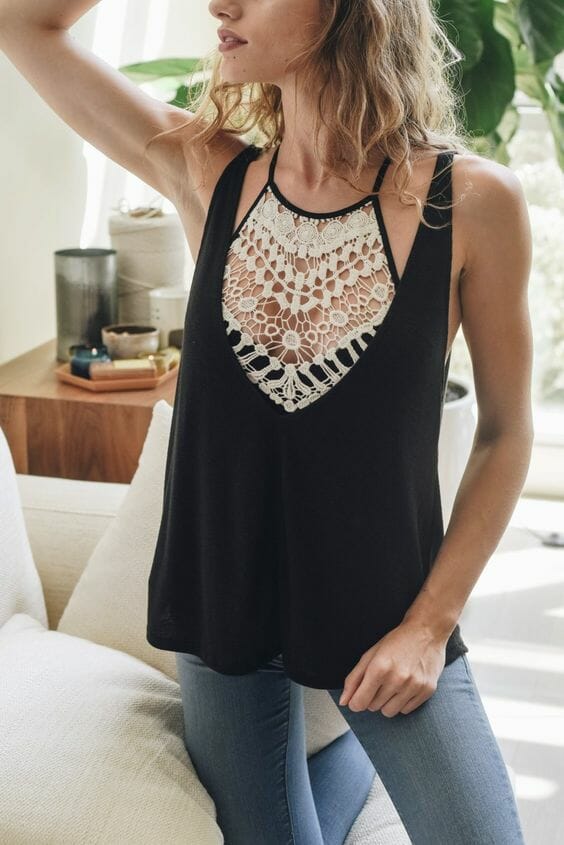 For that uber sexy scoop on your top, here is a look where your high neck lace bralette is meant to be really shown off, creating a perfect layering. Aside from its comfort, bralettes have become huge in the women's department because of its beauty that is indeed meant to be shown. That is why they have made it so fashionable in order for it to be fashioned in various ways. Don't be afraid to flaunt it because you definitely got it.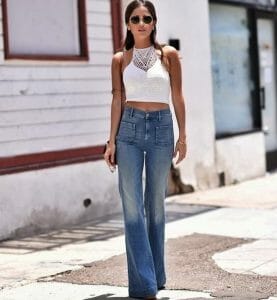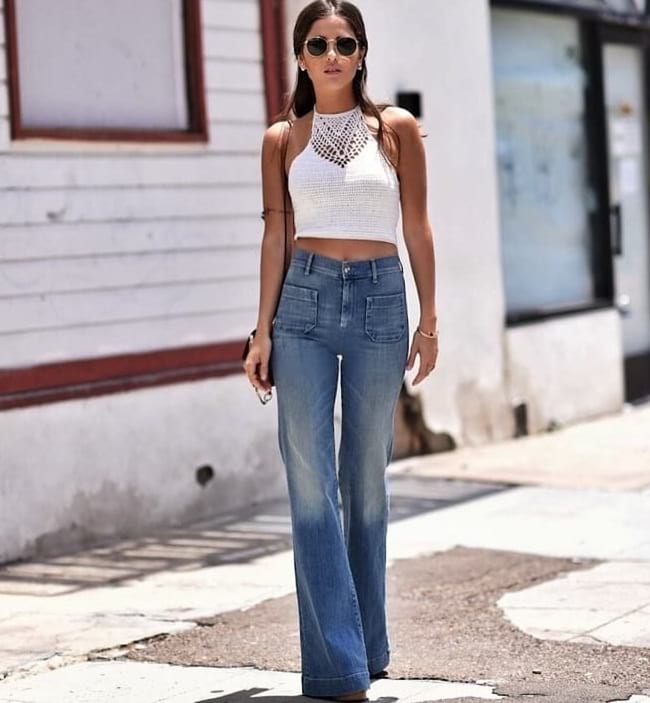 We go high with our high heels, high waist pants, and high neck bralette, where each piece gracefully complements the other. Everything looks so sleek and refined in this look. Match these together on your next outfit and make each detail come to life. It's just a matter of putting the right pieces together and making it look seamlessly beautiful on the whole. This look is terrific for that casual, on-the-go look that is both comfy and feisty.
We are convinced that you'll be seeing more of this trendy piece of garment, so we wanna make sure to show you different ways on how to sport it for your very own liking. Always be on top of the game and know what's trending. Prioritize yourself and your comfort with those high neck bralettes and make sure to get one in case you don't own any just yet. Bring a little flair to your outfits and get ready to wow your friends by flaunting it on your next style.