Do You Wear a Bra With a Bralette: 12 Ways To Wear Your Bralette
It is quite unusual to wear a bra with a bralette, since both serve the same purpose which makes it redundant, but there's a big "BUT" – but if you feel that you might be needing some more support, and another extra layer underneath your stylish bralette, then this may serve as a go-signal for you to wear a bra with your bralette. It always depends on your need, so there is nothing wrong with wearing a bra with a bralette.
Bralettes are known for their versatility and comfort. Unlike the traditional bra, bralettes are unstructured – they are wire-free, unlined, and unpadded, which allows for the breasts to be more relaxed and without strain. Though you can expect full coverage from these, bralettes provide only minimal support which is enough for smaller busts but can be a bit problematic for those with larger busts. Bralettes are lightweight and stylish which is why they also pass as outerwear tops. It also serves as a perfect undershirt for girls with developing breasts, and the perfect solution for tops with irregular cuts that can be awkward and difficult to wear.
Bralettes Over Bras
These undergarments aren't hard to fall in love with because of how much comfort and relief it brings from the hardware of a traditional bra. Every woman out there should have at least one of these uber comfy bralettes in their wardrobes. However, if you seem to be in need of some more bust support from your bra, then you can have the option of wearing your regular or traditional bra under your bralette for that extra boost. It all depends on your need and purpose, so make sure to weigh on these things and take into consideration your own choice of preference and be mindful of what is comfortable for you and what is uncomfortable. There is nothing wrong with wearing a bra with your bralette. It always depends on your situation. 
The Purpose of a Bralette
Why a bralette in the first place? Ever wondered what a bralette is and why other women ever started raving over them? – so what is it with bralettes, and why do other women choose to reach for this piece of undergarment instead of a traditional bra? Here is why: a huge chunk of it really has to do with comfort. You've heard it over and over that comfort is truly one of the best main characteristics of a bralette. They are gentle on the skin and not uncomfortably tight. It is also perfect for the pregnant and the nursing, or even for women who are on their period! Bralettes are incredibly flexible and stretchable, and free from those uncomfortable underwires, giving enough room for the breasts to lay securely and comfortably under your dress or shirt. 
Aside from the comfort it brings, bralettes are also highly fashionable, which makes them trendy and cute to wear around. Feel free to also wear it in hotter climates because unlike traditional bras which have thicker material, bralettes are breathable, giving you comfort and confidence throughout the day. Generally, bralettes allow you to fully embrace the comfort culture, and it's high time that all women experience this wonder.
12 Ways To Wear Your Bralette
The main purpose of bras is for support and coverage, but of course, style and comfort come into play as well – and bralettes generously allow for that with their various styles and kinds. So if you love your comfy bralette, we have collected a number of different bralette types for you to be in the know with what is out there. Let nothing stop you in wearing this comfy top. Check out these 12 ways to wear your bralette!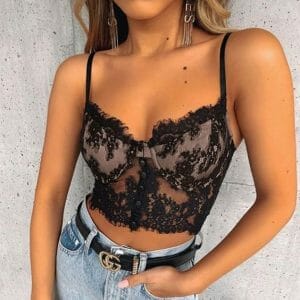 One cool thing about bralettes is that it can also be worn as a top. What better way to show off than this lacy, sexy and snappy bralette crop top. Perfect for a warm weather or open-field events where you can enjoy music and your favorite drink while hanging out with friends, partying and socializing. This bralette brings in a sophisticated look that is perfect for lasting impressions. Get a little bolder and be all womanly with your style and rock this sexy look once in a while. We're pretty sure you'll be glowing and turning heads in these!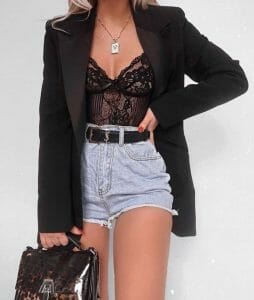 Here are some tips and tricks to transform your lace bralette camisole crop top. The not-so-secret of fashion is mixing and matching your clothes, and by this, you create many more different looks. By pulling out a few pieces from your wardrobe, you can create this daring-look with your blazer and shorts; an interesting match that you can definitely pull-off in the streets. Boost your confidence with this stylish outfit and exude the energy of a bold and confident woman.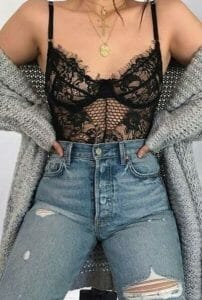 Here is another one on our list that you can add to your outfit styles for more ways to wear your bralette. So far, we've only discussed one bralette, yet you have yourself 3 ways to wear it already. Again, the key is to mix and match your pieces. Here, we paired your sexy lacy bralette with a comfy and warm cardigan. What better way to cozy up during a breezy weather than by picking up your favorite jacket – in this case, your knitted cardigan. The different textures of your lace and knit make for a perfect balance of revealing and conservative. Explore your pieces and try them on, you'll be surprised by what can actually go well together.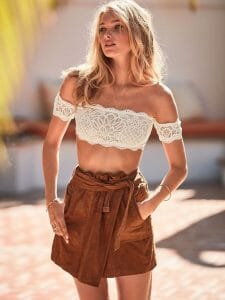 For a rather cute bohemian babe-look, here is an off-shoulder Bralette Bandeau you will definitely love. We told you bralettes have a number of styles you can choose from. Here is a lacy tube bralette that will perfectly complement your favorite cute skirt. Another outfit you can wear that is perfectly cool, comfortable, and not to mention, stylish for the summer. Be more extra and add lots of accessories that will look great on your bare skin.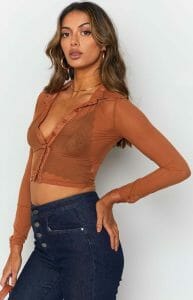 What were they thinking when they were making sheer tops? Traditional or regular bras are awkward to look at beneath your sheer top. It seems lousy and careless for a woman. Don't fool yourself because it can definitely be seen, and it is easily noticed. Worry no more and make chic your sheer top because bralettes have come to save the day. Let the beauty of your sheer come out by using the right pieces from the inside out because every detail matters. You will encounter this problem with many other different tops, that is why bralettes have become a must-have for every woman's wardrobe.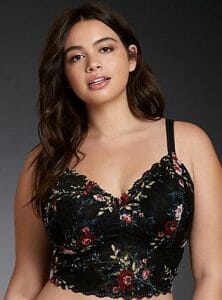 Add 'classy' in 'clasic' with this type of bralette that we most commonly know. What's great about bralettes is that they are both functional and fashionable. While it can already serve as your mere top, it also has the coverage and support you need from a bra. So with a longline bralette that has a print of your liking, you can easily throw one on with your favorite pair of jeans. As easy as 1, 2, 3, you already have a complete a look and you're ready to roll for whatever errand or schedule you have. This is a comfortable and tight clothing you can easily move around in.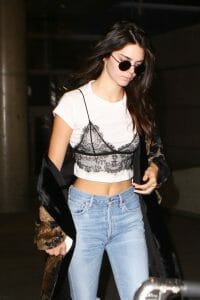 Take your simple white tee to the next level by doubling it up with your lace bralette. Two simple elements that can definitely take it up a notch. On days when you don't feel like being exposed all that much, you can use this simple trick to level up your outfit of the day from something basic to being extra. Show some extravagance by simply layering your lace bralette over your white fitted tee, you can have that celebrity vibe just like our favorite Kylie Jenner caught on cam by the paparazzi wearing such!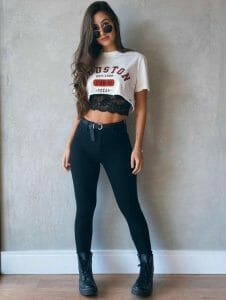 Another great way to spice things up with your bralette is to do layering. This will add texture and depth into your look, showing off attractive details and elements that is just, hands-down, hot. Pull this off with your cropped tee and basic black bralette. The seams that peek-a-boo adds the wow-factor into the whole look of it. This is another simple way to wear your bralette that easily falls under our favorites-list.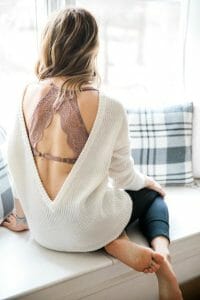 Remember the awkward tops that are difficult to wear that we were talking about? Finally make sense of those blouses that you were greatly challenged by with the help of your bralette! This is one of the reasons why bralettes are such a wonder. They are definitely a pleasant match to those tops that we used to just laugh at because of how silly we thought the pattern or cut was. Now, with these cute and comfy bralettes, we finally made sense of these tops and can actually appreciate them more. You even standout now with how well you can carry that outfit style. No longer will you be intimidated by your backless top!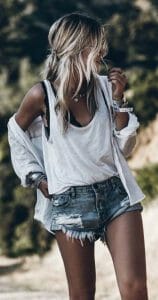 Here is another way to show off your bralette and create textures and layers. This gives the extra oomph you need for every basic outfit that you already love wearing. Sure, you can do without a bralette, but notice just how much it brings that x-factor to the whole look of it. There is definitely no more words to defend why you need to own a bralette because it already shows with how trendy it has become. Try it for yourself and fall in love the many wonders you and your bralette can do.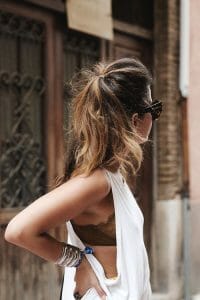 Flaunt your hard-earned cuts in the gym by sporting a muscle tee perfectly complemented with your stylish bralette. This goes well with it because since a lot of skin shows on the sides of the arm holes, it can be awkward and uncomfortable for yourself and for other people around you. But with your bralette, you can move confidently and freely, since its the perfect undergarment to pair it with. Look cool, sexy, buff and tough with this hot took perfect for the summer.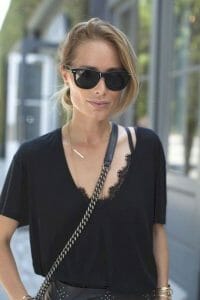 An all-black outfit will never fail. This look is both classy and classic, not to mention, easy-peasy! Gather all your black pieces and put them all together. Add some spice with your bralette and you got yourself one comfy, sophisticated outfit you can rock the entire day. This is one easy outfit you can whip up any day of the week. So the next time you fuss about what to wear in the morning, grab all your blacks and cap your stress, because in the next five minutes, you got yourself a 'fit that will surely receive a lot of compliments.
Versatile Bralette Fashion
Bralette Fashion has become a trend all over. It creates a sophisticated yet sweet look that is really easy to style. Not only is it convenient but it is also way more comfortable than the traditional bra. This is definitely and with no doubt, a great option to have in your wardrobe. A classic piece you can wear and style any day. With just one piece, you can already come up with numerous ways to style it. You can also use it for various events and match it with different timeless pieces. Go on and open up your drawer! Spruce up your daily outfits with your choice of bralette and make the most of its versatility and comfort. We know you'll surely enjoy every versatile bralette fashion that will accompany you from the mundane day-to-day, to your most important days.