Best Fabric for Slacks: A Guide to Choosing the Right Cloths
What makes a pair of slacks the most excellent? Why do some last longer than others? You know what, aside from how you take care of it, the material of the garment is what mainly determines the lifespan of the most exposed clothing some of us use daily.
Since slacks come in different types, cargo pants, and chinos, to name a few, they would require different materials. And, from a style point of view, every type of slacks will have varying formality levels. 
With these in mind, this article will help you find out the ultimate best fabrics for your slacks. This is a true guide you need whether you are buying or making your own pair. 
The Quality of Slacks Fabrics
While doing your online shopping, the first thing we always wonder about is what material should we go for in choosing our slacks. Obviously, with loads of varieties available in different shops, it's just reasonable to find out which one is of high quality. We need to get our money's worth!
To be able to assess that, come to know the common fabrics slacks are made from:
Cotton
A widely popular choice of material for pants is cotton. It's inexpensive and capable of withstanding certain weather conditions. Most formal pants and suits are made from this and it gives off a pleasant, comfortable feeling thanks to its natural and breathable quality.
For most people who suffer from allergies, cotton will not cause you any skin irritation, unlike other pants that are made from certain blends of fabric. However, there are certain downsides to take note of. First, cotton-made slacks can shrink over time, every after wash. It's also not as durable as other materials due to it being a natural fiber.
Poly-Cotton Blend
Ever noticed why several garments are blended with polyester? This is because polyester alone isn't enough to provide the comfort any wearer would need. If it's the only material that has been used for a pair of slacks, then expect your pants to be soaking wet during a hot day. Polyester is non-breathable and non-porous which makes it impossible for moisture to evaporate. Nonetheless, it's a solid material with wrinkle-free features.
To ensure the maximum quality of your slacks, manufacturers would use a combination of polyester and cotton. In that way, you can get the best of both worlds. With the benefits of polyester combined with the advantages of cotton, your level of comfort is well-elevated. 
Poly-Wool Blend
Another blend you can eye on is the poly-wool blend. It's simply a mixture of polyester and wool. After all, wool alone won't be ideal for summer. It's not as stretchy as other fabrics too which makes it confining to make movements. 
But, with wool and polyester, you can experience a unique combination of experience in a pair of pants. Not only is the garb more resilient, well, taking into account that there are two fabrics working together to become more robust, but it is also less prone to shrinking and wrinkles. Let's not forget about how comfy, cool, and breathable the material is.
There's just one challenge for poly-wool slacks. Owners will have to give extra care and attention to maintain their quality for the long run.
Rayon
Rayon is an artificial fabric that's made from cellulose. It is commonly derived from cotton wastes, trees, and bamboo. This then goes under a lot of processes that involve chemicals, water, and energy before it turns out into a fiber.
Although rayon is far more excellent in durability in comparison to most natural fabrics, the cons would still include being low in tolerance toward heat, prone to wrinkles, and shrinkage. However, these disadvantages may not outweigh the pros as rayon is sweat-absorbent, affordable, soft, and cozy.
For an incomparable class, go for rayon-blend slacks.
The Best Fabrics for Cargo Pants
Cargo pants are, no question, a type of slacks. They are loose, military-like, which is no surprise since knowing these are actually inspired by the British military uniform, and pleasant to be worn.
From action stars to rappers like Kanye West, cargo pants are having their widespread limelight thanks to how revolutionary their comeback is these days. They're ultra-stylish and fashionable and popular figures like Rihanna, Charli D'Amelio, and Bella Hadid would certainly agree.
If you are thinking to jump into the bandwagon, here are the best fabrics to go for before you place your order: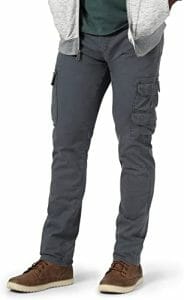 Cargo pants are known to look and feel tough. It's just right that the material complements these standards, so what else is more robust than synthetic materials? A fabric of such a kind, like polyester, can truly endure constant wear and tear. It's stretchy enough too, but not as elastic as a polyester and spandex blend.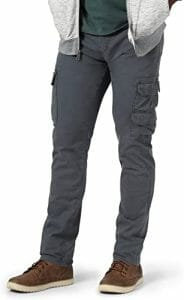 Upgrade the condition of your cargo slacks! Nylon-cotton and polyester-cotton blends help garments feel breathable, comfortable, and robust. These qualities are what you need for heavy-duty work like construction or even if you are asked by your wife to make the garden look better.
Best Fabrics for Dress Pants
Another garment that's synonymous with slacks is dress pants. These are what you would usually wear in formal to semi-formal settings. Since dress pants are highly considered as workwear, it's a must that the ones you got are not easily wrinkled. The solution to that is to carefully choose your fabrics.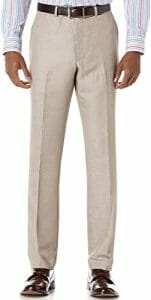 Your choice for your slacks is all based on your taste. If you lean more to getting bottoms that look attractive and luxurious, then go for linen, silk, or velvet as the main components of the material.
Just be careful, however, not to get your slacks wrinkled or wet as their appeal may go down. In terms of practicality, these aren't the best choice for your dress pants, but they are if you are after their glamor and look.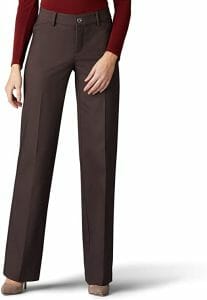 Polyester dries quickly and is typically water-resistant, making it a good choice during the rainy season. Wool, on the other hand, is warm, thick, wrinkle, and water-resistant, but uncomfy for the summer. If both fabrics are turned into a sort of blend, you don't have to worry much about each of their downsides.
Go for dress pants that are made of more wool if you need extra warmth or made from more polyester for any other season.
Best Fabrics for Palazzo Pants
The iconic Coco Chanel and Olivia Wilde are no strangers to the wide-legged, palazzo pants. They all flare, regardless of their style and the fabric flows in excess, but the shape is far from unattractive. It gets even more attention should they come in the following materials:

Silk shimmers on its own and it has an unmatched elegance incomparable to that of others! But, before you go ahead and purchase silk palazzo pants, make sure that they are lined for added thickness and comfort.
Beauty comes with responsibility too, by the way. While silk may look pretty in the eyes, keeping its quality can be quite a challenge. It needs to be hand-washed as washing machines can spoil down the fabric.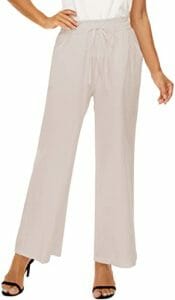 If you are more into breathability and softness, cotton is the way to go. Lots of people favor this fabric over anything else due to its quality and it being a renewable resource. However, if your palazzo pants have to look formal, other choices of the fabric have to be considered.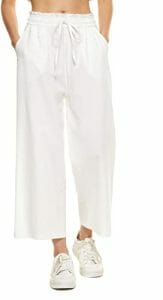 Linen offers a lightweight factor that is soft and cozy when touched. Aside from that, taking care of it is not hard work. Linen with other blends is a go-to alternative when the day goes warm and humid. Just a word of caution, despite hearing all the good things about linen, it remains tricky to create a whole fashion ensemble that looks great and pleasing, so carefully plan it out should you include linen palazzo pants.
How to Choose the Right Fabric
Don't be quick to click that "place your order" button yet! No matter how high quality the material of the slacks you want to buy is, it might not be the best choice for certain reasons. Let's find out why.
Consider the Weight and Season
Winter, spring, summer, and fall. These are the four seasons you may experience the whole year round and to remind you, every season requires different wardrobes. If it's freezing, surely you don't want to wear linen slacks outside, not even an unlined silk pair! These materials will leave you stiff and cold.
Go for heavy fabrics that are made for this specific weather or season instead. You know how thick your garment has to be, so be discerning in choosing your clothes at all times. To guide you further, check out the table that shows which fabrics are lightweight and which ones are heavy-thick.
| | |
| --- | --- |
| Characteristic | Fabrics |
| Heavy  | Twill, brocade, denim, wool, canvas, chenille, and wool tweed |
| Medium  | Sateen, chambray, velvet, oxford, and taffeta |
| Light  | Linen, polyester, cotton, chiffon, organdy, and rayon |
Factor the Drape
Another thing to think about is the drape of the garment. Do you want your pants flowy or stiff? Since we are onto slacks, they are most preferably stiff to some level, unless you go for palazzo pants. See the table below for reference regarding the flow and stiffness of certain fabrics:
| | |
| --- | --- |
| | Fabrics |
| Stiff | Organza, brocade, twill, denim, and canvas |
| Drapey | Wool, silk, chiffon, wool, and gabardine |
What Fabrics Are Most Durable for Slacks?
Have the quality you've paid for! Synthetic fibers are more durable than natural fibers because they are specifically engineered to stay robust and, therefore, to last longer. Polyester is one of the main components of a long-lasting garment, so be meticulous about what comprises the clothing's fabrics.
If it's a blend, it is more ideal if the one that has a higher percentage is polyester. You should set your eyes for rayon blends too or, if you have come across a pair of slacks made from rayon, cotton, and polyester, buy them without any hesitation!
It's triple the durability and you are given the guarantee that your slacks can be worn for years. Cotton alone is impractical. Though it may feel baby-soft, most of the pants made from cotton are not tough enough, but it still depends on the quality. 
Which Slacks Fabrics Don't Last Long?
Most of the time, slacks that are made from thin materials won't make it past a few months or a year. Think about silk, georgette, and chiffon. But, that doesn't mean that they are not worth buying. They still are, but slacks of these kinds are not ideally worn every day. 
They are great for occasions and might stay in good condition on the shelf for several years provided you properly take care of them and you know how well to maintain such types of fabrics. When worn, be mindful of your surroundings as they can be easily scratched and torn. Go for high-graded fabrics too since quality remains important whatever pants you buy. 
What Fabrics Are Expensive?
To match your glamorous lifestyle, some of the expensive fabrics you can choose for your custom-made slacks are vicuña wool, cashmere, mulberry silk, guanaco, and fur. Some of them can't be easily seen in typical shops and leopard fur is now deemed illegal to be sold. 
Cervelt is a rare sight in garments all over the world too as only 20 grams can be harvested from a deer each year. Nonetheless, you can choose among other expensive fabrics for your exorbitant taste.