What Are Slacks Trousers? An Easy Guide For Men's Pants
It would be redundant to call a garment that covers the waist down to the ankles slack trousers, but for the sake of clearing out the confusion, the appropriate name for this clothing is either slacks, trousers, or pants.
It all depends on the usage. British people highly prefer calling it trousers, but for those who follow American English, then slacks would be the best term for it. What's funny is that in the UK, pants always refer to underwear, not slacks or trousers. 
How Did Slacks Come About?
Since we are on to the discussion of terms, the word slacks is a Saxon word that means rope ties and it has something to do with sailors. Looking back ages ago, sailors are known to utilize spare bits of rope to hold their loose pants together. This is perhaps where the idea of slacks being loose in fit came from!
Of course, the lack of all things modern in the past obviously wouldn't be able to let tailors produce slim-fit slacks for users. This is still up for debate even until now, though, as some would claim that slacks only emerged as a fashion term when women's pants and suits became a trend.
6 Different Slacks Styles
The styles of your slacks or trousers can affect how you look. Giving attention to certain characteristics and choosing the best options are your means to looking sharper.
1. Fabric
Slacks made from certain materials are sold expensively for a reason. Aside from ensuring that the capital is returned, this also gives the wearer a guarantee that he'll look more stylish than ever.
The fabric's quality and the manner it hangs impact the impression you exude. Blended fabric materials are preferred as they are created to improve the durability, performance, and feel of the slacks.
Remember, fabric choice is set out to make men feel at their most comfortable moment in certain events. If it's hot, light fabrics are ideal, but heavy ones are most suited for the cold.
2. Closure
Some slacks are buttoned up while the rest are zippered. Style-wise, the construction for these closures doesn't matter, but it will when we talk about comfort. 
3. Lining
The last thing any man would want is to be seen with a pair of thin pants. It's not a good thing when half of the community knows the color of the boxers you are wearing, especially if you were in the mood to sport bright red underwear. Neither would you want your legs frozen during a cold season, I mean who wants that?
A pair of slacks with a lining adds more volume to the garment. It keeps things underneath away from forming ridges too. However, when it's scorching outside, you'll sweat loads. Silk or silk-blend lining is ideal for this situation.
4. Pockets
It's a common feature in men's slacks to have pockets. If women can't go out without their purses, men won't have anything to do without their precious pockets. Where would they put their car keys and wallets?
In choosing your slacks, check how the pockets are styled and how many. Pockets will affect the way you sit, so don't shy away from heading to the fitting room. More pockets also mean a more casual style.
5. Fronts
The front of the slacks can either be flat or pleated. For men who need more space to accommodate their thighs and hips, the pleated one would be the better pick. The extra fabric also adds room to complement anyone who has broad shoulders and narrow hips. 
Meanwhile, flat-front slacks are best matched with long coats to accentuate a slim figure. It could be unforgiving for those with larger bodies, however.
6. Cuffs
For tall men, having cuffs on your slacks is sort of a cheat, but a good one. It is there in case you need extra length or fabric, but we advise that you have it properly fitted or tailored instead. Cuffs are, at times, subtle while others seem more obvious. Regardless of that, their presence makes slacks look elevated.
Best Colors to Pick for Your Slacks
In planning out what to wear with your slacks, you have to know first the color of the pants you are going to wear. Be familiar with the style you want and avoid going matchy since you aren't wearing a suit. The unlimited available colors are excellent in giving you wide options but think about the occasion you are attending. You can't wear bright yellow at a funeral.
Black
Tilt more on the practical side by going for black slacks although, in the formal world, black pants are seen as overly typical. By going for this color, you can guarantee you won't see eyebrows raising as you go to your office, have a formal lunch meeting with your clients, or host a certain event. 
As it is versatile, any color would look great with black slacks. 
Gray 
Gray is just as flexible as black as it is a neutral color. You can wear this at most business casual meetings or even at work. Men would also opt to sport this color during work-related vacation trips. This looks exceptional in a wide range of shirts and would make you appear even more ready for anything with a coat on. 
Cream, Ivory, or Pale Brown
Not a lot of men dare to pick any of these slacks' colors, but the truth is that there is no reason to shy away from them. Many perceive these as difficult to wear as they can easily get dirty, but with a quality pair, any unwanted speck of dirt will be repelled. 
These are best worn during summer and at events like weddings.
Navy
Exude a cool vibe with a cool color like navy! This matches any clothes you pull out of your wardrobe and don't even bother thinking about how it would contrast on your skin color. 
A ready man should always have at least a pair of pants in the navy shade when black isn't even an option for a particular gathering.
How to Choose the Right Shirts for Your Slacks
Fashion rules don't matter when you want to play your own game. But, if you want to stick by the rules like how Germans do it, you can apply a few basic ones.
Firstly, avoid matching up your slacks with the same-colored shirt or you might as well go for a suit. A classic tee for your slacks brings out a smart-casual look. Avoid the printed shirts, for now, to keep it classy. 
For an upgraded vibe, try a plain collared shirt. You will never go wrong by picking the white one from your choices unless you have ironed white slacks for it. Well, that's fine if you are replacing St. Peter in Heaven's gate.
Mind you, contrasting color combinations are always a good thing. For dark slacks, light tops are their puzzle piece. If you go monochrome, a contrasting coat will help show your color statement.
How to Accessorize Your Slacks 
Just created the flawless look you have in mind? Brainstorming for your accessories would have to be done this time. Have a little fun if you want. Leave a few buttons on top unbuttoned if you feel hot or use your favorite handkerchief to add a refreshing sight in your attire. 
Let's not forget about another important thing– the shoes. The right ones will keep your whole attire's formality while the wrong ones will make you lean more on the casual side. First things first, whatever footwear you sport, make sure they are sparkly clean.
Leather shoes or sneakers, it's all up to you, however, I won't recommend you wear the latter when meeting up with your boss. 
Wear a luxurious watch as well to give off a good impression to others. Make them understand you value your time well. For casual occasions, a sports watch is the thing. Lastly, don't go out without a belt on. How to pick the right one? Consider matching it with the color of your shoes.
8 Types of Slacks for Stylish Men 
Quit wearing your basic slacks for the umpteenth time and widen your horizon with these 8 other trousers you might have not considered wearing in the past.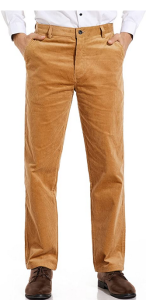 These indispensable trousers need to be worn correctly to maximize what it's primarily made for. These are your go-to pants during the cold or when you are feeling in the mood to dress down and go casual. Cord trousers look best with a turtleneck shirt and a coat to keep them stylish and vogue.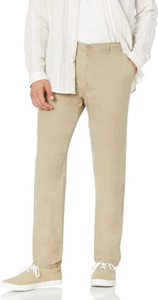 Nothing is friendlier during the summer than linen slacks. Although before, these were considered a not-so-great handiwork, designers and tailors thoroughly rehabilitated its construction and other features to cater to the needs of certain men, most certainly those living in hot, humid places.
Bring back the old times or feel like you are from the past through wearing linen trousers except that there are no longer unwanted creases and shapelessness seen in the fabric.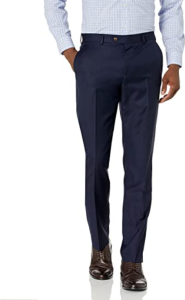 Fashion bloggers are often spotted wearing wool trousers and its popularity is not limited within the group. If all other pants cease to exist after a few years, this one will be the last one to wane. Thankfully, there are no signs exhibited yet that people want it gone in fashion mags.
Wool trousers adjust pretty easily with other smart-casual get-ups and even with your all-time favorite sneakers.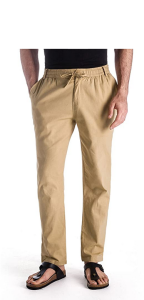 If there's anything the fashion evolution has made that truly made men happy, that would be the drawstring pants. Unfortunately, as it progressed in fame in many countries, brands have made something which I would call a mistake by confining this piece of clothing into sportswear. This eventually suggested a hint to women saying that drawstring pants on a date mean the man doesn't care about the way he dresses.
Ignoring such negative connotations, these pants are your most comfortable garment in the wardrobe, well, aside from your boxers.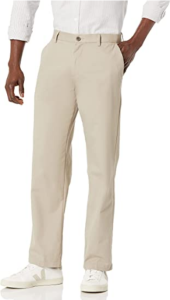 In your search for a good piece of workwear, you will eventually come across the twill chinos– the slacks that equate to durability, style, and old-school vibes. It is hardy by nature thanks to its traditional heavyweight cotton material, you can wear a pair for your rough road trips or if you simply want to relax in Mallorca.
This remains strict casual wear so tone it down when it comes to your shoes.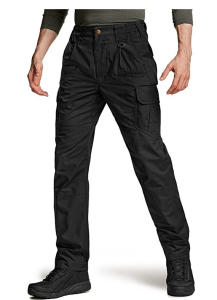 Cargo pants were born in the military, and boy, were their original state no longer unacceptable for this modern era. Now that things have relaxed for a while, these pants have made their biggest stylish comeback. You know these bottoms for their square pockets, but leave them empty to prevent seeing yourself bulky.
Cargo pants are usually known for their standard khaki green color but black is an available color too.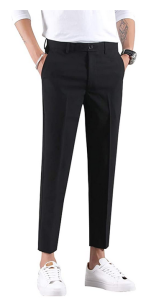 When we talk about cropped trousers, we think about tired formal slacks. The ankle-swingers, as some would call it, stay in fashion for a reason. These shorter than your average slacks are off to showing a different style in a crowd of men in full pants.
Depending on how courageous you are with defying the conventional rules, you can go anywhere between 2 to 4 inches above the ankle.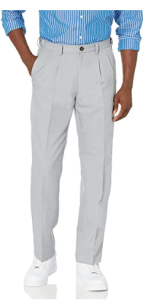 The pleated slacks might spark a bit of a resemblance to the ones your grandad was wearing during his visitation. The pleats, however, are not that old-school nor intended for the old. These pants are back in the spotlight to keep men from looking sausage-wrapped in a pair of fabric.
Opt for a tapered cut and be quick to say yes to the one that is comfy and breezy to the skin.