Hairband vs Headband: What Are Their Differences?
You're not the only one confused here. Both terms are used interchangeably to the point that we no longer are familiar with their differences! For the record, these two are hair accessories that help in keeping the hair in place. But, what makes each adjuncts unique from the other?
Hairbands are more of a general term. They are anything in the shape of a half-circle that goes around the top of your head, from ear to ear. Headbands, on the other hand, are usually made out of different fabrics that help promote sweat or warmth. Have a more detailed description on what these two are all about through this article. 
What Is a Hairband?
Hairbands scream more fashion and are somewhat utility-like if you want to hold your hair back. If we refer to elastic bands, they are also called hairbands which we normally use to tie or fasten our hair up or down in buns or ponytails, but that's not the type that we will be focusing on today. In a way, a hairband has the same function as the headband, but how it's made only serves limited uses. 
When it comes to sports, this is not the most appropriate headwear to place in your head. This typically comes in metallic pieces, often in a zigzag pattern to create a stylish effect like unique lines on the hair that's being pulled up to the back. It's super flexible to the point wherein you can easily bend it either on the edges or middle part. Its structure does not go all the way around, but rather each extremity ends on both sides of the ear. 
Pros
They come in different attractive designs in durable metallic or plastic with fabric materials, most of the time.
Excellent at keeping the hair off the face and eyes.
Usually offers a good fit provided you purchased the right size.
Cons 
You have to constantly fix it as they don't stay in place for a long time during strenuous activities.
Metallic hairbands can bend over time causing them to become asymmetrical.
Plastic hairbands can easily break.
When to Use Hairbands
Hairbands can be used at any time of the day, but are definitely not a great replacement for workout headbands. Should you want to accessorize your updo, a stylish piece of hairband embellished in stones or flowers would be a great choice. It adds up a dramatic or fashionable effect perfect for formal events like weddings, formal parties, proms, or romantic dates.
On the contrary, hairbands that are designed mainly for practicality must be worn only for casual reasons. If you are reading a book and you are tired of your hair or bangs falling down on your face, a hairband is your go-to accessory. It's definitely useful as well if you're cooking, applying your face mask, or doing your nighttime skincare routine.
Different Hairbands You Can Buy
This piece of accessories is making a name for itself in the fashion world after the renowned headbands. For sure, at one point in your childhood life, your mom have made you wear this headpiece and even though you might have not liked wearing it, it's not too late to actually realize how trendy it can be! Flaunt this in a grown-up fashion by checking out the different hairbands that might complement your style.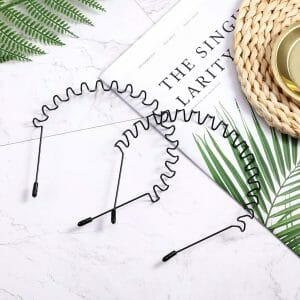 If you are looking for a hairband that's made from reliable materials, this should be your first pick. It's purely alloy so you wouldn't have to deal with a rusty piece of hair accessory after some time. Its paint is thick and it wouldn't easily peel off. Speak about durability! Take note, this is a non slip metal hairband perfect either for fashion purposes or if you don't want any obstructions as you treat yourself to a home spa. It's safe to use and guaranteed you wouldn't poke yourself as both tips aren't pointy thanks to the protective covers.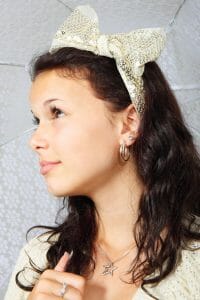 Alice hairbands became popular after Lewis Caroll's novel "Through the Looking Glass" was published. The name of this type of hairband definitely comes from Caroll's heroine who displayed her fondness of wearing hair accessories with usually a bow design to keep her long hair away from her face. Go for an Alice band if you want to keep on with the evergreen fashionable trend. It's cute and girly in every way. Of course, some Alice bands are also manufactured to cater men's population, but their design isn't that feminine.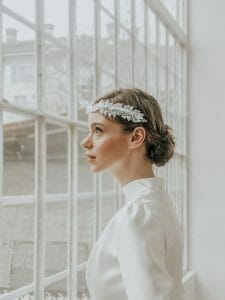 This type of hairband is synonymous with the word "enchanting". The way the intricate details form the whole piece is far from monotonous. This will always be an attractive headwear perfect for those who want to feel like an angel, a princess, or a fairy. The typical designs include flowers and leaves which give off the "Greece" vibes as this is common in the said place.
What Is a Headband?
It's a no-brainer what a headband is. This is a clothing piece meant to be worn on the head to promote perspiration hence why it's very popular among workout or fitness enthusiasts. It has the same function as the hairband since this also holds the hair in place, keeping baby hairs and bangs back to the head thanks to its thicker band. However, the fabric goes all around the head which is different from the hairband. It's continuous and meant to absorb sweat.
Headbands are soft, stretchy, and quick to dry, but it also depends on what kind of fabric it is made up of. On another note, handkerchiefs or scarves absolutely pass as headbands since they are tied on the edges and are worn around the head in whatever fashion.
When to Use Headbands
Cycling, gym sessions, running and training drills, you name it. A headband is a must-have, especially for men and women who have long or even short hair. This will help you get focused on whatever you do without having to deal with your stubborn hair that keeps getting in your face. This isn't just exclusive for fitness fanatics as headbands are extremely multifunctional. Some are made to aid those who religiously do their skincare treatments every morning and night.
Also, other headbands are a perfect staple for girls out there preparing to go on dates. This headwear can be cute and chic, you can wear it with your hair down or in a ponytail. 
Pros
They are more comfortable since most headbands are fabric-made.
Very affordable and can last for a long time.
Headbands come in a variety of styles and can be utilized for sweating off or casual attires.
Cons 
Headbands made from the finest materials can come off a bit expensive.
Some headbands don't have a one size fits all feature so they can either become too tight or too loose for a person.
Headbands for athletes need to be washed.
Different Headbands You Can Buy
With how versatile headbands can be, every lady must consider having at least one or more of these in her wardrobe, ready to be worn at any moment. Know what kind to buy that would actually serve the purpose you're wanting to achieve. Here are the different headbands you can consider purchasing: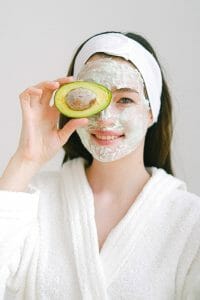 This is for those who are committed to pampering their skin daily. Spa headbands help in keeping the hair off the face. It is thicker in width, therefore, creating a huge gap between the hair and the face. Some spa headbands can be adjusted for a perfectly tighter fit. They come in different designs and styles which are cute such as those with cat ears on or faces of a teddy bear, perfect for gift-giving. Any girl would be happy to receive one!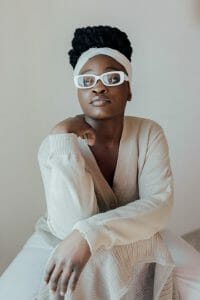 This is what you would wear with your casual attire. There are various kinds like a turban headband, scarf headband, scrunchie, or knotted. Wearing any of these as a hair accessory will absolutely make you more stunning. Others might even gain the courage to style their crowning glory using headbands too, so set this trend in your city! Stylish headbands come in different colors, prints, and construction. Choose the fabric wisely so you wouldn't remove it at the end of the day only to find out that a fresh pimple emerged.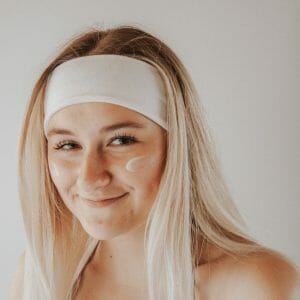 Do you work out for hours without distraction by using a reliable and nice-fitting sports headband also known as sweatbands? As you know, when we steam off, uncontrollable sweat drops run down our foreheads to our eyelids, so indeed, a headband is essential. It can be quite frustrating to pull out your towel and wipe your face every once in a while. This can be entirely avoided if there is a band around the head, properly placed, and made from high-quality materials like polyester with a combination of spandex. If there's one fabric you should avoid, it would be cotton as it is not the best sweat-wicking material out there.