Bralette vs. Sports Bra: Similarities and Differences Explained
Bralettes and sports bras are a subcategory of undergarments worn by women. While some confuse a bralette and sports bra, these lingeries actually have different purposes. 
Bralettes have various styles and types that can be worn daily and could come padded or unpadded. Whereas sports bras are worn to provide better support for the breasts, especially when performing physically demanding activities.
In this article, we'll delve into the uses of these undergarments, along with their similarities and differences. We also listed frequently asked questions regarding misconceptions about wearing a sports bra or bralette daily. 
What Is a Bralette?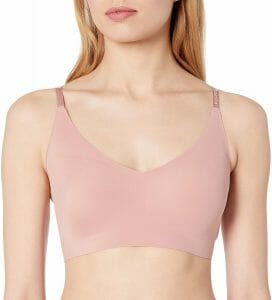 Bralettes are considered a "more relaxed" version of a bra, considering their less constricting and comfortable paddings. Fashionistas see bralettes as a revolutionary merging of a crop top and a bra, but with more styles and designs to choose from.
Moreover, they come either padded or unpadded, wired or unwired, and strapped or strapless. Most bralettes have wider bands at the bottom of the cup to provide a good amount of support for sensitive breasts or breastfeeding moms.
Bralettes provide coverage on the breasts. And with their sassy, chic, or elegant style, wearing bralettes out in public is a no-brainer. In fact, celebrities found it more comfortable and convenient to wear bralettes for casual or loungewear.
Uses of a Bralette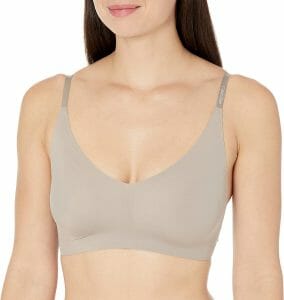 1. Can be used as loungewear.
Almost all women would agree that there's no better way to feel you're at home than not wearing a bra at all. Since bralettes provide a no-bra feel, you won't feel any constricting or digging-in feeling. 
Bralettes are super comfy to wear while giving you a sexy undergarment you won't be embarrassed to show. Most bralettes come seamless and unpadded, which sweaty sleepers would highly appreciate. Besides, the materials used to create bralettes are made with fabrics that hug your breasts conveniently.
2. Can be used as an athleisure.
The athleisure trend continues to be in the trend of popularity. Fortunately, more and more lingerie companies are combining sportswear and leisurewear in creating bralettes. Inspired by athletes, bralettes can be worn as athletic apparel that you can wear in public, non-athletic settings.
Bralettes currently dominate the athleisure market. They provide oh-so-many styles you can pair with any tops and garments. Examples of these brands include Victoria's Secret, Aerie, and Lively.
To sport an athletic vibe, marry your bralette with a leather jacket and throw in a black cap. Wear joggers or sweatpants and chunky shoes to complete the look.
3. Can be used as summer wear.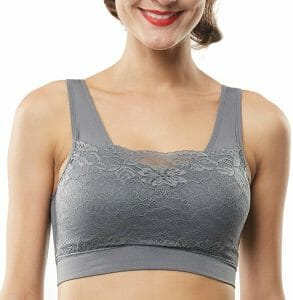 Although the summer season might be the hardest for some to dress for, bralettes are actually helpful for steaming heat and humidity. Considered as summer's best friend, bralettes are not restrictive and let you stay cool in the summer. Besides, their non-wired, light-padded, and seamless features are everything you need for a relaxed outfit. It also covers the breast area more comfortable than wearing a bra.
If you opt to show more skin, bralettes go well with a sheer or backless top. Some bralettes are dedicated to being worn over a t-shirt for a fun twist but a contemporary trend.
4. Can be used as an outerwear top.
Finally, bralettes are a life-saver when you want to keep a casual but chic look for casual occasions. This undergarment is acceptable to wear in public (well, provided you don't violate any general rules, LOL).
With plenty of bralette styles and types to choose from, you won't find yourself at the corner of your room looking for an outfit. Bralettes come in handy, especially when pairing them with tops or tanks and skirts or pants. 
For instance, you can wear a lace bralette under a chunky cardigan. Think you can't rock the look? Then try to wear a racerback bralette with a backless tank or dress to sport an exposed back.
What Is a Sports Bra?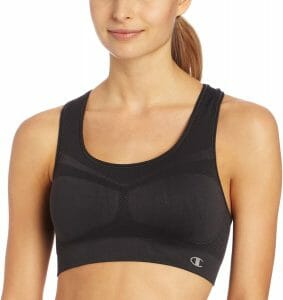 Sports bras are another worthy undergarment that women found to be heaven-sent. Sports bras primarily focus on more support, keep breasts from "jiggling," and wick moisture away. Unlike bralettes, sports bras are intended to be worn while doing vigorous sports activities. These include running, playing sports, or even doing yoga. Moreover, sports bras are made to provide more and better support and prevent your breasts' injury.
A sports bra protects your breasts against soreness resulting from demanding activities. They cover and keep your breasts firmly in place; therefore, they minimize breast movements to help ease the pain. In this way, you'll feel more comfortable performing exercises while not feeling self-conscious about your breasts.
Compared to bralettes, sports bras are made with fabric materials known for moisture-wicking properties. Gym goers who wear a sports bra feel a reduced irritation due to boob sweat. Doctors recommend sports bras for those who have undergone breast surgery because of their supportive features.
Sports bras have different types and styles as well but primarily encompass the levels of support your breasts need when performing physically demanding exercises. These support levels include (Victoria's Secret caters to these levels):
Low-impact sports bras. They can be worn in activities like light running, street cycling, and hatha yoga. There's a thin line between this type of sports bra and sporty bralettes.
Medium-impact sports bras. Exercises like aerobic yoga movements and light jogging would require a medium-support level for a sports bra. Most women prefer this type because of its relaxing experience.
High-impact sports bras. Finally, strenuous exercises require too much movement. A high-support level sports bra helps restrict breasts movements to avoid soreness or injury.
Uses of a Sports Bra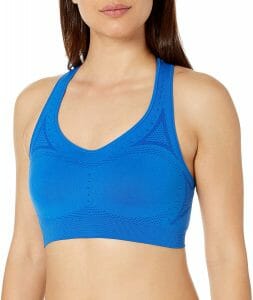 1. Can be used to compress breasts.
The type of sports bra that compresses breasts to minimize movements or bouncing effects is called a compression sports bra. They are designed to keep breasts intact, usually without any individual cup to separate the breasts. 
A compression sports bra hugs your breasts and lays them flatly to your chest. Small-breasted women can opt for this undergarment, especially those who won't be bothered with an appearance of a "uni-boob" (since it compresses the boobs).
2. Can be used as encapsulation.
Encapsulated sports bras are perfect for preserving your natural boob shape while performing low to medium-impact exercises. Unlike compression-type sports bras, encapsulated are ones with individual cups that shape each breast. They're considered a somewhat everyday bra but with more support and coverage for the chest.
Each breast is separated, which protects ligaments and prevents pain and sagging. They're perfect for women with bigger busts, but an encapsulation sports bra is a good choice if you want to try a bit more shape.
3. Can be used to avoid workout discomfort.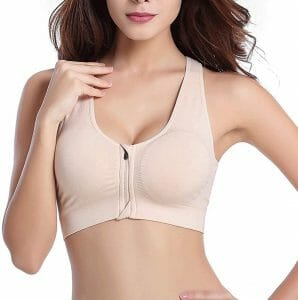 Since sports bras provide better support than bralettes, it's safe to say that they're a better companion for strenuous or extensive workout sessions. According to an article, breasts not appropriately supported during an exercise can cause damage to their muscle ligaments. Each breast moves independently, and these movements have negative consequences on the chest.
Further, sports bras help reduce pain and discomfort in this case. They give more and reliable support that your breasts need to keep them securely in place. As such, high-quality sports bras feature moisture-wicking properties that help you avoid skin irritation due to sweat buildup.
4. Can be used after breast surgery.
Wireless or post-surgery sports bras are considered the best type of chest support to wear after any breast operation (like breast augmentation). Since most sports bras come unwired, they help reduce any irritation or pain and help the breast recover quickly.
Surgeons recommend wearing a sports bra for up to two months following a breast augmentation or surgery, combined with no upper body exercise for complete and speedy healing.
Similarities Between Bralette and Sports Bra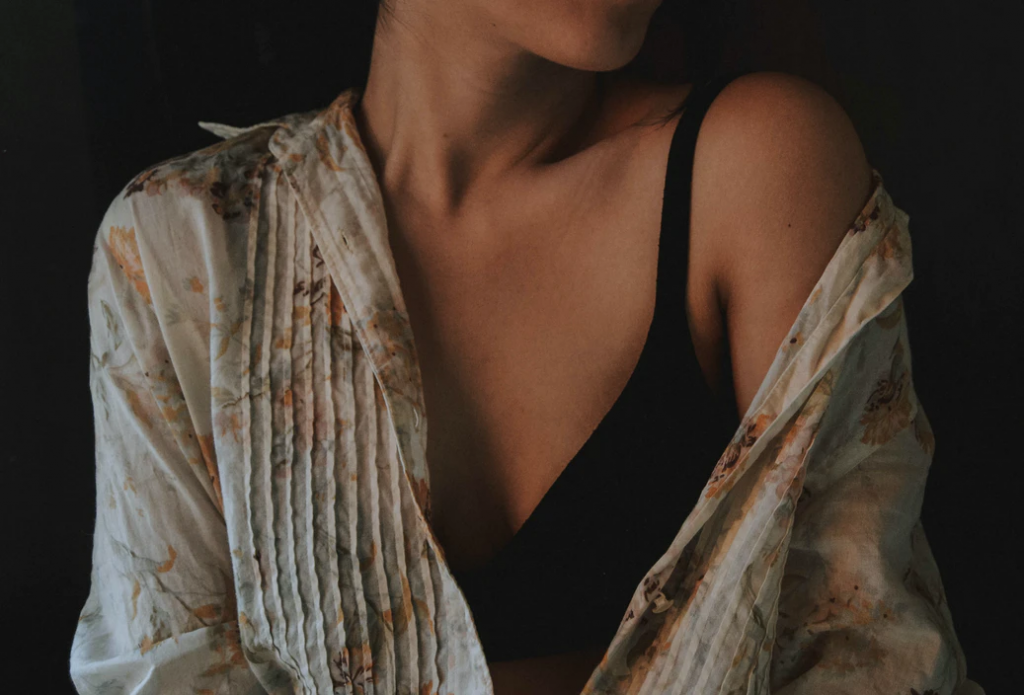 Sports bras and bralettes are comparable with one another. Here are few characteristics that both encompass:
1. Both come with different designs.
It can't be denied that bralettes and sports bras come in different designs and styles. Depending on your preference and theme, there's existing lingerie with the exact design that you'll love. For instance, both undergarments have styles like racerback, criss-cross back, pullover, and back clasp.
2. Both can be styled in various ways.
With their several types, designs, and colors, you have plenty to choose from! You can wear them under a shirt or tank top to sport an everyday, casual look. They're more comfortable than ordinary bras, which turn out to be a trendy outfit as well.
3. Both can be worn publicly.
The fashion world currently perceives bralettes and sports bras as revolutionary undergarments that made their way out in public. Unlike your regular bras, these lingeries are made and okay to be worn outside.
Differences Between Bralette and Sports Bra

Credits to: @wevibe
1. Sports bras are more padded than bralettes.
Since sports bras are initially intended for sportswear, athletic activities, and workout sessions, they come with heavy paddings. This feature gives sports bras the support your breasts need for challenging exercises.
2. Sports bras are worn chiefly when working out, while bralettes can be worn elsewhere.
With the mentioned difference in number 1, sports bras are worn when going to gyms or sports centers. Although sports bras are acceptable in public, bralettes are far chicer to wear (especially for a casual look). Additionally, bralettes can be worn on their own or can be married with a top. Whereas sports bras are worn under workout wear.
3. Sports bras are dedicated to extensive activities, while bralettes can be worn casually.
Finally, high-quality sports bras are worn for vigorous activities, thanks to their moisture-wicking and body-hugging features. Bralettes aren't known for heavy pads, so they aren't suitable to wear when working out. Instead, you can wear bralettes for an everyday look.
Frequently Asked Questions
Can Bralettes Be Worn as a Sports Bra When Working Out?
While you're free to choose the type of bra you want to wear when exercising, note that an inappropriate and unsupportive bra lets your breasts move around on your body. And you wouldn't want to experience irritation, soreness, and breast pain, right?
If you're performing low-impact activities in a gym, considering bralettes instead of a sports bra would be ideal. However, it's worth mentioning that while bralettes come with styles, sports bras still best deliver the support and comfort your breast needs while working out.
Can You Wear a Bralette Daily?
Teens and women see bralettes as the most comfortable and convenient undergarments to wear as an everyday bra. In fact, more and more women are switching to bralettes because of their less-constricting attributes. They are also great sleepwear, as they're lightweight, non-wired, and unpadded (most of them).
While there's no evidence pointing out that wearing bralettes daily can negatively impact the body, unstructured or ill-fitting bras might be problematic. Bralettes come unstructured, so they're more troublesome and tricky for those with bigger busts.
Can You Wear a Sports Bra Daily?
It's no wonder why sports bras are a great alternative to regular bras, primarily because of the support and comfort they give to the breasts.
Nevertheless, medium and high-impact sports bras aren't an excellent option for everyday use. This is because they compress and hold your breasts to keep them in place and prevent any movement. These sports bra types may actually become uncomfortable after many hours of wearing them.
Does Wearing a Sports Bra While Exercising Prevent Sagging?
The idea that a sports bra prevents breasts from sagging during strenuous exercise is not true. It is evident that wearing an encapsulation or compression sports bra helps prevent breasts from bouncing and stretching breast skin and tissue.
We hate to deliver, but there's no way you can prevent your breasts from sagging. It's a natural process that's primarily caused by age and gravity. Yet, wearing a good-fitting sports bra helps you feel cozier when performing exercises.
Is it OK to Sleep in a Sports Bra?
It's undeniable that sleeping in a sports bra is much more cozy and convenient than regular underwired bras. However, it's essential to wear one that's not tight-fitting or too constrictive because it might affect proper blood circulation (which isn't healthy at all). Besides, heavily padded sports bras aren't good to sleep with either since they can cause overheating and over sweating.
If you still want to wear a sports bra when sleeping, opt for ones that encompass soft padding and breathable material.