Is DKNY a Good Brand? Let's Get To Know It!
Look no further if you're in search of a brand that has perfectly concocted wearability, style, and luxury because all these are embodied by the good American label DKNY!
People with so much time in their hands would call it Donna Karan New York or Donna Karan Collection, but whatever, the name choice isn't as remarkable as its fashionable birth that was marked in 1985.
These days, DKNY is not as much of a luxury brand compared to other leading brands like Burberry, Gucci, Dior, and many others, but its standing puts it in the "accessible luxury" class that is well-above other eminent stores like Gap and H&M. 
Now, it's not enough to say that DKNY is indeed a good brand, so let's analyze the features that make it worth every hard-earned penny.
5 Things DKNY Is Known For
DKNY holds a regular spot on the runway in the New York Fashion Week and its presence maintains the interest of the crowd through its featured valuable products although not as lofty as other designer brands.
Take a break from Chanel, Christian Dior, and other imposing labels. You might have not known it yet, but you can save a great deal by becoming a valued customer of DKNY, plus you won't be losing the spark of class and style you love to maintain.
Talking about DKNY, there are five things it is mainly known for: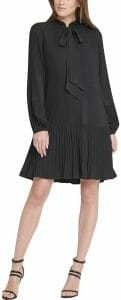 To be blunt, DKNY clothing is far out of the spectrum compared to mass-produced clothing, but we know the deal, pay more and get higher quality products! Not to the point of trying to rip you off, but DKNY is simply on the run toward giving its valued customers the caliber of garments they deserve.
For years, the American brand has maintained an air of accessibility by keeping it from touching the deeper waters of revolutionary designs and superb uniqueness contrary to what several other known names do.
Deemed to be a playing-safe yet effective and non-monotonous strategy, DKNY doesn't fail to tickle the crowd in the right places in terms of the way their clothes look and feel.

Ready. Set. Sweat. This sportswear catchphrase of DKNY features more than what we expect. Aside from the grade of their materials, the designs are undeniably well-thought-out to guarantee seamless training, workout, and road activities.
Ranging from the most basic to the ones that flaunt the brand name, all sportswear garments have one thing in common–they are all best buys.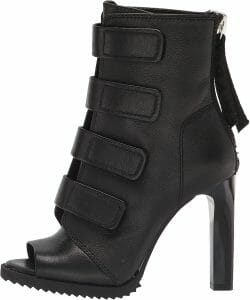 For comfortable footwear, DKNY is far from pretentious. Commitment is there in manufacturing high-grade shoes that will last longer than your typical non-DKNY sneakers or heels.
Some of the brand's products feature its logo in a subtle or prominent fashion, but if you aren't into those, there are certainly countless pairs that are low-key excellent without screaming the brand name. From sneakers to boots and wedges, DKNY has them all.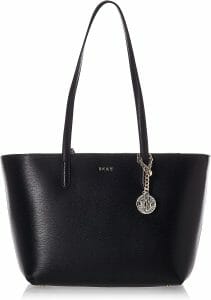 For bag enthusiasts, shopping at DKNY will bring you to a different horizon of styles. From crossbodies to totes and other leather goods, be prepared to change your fashion game for the better.
Their carry-ons may come off the spending chart, but don't forget to treat yourself every once in a while!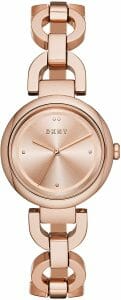 In creating a look, your clothing and footwear aren't enough. Wearing no accessories is like eating a cake with no icing on top– that's sad! Luckily, DKNY launches several add-ons to perfect the day's outfit.
You have a wide range of options from jewelry, watches, sunglasses, and even winter accessories.
4 Reasons Why DKNY Is a Quality Brand
The fashion industry is a beast and several brands compete so greatly with each other by offering different lines and perks at various price points. As some would place competitive prices, nothing does it better than DKNY. 
As the New York-based brand expands its business to accessories, here are 5 reasons that make it such a quality go-to shop for your needs and wants:
1. Unique Style
First things first, nothing is comparable to DKNY when it comes to its style. The familiar logo is displayed on several of its products and people are quick to identify the label. Put a shirt in a crowd of other non-DKNY tops and you'll see the American label standing out from the rest.
The edginess and fashionable construct of their clothing, sneakers, and ornaments are what strikes people to savor the experience of being a DKNY wearer. 
2. High-quality Materials
Ever bought a pair of shoes and end up seeing it get soaked in its own dye? DKNY knows how frustrating it can be. Imagine spending loads and ending up having shoes with unmatching colors! 
It's not even a possible occurrence for the brand. DKNY uses no toxic chemicals during the production process and ensures what the customer pays for, he gets it well and sound.  
3. Affordability
Maintain your modish sense without exceeding the limits of your credit card! To be fair, DKNY is a go-to brand for those who are into labels but are, at the same time, smart in spending their money. You can purchase a lot of things for $500 already. 
4. Updated Fashion
It doesn't even have to be said. DKNY won't be in business today if they got stuck in manufacturing old-school garments. As more and more brands discover innovative designs, Donna Karan also continuously produces up-to-date clothes that would satisfy a teen's thirst to look trendy. 
They have it all from casual to formal wear. Individual differences are no big deal either as all can be found from this high-class designer brand!
Does DKNY Give Out Sales?
For discount lovers, DKNY won't fail you when it comes to their sales! They scratch off their products' original prices and replace them with a huge discounted cost! 
Take your time in searching the bottomless chasm of DKNY's shopping website until you find the most reasonable deal that fits right through your allocated spending budget. 
Make no mistake either. Just because they put some of their merchandise up for sale, it doesn't necessarily mean they're ugly or that they were sitting for so long on the dusty shelves. The quality remains just as good as the rest. 
Discounts are offered to students and none for the military. Nonetheless, everybody can make use of DKNY's regular promotions and coupons that can make you save at least 20% to 60% off the original price.
What's a Budget Suitable for DKNY Products?
DKNY is not a typical boutique so expect their prices to soar a bit higher than that of the clothing shops you used to frequent. For items on sale, you can already bring home a shirt for around $31. Those that are off the category, however, can start at a pricing point of $100 upward. 
For their sandals, prepare to take out $200 for a pair or at least $300 if you prefer sneakers. Meanwhile, classic bags for men can be bought for as low as $145.
These are great deals already though should you compare DKNY with other high-end brands like Hermès and Louis Vuitton. If you aim to buy more while spending less, make sure you have scanned all the products before ultimately choosing which ones deserve to be placed on the cart.
Where Are DKNY Products Manufactured?
DKNY merchandise that requires a bit more precision to detail or craftsmanship is made mostly in Italy while a good number of the rest of the products are done in China. 
To be particular, the blazers and leathers you wear which are DKNY are mostly made in Italy. While a plain selection of other products like tees, shirts, and jeans are manufactured in China. 
With this in mind, the most assurance you can get that what you are buying comes in the right size is if you purchase the clothing in the physical shop or simply read the description on the brand's website. Keep yourself from wasting money too by seeing to it that the items can be returned or replaced. 
Are DKNY Products Environment-Friendly?
It's claimed that DKNY shows some effort to be an environment-friendly brand by doing nature-friendly practices such as manufacturing jeans that are made from 100% cotton. They avoid mixing in toxic chemicals like pesticides and dyes to lessen the carbon footprints their production processes may incur.
However, the lack of a statement from the company makes it an eyebrow-raising game for many of us. There are no transparent efforts shown in making production and distribution more eco-friendly. 
How Good Is DKNY Customer Service?
Not much is known regarding how excellent the customer service is of DKNY, but one thing we are sure of is that the brand aims to make its website more accessible to consumers who have inquiries and feedback.
So far, this American brand is utterly open to suggestions to improve its label's pursuit of satisfying its clients' tastes and preferences. They have put out their contact number and email for customers who want to reach out.
Another thing to point out, the website also works hard to be more inclusive. You can also click on their Contact Us button for more direct and convenient communication. 
What Is the Return and Refund Policy of DKNY?
If you had a change of heart regarding your DKNY clothes or if they simply came in the wrong size, you can subject them to the returns and exchanges policy of the company. 
The condition of the merchandise has to be in its original condition, unused and returned within 30 days of the delivery date. The refunding process will be done in the original form of payment and, by the way, some other mentioned items will be non-refundable. 
If the product arrived damaged due to courier mishandling, DKNY will come to your rescue and replace the item immediately. For more detailed info about their policy, click here.
Is DKNY Better than Michael Kors?
DKNY is on the lead in a few areas when compared to Michael Kors. Although MK is a significantly bigger brand than DKNY, the latter remains to be a popular choice for consumers who are looking for attainable products at reasonable costs. 
Moreover, there are a variety of options in style should you choose DKNY, but it would be unfair to say that MK doesn't have the same feature. The greatest difference between the two would be affordability. 
Michael Kors leans more on the side of extremely high-end fashion, therefore, catering to only a few groups of consumers like celebrities and business-successful people. 
DKNY, on the other hand, is more budget-friendly, but not as cost-effective as other brands of lower calibers.