Swagger Joggers: What To Wear With Joggers for Guys? (22 Outfit Ideas)
Your whole outfit should be well-fitting despite its casual style. Remember, smart casual is about being neat, conventional, and uber modish. With its thin and lightweight material, there is nothing like the comfort of wearing joggers. Its versatility and durability make it a very flexible option for all around work, play, and lounging that they have become a wardrobe essential for all the men out there.
Gone are the days when joggers equal sports event and exercise. No one will judge you today for going out in them because it has become a style trend that you can sport. What a time to be alive! 
To ensure a more polished look for this piece of cool and comfortable clothing, here are some styling tips for guys on what to wear with joggers: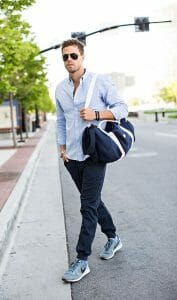 There is a lot of weight in clothing that makes it leave a strong and lasting impression on other people. Here is a 'Cool Boss' look for that dress-down Friday at the office. Take out those favorite joggers of yours for a relaxed and easygoing end to your week. Paired with your favorite long-sleeved polo and sneakers, this is a cool and casual look you can totally pull off in your joggers. It is a perfect way to move around freely and welcome your weekend from finishing deadlines to going straight to a night out to unwind.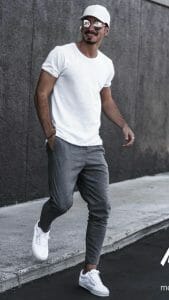 A neat and fresh look to grace you through your weekend plans is this white shoe, white shirt duo paired with these slimline style joggers. A perfect clean look that is quick to get on using pieces that can already be found in your wardrobe. Get on going right out of the door looking sleek and dashing, and walk the streets comfortably in your simple white tee.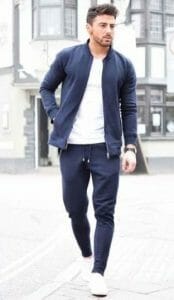 From a plain white tee, we take it up a notch by just adding a few more elements. The secret to this look is simply popping on your bomber jacket on top of your shirt for that instantly dashing appearance in your joggers. This outfit is super manly and it does instantly add a lot of character. This is a very comfortable outfit that got you looking fly as you go out the streets!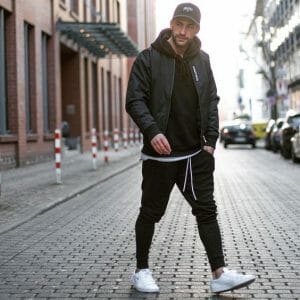 If you're having a challenging time convincing yourself to get up and get going, here is a look that will get you through in style. Stay cozy and get things done by simply wearing a hoodie on with your joggers. Be street smart and look street smart. You can feel entirely lazy but look completely presentable with this outfit idea so you can walk out of your house confidently without the fear of looking sloppy and, worse – having someone you know recognize you!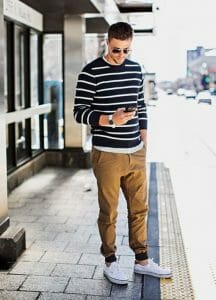 Here is an incredibly fine-looking outfit you can achieve with your long sleeve shirt that would absolutely match your joggers. A perfect look that you can wear on a date! Simply throw on your classic striped long sleeves, paired with your joggers and fall in love with how comfortable this outfit is.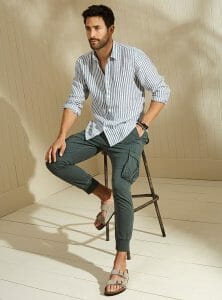 Here is a laidback look with your cargo joggers, long sleeve button down shirt and a pair of Birkenstock sandals for that Sunday market stroll. This is a very striking look that will get ladies have a second look on who this fine young man is. A fresh casual outfit that is breezy and easy to move around in, perfect for spending some leisure time. So, go enjoy some time out, meet your family, have lunch with them, have a stroll at the park. This is perfect for a beautiful sunny day.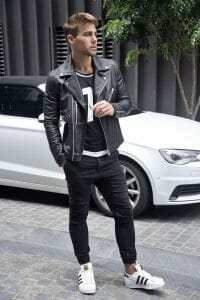 Go for multiple layering options to enhance your look. You can also maximize your style by working with best-loved designer brands. This total look is best paired with vogueish trainers as your go-to footwear. Spice things up with your joggers in a leather jacket. This look will add a little bit more of an attitude, so go pick up your jacket and see how it transforms your whole outfit into a badass. Put some sneakers on and you're all set for that much awaited night out with friends. Complete this look and rock your day out with peers.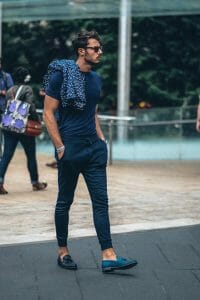 We go classy and uber-neat with a regular fit tee matched with this handsome tassel loafers. Sometimes in fashion, you can just put simple pieces together and add a focal point to instantly amp up a look. Just like with your all-around joggers, you can experiment by matching it with different tops and shoes to create a totally different look and character each time. Don't be afraid to match with plain pieces or even printed ones for that gorgeous look.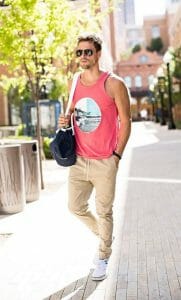 For that completely chill, after-gym vibe, simply throw on a tank top. There's not much to this look but to flex your beautiful muscles you worked hard for. This gives off an impression that you're easygoing and ready to have fun. Another outfit that makes you ready to take on and make the most of your leisure time without stressing much on what to wear. In the comforts of your joggers, you can now dedicate yourself to spending a splendid time outside doing errands or hanging out with friends.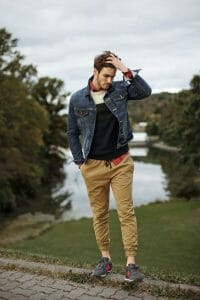 Nothing styles up a look like a regular denim jacket. It instantly lifts up the whole outfit and makes it look cool. This is a wardrobe staple you have to keep so you can fashionably turn any regular outfit into a super cute stylish one. Just like with this pair of jogger pants that you can wear in the office or on a casual day out, jazz up and wear a denim jacket over your outfit for a chic look.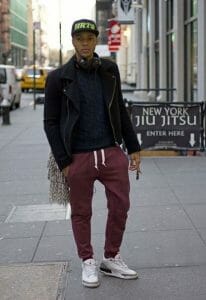 Neutral colors are beautiful and easy on the eyes, but adding a pop of color can add a whole lot of fun and character into what you are wearing. It adds boldness and intensity which makes it so attractive. If you're afraid to style with color, always remember that a little won't hurt. It's hardly possible that you will go wrong when you add on it just gradually. These joggers in the shade of wine will go perfectly well with black or white, or any neutral color!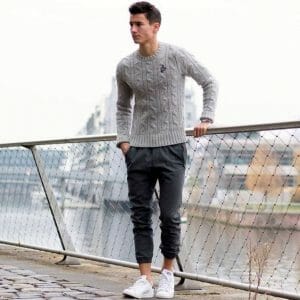 Here is a snuggly warm and comfortable look for when the temperature is a bit low. Style up your favorite pair of joggers with your much loved sweater, and you're good to go with your choice of shoes. These two simple pieces of clothing go together so well and are so easy to wear. For sure you have them in your wardrobe already. So the next time you're going out, whip up this outfit easily and in just a few minutes you're out and about!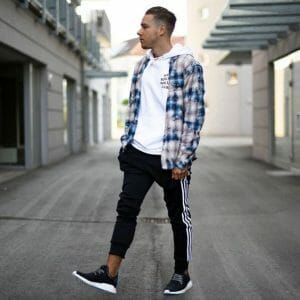 Plaids have been a thing in the fashion industry. Its playful checkered pattern makes the look lively and interesting. For this look, it is worn over a shirt and is meant to hang loose in this style – unbuttoned. It is a street style look that is fresh and cool. Though it is not for everyone, you can still rock this look for days when you want to try experimenting with something new for a different mood to your day out.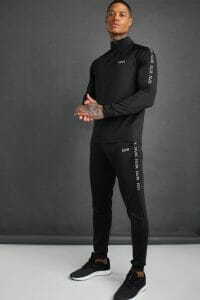 Athleisure is a style where it has made the athletic wear look fashionable. In this tracksuit, you would look like you're ready to do 100 push-ups anytime of the day, but it also looks fantastic while you are carrying your groceries. Besides, it's another form of working out too, right? Look cool in your preferred choice of tracksuit which are so comfy and oh-so easy to move in! This is probably one of our favorite looks in joggers, and not to mention, one of the most convenient!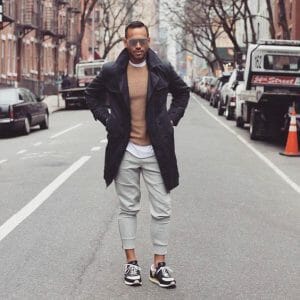 Nothing more classy than topping it off with a good 'ol trench coat. Every look becomes so much better with a trench coat. So with this one, we are matching our joggers with a piece of this. An instantly elegant look that makes you 100% presentable on the streets. So with your jogger pants on and a favorite matching top, put over your trench coat and feel all cozy for your meetings and other errands.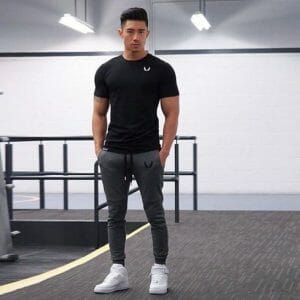 Looking cohesive with just one brand can also look very neat and simple. Lesser things to think about too when picking for yourself what to wear. So the next time you're in a shop, get yourself a comfy pair of joggers that fit you well and don't hesitate in grabbing a top that goes along with it. You will never regret it. No more staring at your wardrobe on what pieces to pick and easily throw these on for a well put outfit of the day.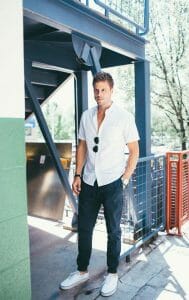 Keep it casual and simple because the key is in the details. Here is a go-to look for a day trip to your favorite hangout spot. This outfit looks snappy in the office and also cool for your next outing. Your polo shirt is just better with your joggers. Paired with your favorite shoes, this is a gorgeous and striking look you can easily sport.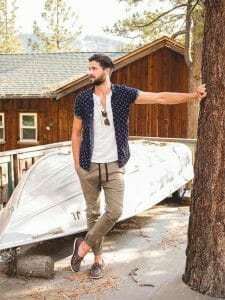 Thoughtful layering for men's casual fashion is an assortment of stylish pieces for when the weather is a bit chilly. This look aims for that breezy beach vibe but is still perfect for the city too. Bear in mind that this casual get-up is about wearing combinations that are both stylish and functional. Pay attention to your joggers' fit. You should be comfortable in it but not compromise on your style.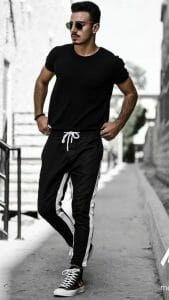 You can always pull out timeless pieces which every man should own and be able to pick from their wardrobe even at the last minute to bring off this cool look together. Grown men can definitely rock this T-shirt vibe with solid colors or horizontal stripes in contrasting colors. Matching them with your joggers and favorite sneakers, this outfit creates one seamless look that looks sleek and straight-up masculine.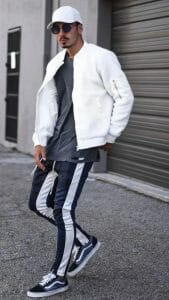 Here is an interesting present-day look that you can easily mix and match. In the warmer months, you can go bare with your go-to tee and add on another layer by wearing a fleece jacket for cooler weather. Elevate your style with your everyday joggers and pair it with your favorite tee and jacket combo. For this style, we have a fleece jacket to keep you warm on a chilly day.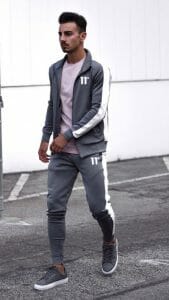 Joggers are no longer just for the gym. Wearing them in public is now a fashion style. Pair them with a casual t-shirt and sneakers to complete the whole look. With the trend these days, athleisure is on the rise – joggers are the new must-have style dominating the street scene. Athletic wear is no longer just for the sports buff. This new wardrobe ensemble is the latest must-have style for cool, active men.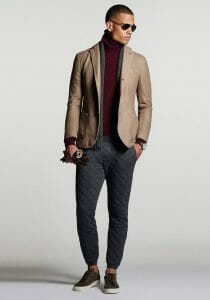 Nowadays, joggers are considered stylish and versatile. Pairing it with a less structured blazer gives a unique combination creating a wow appearance. Instead of a dress shirt, opt for your favorite piece of knitwear to complete this relaxed stylish look. With this power combination, you can definitely look stunning now in your joggers.
Who would have thought that joggers are now stylish staples that you can use in the office, casual meetings, and even in the club? Good thing that the rising trend of athleisure has evolved to this point where comfort, function and style are not compromised. Although joggers can have a reputation of being a lazy piece of apparel, this sporty look is now widely accepted, making it perfect for your whole day work from home set-up, or even for running errands.