What To Wear With Sweatpants Guys? (11 Outfit Ideas This 2021)
Oh, the joy of layering clothes that look good together! Even if you are working more at home or spending a lot more time in bed, for sure, you might have gained more liking to some of your clothes — such as the comfy sweatpants!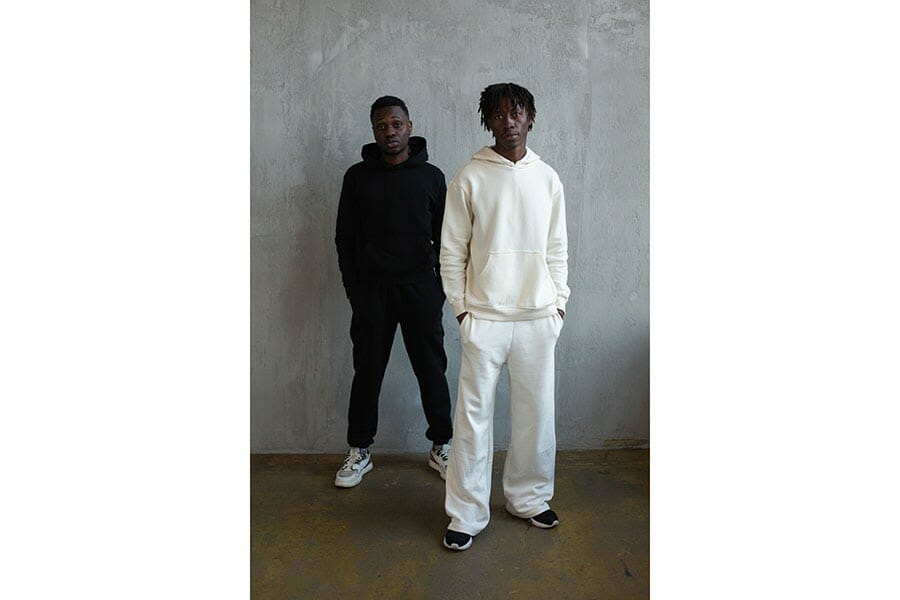 The good news is even if you love lounging in the living room these days or is devoutly making gym trips, you don't have to feel underdressed with only the sweats on! With some idea on which basics you need to keep handy, you are good to go for the day!
Of course, you might consider using these same ideas we will tackle for you, even at the office. Just how many fashion styles you can make with those pants!
11 Outfit Ideas For Men's Sweatpants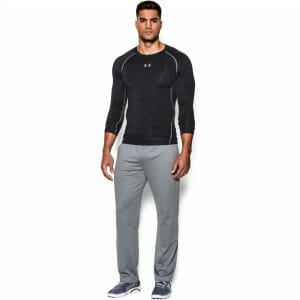 Sweatshirts are popular for any age group of men. They are timeless and offer a relaxed look for any occasion. 
The best sweatshirts to pair with sweatpants can be matched with a coat or a hoodie. Though there are sweatshirt styles that already come with the snood. 
The clothing can also be bought in French terry fabric which is super soft and comfortable for the skin.
If you are looking forward to more days wearing comfy clothes, sweatshirts are an absolute winner in this list, when it comes to a large room for movement.
Fashion-wise, there are also a variety of sweatshirts in the market that can cater to your interests! From plain, crew neck, or woolen vest, as long as the design provides the warmth and style you needed for the season, you're on-trend!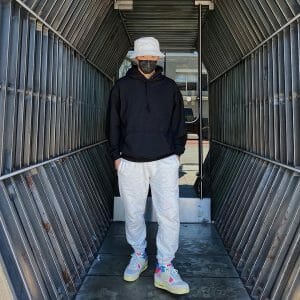 Hoodies would always be a sportswear classic, and although they cannot be used on formal occasions their contemporary style makes them popular to be used daily. Because why not? They keep your head protected from the dangerous elements set by any weather, plus they look good when you want to feel athletic, fit or just playing it cool!
To perfectly pair the hoodie with the pants, you can try to choose a tailored one which is slim by the waist. Paired with the sweats, you are sure to give the impression of gym-ready or streetwear even if you are just lounging at your house!
The key to making them look good on you is to maintain the balance from top to bottom. For example, if your sweatpants are a bit baggy then you may opt for some slim hoodies.
Hoodies do also come in long sleeves to no sleeves at all. Depending on your personal preference, you can also find them to have a front pouch or some pockets, which are nice for less structured sweats.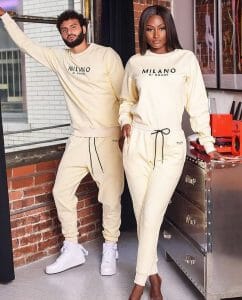 If you are in search of some smart pair of sneakers, then finding them on the shelves these days is a bit of a challenge.  You may try to begin looking for those classic, leather ones that are minimalist in design or the clunky kicks that are super light for your fast runs.
Whatever your choice will be, the best foot support can be at least comfortable but stylish at the same time. Some are more focused on reducing injury for your training sessions and others have the stunner feature. Meaning, the footwear style is perfect to look on any trousers or pants you wear.
For your sweatpants, sneakers that show the ankle or socks can be ideal for the whole getup. The look also minimizes the sloppy attitude the loose pants fuse most of the time.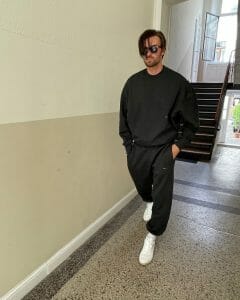 The crew neck sweater stands between casual and formal styling of clothes. The top makes it a top inclusion for your wardrobe and is still a good pair for any lowly pants.
These sweaters have round necklines with a narrow band of ribbing. Most of them are also retailed in wool material. Although there are also makes of polyester and cotton, the sheep's wool is much more quality-looking and is a winner with warmth and durability.
Being the simplest style amongst other types of sweaters (such as the cardigan sweater and pullover ones) they make the simplest clothing to garment over some sweatpants.
You will have fun shopping for this top too as this minimalist's favorite can also come with different knit patterns. The most common ones are the striped and the argyle. Plus, the sweater patterns have color schemes that add to the relaxed and cozy look of the wearer!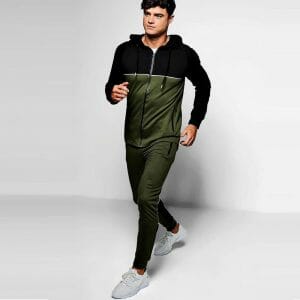 Drive off all the negative weather elements with a track jacket on! This type of jacket is a must for every man who spends mornings running or loves hiking from time to time. Their loose fit allows the wearer to keep a light sweater underneath. 
Most track jackets have plenty of sewn pockets, enabling you to have compartments for your phone, keys, or wallet while you are out. This function is very much handy especially if your pants have no pockets at all!
For an all-season workout, wearing sweatpants with a track jacket is no doubt a comfy style. They are both lightweight and stylish to combine.
Compared to the traditional track jackets, more retail of this item is made from great quality that ensures more optimal performance, and breathable material that dries moisture fast.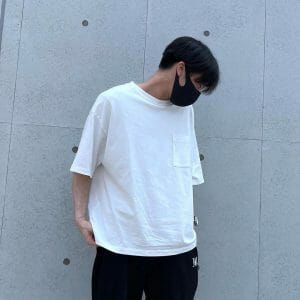 You may find t-shirts as a fast-fashion find. But including them on your daily fashion statements is still a great basic to keep all the time.  The clothing is super affordable and for sure, you will be able to get a specific color to match the bottom pants you throw in for the day!
The best material type for the tees is the Supima cotton. The textile is considered premium cotton, so you can have your tees in perfect condition even after repeated trips in the washing machine! On the other hand, you can also opt for polyester or cotton, which are also cheap alternatives on the shelves.
Stack up your closet with some neutral colors of t-shirts and you'll see that it is not hard to layer them with blazers or cardigans! Do you have sweats made of thinner fabric? Well, you can still wear a t-shirt on its own! Nowadays, there are already tees that are woven into a weighty garment, making the wearer feel cool and not underdressed at all!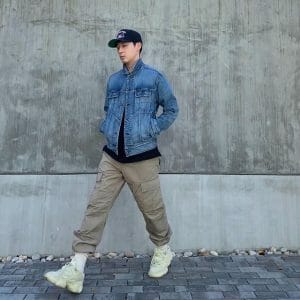 Anyone would agree that owning good-structured denim is essential for the fashion-forward man! As you look for something suitable for your wide-legged trousers, this iconic item must have a special place in your arsenal.  
The simple, rugged garment offers a vintage silhouette to the wearer with the classic metal buttons and flap closures at the jacket's exterior. As a traditional western staple, they are known to be a great wear for so many outdoor activities– anything that a man is into!
Something like Levi's trucker jacket offers a contemporary version of this statement clothing. By the way, chinos and other structured trousers can also work well with denim!
Denim also comes in a variety of wash styles. The darker indigo ones are widely seen as more durable and heavier, compared to the lighter-colored jacket.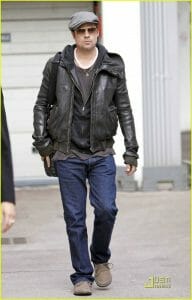 Biker and bomber jackets are more into smart-casual outerwear than the blazers. These timeless pieces give that extra edgy look when you are on the road! Needless to say, they provide protection and fashion while you are on your wheels. 
In their former years, these jackets are more classified for the airmen who spend more time in higher altitudes of cold temperatures. But as these jackets come in well-insulated lining and material the sale to a wider market became more obvious for the chilly weather.
Getting a black, leathered jacket would always be a popular choice all the time. But of course, other colors like brown, and olive green can also stress your style!
You can be creative with the layering of inner clothes, too! You can add those sweaters, or tees with no much effort at all.
If you are planning to buy a new jacket, you must try to take a look at the more modern Long Bomber Jacket. It has a hem length that extends in the waist and gives the sharper look on you even if you are having your homey pants on.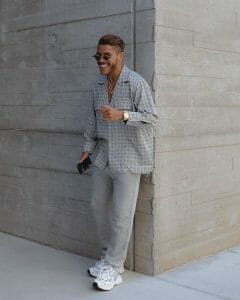 You're going for a more formal look? Dress shirts are in your rescue! The good thing about today's dress shirts is that they are tailored to be used on flexible occasions. It's like saying that you can still get that polished look in those sweats!
Most of these shirts are either made from cotton, flannel, or linen that is light and breathable to the skin. But there are also ones that are crafted from mercerized cotton. With this material, the shirt tends to be more wrinkle-free, and is a great advantage if you don't like ironing chores all the time!
You can wear a dress shirt with or without a suit on. And they look fine even with no tie! If you are looking forward to buying a business casual dress that you can pair with almost anything, begin with those light-colored ones such as white and powder blue. Want a more trendy look? Some shirts are also designed with small patterns. It's totally up to you!
As these clothes can be mostly worn in formal settings, remember to always pay attention to the buttons, or stitchings before taking them off the rack. No one wants to wear an outfit with a dangling button around, does it?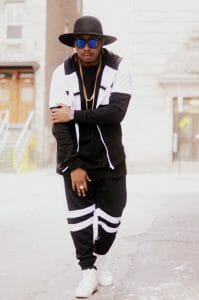 Define your bodily assets with accessories, too! First up in your checklist must be a ring or a bracelet that matches those watches you are wearing. With the laid-back attitude that comes with your sweats, a bracelet made of genuine leather or silver is impressive for that classic minimalist look.
Accentuating your collars with a chain or mariner-link necklace doesn't go out of style, too. Wearing these adornments would give off more of a thoughtful look on any clothes you did for the day!
There also come hats and sunglasses which are so easy to notice. With the right color and style to wear, they exude an extra impact on your fashion sense. They also play important functions while you're out, so why not?
Your slim-fit pants would benefit from a good pair of socks, too. If you would like to cover your ankles and don't have clunky shoes to wear over, then well-structured socks must be your go-to.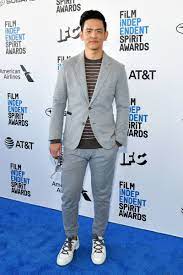 Don't you know that you can do a blazer on your sweats, too? The hint of elegance coming from the blazers creates a smooth transition from the simple and relaxed fit of any pants you put on.
Blazers greatly resemble suits with their notched lapels and sometimes flap pockets. The clothing also comes in different textures, making them look like putting a cherry on top of your overalls!
Say you have a lot of blacks or whites in your wardrobe, you might want to consider getting a gray blazer to get that versatile feel on your everyday OOTDs!
Today, there are more affordable blazers for easy layering for your clothes. These blazers can be lightweight but still allow adequate fit in the back and shoulders. Talk about comfortable movement and posture!
To complete the look, you may wear a patterned shirt inside those blazers. The color of the inner shirt can be navy blue, green, or any color that is complementary to your skin color. Don't forget to take a leather duffel bag with you or casual loafers that are also ideal with the pants you wore.