What to Wear With Joggers Women 2021 (27 Outfit Ideas and Inspiration)
Joggers are a wardrobe piece that goes well with various tops and shoes. With their versatile features, joggers are undeniably one of the most comfortable and cozy trousers you can wear regardless of the season.
Further, here are the best outfit ideas to style your joggers without looking dull and sloppy:
27 Stylish Ways to Rock Your Look With Joggers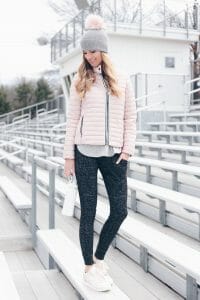 There's no other way you can pull off your athleisure look in the winter season than pairing your joggers with a quilted jacket. These matching clothes would be a great pair to keep you warm while spending your time with family or friends outdoors. You can add a beanie and pink sneakers to have a matching OOTD that's flattering and cozy. Joggers got your back with its pockets in case you've got nowhere to put your phone.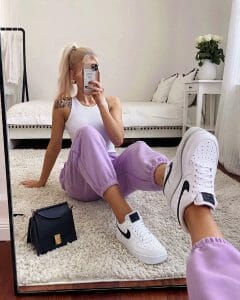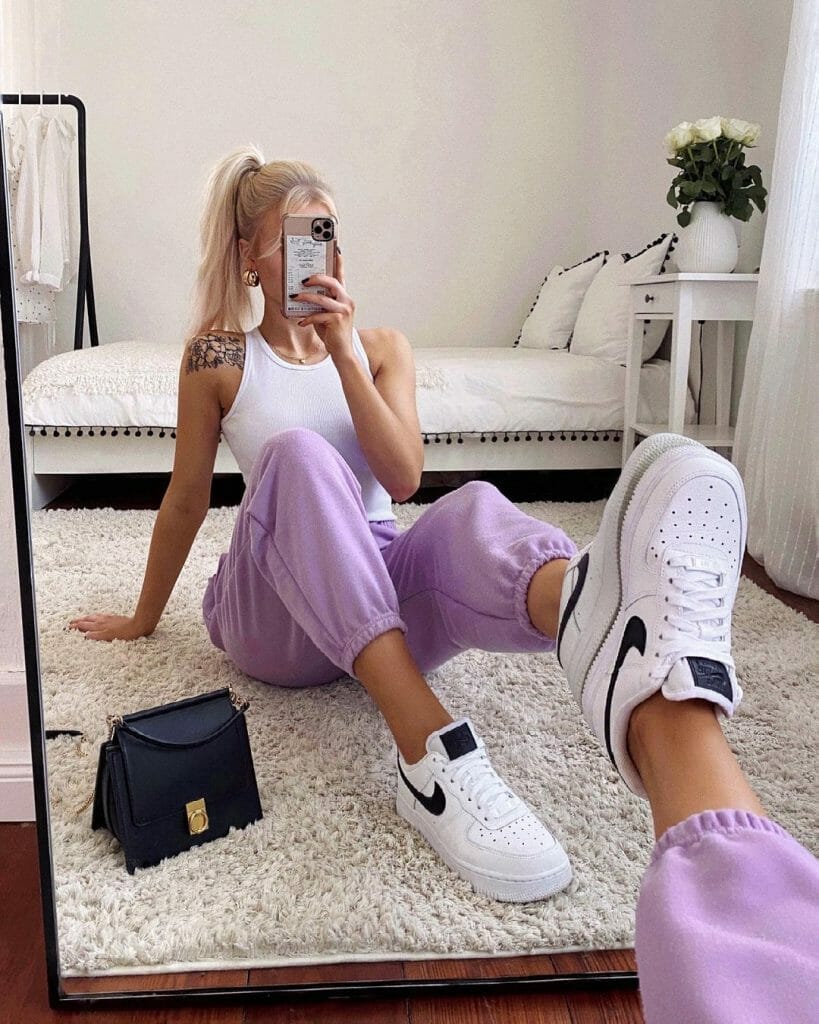 To opt for a weekend look, marry a white-fitted tucked-in top with light purple joggers. Mind you, this pair works wonders! You can add a little twist to your style by wearing white Nike sneakers and a black body bag. You'll never have to worry about your next weekend-lazy look with this standout ensemble. Finish the look by wearing gold or silver earrings that would make you feel edgy and dapper.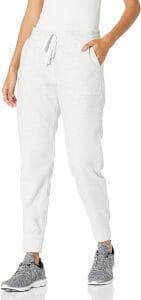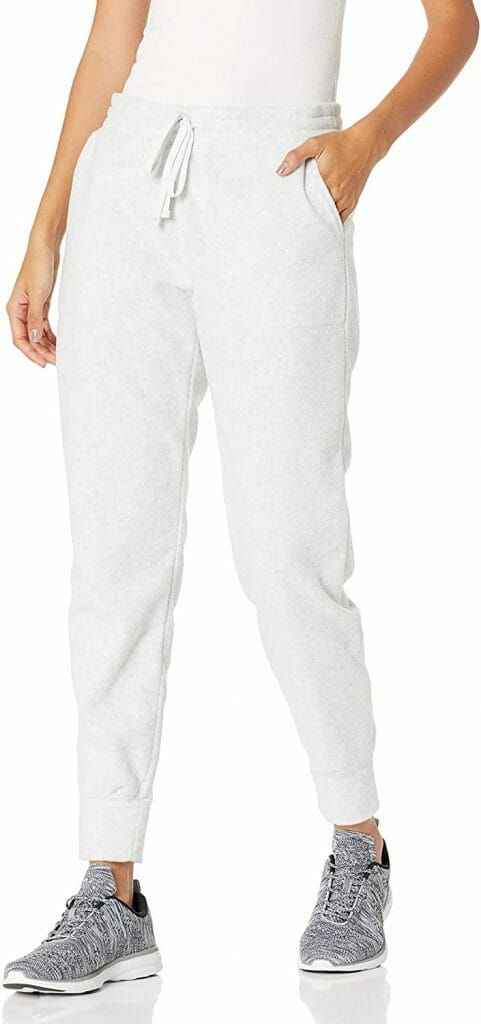 What we love the most about fleece joggers is that they're cozy enough to wear on any occasion or place. You can even wear them season after season. By pairing a nude, long-sleeve curved-neck tucked-in top and a high-waisted fleece jogger, you'll instantly get the look of an elegant but intelligent outfit. You can top the look with a minimalist necklace and brown cone heels. This is the perfect definition of party-after-work mania!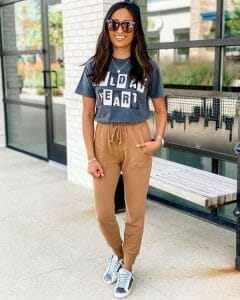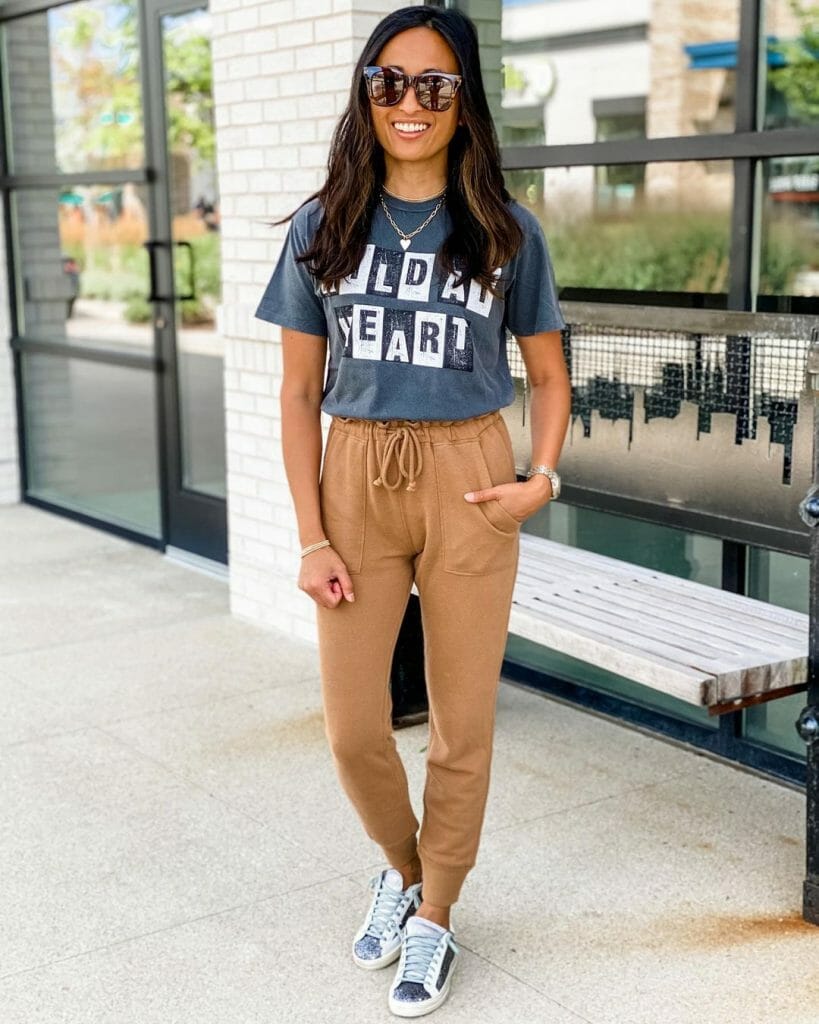 Joggers are the most versatile pants you can wear anytime and anywhere. Nevertheless, you can never go wrong with pairing your joggers with your favorite graphic tee shirt. This would go with any shoes in mind, whether it be sneakers, sandals, or slides. If you're opting for a more feminine style, you can wear heels instead of shoes. Finishing it off by wearing dark-shade sunglasses would be a good match as well!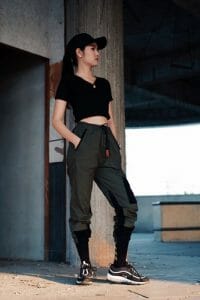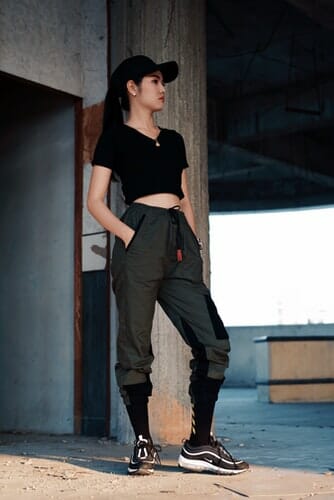 If you're into the sporty side of fashion, you can pair your black joggers with a black top and black rubber shoes. You'll feel comfort and coziness wearing this OOTD outdoors, especially in open spaces. You can get a bold, grunge look by throwing in a minimalist necklace, pearl earrings, and a black cap. These accessories would sit well with your outfit's overall silhouette. Go on and try one!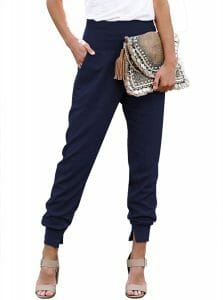 It might be pretty annoying to wear joggers to work, but you can kick off your style with an equally appealing top piece. By pairing your black joggers, red heels, and a blue blouse, your boss won't side-eye your OOTD. In this case, the button-down blouse still gives you a formal appearance while still channeling an edgy look. Throw in some statement accessories and a printed bag to give your look an extra boost.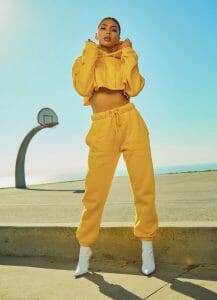 Hop in on the sportswear and athleisure trend but with a twist: long sleeves sweatshirt and a jogger pant that comes in a co-ord set. Most of these outfits tend to be form-fitting and attractive but definitely give your body a little more shape. For a more exciting look, you can pair this yellow co-ord set with pointed, close heels for a cheeky vibe.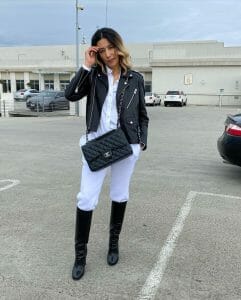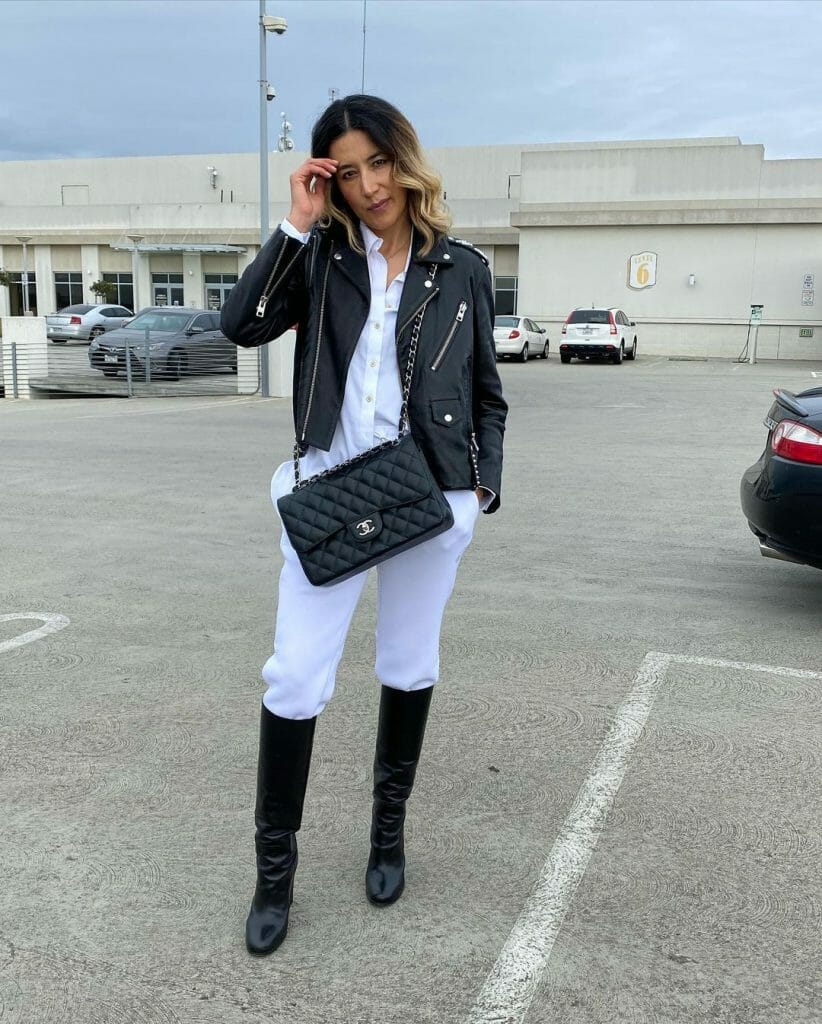 Be brave and bold by wearing an all-white outfit topped with a leather jacket and a body bag. To accent your OOTD, you can opt to wear knee-high boots that will indeed look good on your body. This gives you a refined but relaxed vibe wherever you will go. As such, you can also enhance the look by wearing accessories.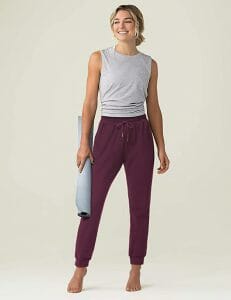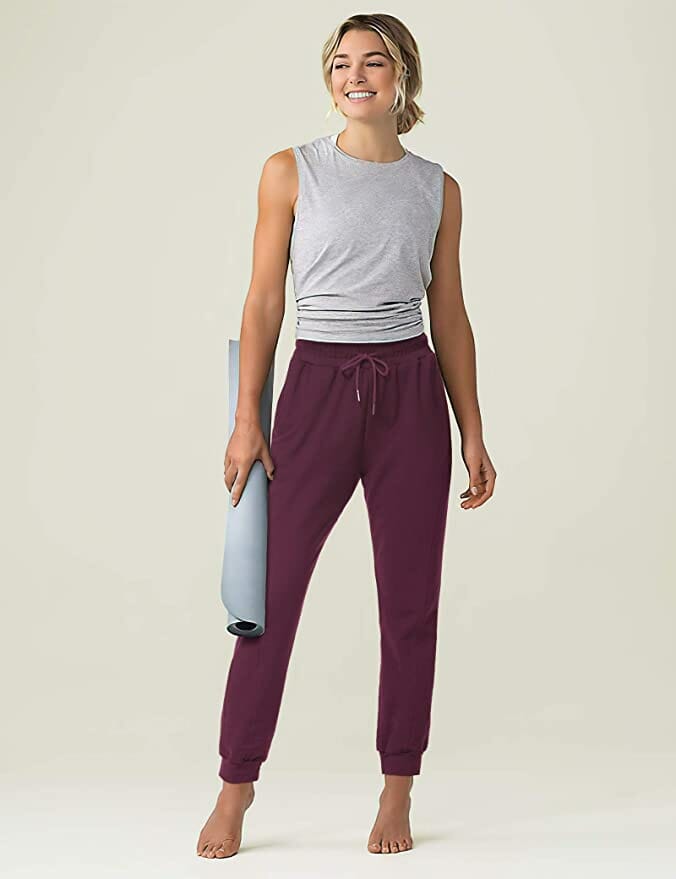 If you have maroon joggers, pairing them with a white tee shirt is definitely a no-brainer. You can sport an athletic style by wearing a pair of white rubber shoes. You can match your OOTD by wearing a quilted double-layer hero trench coat in maroon for a more attractive and interesting look. Finish the look by styling a high ponytail hairstyle and a cottony shoulder bag.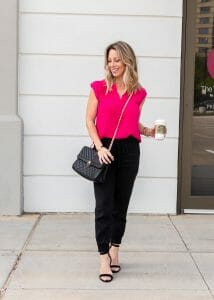 Cotton black joggers can be paired with any colored tops, which are great because you can easily create your perfect outfit for weekend work. To make your look more professional, tucked-in your blouse to create a lovely silhouette. As for the shoes, match them with an open toe or strappy heels that's perfect for on-the-go and working ladies. A body bag finishes off your look. That'll be your next favorite "chill style" after a long and stressful week at work.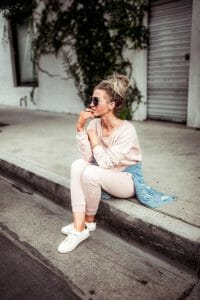 For lounge joggers, you can still create a relaxed but cheeky vibe by matching sweatshirts and joggers. Although termed "loungewear," we're pretty sure you will be more productive with this look even at home. You can make this work even more by adding a denim jacket and white sneakers to make you feel like you're not at home. With sunglasses and a messy bun, you'll look pretty cool in this outfit. Pairing your OOTD with a white body bag makes you look chicer.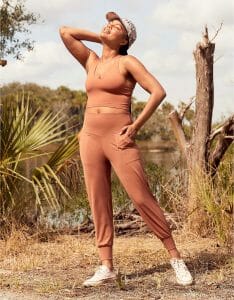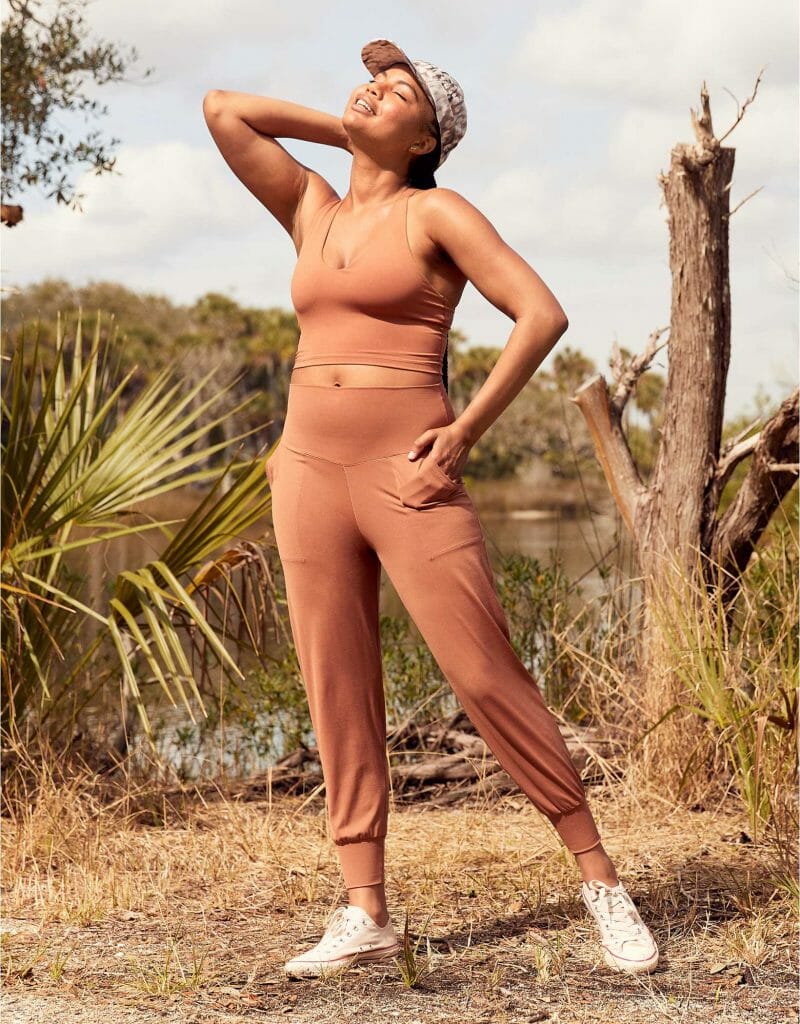 Who said joggers aren't for workouts and sports? Well, joggers have stretchy fabric that works wonders regardless of your movements. You can opt for this matchy look wearing joggers and a sports bra for a more comfortable and cozy workout routine. Wearing a neutral-colored cap and white shoes would definitely make your outfit a head-turner in no time. After all, you'll get a swag look with this sporty and chic OOTD.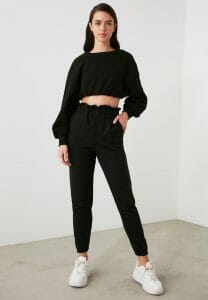 Black knitted cuffed joggers and long-sleeve crop top, plus white sneakers, is definitely your next glam look. The style can be accented in oh-so-many ways. If you want to stand out in the crowd, pairing this co-ord set look with open-toe heels would be an excellent choice. Add some statement accessories, and you're good to go for a party or a night out.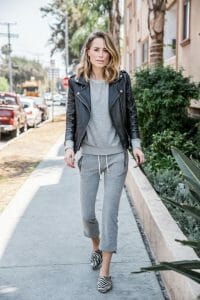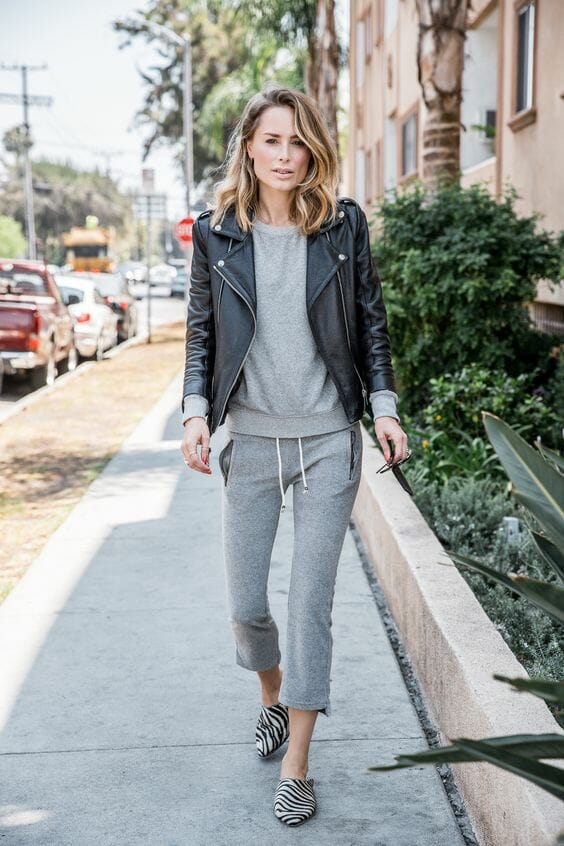 To create a classy style, you can mix and match your joggers with a gray shirt and a moto jacket. It's just that there's something with this moto jacket that can turn your ordinary joggers' outfit into a more refined vibe. Wearing printed flat shoes will do the trick in elevating your look in any small gathering.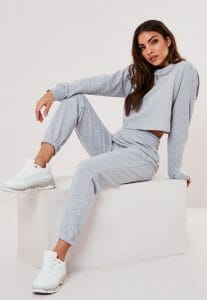 Another go-to co-ord set in this list is the cropped sweatshirt and joggers that come in gray color. What you'll love about this outfit is its elasticized waist that indeed gives the comfort and coziness you need for the cold season. If you can't get enough of this pair, throw in a white jacket that would give you a classy but bold loungewear look. Adding a pair of white shoes would work wonders.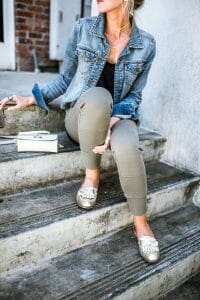 Denim jackets really set your look. Mix and match an olive jogger with a black tank top and a denim jacket to give your OOTD an edgy streetwear style. You can choose between tucking your top in and letting it flow freely. For the shoes, match your outfit with shiny loafers or doll shoes. Messy buns and sunglasses do the trick to make your style cooler.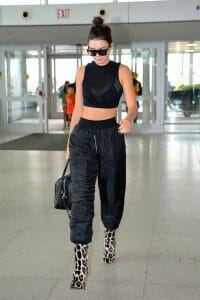 You can be the next Kendall Jenner with this jogger and sheer crop top look. Nonetheless, you'll never have to worry about baggy joggers as the top outfit is fit enough to match your style. Opting for a printed pair of boots with heels would be an excellent choice to elevate your look. This style completes your sleek look but is more comfortable and off-beat. Big hoops and black sunglasses will look great as well!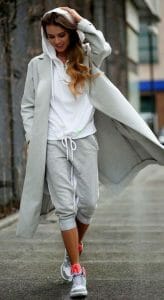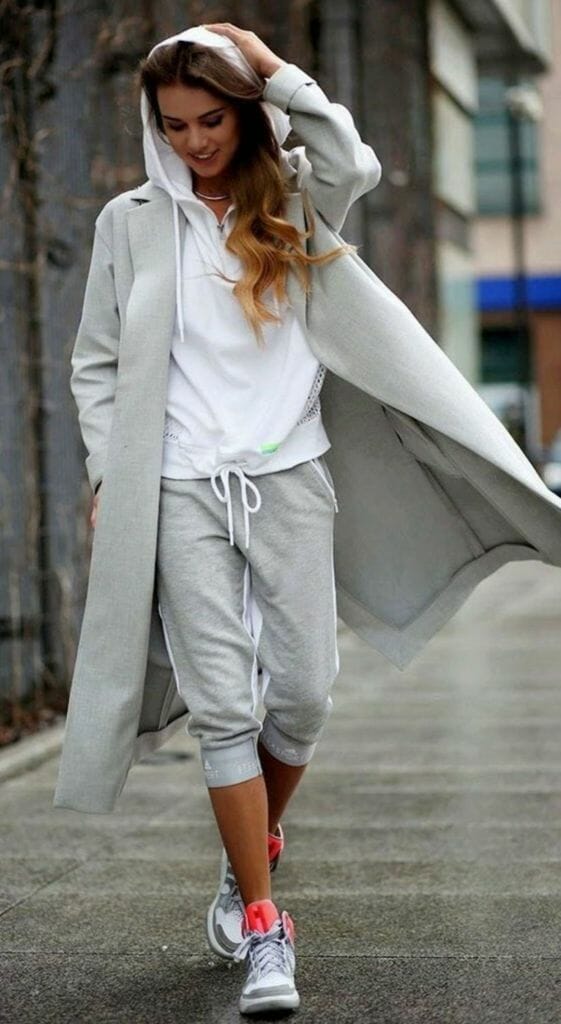 If you're inspired by athleisure fashion and style, then this outfit would be an excellent outfit idea to try next. These runner-type jogger pants are knee-length, so you can display your footwear low-key. Moreover, you can mix and match the runner pants with a graphic tee shirt or a white hoodie. And to make this style more emphasized, you can top your outfit with a gray, long blazer that's light in color.


The perfect fall outfit is here! Black joggers go along well with a brownish-mustard cotton tee and a heavy-knitted cardigan. You can add white sneakers to complete your look. Now, you have the best outfit for home gatherings, casual street walks, or a lunch out.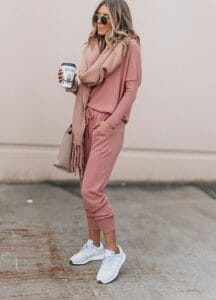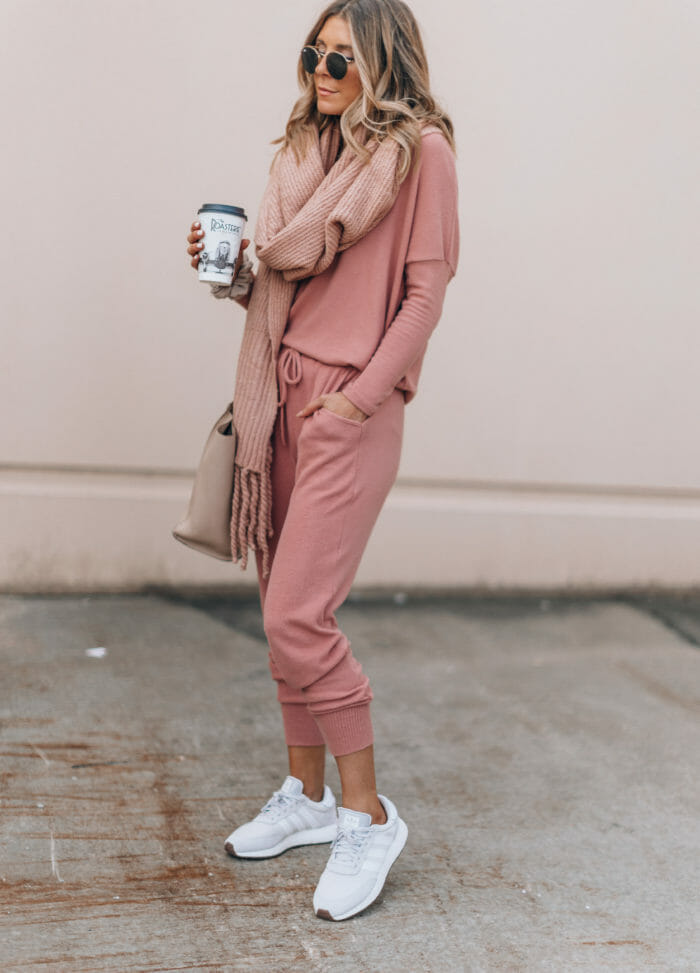 Even though Thanksgiving is just months away, you can still rock your outfit with these soft and stretchy joggers. With an oversized pullover, you don't have to worry about looking sloppy (especially when your belly is full). The joggers' elasticized waist also helps set off your extra comfy vibe. But, it is still presentable when meeting with several people in the gathering. Also, a chic scarf would be necessary for some warm treatment.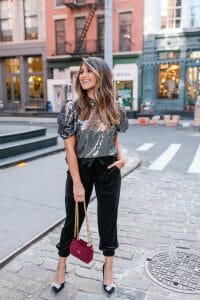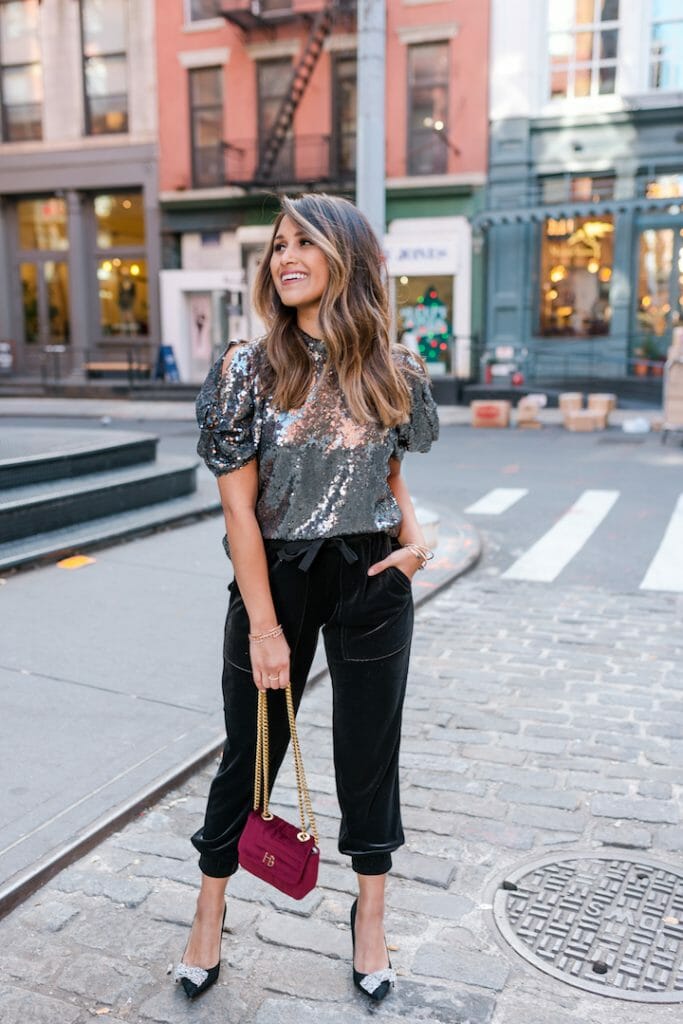 With a sequined blouse and velvet joggers, you're definitely going to rock the party at night. It best defines "shining, shimmering splendid" without going overboard at all. As such, tucking your top in, paired with a handy bag, and heels offer a slim-fit style on your look. Incredibly pretty and gorgeous to have some fun after stressful work!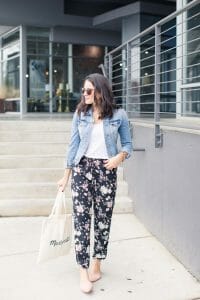 We all have that friend who loves floral, and maybe you're one of them. To emphasize your look with floral-printed joggers, you can top it with a white tee top, a denim jacket, and blush flats. If you're not a fan of flats, you can wear sneakers or heels instead. The style is perfect when meeting or catching up with friends over a coffee, giving you the comfort you need for extended periods of talk.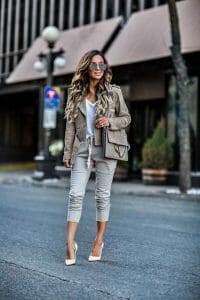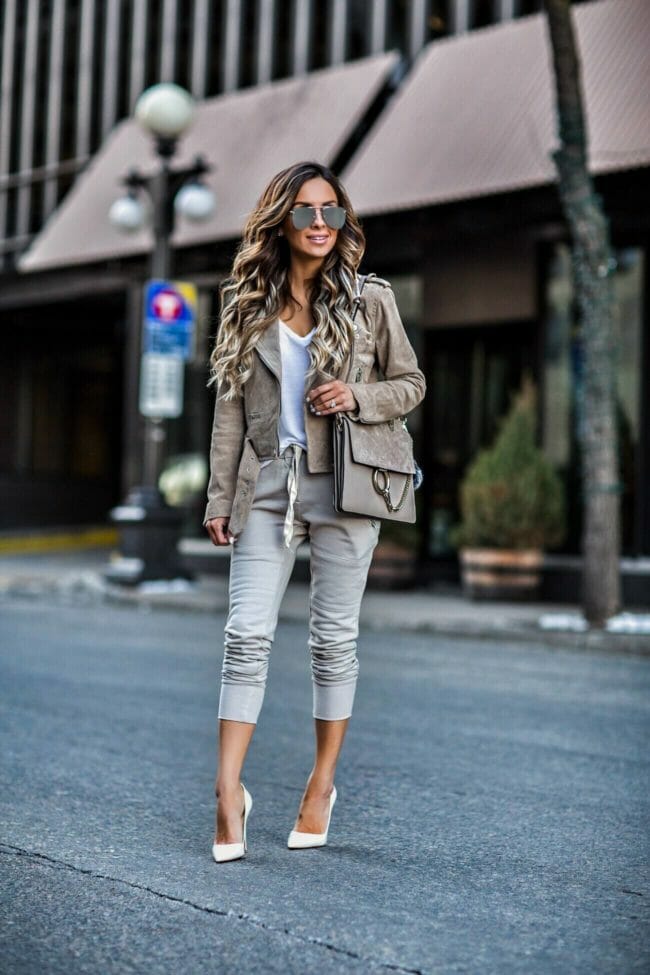 Here's another jogger outfit idea for those who want a chic vibe and style. And yes, it's all about the details! These joggers look more leggings than sweatpants, yet they're still comfy to wear any time of the day. Try to match your joggers with tops and a bag that create a monochromatic look. You can accent your style by wearing classic white pumps for a chic vibe. We're pretty sure this outfit is your go-to look for a date night or a small casual gathering.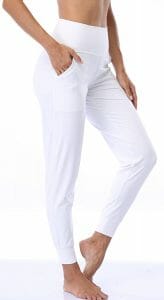 Another celebrity-inspired outfit on the list is from Gigi Hadid, sporting an extra chic sportswear style. The co-ord set definitely sets you apart with an all-white ensemble from head to toe: a mix and match long sleeve turtle-neck crop top, cozy joggers, sneakers, and a handbag. To highlight your look, drape a goldish-white jacket around your shoulders.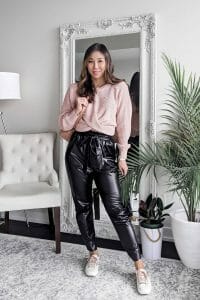 You can pull off your black leather joggers with a pink cropped sweater and white sneakers to achieve a casual and sporty look. You'll love how the pink sweater can accent the leather joggers even more.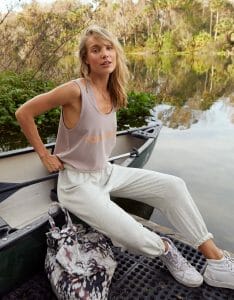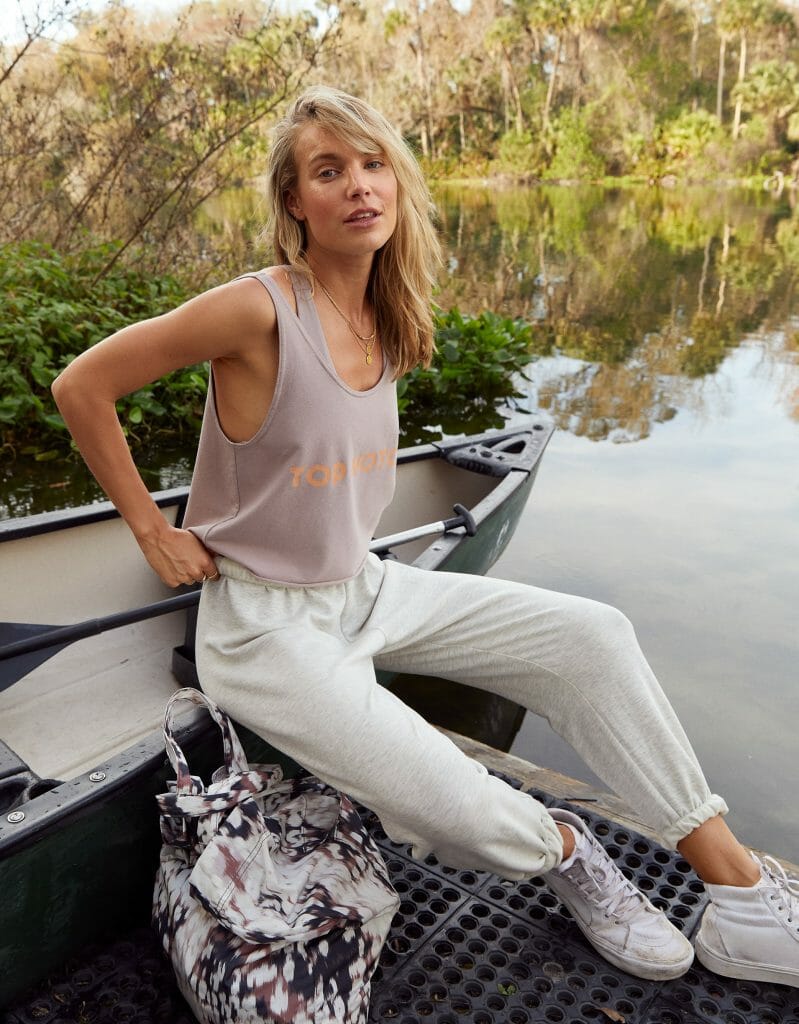 Fleece joggers go together with any top type. The waistband feels like you wear nothing but is comfy enough to start and end your day outdoors. It looks cuter when worn with sneakers or rubber shoes and a tank top.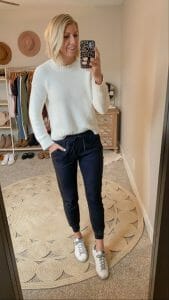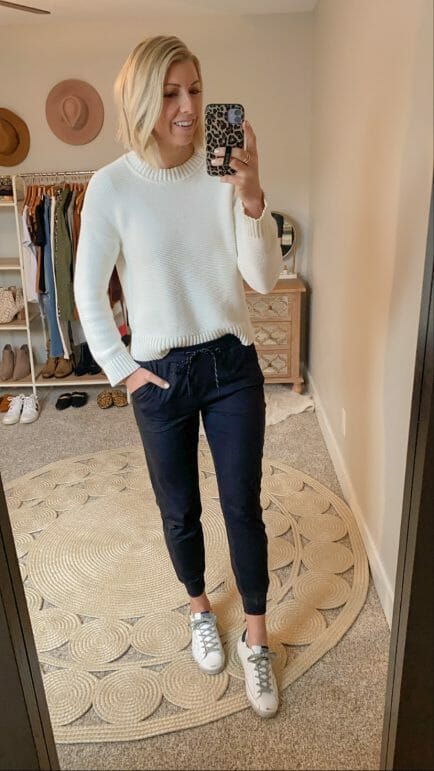 Finally, you can upgrade your look by pairing them with a sweatshirt. This could be your everyday outfit, realizing that joggers are a must-have wardrobe essential. As for the shoes, the choice is yours (this outfit goes well with sneakers, flats, or heels).