Breeches and Trousers: Influencing Men and Their Fashion Tastes
In the old times, high fashion was a statement of wealth. This long-lasting evidence of upper-class fashion is seated in history books and museums; also, these are the subjects of most masterpieces. Article write-ups also gave the effort to recognize the rise of iconic fashion trends, how they started, and the different ways they evolved. Those men's bottom garments are one of the clothing evolutions that still catch the eyes of fashion enthusiasts of today. Be guided in the brief timeline of it.
History Timeline
The class distinction in the Georgian era by the turn of the 19th century manifested in the way men portray themselves in public. Particularly, men's trousers have the knowledge to tell you on which step of the social ladder they are on. Breeches, pantaloons, and trousers are bottom wears of men with flaps designed in front, known as "fall front." This flip-out is not secured by two to three buttons on top. Around the 1790s, this trend was the staple fashion during evening events or court sessions until around mid-century. These garments are not worn with belts and are tightly held above the waist. Instead, a suspender was used to add more security to these in 1810. Later on, breeches were slowly fading from their popularity as short pants that only cover separate legs from the waist down to the knees. It was in the 1820s when the breeches slowly got the fading mark in the fashion industry. These get "old-fashioned" and only lower classmen continue to sport it during the day.
By the end of this decade, it got lengthened until below the knees. These were made from knitted fabrics to hug the legs. Pantaloons were born just as the breeches were extended down to the ankles. Men's ideology of tight-fitting pants is the epitome of self-confidence in their bodies having slim but visibly toned and muscular legs; however, this became a concerning garment of men. For utility purposes, these overly-tight pantaloons become a hindrance to the daily activities of men. Hence, trousers emerged as loose-fitting pants that were made from cotton, linen, and wool fabrics. It was in the 1850s when breeches were completely replaced by trousers as an evening attire of men.
As breeches and trousers differ in visual appearance, comfortability, and fashion sense, here is the list of men's bottom wears that are inspired by the historical fashion sense of breeches and trousers worn by men in the early times.
Sports and Athletics
Breeches
With the difference in length, breeches are a common word in certain sports that require extra movement of the lower extremities. Sports such as fencing, horseback riding, motorcycling, cycling, and all equestrian sports such as dressage, showjumping, and hunter trails, are better participated with a lower garment that is comfortable to the athletes or competitors. 
Trousers
Trousers,  known to be worn on more formal occasions, are often not part of a sports uniform, in which shorts and other types of breeches are perfect for it.
Winner: Breeches
Fabric and Treatment
Breeches
With the quality of breeches that are used in sports, its fabric treatment is definitely an expensive investment. Breeches with leather knee patches or full-seats might require you to follow some specific laundering tips to prolong their use and quality. Handwashing with cold water and mild detergent would prevent the leather from fading. Some would pour in a tablespoon of white vinegar to set the dye in the leather. Also, the exposure to full sunlight and direct heat from iron and tumble dryers might damage the garment of skin breeches. 
Trousers
Trousers are widely available in the market since their types are used on almost all varying occasions. Its fabric treatment is not much of a concern to users anymore. These garments made from cotton, silk, linen, and polyester blends have detergents and washing machines that are readily available to users; thus, there are lesser expenses and effort to exert in taking care of the trousers.
Winner: Trousers
Length and Utility
Breeches
In the 18th century, breeches were once the common clothing of high-end men at work. Since the garment ends at knee length, men would wear long stockings up to the knees that are removable once exposed to dirt and mud. 
Trousers
However, while breeches, with or without stockings, are useful, it is still more sensible for laboring men to use trousers at work than knee-breeches. This garment that extends from waist to ankles does not require men to wear stockings anymore and thus provides lesser expenses for purchasing and laundering pairs of stockings. Also, there had been a belief that anything aristocratic is out of style for laboring men. It further influenced the Revolutionary American soldiers who had worn hunting shirts and gaitered trousers.
Winner: Trousers
Fashion and Footwears
Breeches
It is known that breeches had once dominated an iconic fashion pedestal in history. From formal occasions to labor duties, these lower garments had created an image of men with high social status. With its length, men can play with other lower garments such as stockings, boots, and other leather footwear that are bound to flaunt in public. However, with the sudden shift of these shortened pants to longer pantaloons, it became unfashionable for men to sport it as a  fashion trend. Though it has a good transition to sporty and athletic attire, it still has massive limitations to match with footwear and to create another historical revival in the fashion industry.
Trousers
Trousers are known to be used by the general public regardless of their gender identity. The fashion spectrum of trousers from its fabric to its use is mind-blowing. With the number of mix-and-match possibilities of trousers and footwear, it is no brainer to witness how these long pants are the staple men's bottom garment on different occasions. It has an endless pairing of varied wardrobes and footwear that men across ages can sport. You can admit that you have seen a man wearing his trousers with sneakers and another man with his boots, top-siders, or trainers. 
Winner: Trousers
Types of Breeches
First known as a fashion trend among the aristocrats in the 1800s, it is a garment that covers the waist down to each separate leg and usually stops at the knees.  But speaking informally, 'britches' is a plural noun referring to any kind of trousers.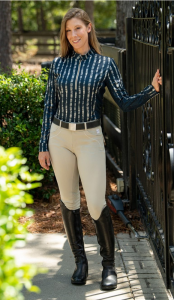 Knee breeches that are cut at mid-calf, are designed to be worn with stockings or tall boots raised until the knees. This is made of a 4-way stretch from silky and soft fabric. The embroidery on the hip creates a slimming effect at the back and pocket flops. The blend of spandex in this material allows for lesser bulk at the boots.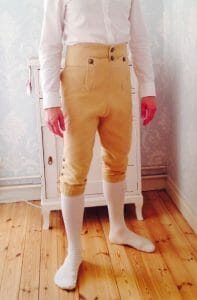 This is made from deerskin fabric that is popularly worn by Native Americans who are mountain men. Since this was considered old-fashioned in the 1820s. It is rare to see men wear this in the city as a daily outfit or as a get-up for work. But still, some sport it for its comfortability and old-soul fashion enthusiasm.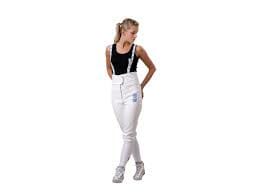 This type of breeches is used as a uniform while playing Sabre Fencing. Its stretch panels make movements easy with added comfortability and protection. It is mid-rib rise is extremely fitting to the waist, perfect for the highest performances.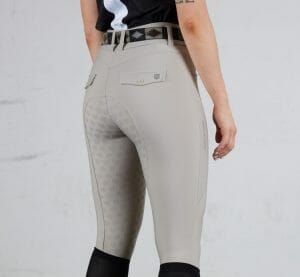 This type of riding breeches has grip control that covers the whole inside of the legs and up to the seat. It has a firmer grip over the saddle which contributes to the seat stability of the rider.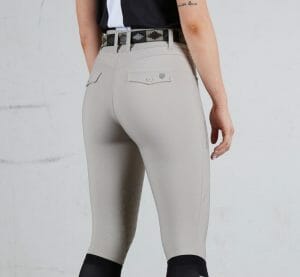 These particular seat breeches only have a grip control on the inside of the legs. Wearing this makes the rider more comfortable in the saddle but still offers stability to the thighs and knees. Often it is used by the showjumpers or those who prefer a more flexible seat in the saddle. These are also known as knee patch breeches.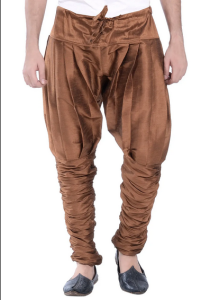 Originally worn by men, silk breeches are typically hand-crafted and are made of silk Tafetta and linen blend. Buttonholes and lacing eyelets at the back are also hand worked for a more sophisticated and unique design. In today's time, this is worn by females for a day walk or a casual picnic outfit at the park. The silky soft garment is used to make breeches-inspired pajamas.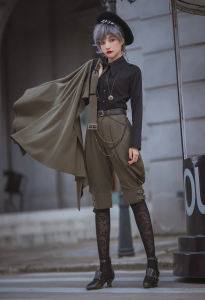 This is steampunk vintage military-style short riding breeches are handmade from soft twill wool. It has puffy thighs but has a tighter grip in the cuffs with adjustable buckles. For fashion lovers, these military-inspired breeches were flexibly worn from casual events to holiday-themed parties.
Types of Trousers
Trousers are named from the Western world as lower-body clothing for men. Though originated in China, trousers are made to be worn by men since robes make it difficult for them to sport when riding horses. After some time, trousers are used for difficult functions and are even worn by women on various occasions.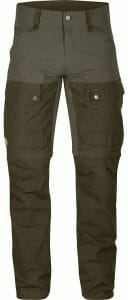 These men's trousers are typically functional for trekking activities with built-in gaiter functions. It offers weather flexibility since the trousers can be zipped off to transform into a pair of shorts during a warm climate. The removable piece of the trouser has a drawcord at the calf and together with the boot hook, it can resist wild brush-filled terrain, protecting the legs from scratches and unwanted discomfort during travel.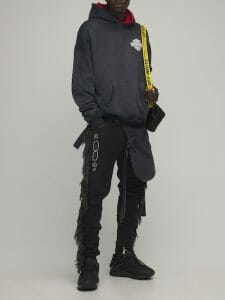 Inspired from cowboy trousers, these side-fringed trousers are made in pure cotton with raw cut cuffs and zip cuffs at the hem. Fashionable men can wear this type of trousers with comfortability and a sense of modern take on the popularized swag of men in the 1920s.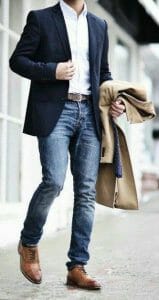 A great pair of jeans is the iconic men's wear that will never go out in style. The perfect fit and comfortability in men's trousers are the foundation of an outfit. These trousers will create room for your other fabric garments to stand out and provide the balance you need. Take note that the more stretch that the jeans function, the more sizing option for the wearer that is practical for a day in the office or hard work labor in the field.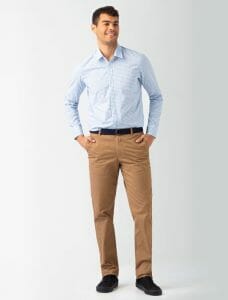 Chino trousers are a twill fabric that is originally made of pure cotton. It was formerly used to tailor British and French military uniforms for its exceptional comfort and durability. Today, chinos are lightweight and cotton-blended garments that can be used for a formal and dressy look. Men wear these kinds of trousers for everyday office attire, events, and other occasions that do not require a paired suit jacket.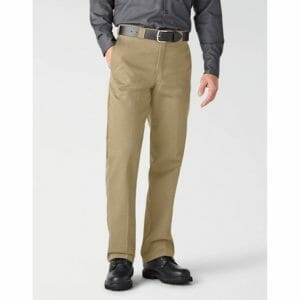 Just like Chinos, khakis are one of the many work pants that males can sport. It is made of pure cotton or blended with linen with heavier twill. This makes the garment sturdier where twill fabric is noticeable on the surface of the trousers. With this, it is more often used on casual occasions and is usually made in beige, tan, or white color.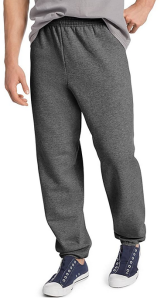 Sweatpants are made for winter and cold weather outfits that can match the level of comfort and active functionality of jogging pants. Made from cotton, fleece, cotton blend, or wool, sweatpants are a little thicker than jogging pants but due to their comfortability, most especially in areas with usual cold weather, wear it with your usual shirt and pullovers to complete the winter look.
 To Sum It All Up
These breeches and trousers have been the best assets of men's wardrobe from heavy utilities in the war zones, horseback riding, and most labor duties. Even though there are crying debates over which one has the most qualified description regarding men's ideal bottom garment, there are various considerations as much as age, societal class, and fashion sense are heavily involved. While we assume that older gentlemen, men of the lower class, conservative types, and those from the countryside are still picking breeches; trousers are the most common outer garment of men and their mainstay option of all fashion tastes.