17 Different Types of Trousers Men and Women Should Own in Their Wardrobe
Trousers have evolved over the years. And this means fashion industries continue to provide you with more unique, fashionable, and modish trousers you could ever think of. 
By this time, you've probably heard of some basic trousers you can buy in the market. But did you know that oh-so-many trousers are starting to make a noise in the fashion world?
That's why in this article, we've compiled the different types of trousers celebrities and fashionistas talked about. Check out some of them below.
Compilation of Popular Types of Trousers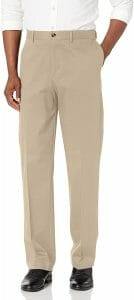 As the name suggests, chinos are trousers made specifically from chino and cotton fabric produced in China. Twill chinos are famously known for their light, cottony-blend, and warm features, which means they're a good choice for a summer's day. Besides, chino trousers have a narrow style and close fit, providing you with out-of-the-box OOTD for every occasion that comes to mind.
Regardless, chinos can be worn at casual and business events. As such, opt for neutral-colored chinos paired with leather shoes and long sleeves if you're heading to a professional event. Otherwise, patterned chinos are great when meeting with friends or flattering the guests. How you accessorize your look purely depends on you.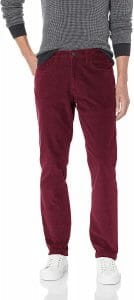 Also known as cords, corduroy pants encompass a vintage vibe when worn. Although some might think they're less stylish than any other trousers, the way you'll complement your overalls is up to you. Unlike chinos, cord pants are made of warm fabric material, making them an incredible leg warmer in the winter months.
Ideally, corduroy pants are perfect for working individuals since they have a slouchy-like appearance but are nice enough to be worn in smart-casual events. Think you want to upgrade your look? Throw in some cottony blazer, a white inner, and a pair of loafers to rock your look. We're pretty sure you'll stand out from the crowd in no time!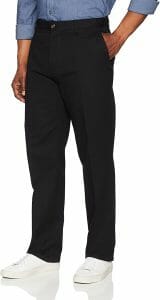 Slacks are a type of trousers that are commonly worn in office and formal events. You can distinguish slacks with their loose cut ends and inelastic texture. Thus, you shouldn't confuse them with chinos, khakis, and other types of formal trousers. Fortunately, you can still wear slacks in any event because they are versatile.
For instance, you can wear slacks at a wedding, on a coffee date, or at a formal gathering. You can marry a white-collared top with black or nude slacks and leather shoes for a business setting. For a quick night out with friends, you can rock the slacks with a casual shirt and monk shoes.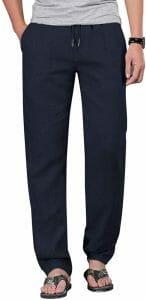 Although drawstring trousers are formally recognized in the athleisure trend, you can actually wear them in business-casual settings. It's not even hard to spot some celebrities wearing drawstring trousers when attending live conferences or meetings. As such, they're perfect for casual and social gatherings.
Hence, opt for wool and linen drawstring trousers when you want to appear smart but casual. Since this type of trouser incorporates a more relaxed style, wear a fitted top or ones that can be tucked in. Then throw in some blazer jacket and a leather bag to polish your look. Wearing dress shoes would upgrade your OOTD, like longwing brogues (for men) and Chelsea boots (for women).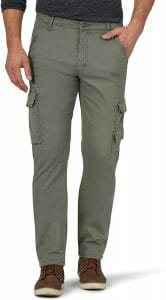 You might instantly think that cargo pants can be worn only in combat or military environments. Well, the good news is here: cargo pants have leveled up (in terms of fit and style) that let you wear them in either formal or informal events. Fashion industries modernized cargo pants and made them slimmer, which is more ideal in the present time.
Feeling a little edgy? Women can try to wear a leather jacket and a cropped top paired with low-cut sneakers. As for men, tucked in a neutral-colored button-down marrying a pair of penny loafers for a cool vibe. You'll be surprised at how these styles create a timeless but classy wardrobe staple for your next look.

We know that you already have a pair of khakis (well, who doesn't?). What makes khakis a great pair of trousers is their versatile and trendy features. They're different from chinos since khaki pants' bottoms are straight-ledged, stiff, and pleated. Considering their low-key and slim-fit vibe, khakis can go with almost all types of clothing, whether it be in a formal or informal suit.
An excellent fashion example would be marrying your khakis with a sports coat or a t-shirt. If you feel like you want to channel your professional and smart look, you can pair your khaki trousers with a structured-formal jacket and a pair of Oxford shoes. Accessorize your khaki with a belt of your choice, and you're good to go!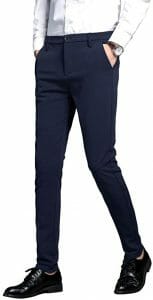 If you want a little snugger feeling on the legs, a slim-fit pair of trousers is a great option. Slim-fit trousers are known to have a small leg opening that creates a more fitted look when worn. In fact, this kind of trouser lets you mix and match a modern style look with a twist of vintage vibes. Yet, it enables you lowkey show off your bum, thighs, and calves.
Keep your OOTD casual but smart by matching a contrasting theme on your overalls. As such, wearing dark-colored slim-fit trousers calls for light-colored tops or blazers. Going in for a monochromatic look? You can still rock the outfit by pairing tassel loafers (for men) or pump heels (for women).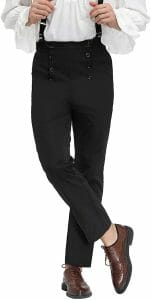 Now, men and women can dress up their style with high-waisted trousers. They can be paired perfectly with any tops, shirts, or button-down shirts that can be tucked in, showing the "high-waisted" part of the trouser. It's not even hard to see how you can pump up your vibe since many celebrities consider high-waisted trousers a fashion staple.
Not sure what to pair with a high-waisted trouser? Show off the old, classic Hollywood vibe by marrying it with a cottony shirt or blouse. Throw in some shades and wear a statement belt for more style. Opting to wear high-waisted trousers in a formal event? Consider pairing it with Derby's cap-toe shoes or bondage boots.

Another timeless trend on the list is the sailor pants. You guessed it right; sailor pants are a trend in the 1960s and 1970s but are going back again for another trendy and versatile vibe. Sailor pants are pretty much easy to recognize from other categories of trousers. They are known for their wide-leg silhouette and side buttons (usually comes with a color contrasting with the pants).
Dressing yourself up with sailor pants in attending a formal event isn't that really demanding. Women can go with a pair of cone heels and tuck in long or sheer blouses. Meanwhile, men can rock a naval look by matching dark blue sailor pants with a white-collared shirt and chukka leather boots.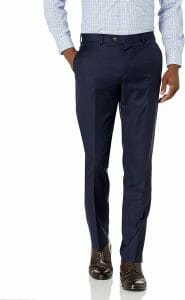 Tailored-fit trousers are the best and safest choice if you're attending a meeting with your boss or going to your office work. It is a type of pants that gives your legs a tight-snug feeling but features a shaped waist and clean lines for a well-groomed look. They're a versatile category of trousers that lets you express an intelligent and neat vibe effortlessly!
The best advice we can give is to wear darker colors in a business event or a formal gathering. As such, black tailored-fit trousers instantly give you a contemporary and modish OOTD without yourself looking uncomfortable. Nonetheless, there are plenty of ways you can dress this trouser up and down that's appropriate for any occasion.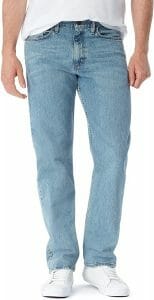 Denim jeans don't need any introduction at all. They're recognizable for their classic and relaxed look, which means you can easily dress them up and down. Regardless of the time, celebrities never fail to give us a revolutionary approach in styling denim trousers –from wearing them in formal settings to quick dine-out or leisure shopping.
To create a bright and casual aura, consider pairing your denim trousers with a sweater and Oxford shoes. If you're going for a sleek and fun look, match your denim pants with a cropped top (for women), a Cuban shirt (for men), and a pair of old-school sneakers. You can't have it in any other way!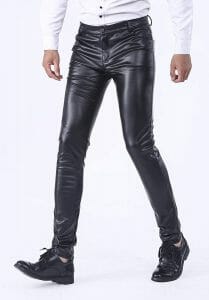 Although some might find wearing leather pants unusual or tricky, plunging into the trend lets you enjoy form-fitting trousers and exceptional warmth. They're undeniably a perfect choice when you want to express a rugged, edgy, and cool look (well, as long as you're in the proper social gathering).
While the most common interpretation about wearing leather pants is creating a moto vibe, their versatile features let you wear them to create a contemporary look. Women can wear ankle-length leather trousers combined with Bondage boots, whereas men can work it with a Chambray shirt and leather cap toe shoes.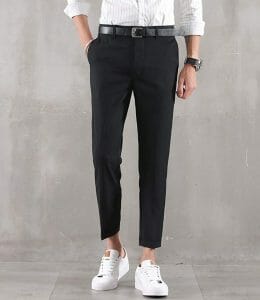 Cropped trousers are a category of pants that are somewhat considered a shorter version of trousers, falling into the length just above your ankle. Yet, not all would find cropped trousers easy-going wear because wearing them with the wrong pair of shoes lets you look grumpy and sloppy, and nobody wants that!
Since cropped trousers show a little of your ankle's skin, consider wearing shoes with an ankle strap, a low-cut loafer, or a sneaker. Women can choose to wear basic t-strap ankle heels and a ruffled blouse for a cheeky vibe. Meanwhile, men can opt for trendy shoes and a long jacket to sport an edgy outfit with cropped trousers.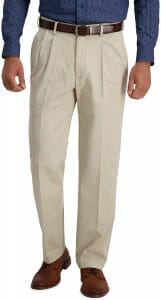 Pleated trousers are made more flattering and sleeker, thanks to the big names that continue to hype them up as a fashion staple today. If you missed it, pleated trousers aren't the same as your grandpa's or grandma's type of pants. They're actually made with more function and light enough to give comfort to your legs.
To show your modish and smart vibe, you can wear pleated trousers with a button-down shirt that's tucked in, a fashionable shade, and a pair of quarter brogues. As for women, you can make a chic outfit of pleated trousers by matching it with a bralette, a blazer, and open-toe heels.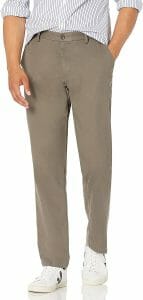 Flat-front pants are an alternative to pleated trousers. Some might confuse flat front and pleated trousers; yet, flat front pants are worn a bit lower, with their flat-front lying near the zipper. This feature literally gives you a structured silhouette but little aesthetics. Slimmer women and men definitely have this type of trousers in their wardrobe.
Since flat front pants prioritize style over function, you can match them with a plain-colored collared shirt or blouse. Tucking your tops also gives way to the flat-front pants' minimalist design that's sure to impress your colleagues at work. Currently, fashion industries are creating flat-front pants that are tapered and slimmer.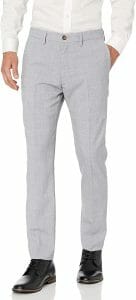 Wool trousers are a kind of pants that lie in the middle of chinos and a full suit. This just means that you can wear them at any event without overkilling your OOTD. Regardless of your body type, wool pants will look dang good on you! Known types of wool trousers include grey flannel (best for contemporary look), mohair (best for casual events), and gabardine (best for athleisure look).
Achieving a spot-on, classic rusty look would be a breeze with wool trousers. They're smarter than jeans, which means you can effortlessly create a modish aura by pairing them with suede shoes and sports jackets. When shopping for wool trousers, we recommend getting one in a shade of navy blue, brown, and gray.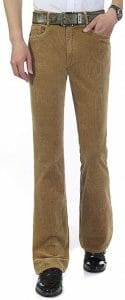 Finally, bootcut trousers feature fitted or slim thighs and an exaggerated flare at the bottom. This style outlines a slight 1970s vibe similar to elephant-type pants. Nevertheless, this shouldn't stop you from wearing bootcut trousers. They're stunning and bold, and almost all can wear these unique pants today.
What makes bootcut trousers popular today is their fashion sense. For instance, wearing these trousers brings out your curves and shapes, showing the best of your features. Besides, they make a perfect pair when worn with flat sneakers and a plain shirt. If you're into a little more smart-modish side, consider pairing it with a button-down shirt and leather shoes. You'll rock the look in an instant!