Trousers vs. Jeans: Your Ultimate Guide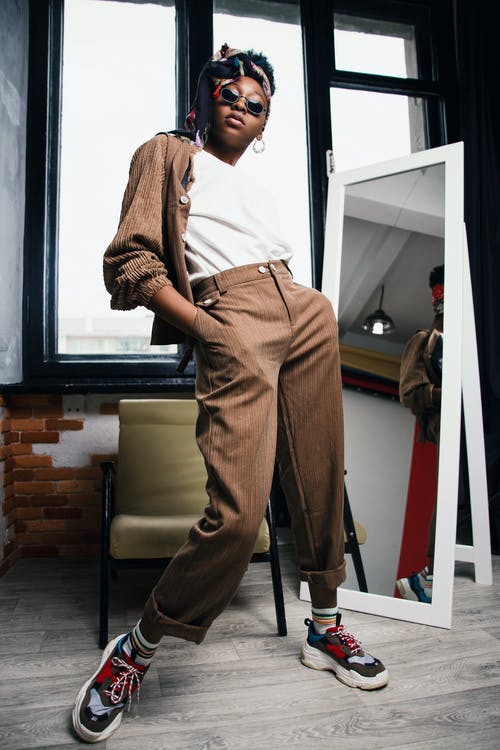 Are you one of those people who gently shrugs their shoulders without understanding the narrow boundary between bottom garments that almost seem identical? Are you one of the many perplexed people who immediately searches Google for information about the mandatory bottom wear specified on an invitation? Are the trousers you need to wear to your occasion the same as the pair of jeans you have in the drawer?
The number of considerations such as the classification of styles and types, fabrics and patterns, appropriate treatment, and how to style those bottom clothing, could take a toll on your preparations and imaginations. 
Here, we make it easier for you to identify the differences between trousers and jeans and a few styling suggestions with online shops to get those pants yours.
What To Know
To set things first, trousers are a type of clothing with a separate section for each leg and cover the area of the body between the waist and the ankles or knees.
On the other hand, jeans are a type of pants traditionally made from denim (a kind of cotton fabric). Jeans are almost similar to pants at first glance; but, for utility's sake, jeans can be paired with anything and look truly stylish. The secret is starting with the right jeans.
Styles and Types
TROUSERS 
There are several types of pants, from chinos to tracksuit bottoms, that are suitable for a variety of events and offer a welcome variation from the usual denim. You need to know what pants to wear and how to style them whether you're going to the office or on a first date. Here are a few of the most popular trouser designs you should take into account for your wardrobe.
1. Chinos
Why not try some chinos if you're confused about what to wear after looking at your wardrobe? They go well with everything and are unpretentious and simple to dress. These offer a light and stylish replacement for heavy trousers or suit pants on hot days without seeming too casual. Choose darker hues like navy, charcoal, or black if you're going to an occasion where you need to dress up a bit.
2. Cords
In an extremely classy pair of cords, bring back the basics. These pants work best in colder climates because they heat up and keep your legs warm. Choose to pair these bottoms with a button-down, sweater, or blazer if you want to stand out and honor the classic design.
3. Drawstring Trousers
Wearing a pair of drawstring pants will keep you comfortable all day. These are the ideal fusion of comfort and design, whether they are made of joggers or something lightweight like trouser material. It's the perfect solution for days when you want to look put together but don't want to make a commitment.
4. Slim-Fit Trousers
These slim-fit trousers give you the look and feel of a skinny jean in a more professional setting. They're the best way to add some flair to a timeless look, whether it's a suit or separates. If you're going to the office or a semi-formal event, dark colors like black, charcoal, or navy are a conventional choice.
5. Wool Trousers
Say goodbye to your jeans and hello to a pair of wool trousers if you're seeking for a pair of pants that are simple to dress with anything. This traditional style looks fantastic in many contexts, from the office to a gathering in the countryside. Complete this style with sophisticated dress shoes.
6. Relaxed Fit Trousers
Why not choose relaxed trousers for the man who dislikes the skinny leg trend? This legwear, which dates to the 1950s, has stood the test of time and been popular for decades. It can be challenging to get the length of these bottoms just right, so watch out for making them either too long or too short.
7. Joggers/Sweatpants
Athletic wear is a really comfortable and fashionable alternative to casual attire that isn't just for Instagram influencers. You may sit in full luxury without feeling like a slob by wearing slimline joggers, which are the ideal cross between tracksuit bottoms and regular business trousers.
8. Cropped Trousers
Do you feel like your ankles don't get enough air or do you have a pair of quirky socks you've been dying to show off? Then cropped pants are the ideal choice for you. This look is a clever way to add some flair to a formal ensemble and offers a quick dose of fashion. You can choose to roll them up or wear them just above the ankle for a quick way to spice up your look.
9. Cargo Pants
Cargo pants have made a sleek and fashionable comeback and are no longer a fashion faux pas. Choose a pair without big side pockets and instead choose one with a slim leg if you want to avoid the fisherman look. For a classic look, choose neutral hues like camel or sand, or choose something dark to match the rest of your attire.
10. High-Waisted Trousers
These traditional trousers are probably in your grandfather's closet if you dig around. There are several ways you can wear this style, which is high in the waist and traditional in design. To update this classic cut, roll necks, crewneck shirts, and semi-formal jackets are ideal.
11. Pleated Trousers
Pleated pants are another adaptable and classic pair of pants to have in your closet if you're going the classic route. This little addition is a classic must for every man and can completely change the look of your clothing. This look can be enhanced by wearing it with a Cuban collar shirt, a white T-shirt, or a traditional button-down with rolled sleeves. The finest shoe choices for this outfit are dress shoes and sneakers. Try adding a lightweight blazer to finish the look.
12. Tracksuit Bottoms
Sweatpants can do everything while remaining fashionable and comfortable. Wear this look with sports clothing for a classic sporty appearance, or defy convention with a button-down and polished sneakers for a polished image. The era of plain patterns is over; today, you may dress to the nines in your gym gear while still looking like a million bucks.
JEANS
It is beyond dispute that jeans are a true benefit to humanity, and they will always be with us. Everyone adores jeans because they are cozy and really fashionable. Because of this, they have changed significantly over time, giving rise to a variety of jeans that are now available. Jeans have seen it all, from boyfriend jeans to mom jeans, from thin jeans to flared ones.
A wide range of colours have also been tried on these pants in addition to the traditional blue and black. The nicest aspect is that they are consistently fantastic. In light of the significance of jeans, we will introduce you to the various varieties of jeans on the market today.
1. Skinny Jeans
As the name implies, skinny jeans are skin-hugging and tightly fit. They trace the outline of your legs the entire way. These are for you if you have long, slender legs that you can't wait to show off. The fact that skinny jeans are typically flexible and come in low, mid, and high rise waist cuts makes them twice as good.
2. Skinny Crop
The only difference between standard skinny jeans and skinny crop jeans is that the former terminate just above the shins. Some of them have a fold that improves their appearance. There is not much distinction between them and conventional slim jeans in terms of design and construction. In the category of narrow crop jeans, distressed, white, and black are great options. 
3. Straight Leg Jeans
Do you adore wearing tight, body-hugging jeans? We have the solution: straight legged jeans. However, you lack the physique and self-assurance to pull off the "super-skinnies" or "skinnies." They really are a blessing, I promise. They fall somewhere between flared or boyfriend jeans or skinny jeans. Your legs appear longer than they are because of them. 
4. Jeggings
Jeggings are essentially denim-covered leggings. In other words, you dress similarly with jeggings. If you're conscious, wear tops that fall just below the hip; otherwise, consider them like your ultra-skinny pants. They are so comfy and have a waist band instead of the usual button method that most women swear by them.
5. Boot Cut
Mommy jeans, which were initially mocked, gradually gained popularity among women of all ages. To account for millennial fashion trends, the new boot cut jeans are tapered rather than the classic boot cut versions. Up till the knees, these have a wonderful fit, but they subtly spread out past your calf muscles. These are also available in cropped style, and they extend slightly past your shins.
6. Flared Jeans
These jeans first gained popularity as a nineties fashion statement, and they are currently making a strong comeback. This shape literally flares up, unlike boot cut jeans, which open up gradually below the knees. They occupy a middle ground between bell bottom and boot cut styles of trousers.
7. Low Rise Jeans
Before you realized what was happening, low rise jeans and short tops were in style everywhere. Low rise jeans hit us like a tsunami. They start a little below your belly button, which makes them appear wonderful on women with a definite waist. This look works nicely with straight, ultra slim, and skinny design patterns. Distressed and low rise, straight cut and low rise, and boyfriend jeans and low rise are all good choices.
8. Boyfriend Jeans
Because they appear to have been borrowed from him, people began referring to these pants as boyfriend jeans. Really literally! The fit improved throughout time, though, and these are today regarded as highly fashionable. Everyone is wearing these, from airport appearances to runway looks. These fit you perfectly around your waist and hips and go a little bit wider as they go lower. For curvaceous ladies, boyfriend jeans and boyfriend crop jeans are also excellent options.
9. Cigarette Jeans
Again, cigarette jeans are quite comparable to slim jeans and belong in the same group. But they aren't full length; they end just above your shins. Cigarette cut jeans have become popular and are fashionable, just as cigarette style pants. Avoid them if you have large thighs because they are skin-hugging and tight.
Cuts and Footwear
TROUSERS
The only option at the bottom of your suit ten years ago was the amount of break you wanted on your shoes. After that, designers started to get imaginative, and the suit lost its uniformity. You are no longer required to wear black Oxfords or Derbies, you can divide your jacket and pants, and you can wear a double-breasted jacket undone. Of course, you are still allowed to, and if you're going somewhere formal, you should.
If not, do you remember those white, minimalist sneakers that have become ubiquitous over the past ten years? They're now tailoring's best friend, I suppose. A tiny space between the shoes and the bottoms of the pants emphasizes the distinction between smart and casual.
JEANS
Most men wear jeans as a matter of course these days. These trousers are so commonplace that they have practically lost their distinction as weekend and business wear. So they should go with any shoes. But that is untrue. Trainers should always be worn with jeans, but hefty, statement kinds can look good with more sober-looking jeans if yours are the kind of distressed, stacked denim Kanye would wear. But Yeezy 350s look better with thick-soled boots than straight, heavy selvedge that pays homage to harsh men who did hard work in hard denim.
Fabric and Pattern
TROUSERS
Before beginning a project to sew pants, it's crucial to carefully assess the fabric you want to use. In order to ensure that your fabric will result in a durable, stylish pair of pants, there are a few qualities you'll need to check for.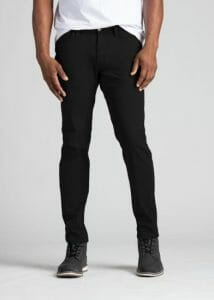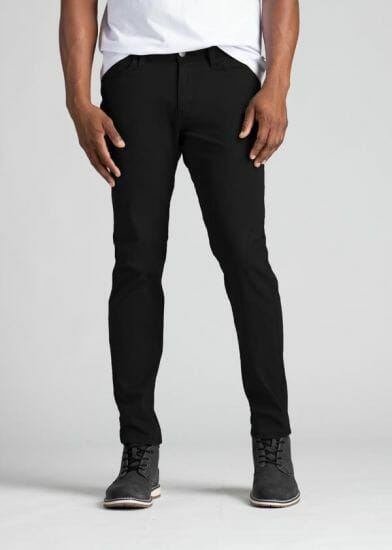 Twill is a common material for trousers and is adaptable. Its name is derived from the twill weave that was used to make it. The fabric's face is covered in diagonal lines due to this weave pattern. Depending on the colors of the utilized thread, these lines might be highly noticeable or quite subtle. Twill is ideal for trousers since it is incredibly sturdy, long-lasting, and frequently mid to heavy in weight.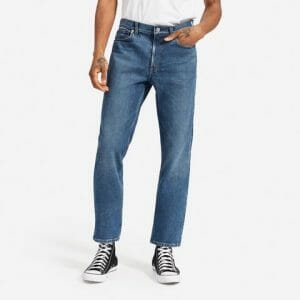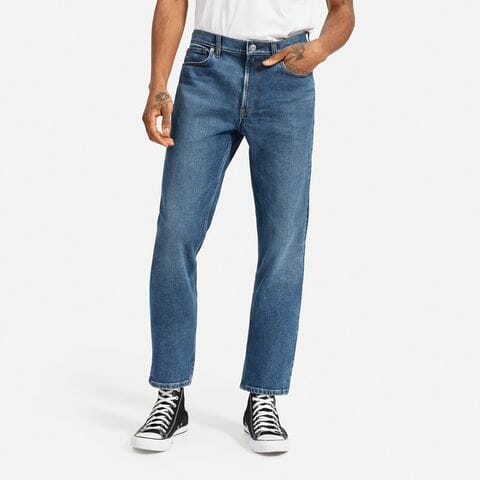 One of the most popular twill-weave fabrics is denim, which is a true classic for every-day, casual trousers. Most people have multiple pairs of denim jeans in their closet that are frequently worn. The majority of the time, this cloth is thick, mid- to heavy-weight, incredibly strong, and cozy to wear.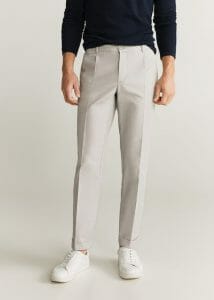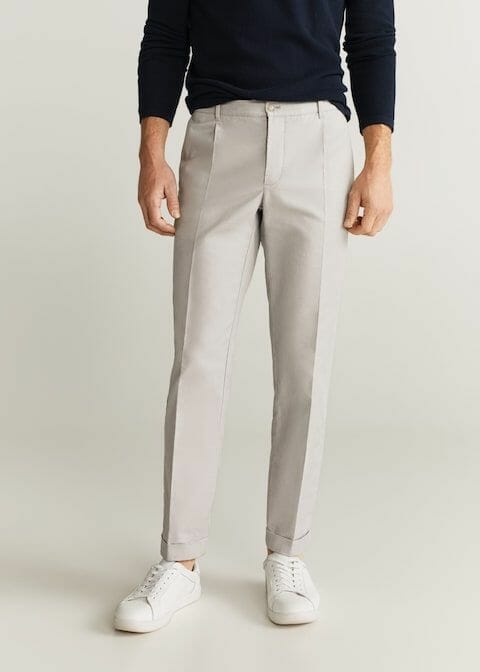 From the stems of flax plants, elegant, sustainable fabric known as linen is created. With each wash and use, this fabric becomes more rugged and worn-in looking. It is durable and sturdy. Given that linen is a breathable material, it is ideal for summertime clothing or daily use in warm areas. Try a casual pair of linen trousers if your denim jeans are making you feel hot and sweaty. You'll love how comfortable and informal your warm-weather linen pants are.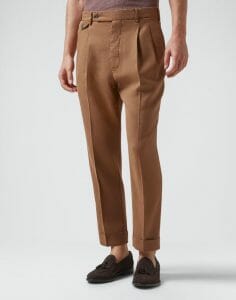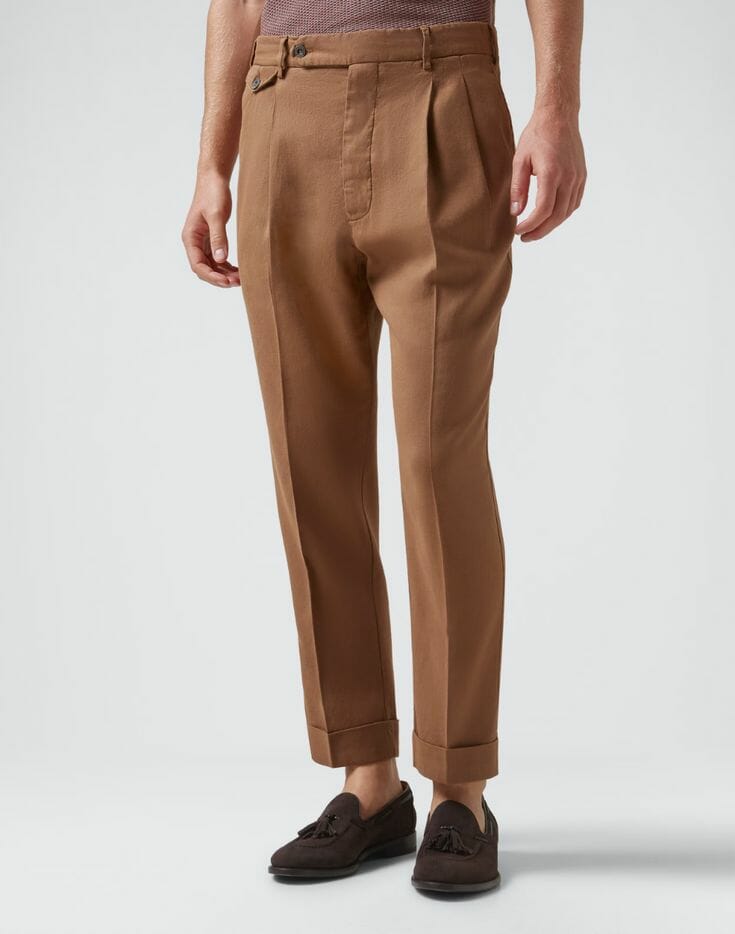 Another traditional twill weave fabric that is fantastic for pants and outerwear is gabardine. It is a smooth twill fabric with the customary diagonal ribs on one side and a smooth face on the other. Thomas Burberry created this fabric in the 1800s as a long-lasting, tightly woven, hard-wearing, and adaptable fabric for clothing that would be subject to rigorous use.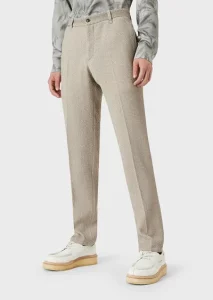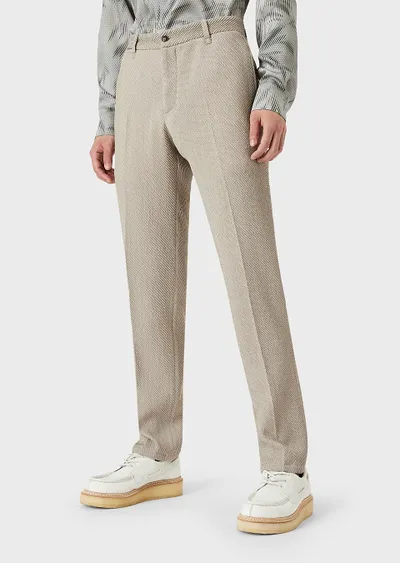 For the best suits, a stretch wool blend cloth is a traditional choice. Making a suit from wool or a wool blend ensures that you have a long-lasting, breathable, and insulating garment. Other fibers, such polyester or viscose, can be included to increase wrinkle resistance and smoothness. The suit will have some elasticity if you select a blend that has elastic fibers like Lycra, making it more comfortable to wear all day.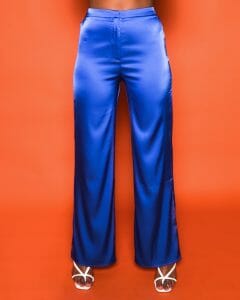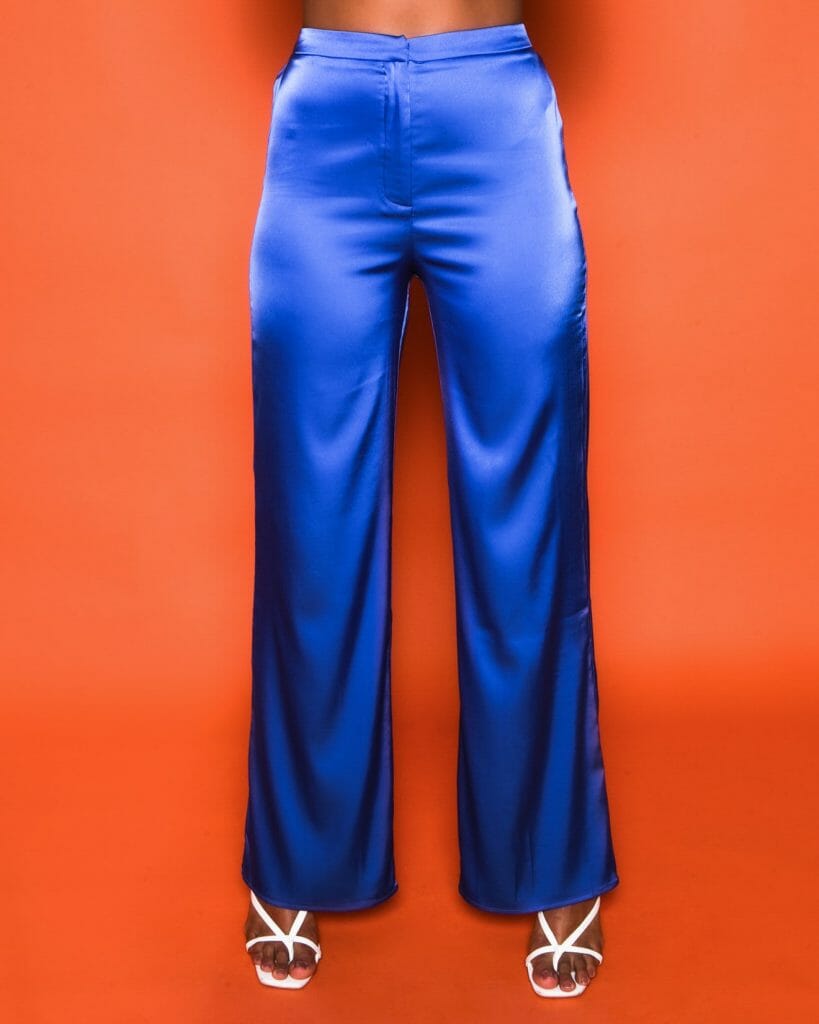 Looking for a unique and slightly more opulent pair of pants? You might be able to find what you're looking for in a lovely cotton satin. The satin weave is a unique weaving method used to make the cloth known as satin. A luxurious fabric with a magnificent, soft drape and a lovely gloss is produced by this weave. The stretchy, lightweight cotton satin is offered in a variety of lovely hues.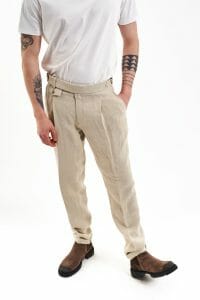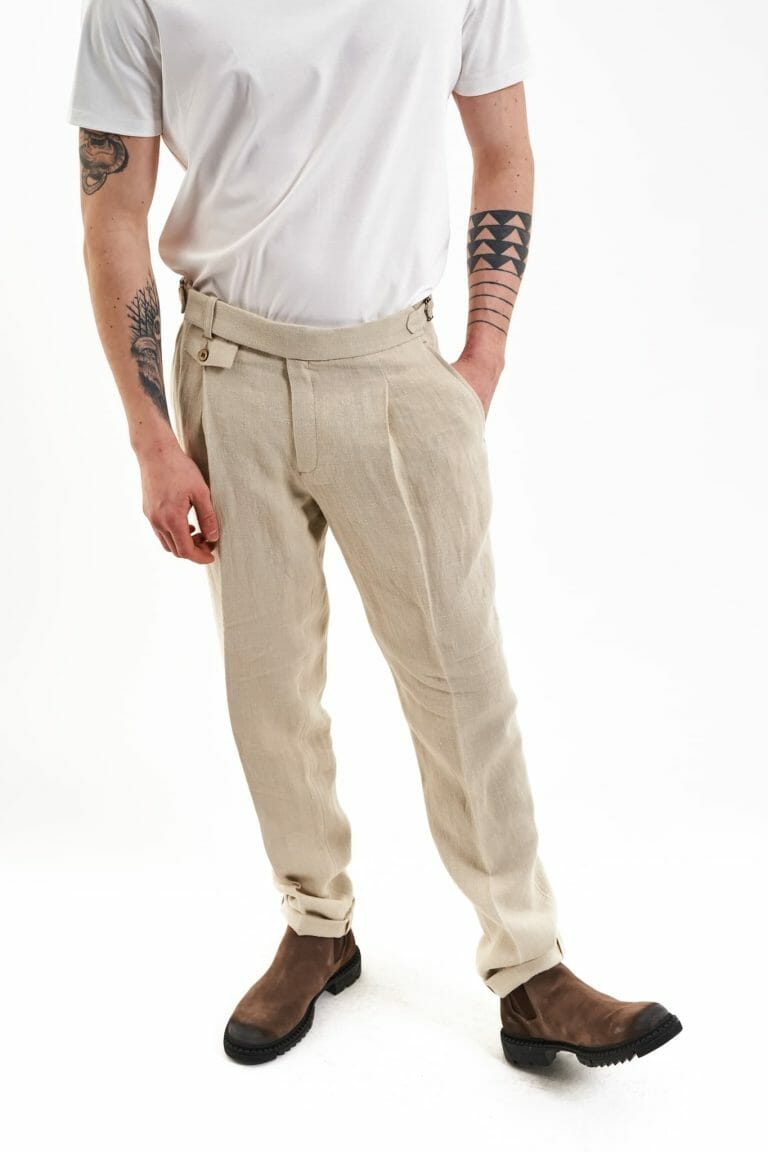 A sustainable alternative to linen in terms of texture and appearance is hemp. To create this strong, breathable fabric, hemp fibers are taken from the woody stems of hemp plants and stitched together. Lightweight summer pants made of hemp work especially well if they have a casual or fluid look.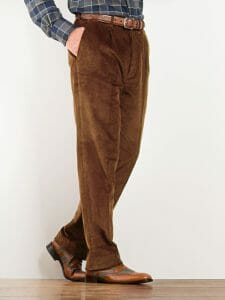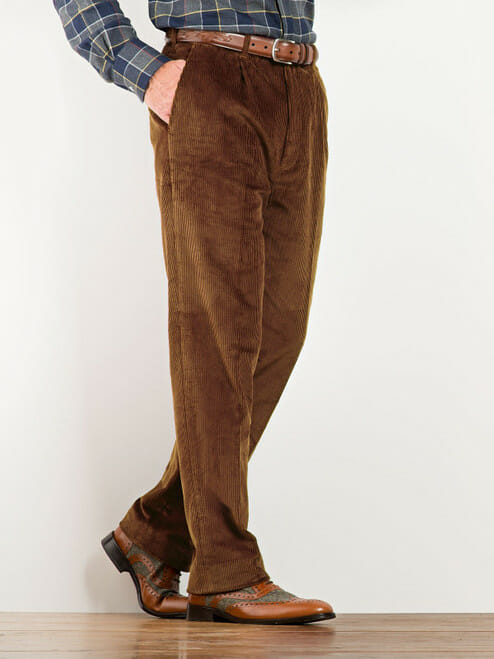 Another timeless fabric for trousers is corduroy. It is a strong fabric that is typically made of cotton and has eye-catching, distinctive ridges all over the surface. The corduroy ridges can range in breadth from smaller, more subdued ridges to larger, wider ridges. Due to its strength and distinctive appearance, this fabric is excellent for trousers.
JEANS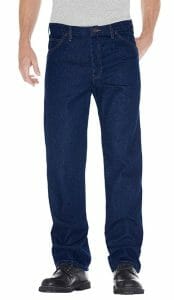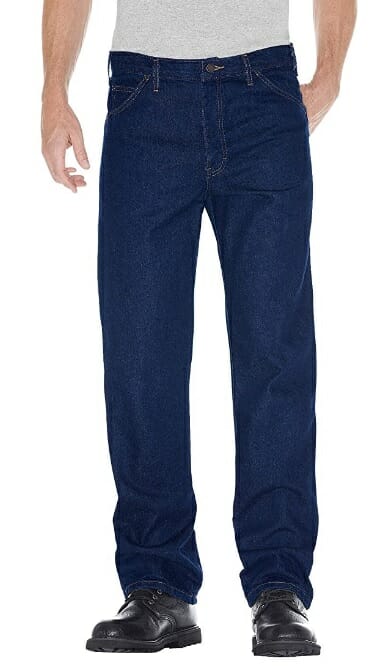 The denim in question has not been cleaned or treated. In order to ensure that it conforms to the wearer's body, it is typically worn for six months to a year without being washed. Fans of raw denim frequently resort to freezing their jeans overnight to kill off bacteria and microorganisms.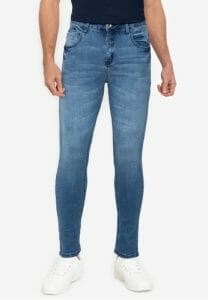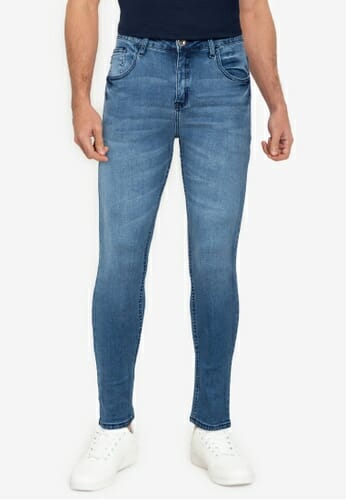 With this kind of denim, spandex or a comparable fabric has been combined with cotton. Since the resulting fabric has more stretch than regular denim, it is frequently used in tight-fitting garments like thin jeans.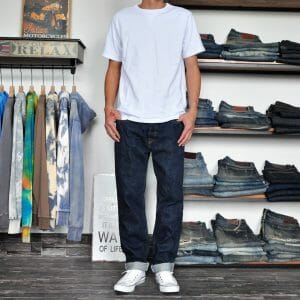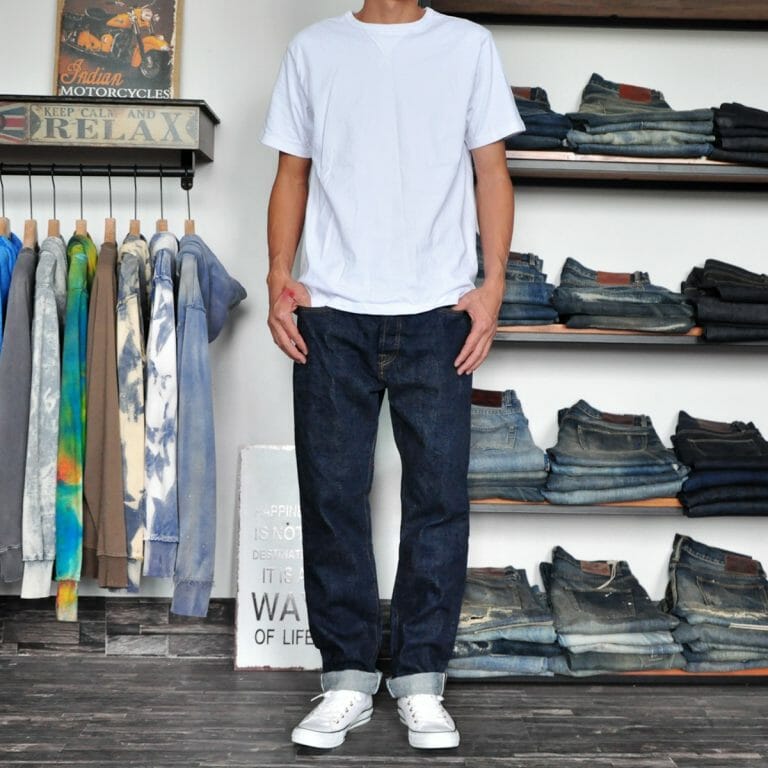 Jackets frequently feature the selvedge denim fabric, which has a fringe at the end.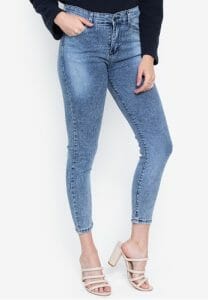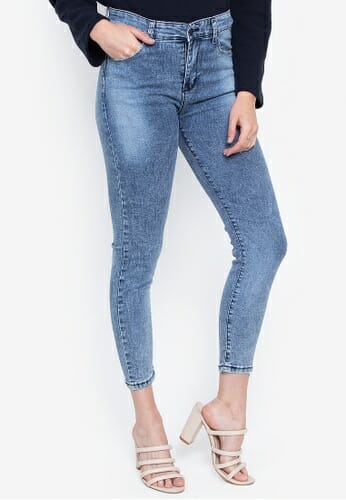 This particular variety of denim has a recognizable speckled pattern. It is created by soaking unwashed denim in a powerful acid that dissolves the colour.
Treatment and Care
The treatment is the strongest defense of fabric longevity and upkeep, except the activities one engages in while wearing a pair of trousers. The more care you give the fabric, the more likely it is that these will endure a long time and resist fading, lint buildup, and static electricity.
TROUSERS
The good news is that caring for your trousers doesn't have to be a big hassle. Just be careful to finish the seams, hem, pockets, fly, and waistband—all of which can be completed quite quickly once you get the hang of it.
Paying attention to particular washing directions on the label is likely the most neglected laundry tip. For instance, if it is stated clearly on the label, a pair of trousers will alert you that they are dry-clean only. However, there is no reason why you wouldn't throw that with the rest of the laundry if you never read that label.
The temperature of the water is another thing to consider. If you want the best results, keep garments meant for particular washing temps apart in addition to segregating whites from colored clothing. If you disregard this, you won't likely cause any harm, but if you manage your laundry properly, you'll have the cleanest possible jeans.
You must fold and store your jeans properly if you want to keep their neat appearance. Hang them upside-down with the waist facing the ground.
JEANS
Suspend your jeans. Hanging your jeans while you are not wearing them is one tip for extending the time between washings. Particularly in the knees and seat, it will assist the fibers in recovering from strain and stretching.
Clean jeans with holes can be seen. If you must wash ripped jeans, do it by hand or spot clean any unclean areas.
Just when it's required, wash your jeans. Your washing machine's harsh agitation can gradually weaken the fabric and reduce the lifespan of your jeans. Use a quick-acting solution that, when used as advised, may destroy up to 99.9% of bacteria if you need to get rid of odors and refresh your denim jeans in between washes.
How To Wear
TROUSERS
Trousers should sit just above your hips; the closer they are to this point, the more attractively they will flow down your leg and dangle over your bottom. Straight frames can get away with wearing their pants a little lower, especially for individuals with larger hips.
JEANS
On the other hand, Good denim footwear is essential. Keep it leather or choose a wacky colored canvas instead of anything that appears to have recently been used on a basketball or tennis court. Remain with short, robust jackets that stop just below the waist or at the waist. Finally, unwind and enjoy yourself. Even when you're dressed them up, nothing makes jeans beautiful like that somewhat dissident, come what may attitude.
Round Up
In general, regardless of the fabric, style, print, and fit, try on a pair of trousers while sitting as well. Particularly when you have to spend a lot of time sitting in a chair, such during business meetings, weddings, or dates. If the thighs begin to feel tight during the procedure, change to a larger size and bring in the waist. When standing, if your jeans are catching on your calves, they are probably too tight. Additionally, keep in mind that the length is the only portion of your pants that the tailor may readily change if you decide to modify some of them. Therefore, before you spend money on expensive trousers, you must find the perfect fit for your body type and size. Although it could require more work on your part, maintaining comfort and attractive fashion sense is within your reach if you don't let these be compromised.