Types of Palazzo Pants: The Ultimate Guide (15 Types, Fabrics, and Styles)
---
Little Bit of History
Traditionally worn in Asian fashion, palazzo pants were for royalty, noble family members, and high-ranking individuals in 1920. In the same era, wide-leg lounge trousers were fiercely sported by Coco Chanel and other entertainment influencers. Also, chic palazzo styling was flaunted by Katharine Hepburn, an American artist, in the 30s. However, Palazzo pants resurgence in the limelight in the 1960s after they faded for a time.
The Palazzo Trend
These women's flared trousers flow around and maintain their glow and freshness all day while being stylish and up with the trends. Women, in the present, are wearing more loose pants with vibrant colors and artistic patterns, making it one of the most stapled fashion styles around. Designers in the vogue industry introduced the various types of palazzo pants from the best fabrics for different occasions that a woman can attend.
Trendy Celebrity Wearers
See how your favorite stars put their creative and stylish spin on these wide-leg flared trousers.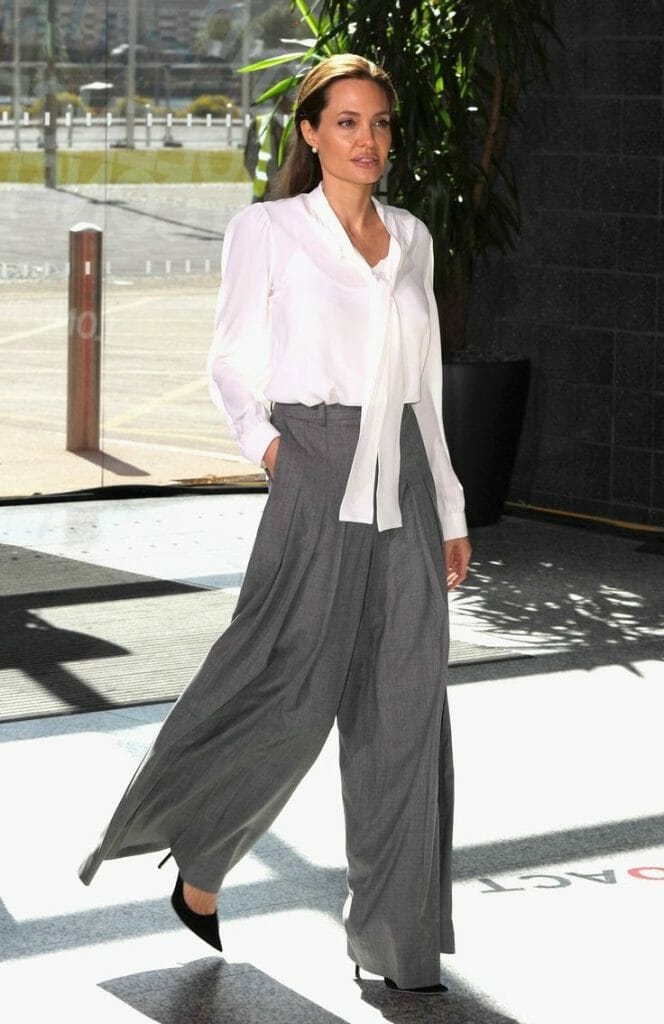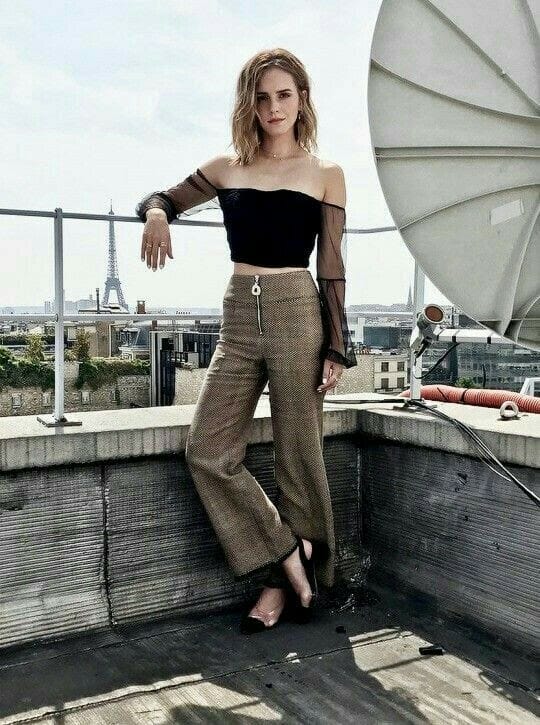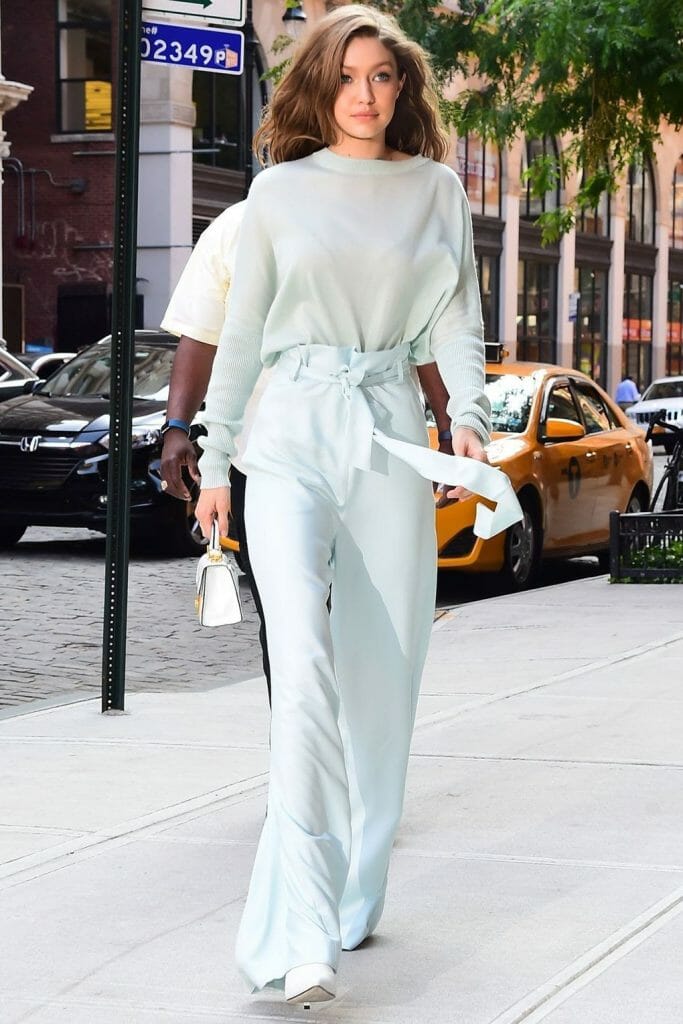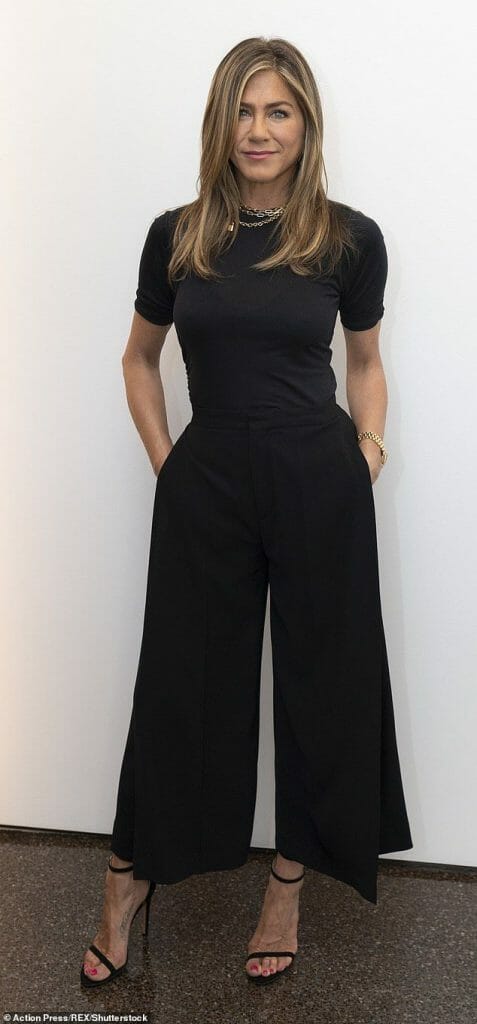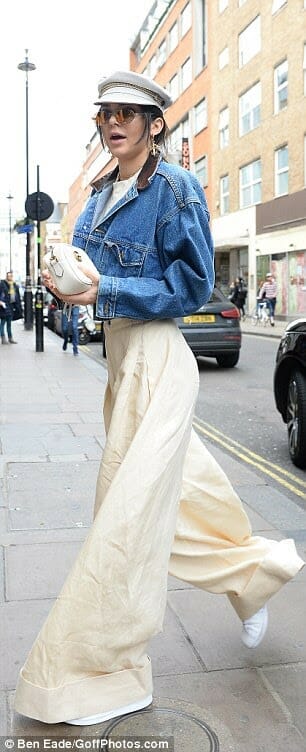 Types of Palazzo Pants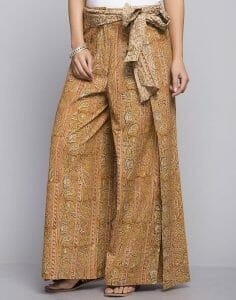 These pants are flaunting with a belt designed on the waistline. Its casual vibe but creative and cute style can catch eyes while in the mall or taking a walk in the park with your best buddies. This look is better through Kalamkari cotton matched with strappy flip tops that are perfect for your comforting affair of the day. This colorful print should not mix with another vibrant top. Emphasize the wonders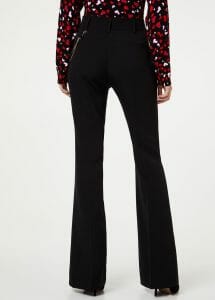 This type of pants generally emphasizes the length from your hips down to your ankle rather than how the usual widely flared palazzo bottoms can. The polyester fabric in this look is water-resistant and has a high level of durability. You can sport this look on less formal than usual but more than your typical casual occasions with your colleagues or college mates. Still, this is a dash in your wardrobe, especially if worn with your slip-on and shirt under your blazers. It is a little bit edgy already; so, try not to wear big boots to accentuate more on the sturdy flare of these pants.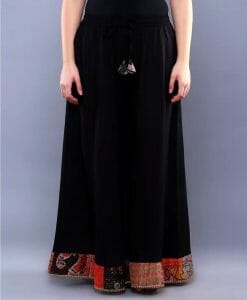 This look gives the wearer fun and artsy feel every stride on the runway. Usually, with a maximum of five-inches thick, its border designed at the hem of the pants is the eye-catcher in public places. Made in cotton fabric, it is soft and comfortable for the wearer! Just try to put a premium on the borders by wearing a nude pair of flip flops rather than shiny stilettos or chunky sneakers. Never steal the show from these sophisticated palazzo pants!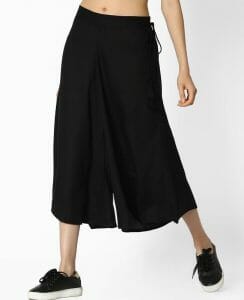 These wide-leg trousers pretty much have the same flaring effect as your regular palazzo pants; but, these bottoms run down until just a few inches below the knees. As these are from cotton or rayon fabric, it is a breathable fashion style that will elevate your look in the heat of summer or the blooming sensation of the spring season. You can be a little bit cuter if this pair of pants match with cropped shirts or blouses paired with any footwear from your closet! YES! to this look!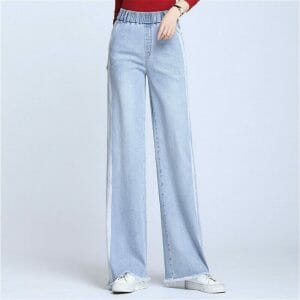 We all know how denim pants can be chic in casual events. Made from denim fabric, it is long-lasting and versatile at the same time. It comes in different shades from indigo to white; so, you can finish the look with tucked-in plain white shirts and sneakers or open-toe high heels. If your pants sit higher on the waist, your printed or plain mid-rib blouse can save the day for you! It is a hangout piece of clothing you must not miss! Addendum, never put on a denim top if it is a denim-palazzo day for you. Please don't.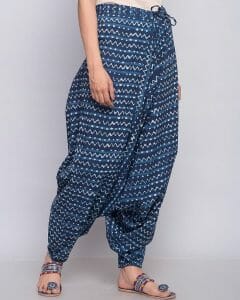 Are you wondering how our fairy-tail Aladdin sported a trendy fashion thing? Dhoti pants are flaring on the upper leg area but are gradually getting tapered down to the ankles. A wide cloth is already down there; so, make sure to not overpower its killer street look by choosing a lesser strapped flip top. Although this Indo-western clothing can keep you stylish in various ethnic functions if paired with Kurtis, Tunis, and more.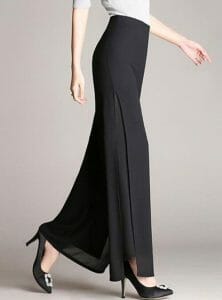 Adding more drama to your palazzo experience, these layered ones are ready for the spotlight! With more than one flaring garment that is playing with your every movement, these two-level palazzo pants, made from cotton, rayon, or georgette fabric, can bring out your playful but sweet look during parties or ceremonies. The chic goodness of the pants should not combine with other layered tops or long Kurtis. For better satisfaction, you can work it better by tucking your shirts in or just giving it a go with your minimalist cropped top.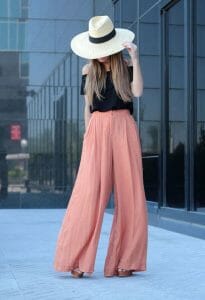 These palazzo pants have the most flaring capacity out of all. It can almost look like a flowing maxi skirt in the first look. This head-turner clothing is usually cotton or rayon fabric that offers absolute breathability. This pair of dressy trousers can add more freshness to your summer outing while creating graceful strides on your most feminine gait. Though it is sporting a casual look with a fitted shirt, the sophistication is already undeniable!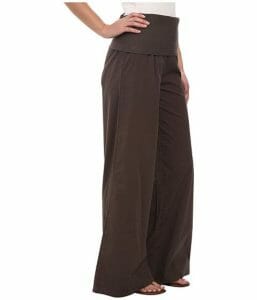 These wide-leg bottoms are perfect for all body types, especially for the wonderful mothers facing gradual changes in the body during pregnancy. These palazzo pants have more flexible cloth sitting on the waist with options to fold the extra garment as a whole or with a wrinkle effect. The draping factors of the silk-like feel from the viscose and the softness of cotton fabrics can bring comfortability and security to women of different shapes and sizes. Who says the maternity period is out of fashion?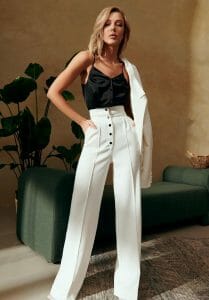 Your busy work in the office can either make or break your whole day. Your sharp appearance can bring you a more professional aura than you usually possess. These high-waisted palazzo pants, in cotton fabric, are designed with sleek pockets and protruding buttons on the front façade. Get ready to flaunt your refined office look at business meetings, job interviews, or formal events. You can be both canny and bold!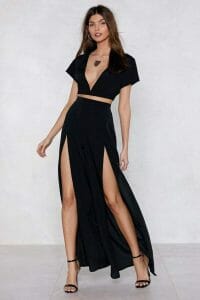 Though palazzos are to cover most skin from your lower body, this type of cottony wide-leg bottoms are designed to bring out an alluring factor through its thigh-high slit. Displaying this spicy look paired with your fancy bralette, button-downs, or tucked tops can steal attention from the crowd. The higher the slit, the airier it could be, providing maximum breathability and comfort.
Remember, since this is to reveal your legs, try not to consider combining it with long Kurtis. Be wild, be free!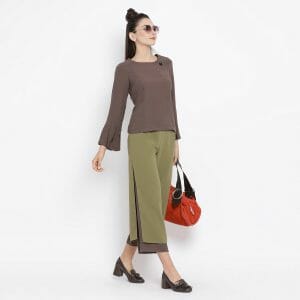 This type of palazzo pants has two layers of fabric that are almost attached. But it is still distinguishable since the inner garment is slightly longer than the outer one. Usually, in two varying shades with side slits on the upper garment, it can reveal that edgy look in every stride during the summer season. This garment is cotton or rayon fabric. Behold! Your strappy flip flops can add a more casual and attractive appearance to them. But, your long Kurtis with a side slit can only hinder the release of all its magic!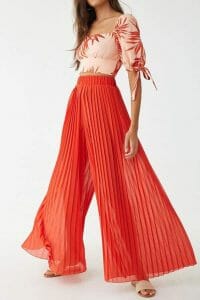 Yes! Palazzo pants are mostly waving in the air with their pleats that enhance their chic and crispy attitude. These bottoms can flare dramatically. The pleats run from the waist down to the hemline with a usual one-inch distance in between. Made from polyester or crepe fabric, you can rock this pair of pants with a mid-rib blouse during a casual meet-up with friends or your usual weekend getaway with loved ones! Pastel shades will look lovelier on you; however, the printed ones might bring chaos to the look.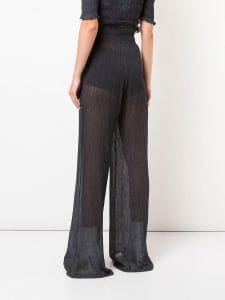 Transparent fabrics such as lace, net, and chiffons are the best material for this type of palazzo pants. Your undergarment should be close to your skin tone for a casual but playful style. But if you are off to a pool party or a much-awaited beach escapade and ready to dive in the water any time, you can wear your bikini under this sheer material. With this, you are exposing your most sensual ensemble but keeping it hidden until whenever you want. Your bralettes, chic lace tops, or halter neck backless tops are a thrilling combo to an already-alluring touch of the sheer. Do not kill your jam by wearing non-summer-ready items from your wardrobe!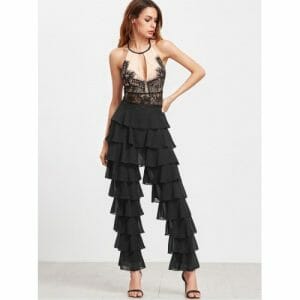 Geometrically designed, this type of palazzo pants usually consumes more space with its 3-inch horizontal ruffles on the entire clothing. With everything that goes in your pants, be careful to choose the most simple top you can get. Striped clothes in all shapes and styles might not work best; but, your tucked-in plain top in contrasting shade might be the one. These trousers in georgette or chiffon fabric are already beautiful enough, so grab your nude and strapless stilettos to finish this eye-catching look!
Undeniably, these pants style in several fashionable ways, and women have this powerful nature of finding the perfect combination for their unique styling. Also, your collection of palazzo pants can make you become a style icon, hiding and revealing your skin and styling attitude here and there all year round.
Remember, the way you dress reflects your appreciation of the beauty of fashion, culture, and the arts; however, your comfortability should be prioritized first before style. Ultimately, your display of fashion sense in public is just a percentage of who you are because your inner beauty radiates more to life; you can be extra beautiful wearing them every day!