What Are Palazzo Pants? A Guide on How to Wear Them in 7 Ways
Palazzo pants are a resurfacing high street fashion wear that keeps mainly celebrities and fashion icons, as well as gurus, on the hook with their versatility, comfort, and sophistication. Unlike your classic jeans, wearing a pair of palazzo trousers will keep your legs breathing thanks to its wide-leg feature. These pants flare out evenly from the waist down to the ankle.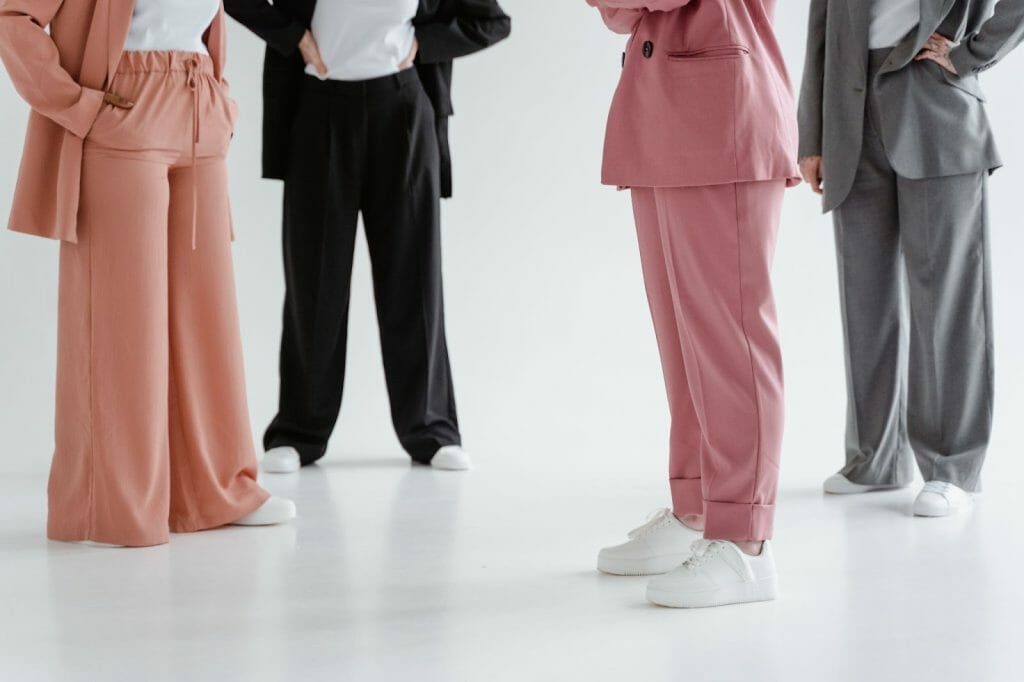 These days and even from the past, this quintessential fashion item is a must-have for designers, fashionistas, and others who want to stay comfortable without sacrificing their urge to look stylish on whatever type of event they need to attend. A pair of palazzo pants can be great for summer as you sip a glass of mojito or for a frosty winter morning as you delight yourself in a cup of hot cocoa during your brunch.
The History Behind the Palazzo Pants
Perhaps two of the most remarkable women who are known to have started the trend of sporting palazzo pants are Coco Chanel in the 1920s and Katharine Hepburn in the 1930s. It was in the 1960s, however, when the trend about Palazzo pants started to boom despite the negative implication it showed against the conventional standard. 
Some exclusive restaurants tried to combat the rise of wearing trousers for women by refusing to serve them. But, all the efforts to reject modern fashion went downhill. With collective and individual support, comfort, as well as style, triumphed in the end for women. 
With this rough start for palazzo pants, women now have the freedom to wear trousers like the palazzo. If fashion lovers found it to be worth fighting, shouldn't this piece of clothing be worth owning as well?
Palazzo Pants and Their Different Styles
The description of what a pair of palazzo pants look like in general won't give justice to how flexile it actually is. It comes in different styles, colors, designs, patterns, and cuts, in all honesty! Whether you want to stick with the basic ones or flaunt a pair for a metropolitan look, these palazzo pants should always be ready at your disposal.
It's not just the comfortability that you'll get out of this incredible fashion invention, but also various palazzo styles that can cater to your every need for an upscale-looking outfit. Here are some of them: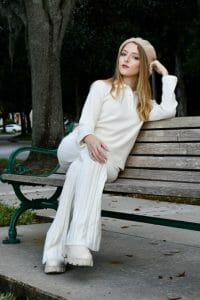 Without putting much of a gap between your legs, this one might look like a piece of skirt. Pleated palazzo pants are trousers made to look elegant. With its flawless and mint, delicate vertical folds, you'll always look fresh and blooming. The right top and accessories will elevate everything, so throw in a comfy yet luxurious top and a piece of jewelry to highlight your best feature.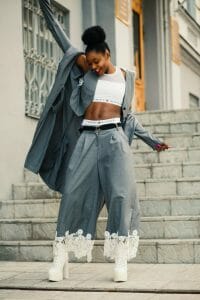 As the name suggests, this highly resembles how a trouser would look, but the twist is that, if it's palazzo style, a flare is shown and buttons are used instead of a zipper for a better fit. Unlike the pleated palazzos, the trouser style is firmer and is usually in melange or fine cotton. It can either be for casual or professional wear and don't forget to consider this if you're still going to university. A pair of medium-high heels or mules will best complement it.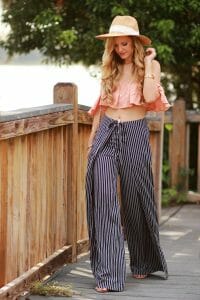 You can think about a rose for this one. Layered palazzo pants have one or two extra coverings for an effortless, stylish effect. Imagine walking against a cold breeze during the sunset on a beach. The layers will flutter like butterflies as you stroll along the shore. Depending on where you go, a halter top or a semi-formal top would match this suave piece. Flats or block heels will do the rest of the magic.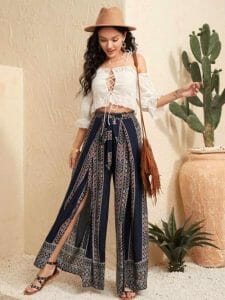 A pair of palazzo pants with a slit is a very common type, and boy, oh boy, should you never think about rejecting the idea of trying them out. Aside from the fact that it is flared already, the slit which is either placed on the side or at the front will give more room for your legs! It's perfect for a summer getaway or if you're thinking about going for a wild trip. Gladiator sandals or a pair of stylish sneakers will help you pull off this piece.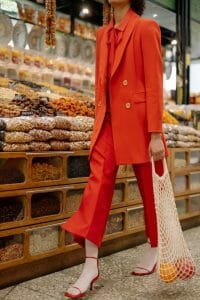 Palazzo suits are what you would commonly see from Indian women, but in the west, palazzo suits are also tailored to look a certain way. Without a doubt, once anyone wears a set of this kind, she'll look incredibly stunning and expensive! This style offers exceptional easement when you move and options to style it however you want. If this is worn as a specifically traditional type, the accessories that match it better are those that carry significant meaning to the culture.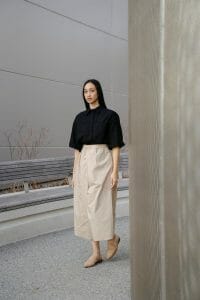 Another chic style you can make out of a pair of palazzo pants is the culottes. They are usually knee or calf-length, so this marks a stark difference compared to your typical palazzo. This looks and feels best when it comes to fabrics like denim, cotton, linen, and crepe. Style it in a variety of ways with neck accessories and classic tees with a pair of black combat boots for a fierce image or mules that match the color of your tee.
Who Can Wear Palazzo Pants Better?
The favor mostly goes to tall women. With so much fabric used in one clothing piece, a swirling or obvious excess length can shrink a person's height. But, this shouldn't immediately put a frown on your face if you are a short lady! Palazzo pants are way more flexible than you can imagine. It's the same with curvy women who may find it tricky to wear a pair. With the right proportions, accessories, and styling, you'll go vogue with this fashion piece.
For curvy and petite women, high-waisted palazzos will do it for you. In fact, this would suit everyone! Of course, before you purchase a pair, you do the judging as you face the mirror. Be meticulous about how the pants work for you so you'll look at your best with immeasurable confidence!
If you don't know where to start, don't forget that we have your back. You can find loads of references all over the internet, but we have cherry-picked those that will be of good use for your future affairs.
7 Ways to Wear Palazzo Pants
Palazzo pants come in various names such as flare pants, harem pants, and bell bottoms. With its recent boom in 2017, fashion lovers were quick to generate numerous ideas on how to wear it. Look chic, modern, or high-maintenance through our guide below.
1. Throw in a Pair of Heels
For petite women, wearing a pair of nice, matching heels would defy the misconception that palazzo pants only look good for tall women. Stilettos would surely make you strut the runway endlessly thanks to their added effect. They will give you more height and make your legs appear to be longer than ever! A set of elegant heels would not just offer you all these perks mentioned. But also keep you from collecting all the dust from the ground as you walk.
2. Go Monochromic
If you are into looking sophisticated, rich, and luxurious without being over the top, a monochromatic outfit will do it for you. Palazzo pants come in different colors like pastels or muted shades and they look extremely elegant when paired with a suit blazer of the same shade. A black inner to mediate the color would really bridge you to the high grounds of fashion!
3. With a Bodysuit
One famous celebrity we know who's notoriously into bodysuits is none other than Kim K herself the founder of SKIMS. She is perhaps one of the modern trendsetters that highly influence how the fashion world goes. With a quality type of bodysuit and a pair of palazzo pants, you'll be ready to have a night out with your besties.
4. Stylish in Sweaters
Go bold by trying out your new sweater with high waist palazzo pants. Women with more height can either tuck halfway or fully with both high or low-waisted pants. On the other hand, shorter women need to consider their height carefully and always opt to throw on a high-waisted pair of palazzo pants. Should you prefer not to tuck in your top, never forget to wear high heels, so you wouldn't look stunted throughout your day.
5. Be Daring With a Tube Top
Who doesn't have a tube top in their wardrobe? Having even just one of these will give you an unlimited amount of options for an outfit! Tube tops are great for high-waisted palazzo pants. A black one to cover up your upper body matched with boldly-colored trousers will give you a classic look. 
6. Accessorise Using a Belt
The sky's the limit when it comes to styling yourself. As you do a mix-and-match with your outfit, don't ever forget to add a statement belt on your waist to highlight your body figure. A plain one over a patterned set of palazzo suits will make you look spicier. It sort of gives the eyes a quick break from the dazzling fabric decoration.
7. Experiment With the Shoes
Sneakers and chunky trainers give off the old-fashioned vibes. Hanging out in a cafe whilst reading a book or checking out the newly opened art gallery would be the perfect place for this look. For the palazzo pants, slits on the sides or at the front will make you even more immaculate. If you want to go unconventional or bohemian, use the right set of accessories and wear espadrilles to achieve your desired look.