What to Wear With a Bralette Under: 20 Ideas For This Season
Bralettes are pretty, and they are meant to be unconcealed. These heaven-sent garments are there to grant you the break you deserve from structured clothing pieces, particularly the dreadful wired bras. 
As a girl myself, it can be quite painful when the wires start digging up to your ribcage or if one of the wires pokes out all of a sudden! Hence, bralettes emerged like pop stars. They're there to offer you support without making you feel constricted.
Develop the confidence to show a little more of your skin. Dress freely and embrace the beauty of wearing little things underneath without losing class! Here are 20 bralette outfit ideas that can inspire you to the core.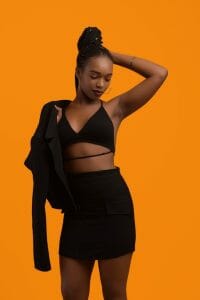 In aiming to look chic all the time, you have to start some sort of innovation to bring out something worthy from your wardrobe. For a safer option, going for a monochrome look in black will earn a thumbs up from everyone! Wherever you go, a black bralette with a mid strap is best paired with a black formal blazer and a somewhat tight skirt in the same shade. The key to pulling off this look is to look and act poised!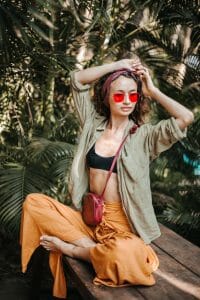 For something casual, mixing and matching colors would be a thing, especially if the summer season is already starting. Feel the fresh wind oozing through your clothes simply by wearing a bralette as a top. For a cover-up, its best match is a rolled-up linen shirt in any fun color. The fabric is a big deal. A faux fur jacket surely won't match the vibe we are after. Next up, drawstring pants with side slits in a vibrant color are a flawless choice for a more ventilated attire.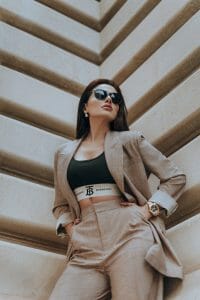 Wear the right outfit at the right place. A good piece of sporty bralette may be matched with other pieces of clothing that fall under the formal category, but the whole look is frowned upon in a professional setting. Don't be downhearted though, because you can definitely flaunt your sleek style in fashion or photoshoot events. Throw on a black comfy bralette and go for an oversized blazer that's made from the finest material. Save yourself from the headache too by wearing a trouser that came with the coat!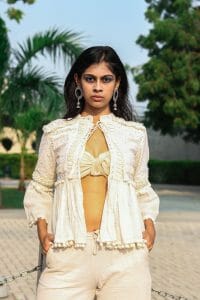 Bralettes are getting more fun these days! Should you find the black or lacy ones as run-of-the-mills, a bralette in cream with distinct folded designs might get your attention. The natural shade effortlessly looks good no matter what skin tone you have. This is a true beach vibe you may want to flaunt on the shore during the sunset! A peplum dirty white blouse will add bits of culture to your whole appearance, more so if your bottom clothing comes in linen wide-leg pants.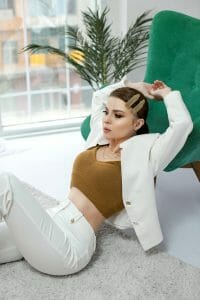 Who doesn't love soft, comfy bralettes? Well, I do and if you are part of the gang, this look is specifically made for you. It may come close to a sports bra, but knitted bras are more about aesthetics rather than purpose unless you know how to choose the most practical bralette in the store. A brown bralette looks divine with a white blazer and pants, but it all boils down to your preferences at the end of the day.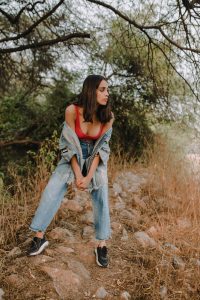 Another urban style you can refer to is one that combines a good reliable piece of red bralette and denim. Do you think denim on top and denim below looks absurd? Think again. Remember, Priyanka Chopra, Kendall Jenner, and Jennifer Lopez are some of the well-known celebs that took on the denim-to-denim fashion wardrobe. Be on the go through letting out your favorite denim jacket and jeans. It's ideal if they are close in washes and shade. Add your bustling shoes and you're ready for an adventure!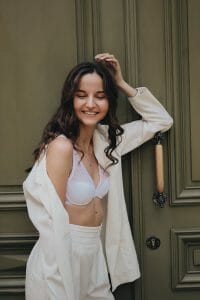 Nothing beats a divine look during the daytime. This is one of the perks that are enjoyed by white lovers out there. Look real neat and clean with a bralette in white that's covered in lace for a sexier aura. And, before you jump in with the crowd outside, pick something that best complements your fashion statement. Have an open-front blazer and a matchy pair of slacks ready and well-ironed the day before your event.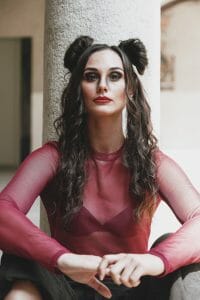 Want to look more daring? Get your newly bought sheer top out of the closet and wear it without question. Of course, you have to hide what needs to be hidden. That's the job a bralette can take care of. With so many types you can find in physical or online stores, the best one for this look is something that isn't too conservative. A mini-bralette, whatever you call it. You can easily achieve a tomboyish, hip-hop look with cargo pants and black boots.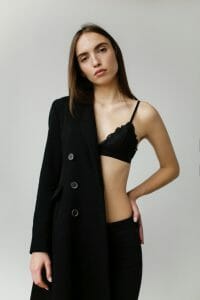 Don't let the paparazzi see you in underwhelming clothes. Be your own stylist without looking like a hot mess! Something you can definitely find inspiration from is this fashion formula: an overcoat, a black, sexy bralette, and capri pants. Don't even think about trying on all the shoes you have, but instead head directly to your open-toe heels. With this, you will absolutely look stunning, elegant, and worth the attention!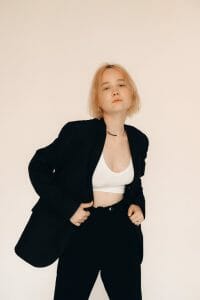 I know what you're thinking. Black again?! Well, black never goes out of style. But, instead of looking so fully mysterious, a hint of purity can be added. That's best embodied by your attire's statement which is no other than the bralette. Wear this look all day long without feeling the urge to change clothes midday. It's truly comfortable, especially if you are covered by breathable materials and a wireless top.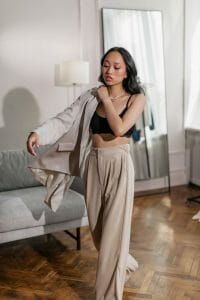 Got a lace bra sitting for a while on your closet shelf? Don't let it get dusty! Something that many independent women would wear is a daring outfit and you can do the same without seeing disapproving looks from everyone, but so what if a few does? Whatever your bralette's style is, this can nicely complete an outfit in the nude. In fact, any colors will do, provided they're well thought out. Ask for a second opinion if you're not sure about your chosen hues.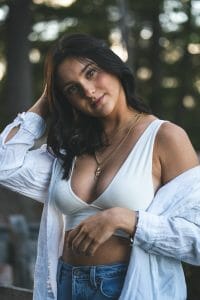 A relaxing morning isn't merely composed of a cup of coffee and good talks with friends during a camp. Wherever you are, aim to look presentable at all times! You don't have to go all out, because you can stay beautiful even with the most basic garments. A v-cut bralette in white is surely a serene sight for anyone and this is best matched with a blouse used as a blazer– of course, got to keep yourself warm whilst the sun is still rising!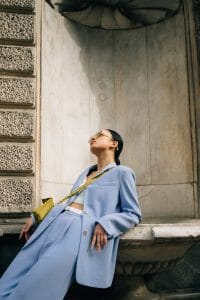 Next up is the light casual blue suit with a bralette underneath. You can see this whole look sported mainly by South Koreans and you know what, you don't have to switch your nationality to achieve this impeccable rig. Oversized blazers are still a thing for 2022 and the same is true with very loose pants– or shortly known as slacks. Complete your trappings with white sunglasses for an added personal touch.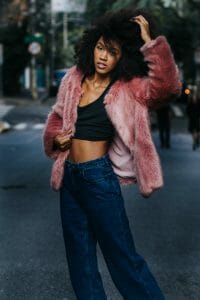 Does the temperature fall somewhere in between hot and cold? Don't let the weather confuse your fashion game, so be sure to take serious notes on this one! A pink fleece jacket can give you enough warmth once the breeze feels cold and your typical dark jeans will keep your body temperature normal. Avoid overloading yourself with other garments except for a black bralette. If you go for flaring jeans, open-toe stilettos will be your mates.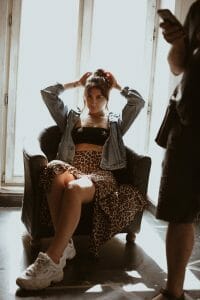 Another bold look you can surely pull off is when you try to play with your daytime attire. Animal prints are in no way out of the fad these days, so keep them at your disposal. A skirt in such a print can be worn with a black bralette or tube. The typical partners of this initial fashion attire are denim jackets with fun stamps or logos and classic sneakers (doesn't matter if they're chunky or not).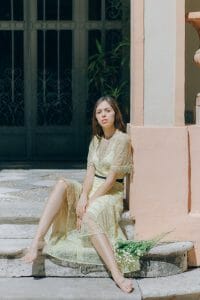 For something that's quite uncommon, we give you the bralette look that's put together with a sheer dress. It's worth wearing in a fashion event if you are to ask me. Add in a pair of boots, an elegant headband, a Birkin bag in black and you'll be starting a trend that's not going to be short-lived! A belt can add emphasis to your figure, so be sure it's considered.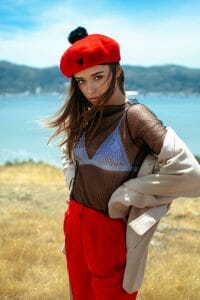 Look vibrant with red! Yep, this fiery red color won't cause pain in the eyes. For a true eye-candy look, grab a pair of trousers in bright red and a beret of the same shade. A white bralette is the first to come to mind, definitely. As we said, this is supposed to be flaunted with confidence, so your top would only consist of that, a netted garment, and a thick coat. The jacket is there to elevate your look even more.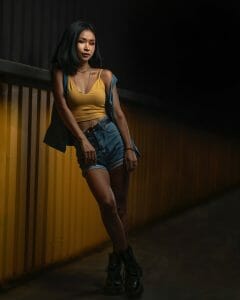 Who doesn't like wearing short shorts? It's mainly not about showing more skin, but gosh, our legs need to breathe sometimes, especially since they're always covered by our trousers most of the time. Insert a timeless accessory around your waist, otherwise known as a belt, and wear a golden bralette along with it. A well-added cover-up would be a denim vest and for your footwear, the boots.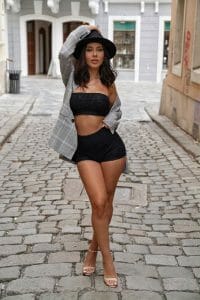 Make sure you have an idea of how liberated the city is for this one, but if you're somewhere open for anything when it comes to fashion, look daring, bold, sexy, and awesome with your black bralette or tube, cycling shorts, and plaid coat! The blazer must be long enough to cover the rear so you'd retain your comfort all day. Wear a hat as your accessory and sunglasses if it's hot!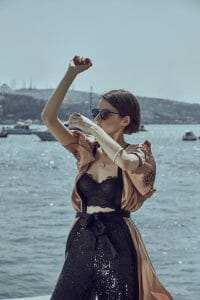 Last but definitely not least, a lace-edged bralette. Any lady must have at least one in such a type of fabric because, boy, is it an ultimate seductress! Something that goes well with it is a pair of flare disco pants or anything that shimmers and flows. Have a unique coat by finally wearing that long open duster shirt or anything that closely resembles a silk robe in casual style. Two shades are enough to turn heads and anything more than that can be quite risky in a fashion sense.