What To Wear With Brown Slacks [12 Ways To Style]
Trying to look nice to impress? Why not add some more brown hues of dress pants in your next shopping trip?  Brown slacks will let you set aside your black slacks and apply more diversity to the usual styling you have these days. Take a look at the following top picks we have for your liking!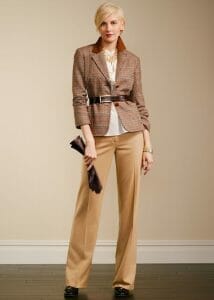 Warm and fab, this outfit is so Western in terms of layering and matching with outer clothing of collar or bows. And yes! The straight-legged pants can be worn for all your exquisite undertakings for the day, may it be casual to semi-formal occasions. Have a vintage-looking high-waist belt over a brown-hued blazer or cardigan to achieve that flattering occidental fashion!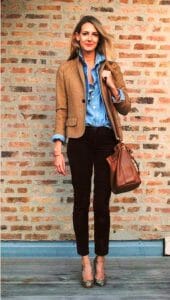 Brown trousers that are leaden, or with tawny and chestnut overcasts are perfect for giving a more striking vibe to your light-colored blouses or coats. If you like having a dash of warm verve in your work fashion today then wear a darker brown color of tailored pants. Tops with a zest of blue or white show your pep attitude towards good fashion taste!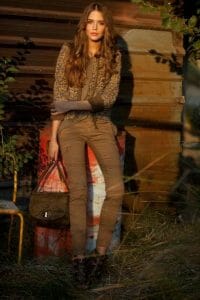 As brown is a natural color and is indeed a warm hue for palette combinations, your flowery patterned dress shirts or blouses will pop more in a crowd! You can also flaunt more lovely hair tresses with this fashion pair. The effect will grace your femininity and spirited attitude! Bring with you a nice umber or almond-primed color of a handbag to carry out this themed look.
If you are trying to wear an OOTD that accentuates a spontaneous and relaxed you, look for a layer of clothes that has brown tincture from your blouse down to your shoes. The silhouette style will have a kind of quaint American style that is attractive and simply elegant on its own.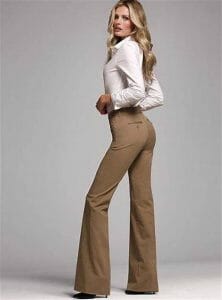 Brown pants are still a wise choice as an alternative office color for your black or gray layering of clothes. The pair looks well for any light or dark top outfit. To achieve this look, pick the pants that are bell-shaped or straight-legged that reach lower than the ankles. Don on your pair of black shoes or heels to suit the business setting!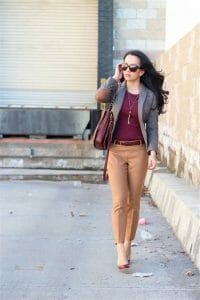 Take a burgundy or a purple shirt underneath an ashen color blazer. The resulting style you get is fancy enough for work outside the office or to wherever business trip you will go! Try those light brown pants that have tapered ends high up on ankles. The outfit is best to wear with heeled court shoes.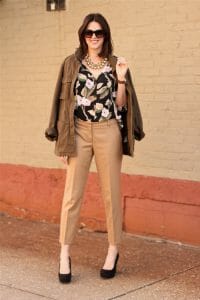 A brown jacket matched with light brown pants does suit well together, especially if you are wearing an intricate designed undershirt or blouse. Get some bejeweled accessories to achieve that decadent or upscale personality, and you are good to go. Of course, don't forget your pumps here!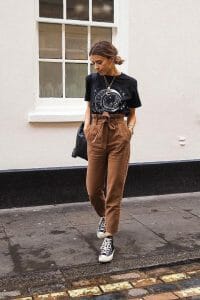 Yes, we love bow ties on pants! For those weekends trips and lounging time with friends and wannabes, opt for the brown-hued pants. Wear the color to look more approachable in a few if not all of your socials and trips! Do some canvas low top sneakers to look a little bit classic, too.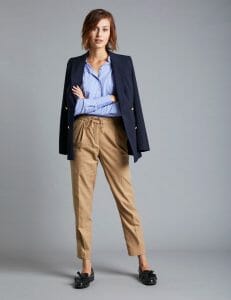 Outfits with shades of both brown and blue simply make relaxing but energetic confidence for the wearer. The colors may be contrasting but make a perfect duo for having that engaging appeal wherever you go. These colors might be mostly donned by men but also work like charm in ladies' wardrobes.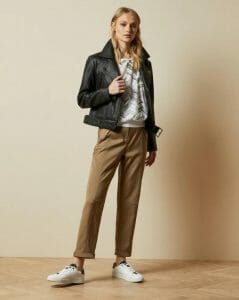 Black leather jackets to couple those brown slacks, then that's a total rockin' look! Try to have the ankle-high slacks and statement shirt too to bring about a boyish poise. White dress sneakers are superb casual shoes for the sporty model you are going for. Consider this style as one of your best and easy wear for your outdoor walks and other leisure activities!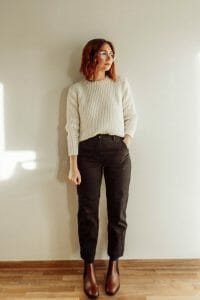 Getting yourself wrapped in the upcoming cold season? Then apply shades of brown in your overalls to get that comfy, warm character to your day's stride! We have here beige to off-white handknit sweaters paired up to slacks with pastel color of chocolate brown. These medium to dark tones are a lovable combination, nonetheless!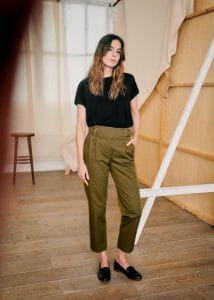 The black shirt goes well with your neutral brown slacks. Shirts with muted or understated black colors in them are so in demand for convenient styling if you have less to no time to think through a trendy vibe. With this combination of colors, you can decide to wear a black or white pair of loafers or flats. Either way, you will not be out of the voguish realm after wearing this simple getup!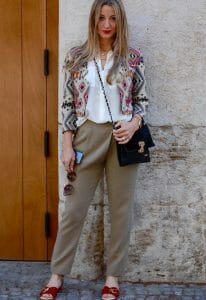 Done are the days that you see the light hues of brown as a simple and run-of-the-mill color. If you want to look as pretty as a picture, then ivory to cream-brown colored slacks are the answer for your upcoming trip! For those summer day-outs, strike your afternoons with a white silk blouse underneath a lovely patterned cardigan to pride your captivating personality towards splendid styling!
A Few More Styling Tips
Accessories no matter how small play a large part in evolving your whole outfit into something more charming or enigmatic. Purse and shoulder bags add elegance, sophistication, hipster, or professional attitude for any occasion you are in. 
Being a neutral color, brown can be matched for almost any palette tincture you decide for your OOTDs. This versatile color is all but one of our all-time favorites for the gorgeous styling of modern clothes!