Best Ways to Store Slacks: 10 Organization Ideas
There is only one question we ask ourselves over and over after finishing off the laundry, buying a new pair of slacks, or transforming our whole wardrobe: "How do we store our clothes?" 
If you keep your slacks in a drawer, chances are that you wouldn't be able to immediately find the ones you are looking for. It's a good thing to have things organized, but not all concepts are great. 
This is because searching for the slacks you have in mind could mean having to take out all other pants because your favorite pair might have been stored at the bottom. Thankfully, there are 10 storage ideas effective enough to adapt to your storage space. Let us walk you through each option!
1. Separate Your Slacks by Type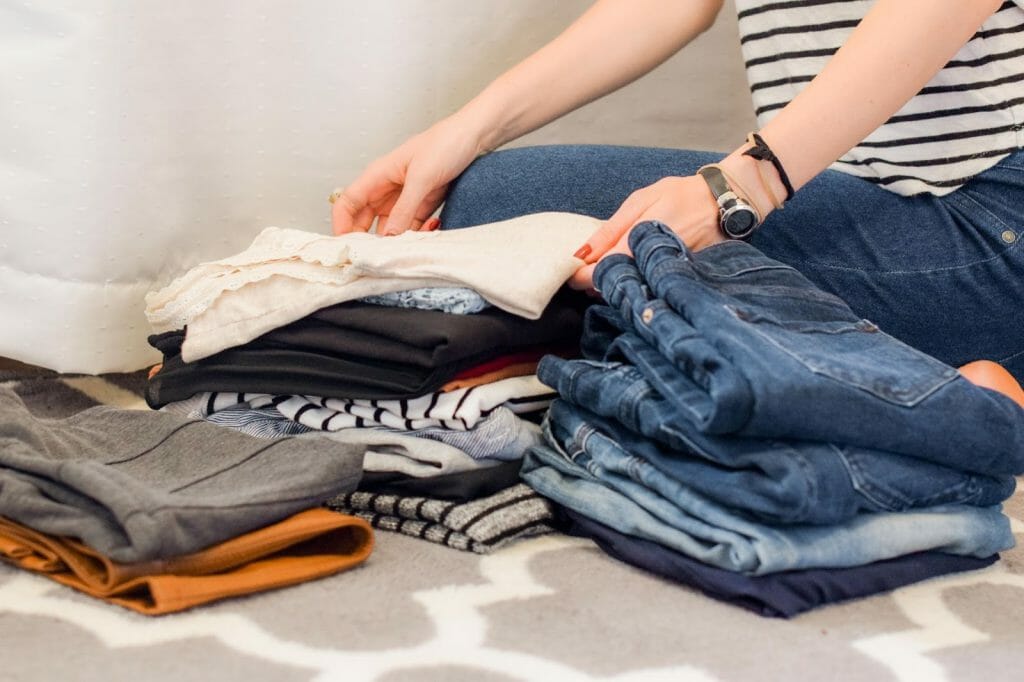 We may have known slacks as a type of pants that are loose in fit, but its description goes beyond that. Each slack differs in fabric, style, size, and even color. There are some that can be worn to the office while others are better off when sported in casual settings.
Categorize your pants in the manner that you like. Separate your office wear pants, your dinner date bottoms, and your casual, day-to-day wear. Guaranteed, you will save a lot of time when your pants are chunked into groups. Take out your old ones too which you think you wouldn't be able to use anymore and have them donated instead of letting them sit in your closet and take up space.
2. Arrange Them by Colors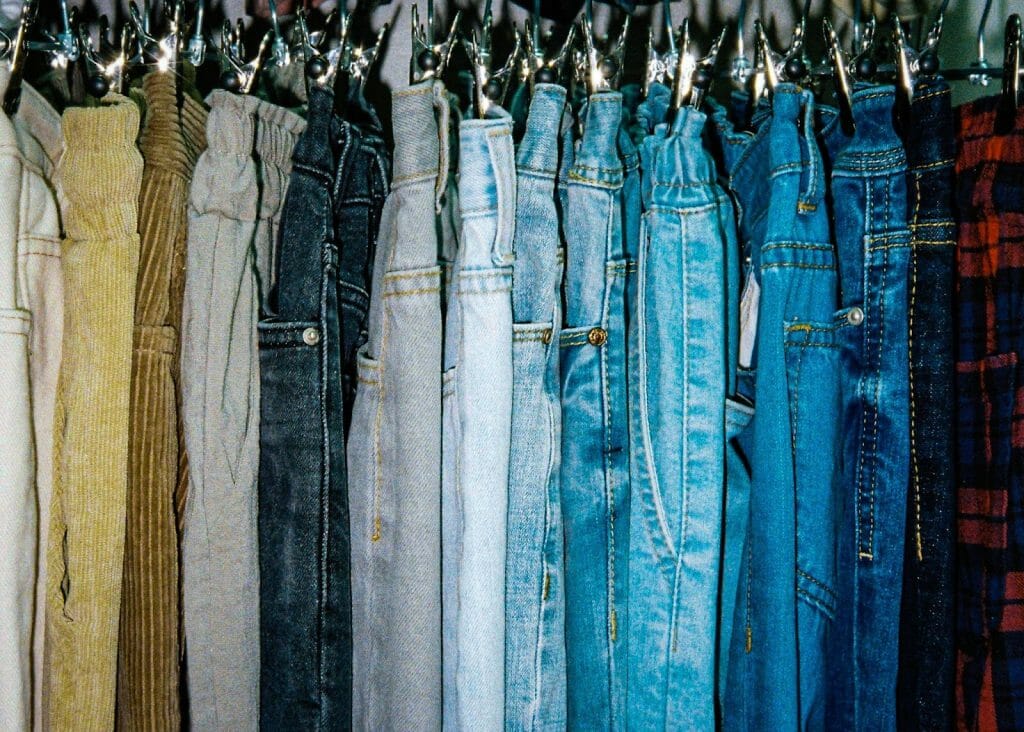 People might think you have an obsessive-compulsive disorder (OCD) after seeing your slacks organized by colors, but in all honesty, this should be, in no way, associated with anything but cleanliness and tidiness! 
This is a great way to keep your slacks in order, especially if you own a lot in different hues and shades. For example, you can allocate one section in the shelf for each color you have or arrange them according to neutrality, brightness, or patterns.
You can find your slacks in a pinch by following this unified look and not only that, you will have something pleasing to look at every time you open your wardrobe.
3. Order Your Slacks According to Importance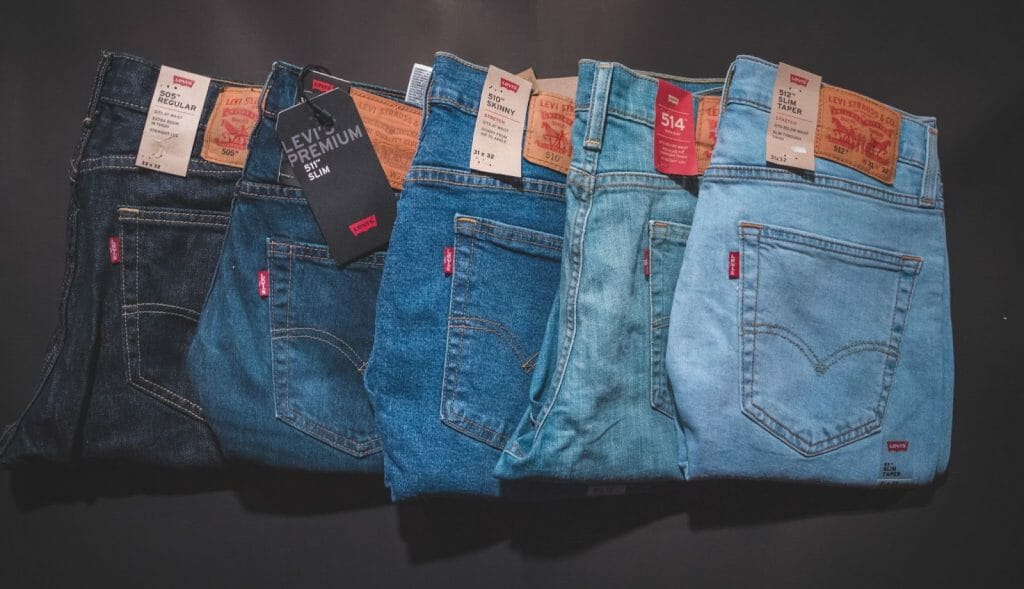 Have your favorite slacks placed on easy-to-reach places! Know which ones you use daily and which ones are worn occasionally. Make sure they are visible and accessible so pulling out the right garment won't take a lot of your time, especially if you are in a hurry.
Those that are used rarely can be tucked away and stored in the deeper or lower parts of your clothing storage area. Keep things in an inventory, however, so the moment you have to pull out the once-in-a-blue-moon pair, you immediately know where to get it.
4. Keep the Prints Separate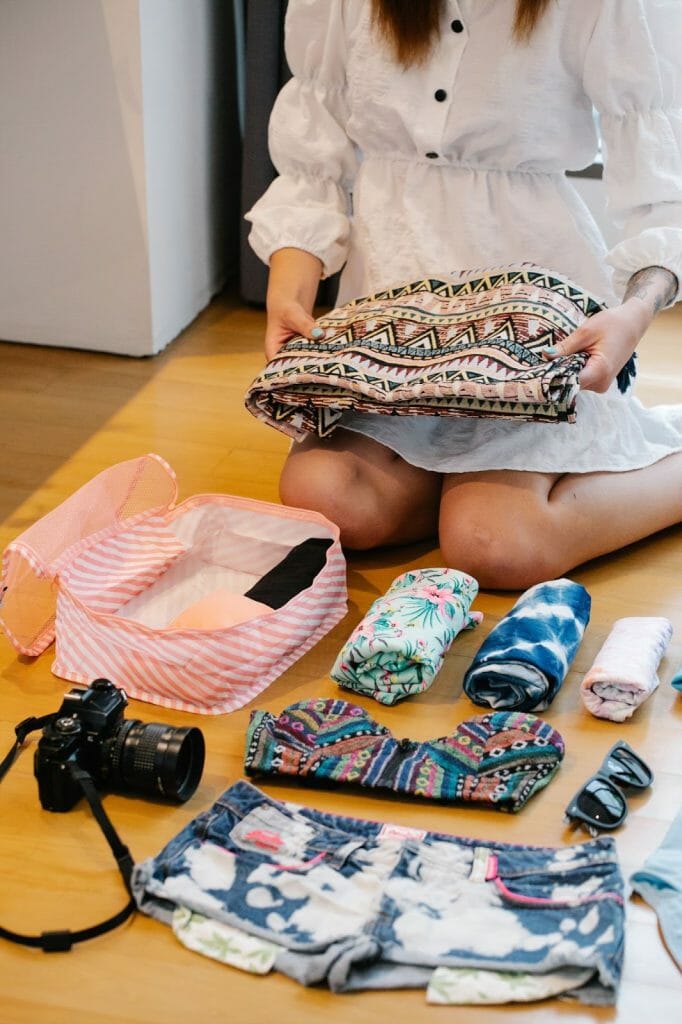 Your love for patterns will show through the things you own, like your clothes. If you have an abundant collection of slack pants in floral, prints, stripes, or polka dots, clump them according to their variety in style. 
If you are storing these garments on a shelf, the best way to keep things practical is to stack them at a reasonable height instead of designating one shelf for each print. One floral slack can be placed over another print depending on how frequently you wear them. This is one way to maximize your space, more so if you don't have a lot of it.
5. Hang Them by the Waist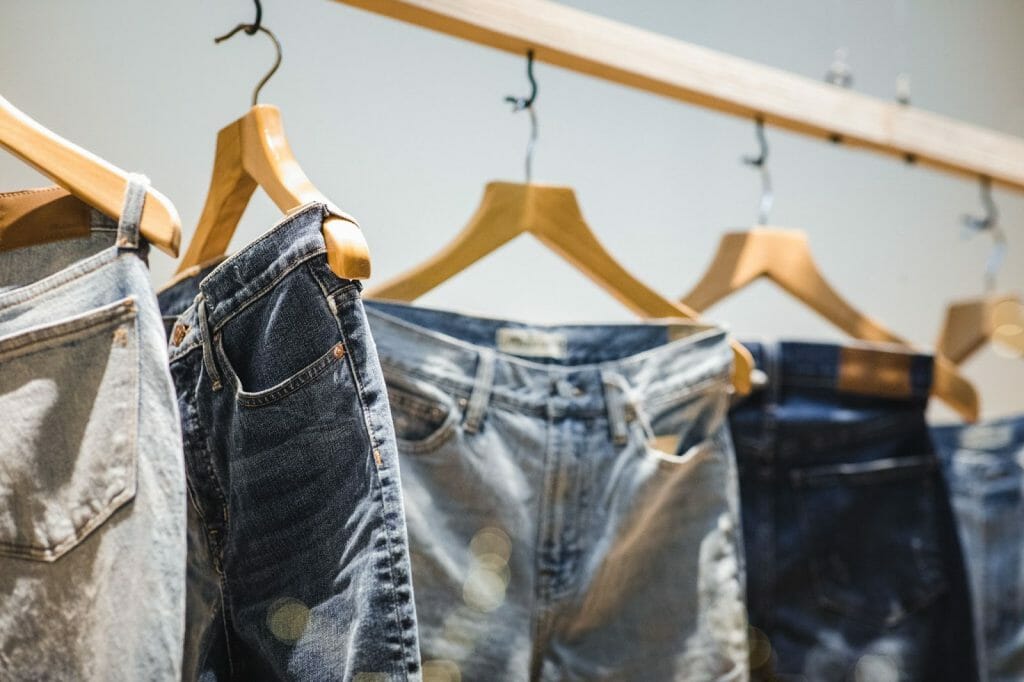 Using pants hangers can be the most convenient and easiest way to store your pants. It's a wrinkle-free method and taking one pair of slacks out is as easy as ABC. The clips on both ends of the hanger can hold the waist of your slacks and this can be hung in a rack alongside several other pants you own. 
This is how several clothing stores do it to let their customers shop with ease. They can instantly find what they want, without feeling the guilt that comes from brawling on all folded slacks and have a saleslady fix them afterward. 
Purchase several wooden hangers from your local store and make sure they're reliable enough to hold the weight of your pants.
6. Fold the Slacks by Half on a Hanger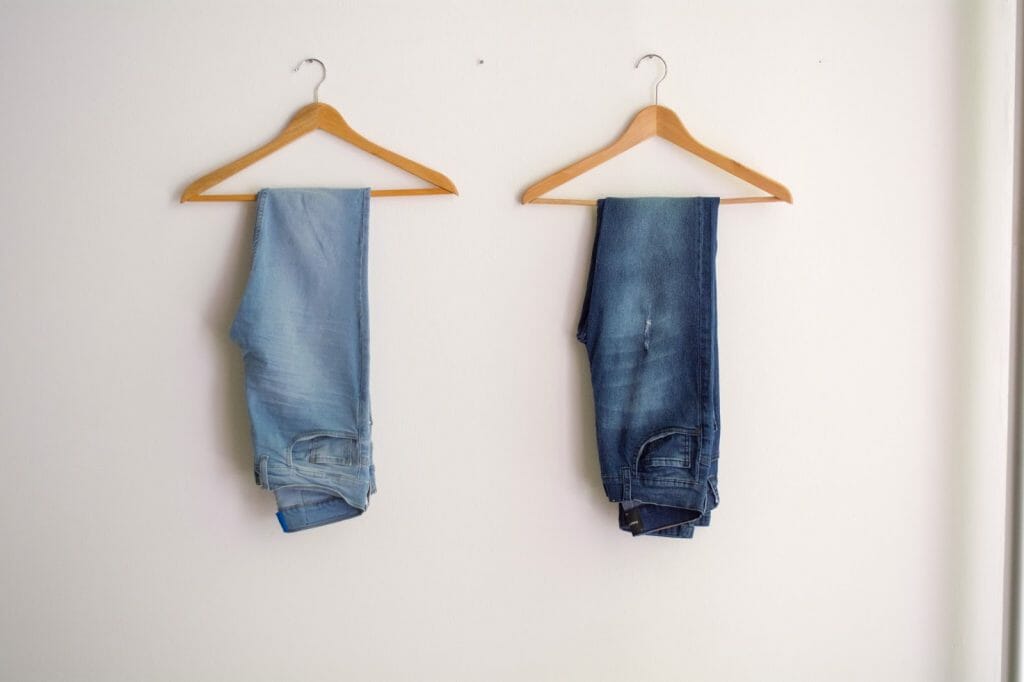 Can't seem to find a hanger with clips on the edges? Worry not, because you can still store your slacks in a labor-saving way by simply folding them in half on a hanger. 
Pull the bottom over the bar until the length goes even or estimate the weight of both sides and balance them off to make sure there's no accidental slipping. Should your bottoms be too long, because let's say, you're tall, you can fold the slacks twice, so when you hang them in the closet, there will be more visible space underneath for folded clothes.
7. Invest in a Pants Organizer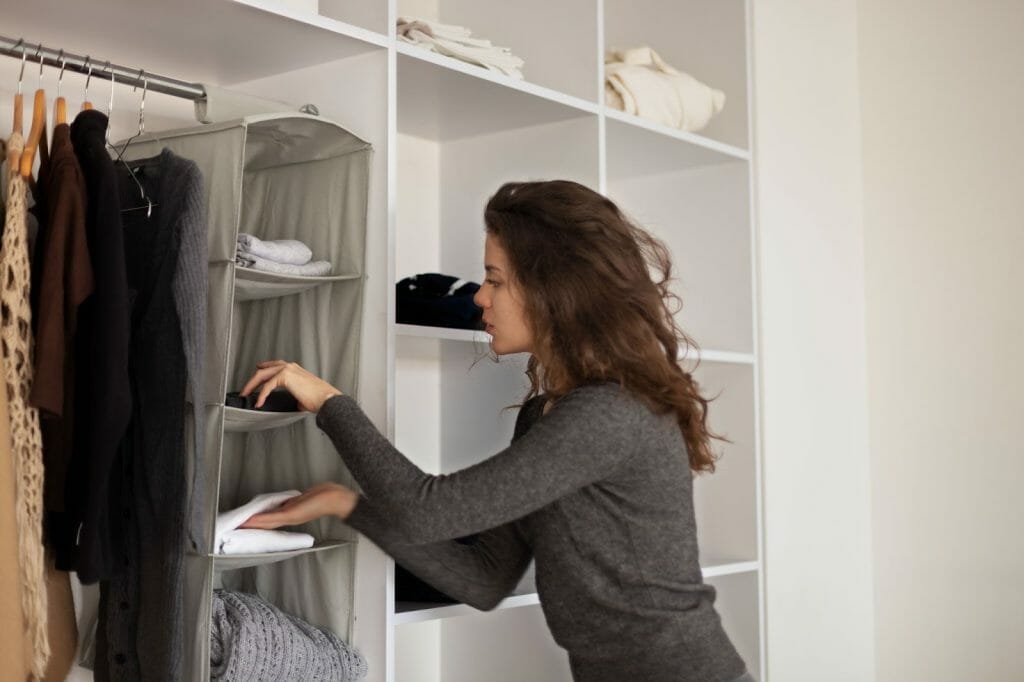 A pants rack or organizer comes in different styles, shapes, and sizes. In general, though, these are your ultimate space-savers as one rack can store several of your favorite everyday slacks. What's great about this type of organizer is that it can be pulled out when extended to the door and all you have to do is pick the most ideal for your casual wear.
When not in use, the organizer retracts back to the closet. It's cool, I know! To properly use it, hang your pants by half in every designated rod. You can stack another, but be sure both pants are visible. Do mind the weight too so you won't end up seeing a broken bar with your pants on the floor. Other pants organizers can be hung on the door with an appearance of a shelf.
8. Stack Folded Pants on the Shelf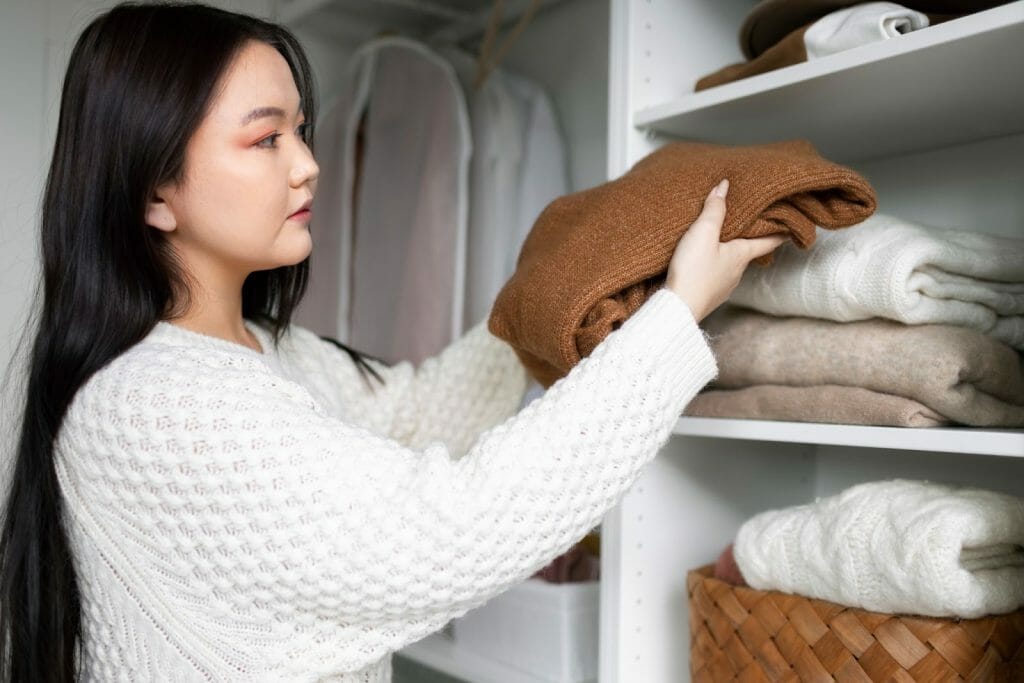 For those who find pants as a wardrobe staple, we get it, you have loads of them in your arsenal. It can take loads of hangers to store them all so that might not be the most practical way to organize. 
The greatest way to sort them out is by stacking them on the shelf. You can have them folded and piled up for as high as they can go and you'll still have room for more. You can apply your color organization here and go for the darkest at the bottom and lightest ones on top.
Of course, when you stockpile your precious slacks, ensure that each piece can be seen. This will save you from the headache of finding that pair you wore last Monday!
9. Roll Up the Slacks in a Drawer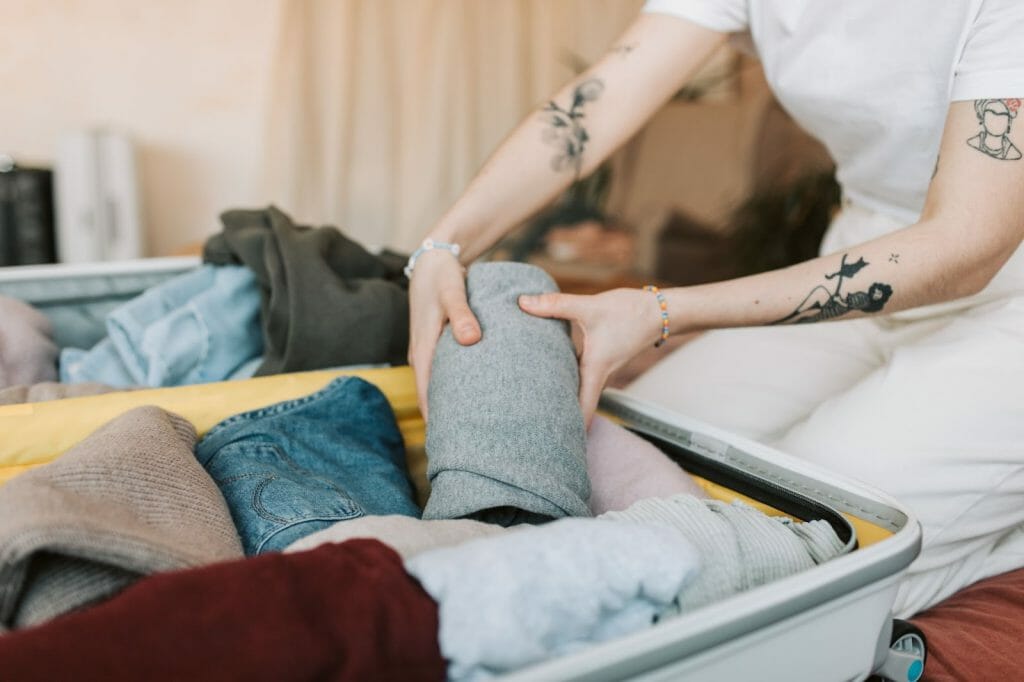 Another way to save space is by rolling your pants. This is a lifehack people often use when they prepare their luggage for a trip. Do the same for your drawers for a guaranteed perfect fit for all your slacks. 
Place one pant-leg over the other to divide them by half and start rolling them from the bottom up. Try other folding methods that would suit your preference as long as your pants are rolled up. Don't do this too tightly to avoid creasing or unwanted wrinkling.
10. Hang the Slacks on Pegs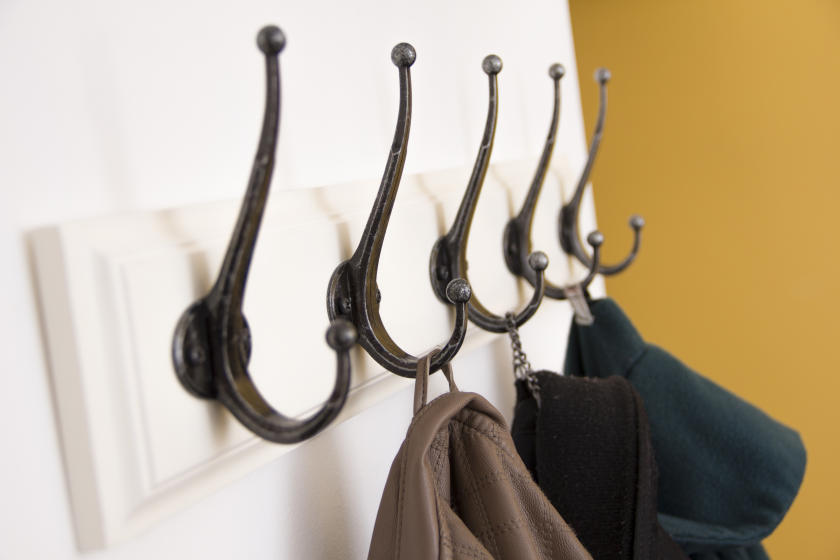 Mount a coat rack using nails or install pegs behind your door, closet's door, or anywhere on the wall for an easy slacks storage area. Make use of the belt loops if there are any and hang the pants through one of the loops over the nail.
Do the same for the rest of your pants. One thing to bear in mind is if you have hung the first pair through the middle belt loop, all of the others have to be hung in the same manner for a more decorative and neat look. Also, hang the pegs at an appropriate height so your pants won't be dragging or hanging close to the floor.
Use These Pants Storage Equipment For a Better-Looking Closet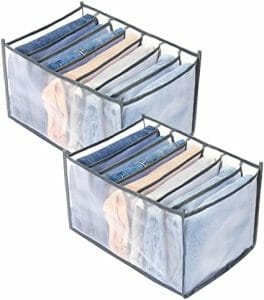 Have a designated slacks organizer made from high-quality mesh nylon for a more visible display of your collection. This is durable enough not to easily get deformed or collapse after some time of usage. You can put this on the shelf or drawer without taking up too much valuable space. There are compartments meant to store each pair of pants you have, but these are limited so buy as many TIGARI clothes organizer boxes as you need.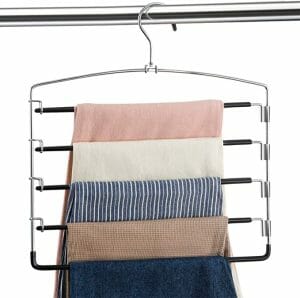 Have a teeny tiny space left for your slacks? Don't worry, FeeraHozer got you! The brand manufactures space-efficient hangers that can store not one but five slacks at the same time! This multi-pants hanger is made from sturdy metal to avoid its shape from getting distorted after carrying a certain weight. Moreover, you can use some of them to fit as one of the Ideas to Store Scarves. Remember, your closet has to keep loads of your stuff, so make sure you take advantage of every bit of space without it looking too crowded.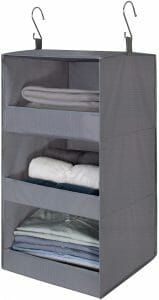 You can find really cool stuff anywhere online, especially when it comes to the things you need. This is one example, the hanging clothes organizer from GRANNY SAYS! There are two big hooks on both sides so you can easily hang them on your door or closet door. It's non-slip, lightweight, and made from washable polyester fabric. Having this means getting extra space for your garments.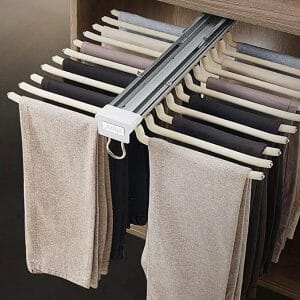 Another superb organizer you can get for yourself is this one from MYOYAY. You only have to pull them out, select the best slacks for the day and push them back to their place. Each rod is wrapped with a flocked material to avoid wrinkles on your pants and from the looks of it, this type of organizer does have a large capacity. It's durable and easy to install on any wardrobes that have a depth of 18.5 inches and above and a width of more than 23. 6 inches.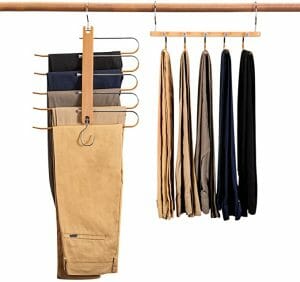 There's nothing more you'll love as a slacks organizer than this one! You won't have to spend loads of bucks nor have to worry about the space in your apartment. This one is a hanger with multiple rods suitable for any type of pants you have. It's the simplest portable organizer out there and it's sturdier than you think!