Yoga Pants vs Leggings: Know Their Differences and When to Use Them
It can be a struggle showing up in the gym with a pair of leggings on. After a few workout sessions, you will know for sure that you've worn the wrong attire. For many of us, it is definitely quite confusing as to why yoga pants and leggings are far different from each other when they look exactly the same! With a little inspection and scrutiny, you'll realize that they are indeed distinct from each other.
Yoga pants are athleisure wear made to be durable, stretchy, and skin-tight. It can assist you in whatever movements you make whether you have to do vigorous exercise or relax using a few poses in the midst of your meditations on a yoga mat. Meanwhile, leggings are for fashionable wear. These can certainly be used as warm base layers or loungewear. In fact, these are casual clothing pieces that can be worn inside or outside your home!
The table below will give you a clearer description that separates yoga pants from classic leggings. Check it out below:
| | | |
| --- | --- | --- |
| Feature | Yoga Pants  | Leggings  |
| Material | Fabrics used can either be high-quality nylon or polyester with spandex. | Typically made up of cotton or spandex. |
| Comfort | Not as soft as the leggings, but it remains to be comfortable and well-fitted. | Highly comfortable and soft due to its high cotton content. |
| Durability | Made for heavy-duty performances. | Can't last long after a series of vigorous drills. |
| Design | Available in a wide array of styles. | Usually tight and high-waisted. It covers down to the knee or ankles. |
| Market Price | Expected to be costly. | Tends to be cheaper than yoga pants. |
When Do You Use Yoga Pants?
A durable set of yoga pants are made to be worn every time you have to go to the gym for your daily workout or relaxation in the yoga studio. With its widespread popularity, many Americans have come to realize how practical and convenient it is to wear a durable pair. We have come to the point that its fame is uncontrollable and we end up seeing parents drive their kids to school or individuals getting their coffee at Starbucks while wearing yoga pants. 
Although this piece of clothing is labeled for yoga sessions, it does not necessarily mean that it is exclusive for yogis. Anyone is free to experience all the perks yoga pants offer! So, why not try out how effective yoga pants really are? 
What makes these more appropriate than regular leggings are the thickness and stretchiness of the fabric. No matter how extreme you bend or do your squats, rest assured that your butt area won't end up becoming visible. 
Pros
Non-restrictive
Encourages body movements
Stays in place
Non-see through
Made to last longer than leggings
Thicker and firmer waistband
Has a sweat-wicking feature
Shapely when worn
Cons
Generally more expensive than leggings
They can be hard to clean
Not meant or made to be worn as a fashion piece
Different Styles of Yoga Pants
Although yoga pants are not meant for fashion wear, there remain several styles and designs from which you can choose. There are many fitness leggings available at virtually any clothing store that look and function more like yoga pants than they should be like leggings. The variety includes:
Yoga shorts
Workout pants
High waist yoga pants
Loose-fitting yoga pants
Tight yoga pants
Specialty fabric yoga pants
Yoga capris pants
Cropped leggings
Best Yoga Pants That Fit the Budget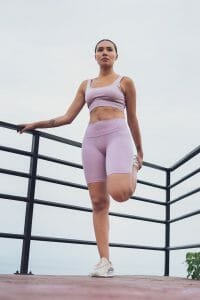 For only $6.99, you'll be granted a pair of yoga pants for a lifetime- (depending on how you take care of it, of course). These compression running shorts are comfy, elastic and with pockets so you don't have to carry a pouch for your phone. High-waisted shorts are in, and OFOICE yoga pants have that feature. The fabric is skin-friendly, breathable, and long-lasting, perfect for your yoga class or cycling routine!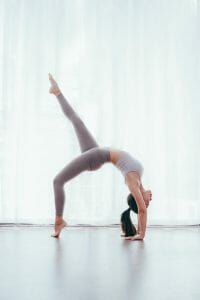 You don't have to spend the whole day at your local Target store looking for the best yoga pants. With just a click, what you ordered will arrive in just a few days! Guaranteed, you'll receive a high-quality pair as the HeyNuts yoga tights are made up of 70% nylon and the rest of it is spandex. It is absolutely non-see-through, soft to the touch, and has a matte finish to it! It also has inner pockets for your car keys and notes, because you might do grocery shopping after your gym session. Who knows!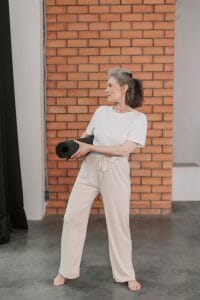 In your search for a pair of wide leg yoga pants, you know you have to go for those that can actually cater to your needs. Sarin Mathews yoga pants are just what you need. Its most flattering and obvious feature is its elongated and loose-fitting pants that can suit any body shape and size. It also has an elastic waistband just to make sure it fits properly! And, to store your valuables, two pockets on the sides are provided for your convenience.
When Do You Use Leggings?
Leggings, which are skin-hugging pants, can be worn nearly for anything except when it comes to formal occasions. These are made up of soft and delicate fabrics perfect for elevating your fashion style or in case you need a layer to trap more heat during the winter. If you are wearing short skirts, a pair of leggings will keep you from uneasiness every time the wind blows through it.
Back in time when the excellence of leggings was still underappreciated, people just mainly used these as undergarments like long johns. However, with its prominence in the fashion industry, women and even some men give high regard to this versatile piece. Whether you wear an oversized hoodie, crop top, tank top, or long shirt, the leggings will never look awkward with any of these. 
Some leggings also have cute prints and designs. For quirky ladies out there, you have vast options to choose from. From patterns to flowers, you can find almost anything under the sun. There's just one major downside about them. As they say, beauty comes with a sacrifice. The stylish appearance of leggings is just there for the eyes. Overall, you can't trust them when it comes to doing your workouts.  
Pros 
Usually inexpensive 
Stretchable
Thin
Comes in various styles and designs
Tight-fitting 
Cons
Not suitable for stretching
The waistband does not stay in place
Too thin and somewhat see-through
Not ideal for gym sessions and yoga drills
6 Types of Leggings
Leggings that can be of casual wear are made up of different fabrics. In choosing the right one, try to get to know its details. Know what it is made up of so that you'd know what to expect, and most especially, ensure that you get what you're looking for. Here are the 7 fabrics leggings can be made out of:
Polyester
This is definitely much better than cotton-made leggings. With polyester, the quality is high and the fabric tends to be more stretchy and more capable of absorbing the moisture away from the body. If there's any disadvantage to this, it would be its propensity to hold on to odor very easily. Since this is an upgraded version of cotton leggings, you can consider using this as your workout leggings.
Wool 
Living in such a cold state doesn't mean ditching the idea of wearing leggings. Wear one that is made up of wool and your legs will never feel cold! If you are into winter sports such as skiing, sledding, or snowboarding, you'll appreciate wool leggings more than others.
Cotton
Most leggings are made out of cotton. It's cheaper and more accessible worldwide. Stores such as Walmart, Target, and Uniqlo surely have cotton leggings on display. Although some have a percentage of spandex, most of them still end up getting worn out after some time.
Spandex
Spandex looks considerably small but it hugs the figure well the moment it is worn. With its synthetic polymer, spandex leggings would undeniably have incredible stretchability. You can say that it is better in quality, light, supple, and easier to use than rubber.
Faux Leather
Yep, you read that right. Leggings can also be made up of synthetic leather. It's an alternative to the real one. The upsides of these are their soft and water-resistant features. Although it is easy to clean and highly resistant to stains, faux leather leggings are no match to the genuine type. It's great for night-outs, nonetheless.
Nylon
This is also one of the common fabrics used for leggings. The only problem is that nylon-type leggings can shrink over time. But, with proper care and use, you'll experience a wide array of benefits such as its non-wrinkle factor, affordability, and durability. If it is thick enough, nylon leggings will pretty much absorb the sweat should you use it for your exercise.
Best Leggings That Fit the Budget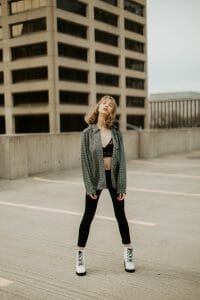 Although leggings don't last long compared to yoga pants, still, you have to look for one that is made to endure time! Sweatyrocks leggings are made up of 95% polyester and 5% spandex. You can use them for work! It is high-waisted, stretchy, and usable at any time of the year. If black doesn't click for you, other colors are available.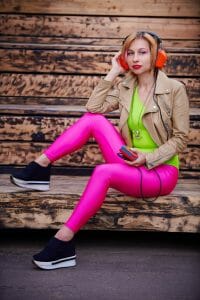 Show off your vibes by wearing brightly-colored leggings! We got one for you to check out. This is 92% polyester and 8% spandex, so guaranteed, you'll stay comfy with those rocking pairs of pants! This is high-waisted, skin-hugging, lightweight, and opaque. If you drop your pen, you won't have to worry about your rear end becoming transparent!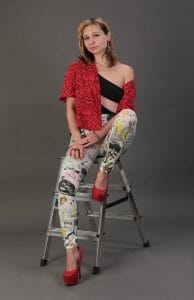 Elevate your whole look even more with a wholly designed pair of leggings! If you are not afraid to show off your preference and vibe through what you wear, then this would fit you the most. At Sissycos, you will have unlimited patterns and designs to choose from. It is elastic thanks to its 95% polyester and 5% elastane features. Show your positive eccentricity!