Best Hobo Bags: What's Trendy This 2022?
The slouchy hobo handbags seem to take over the popular Birkin bags as we approach a post-pandemic lifestyle. There's some sort of a silver lining here as we are reminded to take a deep breath, relax, and pause our rushed pacing for a while.
It's time for the structured handbag accessories to have their well-deserved break and channel your inner Olsen twins vibes in reference to the recent 2022 collection showcased by Louis Vuitton. 
The hobo bag welcomes the comfort we need in our day-to-day affairs. In our year-long search for the best practical carry-ons, nothing beats the one that is soft, cushy, and out of the ordinary. Ahead, 15 hobo bags are listed for a smoother shopping experience while you forage the best slouchy bag that fits all types of occasions.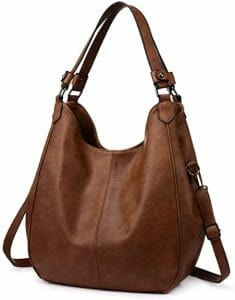 One thing we can agree on is that choosing the right bag doesn't happen within a minute. What picky shoppers look for are hobo bags that have plenty of rooms inside, but are not agonizingly spacious. This one from Realer puts a smile on every lady's face, and let's not even fail to mention it's made from vegan leather. If you're out looking for the best gift for your girlfriend, then this would be it. Won't you nod your head if we claim its design is timeless? Since its use is not limited to one event, anyone can absolutely bring this wherever, like work, parties, traveling, and even shopping. A long strap is there to set one out for a crossbody style too. Hitting two birds with one stone, eh?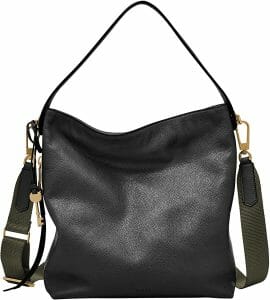 For those who love more what's less, hobo bags crafted in neutral or basic colors and sleek texture are what excellently encapsulate the whole idea of the trend. The Fossil Women brand knows exactly how to play the game in business as they set out the product of their imagination. Introducing, this hobo purse handbag is deemed one of the ultra-versatile accessories there is. Notice how there are unique details that complete the whole design, making it extremely refined despite the simplicity. Is it worth adding to your wardrobe? Absolutely.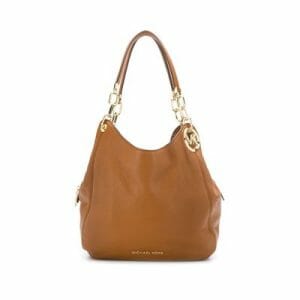 Want something with a famous label on your bag? No worries as we have Michael Kors over here. The classic design and choice of color will prompt you to wear this every day and it won't even wear out that easily thanks to its matchless durability! The signature logo sits well on the buckle at the top zip closure making it seem like humble bragging right there. Although hobo bags are meant to exhibit a laid-back nature, going for Michael Kors would certainly make you look posher.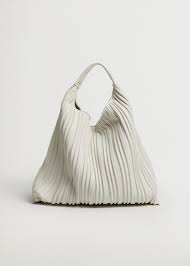 There are no other celestial-looking hobo bags that are on par with Mango. I mean, just look at how intricate the design is! The pleats are done so beautifully, staring at it too long can drown you with its femme fatale charm. Although it may seem that there is not much effort done to make it look embellished or complex, its unique simplicity alone qualifies it to sophistication. It's the kind of calm you want to lay your eyes on in a stressful situation or the peace that adds up to your relaxation at a beach paradise.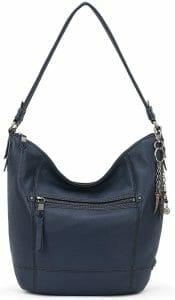 Have the perfect travel buddy this summer! Nope, we aren't talking about any of your friends right now nor do we mean taking your dog with you. We simply hint that you choose the best hobo bag that can carry all your essentials so you don't have to bring another carrier with you. The Sak Sequoia hobo bag features a spacious interior without it looking too bulky. Its premium artisanal leather is durable, water-repellant, and eco-friendly. What more could you ask?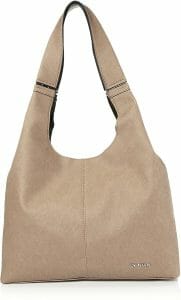 Time to have something untypical to look at in your closet. This vegan leather-made hobo accessory from Calvin Klein is of high quality. Its effortless appearance yet practical design adds up to its overall elegance and timeless style. Flaunt this like how models do it because this hobo bag deserves some public exposure! With a pair of cream slacks, a white top, and kitten heels, people might mistake you as a celebrity or a prominent fashion designer.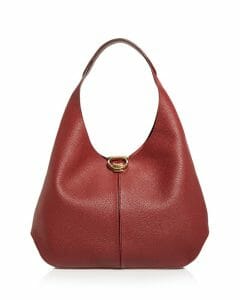 Another bag you should keep an eye on is the Salvatore Ferragamo Hobo Bag. The price may come off a bit steep, but it absolutely isn't that bad to treat yourself every once in a while, is it? Made from the finest leather material, you are guaranteed to receive the quality you've paid loads for. It is made from Italy, so that's another assurance right there. There is gold-stone hardware on the middle top, a significant hobo statement to add something sparkly to your handbag.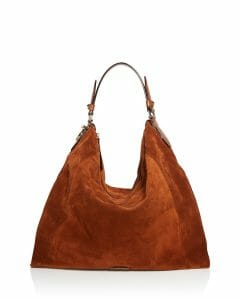 Gift yourself something from the high-grade bags like this one from Jimmy Choo. The splendid construction screams high fashion here. It can be carried by edgy fashionistas or anyone who loves to go unconventional with their looks. It is a staple for special occasions and a true reliable accessory to store your valuable and essential items! It definitely is low-key as no obvious designer names are tagged in it. Its opulence is enough to make an impression!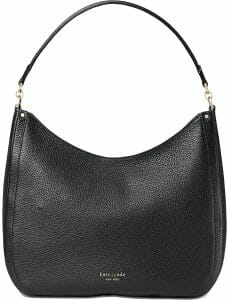 Add a Kate Spade to your handbag collection. Every lady needs one classic black bag ready for any type of event and this one, in particular, can turn heads when worn! People would describe this as a luxuriously chic accessory that can match virtually any type of outfit. Whether you go all black or make a statement with your bold-colored attire, this bag always has its place and it's nowhere else but in your hand.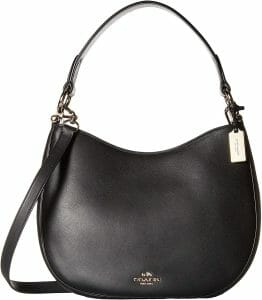 Next up is this designer hobo bag from Coach. Does anyone recognize this? Yep, this doesn't seem to lose its spark in the fashion universe. There is nothing complex in design but one thing is for sure, this bag would still be IN for several years to come. As plain as it looks, its features seem to offer more in other areas like quality, practicality, affordability, and multifunctional characteristics. It can be used as a crossbody or a shoulder bag, however you want. Talk about flexibility!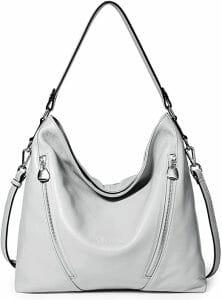 Your iPad can definitely fit here. Just look at the size of it! Its construction can accommodate just about anything from notebooks to whatever stuff you always have to carry. There are two compartments inside so you'd have some place to store your essential items like car keys and cards and the rest is a generous space for everything else. This is what makes men feel awed about women's handbags. They seem like bottomless pits!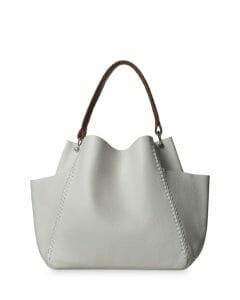 Ready to splurge once more on another accessory that comes in Jasmine Amande color. It's not white nor dirty white, but there is something about its shade that attracts the eyes. The unconventional style remains a classic choice for many. The single strap makes it easier to carry, unlike two-strapped accessories that can take a bit of time to be picked up if it's placed underneath the table during the date. There are two side pockets for your sunglasses or phone. A matching purse inside is provided for your other important stuff!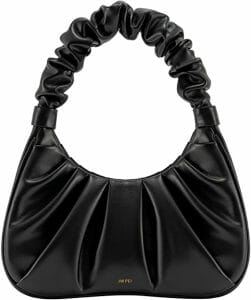 Another affordable luxury designer you shouldn't miss is JW PEI. Their handbags, hobo bags, and other products are eye candy, especially for people who are into unusual patterns and folds as designs. The scrunchie handle adds more touch to its distinct image. Although it looks thick, it's far from difficult to carry. This vegan-made leather bag has a clean 90's appearance making it some sort of an icon in Hollywood and Instagram these days. The strap can't be adjusted, but the armhole is big enough to be worn by anyone!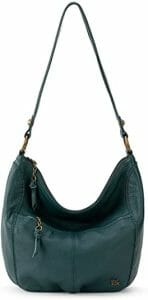 Do you know why it's essential to own a hobo bag? Simple. It adds versatility to your wardrobe. You don't necessarily have to stick with the most basic, boring colors because you can still look and feel good with unusual shades like Juniper. This understated hobo accessory can carry your essentials no matter how much you typically bring with you in a day. The construction somehow exudes the bohemian romanticism vibes, but the perk is that this bag now goes with the conventional fashion.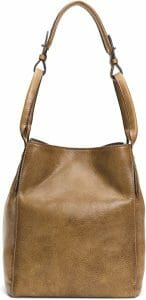 Got a thing for artisan-stitched bags? Satisfy your cravings for a hobo bag with this FRYE RED label. It's intricately made to guarantee quality and longevity. This can fit anything from the looks of it. Its features include an adjustable leather strap, detailed stitching on both the handle and the bag, and a secret pocket on the side for your valuables. This is a hit for university students or just about anyone who has a deep liking for such types of bags. This is a true throwback style that still fits the modern era!