Best Leggings with Pockets [2022's Most Stylish]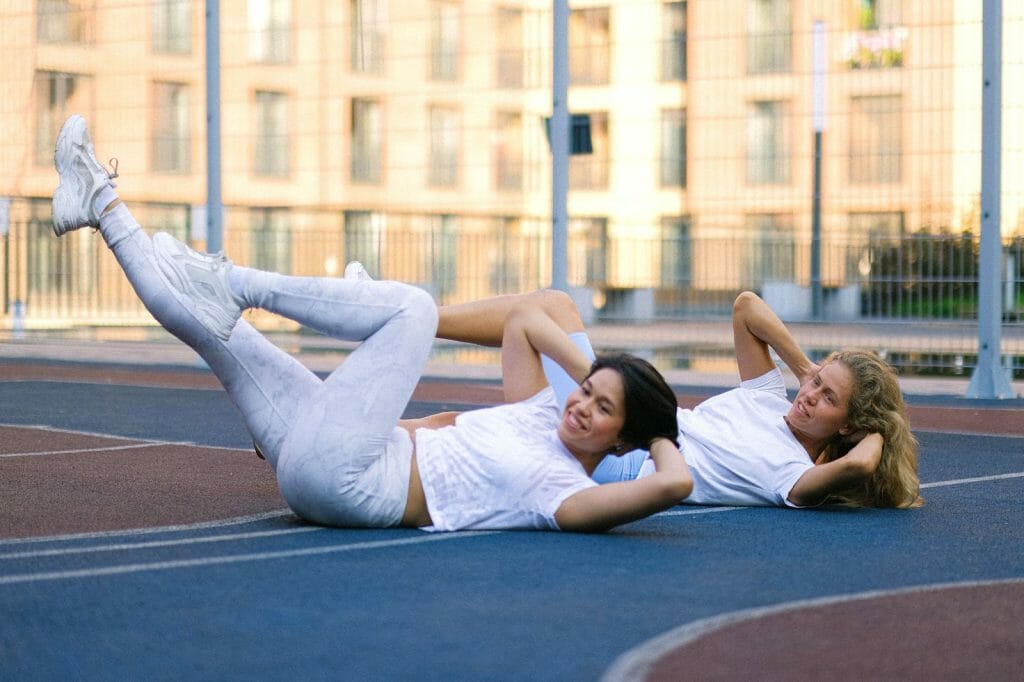 Nothing is better than a collection of leggings with pockets. Whether you head your way to the gym or meet your friends at the coffee shop, don't bother deciding on whether you should carry a fanny pack or a duffel bag for your essential items.
One pocket is enough to hold your phone, keys, and cash, so there's no need for unnecessary extra luggage. Plus, you're saving yourself from the hassle of going through your bag and looking for your card or phone. 
So, the next time you do your drills or errand, put on a versatile black pair or a brightly-colored one that has pockets on the side or at the back. Wondering which ones to add to your collection? 160grams have sourced only the best for your leggings obsession.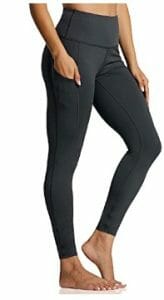 It's nice to have at least a pair of go-to leggings for sudden errands. Let's be honest, when you have to get ready in a minute, there's no more time to decide on what items to throw on your bag. Mostly, you just think of the top 3 things you need for the day and dash right out the door. Thankfully, ZUTY has hidden as well as side pockets to offer, so you won't have to carry your things in your hand. It is of a high rate of spandex, giving you the proper stretch you need. Designed for yoga, expect this pair to be buttery soft, durable, and easy to move in.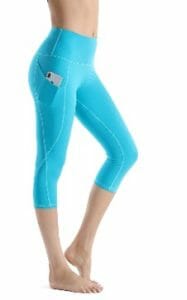 In the mood to go for a quick run early in the morning? Rocorose would be a top pick. It's built and designed for your daily jogs, an absolute must-have for runners. There are two pockets on the side, perfect for storing your phone and car keys. Guaranteed, your stuff won't slip out, nor would they feel and look bulky. Now, you can work out with ease, especially since you won't have to constantly deal with a pair that rolls down. Rocorose persistently stays in place no matter how long you wear it.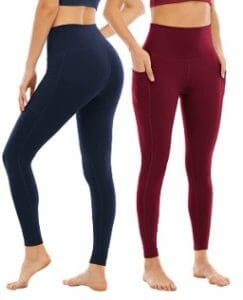 Experience the perfection from YoungCharm's leggings that come in various attractive colors and camo prints. These are your absolute non-see-through leggings that feel buttery and soft; you'll love wearing them every day. Move your body without feeling restricted, thanks to the garment's 4-way stretch. No worries as well if you sweat out as the fabric features its moisture-wicking capability. But that's not it. Aside from these beautiful features, YoungCharm leggings also have two side pockets and an inner pocket on the waistband.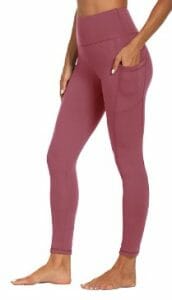 Sirynx leggings are the ultimate game-changer. When you shop for their stretchy pants, you're set to find a pair that offers just the right fit for you. It's definitely the time to stop wasting money on leggings that are "okay." Grab the best one that's going to offer you a great experience while you do your yoga sesh. The waistband is thick and form-fitting; it won't fall down as you position yourself on the mat. And talk about practicality! The leggings have two sides and inner pockets, so you can go wallet and bag-free.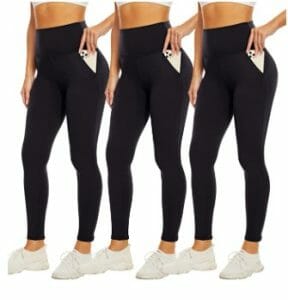 If you want to look great wearing casual clothes, you might as well pull off a pair of black leggings that are woven to emulate the look and form of your body. These are stretchy, flattering, and soft to the touch, thanks to their combination of polyester and spandex fabrics. These fashionable leggings that come in multiple colors can be worn in virtually any event. Plus, there's a pocket on the side, so you'd have a place to insert your phone whenever you go offline.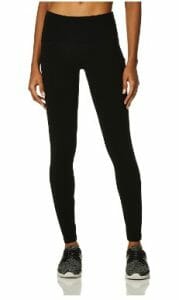 Anyone who's into cotton leggings admits that ending up with a pair happens once in a blue moon. Well, now, there's no need for you to wait for that moment to come by as Jocket Basic Ankle-Length leggings in deep black are available in the market today. They feature a good stretch that disallows a see-through moment. Got a menopause belly? No problem. These will make you look gorgeous without wrinkles and bumps. The pocket is located on the side for easier access to your essentials.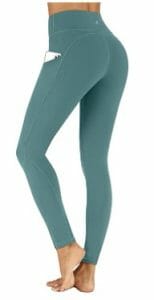 Comfort can't be achieved if you don't properly invest in a quality pair of leggings. The fabric, structure, and features all contribute to your experience in wearing one. Toreel is everybody's new favorite as the leggings are made from high-quality polyester and spandex for a sure fit and stretch. These are your yoga pants at a much more affordable price of $9.99 to $29.99 with a supreme waistband that allows a gorgeous form. There are two large side pockets, perfect for carrying your phone and other essential items. All that and more just so you'd have a great workout experience!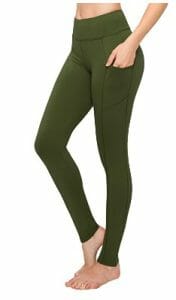 Strut your casual fashion in style without sacrificing your comfort. Satina leggings are the softest pants you'll ever have. Don't even worry about finding the right size, as this can fit you no matter your shape, figure, and weight. It's buttery soft, and high-waisted, so get ready to become a Satina loyalist. The pocket is located on the side, and it's deep enough to prevent your precious phone from slipping out. Style it with any matching top and a pair of sneakers for a more laid-back vibe.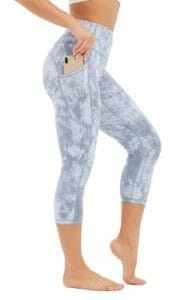 Many people want their leggings to feel like they're not wearing anything at all. One of the leggings brands you should consider is Stelle as they offer Capri leggings that have a 4-way stretch that will contour your body curve and flatter your figure. It has a high-rise fit and a tummy control design, so don't worry about your flab if you have any.  To add, these are moisture-wicking, highly breathable, squat proof, and non-see-through. There's a side pocket as well, durable enough to hold your items.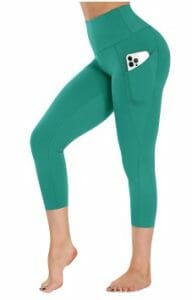 Made from polyester and spandex, these Gayhay leggings sure are set to give you an unmatched leggings experience along with their several features and properties. Yogis will find pleasure in wearing these pants as the tummy control feature lets them move, squat, and stretch without having to adjust the pants. It's hard to ignore as well that these are sweat-wicking and quick-drying, suitable for all weathers and seasons. Carry your essential items at the most convenient place by using the leggings' large side pockets.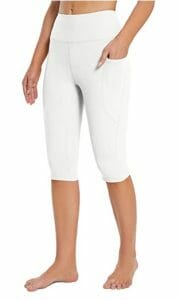 Go for a pair of white leggings for a more celestial and clean look, if you may. These Baleaf knee-length leggings can be used for casual events, yoga, and even gym sessions. The way they're made enables the elastic fiber to move with your body without restrictions. Does the garment pass the squat test? Absolutely, and you can test it out for yourself. Generally, these below-the-knee leggings are ideal for petite women, but plus-size ladies can also look great in these. Of course, who would forget about the little happiness a pocket may bring? There are two side pockets and one on the back to securely carry your stuff.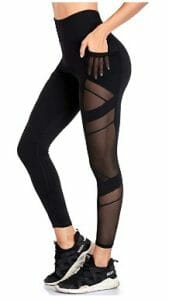 Wear something unique and stylish as, according to Vogue, your leggings should also elevate your style. These mesh leggings from We Cufflle might interest you. The designs are undeniably attractive and ultra-sexy. You'll definitely feel a boost in your confidence as you watch yourself exercise in front of the mirror. Of course, these are made from high-quality fabrics that sustain the standard features needed in a pair of leggings; they're breathable, moisture-wicking, quick-drying, and comfortable, most of all. There's a side pocket as well, and don't even worry about it tearing up. It's so reliable and robust that  you can trust that it can hold your phone correctly.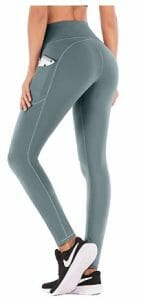 Be in for a lot of amazing surprises as Iuga offers leggings in mint green and several other shades that combine style, comfort, and performance. These would totally be your favorite workout gear as well as your go-to casual pants. Basically, these are yoga pants developed by yogis to be used by yogis. But, if you're not into yoga, you can still rely on these for your cardio or HIIT classes. It has an ultra-stretch fit that allows these pants to form according to your figure in a much better way and appearance. The hidden pockets are made from soft material for easy slipping in and out of your phone.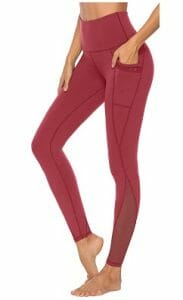 The first thing you'd notice from these leggings are their flat-locked seams. This helps prevent you from experiencing horrible chafing. There are also other features that will absolutely make you add these leggings to your Amazon cart. This includes them being moisture-wicking, high-waisted, streamlined, and gusseted on the crotch area. It's every gym junky's must-have when it comes to activewear. Whether you wear this to your local gym or simply use this as your everyday wear, these leggings won't wear out too quickly. 
You might also want to read: Camo Leggings Outfit Ideas [12 Stunning Styles]