Best Lululemon Leggings for Running: 12 Styles You Can Choose From
When it comes to durable and, by far, the best workout leggings there are, what comes to mind is Lululemon. I mean, hello? This isn't new to us. The ultra-popular activewear company continues to put us in awe when it comes to their workout leggings. If you come inside their store, you'll be bombarded with loads of different styles and you know what that means? That $100 bill you're holding must be spent wisely on a pair that suits your preferences. 
Yep, that's how expensive a pair can be. Other Lululemon leggings can be priced more than that, actually. Why? This is because the brand is hailed to be the holy grail of leggings! They're not your typical mall find. So, what we can say is it's really worth "investing" in, not just one, but several pairs of leggings from this company if you're a gym junkie or a fitness fanatic.
However, as mentioned, there are a plethora of leggings offered, but which ones are the best for running? We'll show you all the styles you can choose from.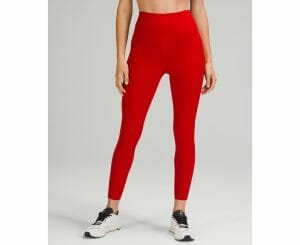 If you frequently go for a run every morning then you need nothing else but this pair of leggings. Wearing these would guarantee you a smooth and lightweight feeling, it's super comfortable, you'd want to keep running for a few hundred meters more! Since this is made up of Nulux fabric, you're surely going to experience its excellent breathable, sweat-wicking, and quick-drying features. What does that say? You'll stay dry during your entire running sesh! What's more to it is the back pocket. You can place your phone inside without it slipping while you do your daily jog.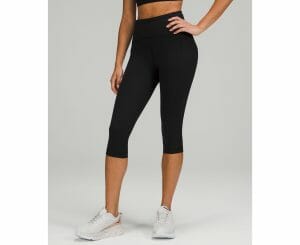 One wearer is more than pleased with these Swift Speed leggings which she now uses for her HIIT and spin classes, as well as for running. This high-rise activewear sits below the knee to let the user feel the breeze as she goes against it in her early workout drill. The fabric is made up of 69% Nylon and 31% Lycra elastane. The whole garment is constructed to give you this slick and low friction support that you need. It's cool to the touch, breathable, and just outstanding for your heart-pumping sessions.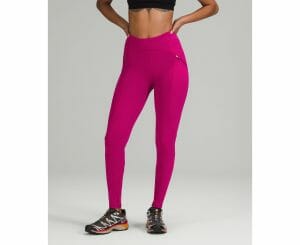 There should be a commitment to keeping an active and healthy lifestyle, yet sometimes, the weather just doesn't cooperate! Thankfully, Lululemon has thought about this and now we have these evolutionary Wunder Train leggings that are water-resistant! With these on, there's no more excuse why you should skip a day in your workout. Don't break the pattern! Other features include a back and side-zippered pocket for your essential items like your phone and keys.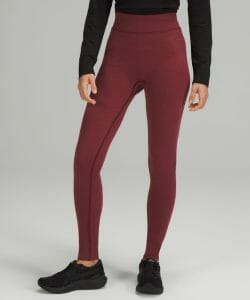 Lululemon enthusiasts can't get enough of these leggings! It's no wonder why many are hooked by this brand. The company indeed knows what gym-goers need in different seasons! When the chilly weather starts in your area, you sure do need sports clothing that won't make you catch a cold as you do your usual laps, so why not purchase one of these? It's breathable on the inside and the fabric makes sure you feel warm and dry despite the unruly temperature outside.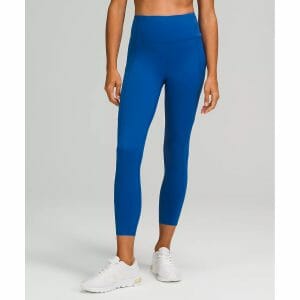 What sets apart these leggings from the ones you'd find elsewhere is their wide array of features and top-notch quality. In running, you don't want to be constantly pulling or fixing your leggings to keep them in place. This Fast and Free sportswear adds just the right compression and support so you'd stay focused on your running. If you like to listen to music while you do your thing, there are two side pockets in which you can insert your phone. For those in the military, don't forget that you can get a discount! Isn't that amazing?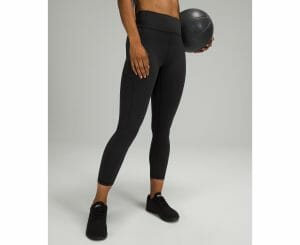 Looking for leggings that are made up of fast-drying fabrics? You don't have to go elsewhere and try cheaply-made ones. With Invigorate, all you have to focus on are your drills. Thanks to the Everlux fabric used, you don't have to worry about the sweat, because that will evaporate much quicker than your ordinary workout leggings. Additionally, these Lululemon leggings hold everything together without being too tight. "It's super comfortable!", one reviewer wrote. Since this is designed for training, you definitely have to have one ready on your wardrobe before your session starts.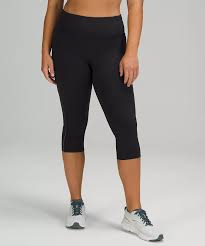 Experience a lightweight coverage that does not restrict your movements as you steam off! If you haven't heard of these leggings yet, then you're kind of missing out on one of the best activewear garments that have ever been made. This has an added Lycra fiber to keep you in shape. Other essential qualities are retained no matter the style of the Lululemon leggings. They're breathable, sweat-wicking, feel cool to the touch, and specifically engineered for running. If you like to add squats to your routine, know that these have passed the squat test.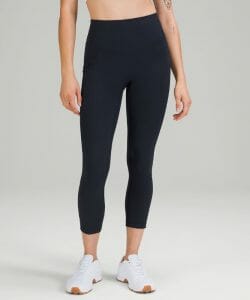 Been in the Lululemon store a few times looking for these? The reason why you can't see them available physically in the store is that they're exclusive online at Lululemon.com. With the price of $118, you know you're not getting an average sports garment. The thick and quality Luxtreme fabric offers full coverage that is cool and soft to the touch. No matter how extreme your workout is, you'd never overheat. True to its name, the All the Right Places leggings don't need constant fixing whether you squat, run, or stretch.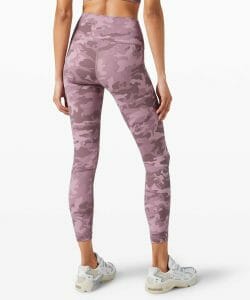 Whether you want to meditate and relax by attending a series of yoga classes or do high-intensity workouts, these leggings got you. These have a dual purpose, so it's like getting two pairs of pants for the price of one. Its form-fitting waistband would absolutely flatter your figure and guaranteed, there will be no elastic lines forming through your shirt. It's cool when worn all thanks to the Luxtreme fabric. It has a sleek feel to it and is definitely a good pick for working out. A sports bra to match it up will make you on the go.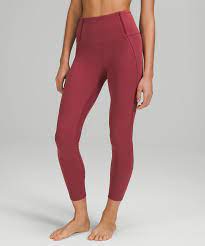 Aesthetics-wise, the Nulu Mesh leggings are great for casual wear. Its color is vibrant, appealing, and simply cute. But, this isn't made just so it can be eye candy. The Nulu Mesh has a thicker waistband that holds firm to the skin no matter what twists, turns, or squats you do. Feel its buttery-soft Nulu fabric that helps keep away and vaporize every sweat drop your body produces. Don't forget about the Mesh panels included and they act as ventilation. Talk about impressive and useful details. Good job Lululemon!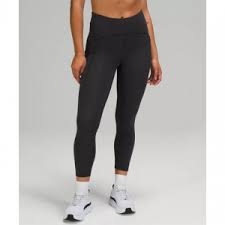 From the looks of it, the seams are structured in detail with a purpose in mind. The Power Thru Crop leggings are great for training, especially if you do weightlifting and running. The fabric was designed to be abrasion-resistant, so you don't have to worry about it tearing up if you accidentally run against something or if you have long nails. There are side drop-in pockets convenient for those who always carry a few things even during workout times. Keys, phones, AirPods, whatever essential items you have to carry fits!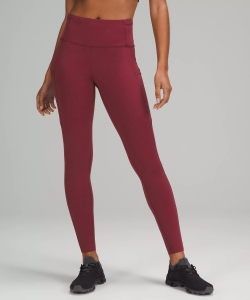 Want to run and feel almost naked? If you do, then these leggings are for you. The ultra-lightweight brushed Nulux fabric offers sweat-wicking, quick-drying, and weightless coverage features with a high-rise fit that hugs the skin without restricting your movements. No matter if you sprint, jog, or run around an oval, these leggings are must-haves. Is it costly? Yes, but with proper care, they'd last a lifetime.