Athleta vs. Lululemon Leggings: Which Brand Should You Choose?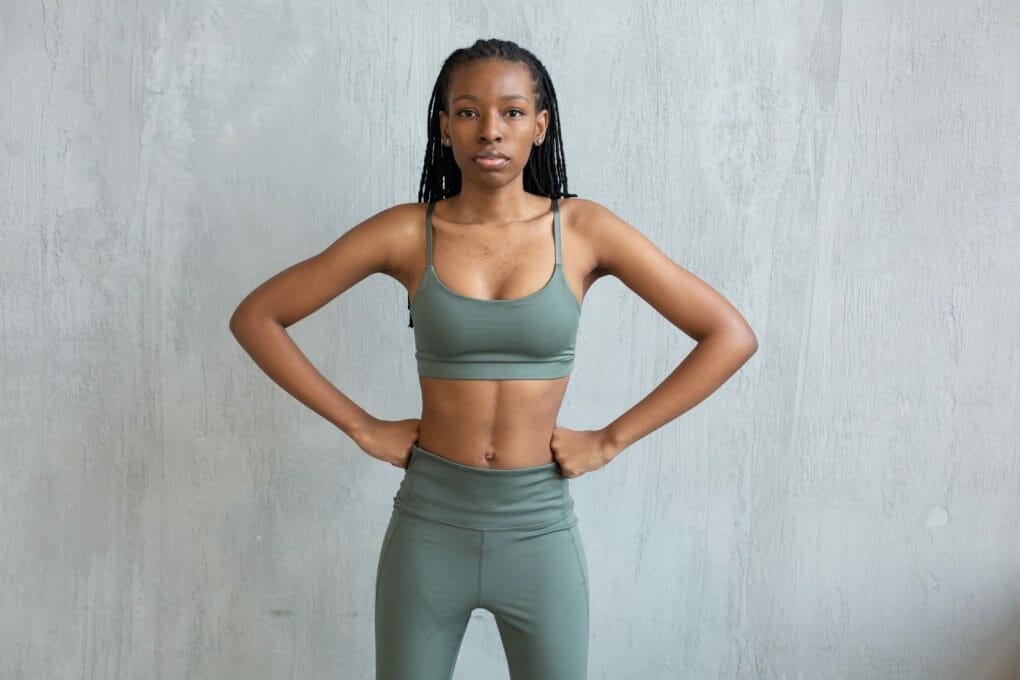 Athleta vs. Lululemon — it's always a topic of discussion for people who love athleisure. After all, comfortability, style, and function are three of what lounge-wearers look for when it comes to their everyday leggings. 
And without a doubt, both brands are closely similar in the products they manufacture and sell. When it comes to their leggings, they are designed and done with features that are unique from the other. Hence, they're often compared due to these differences.
Good news, this article will help you decide which leggings to wear depending on your purpose. Delve deeper into this Athleta vs. Lululemon leggings comparison guide to know where your next shopping spree should be!
Knowing Their History: Athleta vs. Lululemon
What Is Athleta?
Athleta is an athleisure brand established in 1998 to cater to the needs of athletic women. This was acquired by Gap, Inc., with Banana Republic and Old Navy as its other subsidiaries, in 2008.
It's a streetwear and fitness brand designed by women for women. They sell everything from tank tops, jackets, bras, t-shirts, and shorts, but one of these that stands out the most is their high-quality leggings.
What Is Lululemon?
Known as a technical apparel brand for training, yoga, and running, Lululemon, affectionately called "Lulu," was founded in Vancouver, Canada, in 1998. It's known for using durable and high-performing fabrics and materials that aid athletes in their sweaty pursuits. 
Deliberately, it's more about marketing a lifestyle rather than the product. Lululemon satisfies its customers with how long-lasting and capable of keeping up with their daily errands and activities their Lululemon leggings are.
These humble beginnings of Athleta and Lululemon paved the way for immense success, which is why both brands are often compared to one another. Indeed, choosing one over the other can be challenging.
Comparison: Athleta vs. Lululemon Leggings
Athleta and Lululemon both produce excellent leggings. However, upon closer look, each has distinctions worth noting when deciding which brand to buy. 
Below is a comparison guide on style, quality, size, and more.
Style
Athleta is aimed primarily at providing apparel for those who are into active routines such as hiking, swimming, running, weight lifting, lounging, and yoga. That said, this brand designs leggings that satisfy various individuals' needs. 
Its leggings are described to be superior in versatility. Their pants also fall under the category of "stylish activewear." That implies that with the right pair, you can flaunt it on casual occasions where aesthetic look and comfort are a priority. 
Meanwhile, Lululemon was primarily founded on yoga since its leggings were made by yogists. Eventually, it expanded its horizon, and the leggings bear compression features and became suitable for spontaneous errands and workouts. 
It has invested a lot of effort in perfecting the design of its leggings, making them popular among the leggings-loving community. In other words, it's more than just a "savvy brand." Lululemon leggings are great investments for those who are after seamless routines in the gym.
Quality
Athleta leggings are certainly high quality and supreme in durability. Its leggings come in various colors that stay vibrant despite several uses, thanks to their fade-resistant hue quality. When it comes to materials, they're often organic cotton, nylon, and polyester. 
Each pair designed for a particular purpose also reaches expectations. Whether you're up for HIIT workouts or you need a pair of leggings for winter, there are many Athleta leggings you can choose from. 
As for Lululemon leggings, it also goes without saying that the brand's stretchy pants feature high-tech, elite fabrics. This brand is known for using advanced materials, such as the Luon®, Luxtreme®, Nulu™, and Everlux™, to name a few. 
These athletic garments for dedicated yogists can also be used as running leggings or a casual outfit addition. Lululemon leggings have it all, although people are not particularly drawn to the brand's prices. 
Size 
Athleta leggings are size-inclusive. They range from XXS to 3X — great news for petite to plus-sized ladies who are into leggings. 
On another note, these generally run true to size. However, some styles, especially those with pockets, may run big and slightly stretch out over time. If you are between sizes, it's recommended that you size down. 
Ideally, though, Athleta leggings should have a snug fit on you without too much compression and digging deeply into your waist. 
On the other hand, Lululemon has just started to become a more inclusive brand. However, some claim that it still needs more sizes included. Generally, its leggings come in a range of 0 to 20. However, size 20 translates to 2X in plus size garments.
This still excludes shoppers with a size of over twenty. Yet again, Lululemon says that going to size twenty is only a first step towards being inclusive. The brand wants to ensure its every style and size still meets the expectations and is true to size.
That said, Lululemon enthusiasts can anticipate new available sizes and styles in future seasons. 
Longevity
It is known that Athleta leggings, depending on their material, can last from 2 to 5 years depending on how they're cared for, how often they're worn, and how they're used. 
Lululemon leggings can also last 2 to 5 years, provided the Lululemon care instructions are correctly followed, regardless if you wear them daily. In fact, some Lulu wearers still have their leggings for over ten years or so!
Both brands' leggings have impressive lifespans. It boils down to how they're maintained and if you cycle your leggings with the others from your collection.
Price
When it comes to prices, Athleta leggings are more affordable. Their leggings can have price tags ranging between $40 and $90. If you're looking to cut costs, watch out for their seasonal sales and discounts. 
Of course, some of their leggings can also come off as a bit costly, yet you're guaranteed to get more than what you paid. 
On the other hand, Lululemon leggings are certainly pricier than Athleta leggings. This is a luxury leggings brand that continuously innovates and improves the quality of its leggings. 
The usual popular Lululemon leggings can be purchased between $98 and $128. Some think these garments are overpriced.
However, those who wear Lululemon leggings swear by these athleisure garments. Although they're not a big fan of their cost, they're practically beyond impressed with the fit and feel of their Lulu leggings. 
Pros and Cons: Athleta vs. Lululemon Leggings
Athleta and Lululemon leggings are excellent in their own rights. Yet, it would help if you were guided on their pros and cons to suit your needs better. Knowing their advantages and disadvantages, you can make a sound decision on your next shopping spree. 
Here are the pros and cons of Athleta leggings: 
Pros
Highly inclusive concerning their leggings sizes

Usually $20 to $30 less than Lululemon leggings

They come with details and features like pockets

They retain their color vibrance even after several washes

They're made from quality, breathable, soft, and comfortable fabric
Cons
Forms pilling over time

It may be a bit expensive

compared to other brands
Here are the pros and cons of Lululemon leggings: 
Pros
They come in several options and designs

Ultra soft and made from supreme materials

The brand offers

hemming services for Lululemon leggings

They're generally true to size, don't sag and wear down fast, and are comfortable

The customer service is top notch and ready to provide their customers with what they need
Cons
They require extreme care

It may eventually show pilling and fraying

They are more expensive than most leggings brands
Having known the pros and cons of Athleta and Lululemon leggings, it's crucial to understand that their longevity and quality also boils down to how you take care of them. 
3 Best-Selling Athleta Leggings
There's a pair for anyone when they go after Athleta leggings. Generally, the brand's stretchy pants are all top-notch in quality, but to narrow down your search, here are the three best-selling Athleta leggings: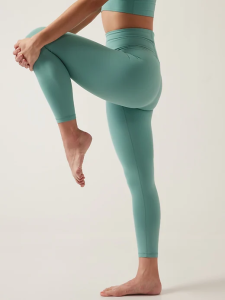 Athleta's ultra high rise elation ⅞ tight is made practically for yoga or studio practice. These leggings use Powervita™ fabric, enabling you to feel their soft, buttery texture that's comfortable and skin-friendly. These hug your skin without digging deep, especially on areas such as the waist. Your whole waist, legs, and butt are smoothed out, promoting a more attractive silhouette. To add, the nylon and lycra fabric combination pulls sweat away from the body, keeping you dry throughout your whole session.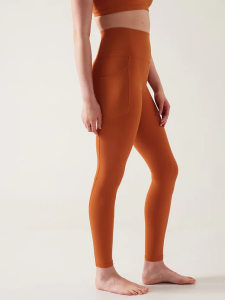 Another best-selling Athleta leggings are the salutation stash tights. At first glance, you can see how smooth the fabric looks, which paves the way for a more flattering figure, especially with the high-waistband design. These leggings are certainly opaque, and you can create movements without restrictions. These leggings are primarily made for yoga sessions and other types of studio practices, but with their vibrant color, anyone can flaunt a pair for lounging. There are bonded side stash pockets, too, to hold your essentials, keeping you bag-free on your way to meditate.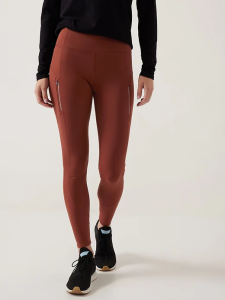 The Athleta rainier tights are made for those who are after high-impact workouts in cold climates. When worn, you'd right away feel the plush SuperSonic and brushed interior, which helps keep you warm regardless of the cold breeze that hits your body. On top of that, complementing your physically demanding activities are zipped pockets to secure your essentials. This design is a must to prevent your phone from slipping out of its holder. There are also reflective details for those who start their exercise regimen early morning or in the late afternoon. These are essential features that will help you get spotted easily despite the dim environment, avoiding any potential accidents.
3 Best-Selling Lululemon Leggings
Lululemon leggings aren't new to most people. They may be selling their leggings at crazy price points, but those who try what they offer realize that every penny spent on Lulu leggings is worth it. Wondering what Lulu leggings to buy? Here are the brand's best-sellers: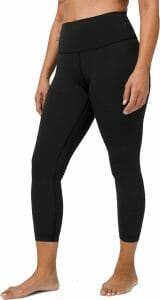 No matter what mood you're in, whether lounging, working out, or simply catching up with friends in a casual setting, these Lululemon Wunder under high-rise tights are the way to go. The high waistband feature keeps you covered even if you bend over or do intense movements and poses. These leggings use Luxtreme fabric that enables a 4-way stretch with sweat-wicking properties. The added Lycra fiber, on the other hand, helps you stay in good shape. The signature waistband can be used to store your keys, phone, credit cards, or money, and they stay secure and durable to hold their weight.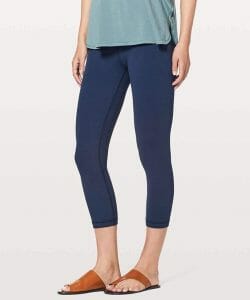 Lululemon's align crop leggings are made for yogists. These are comfortable and ultra-soft; you'd think that these serve as your second skin. For shape retention, Lycra fabric was infused. Regardless of how many times you think about wearing these Lululemon leggings, the quality is maintained. The flat waistband is smooth and hugs you without digging into your skin. Since it's also high-waisted, you have the guarantee that you are secure and kept away from the dreaded accidental exposures. A waistband storage can also be used to store your keys and other essential items.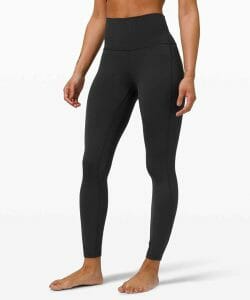 In the mood for a yoga session? These Lululemon align high-rise pants will aid you in your activity. These are made with Nulu fabric combined with Lycra for shape retention. The broad waistband snugs into your skin perfectly, and this keeps your leggings from falling down. It also helps keep you from adjusting your leggings every time you make a movement. For any of your go-to items, a hidden waistband pocket is added. These leggings have a 25-inch inseam, perfect for those who want full-coverage leggings.