What To Wear With Blue Trousers [26 Styles To Choose]
You own those variably-hued blue trousers, so sure we got a lot of ideas on how you'll style them! Not only will you be able to match them with the analogous colors in the color wheel, but you might also be surprised at how well they look with other palette hues! 
There are a lot of blue names below that you might have never heard of before but can serve very handy for looking for that particular blue in your shopping. So read along carefully, and jot down notes.
Just take a break from your usual denim styling and scroll up to see how much more you can give a better look with the versatile blue trousers!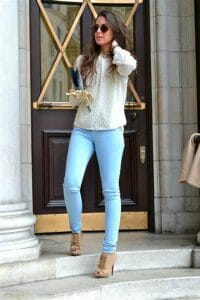 Here we have a color palette that reminds you of azure horizons and skyline gradients. With baby blue trousers and a white long-sleeved blouse, you surely are going for a brighter mood outfit. This nice match-up of clothes goes well too, with light brown open-toe shoes. A handy purse of your choice can also join the club!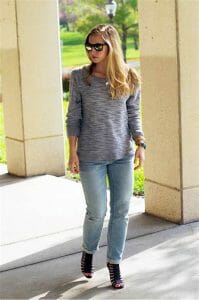 The dusty blue pants here blend well with the gray jacquard-style long sleeves. You surely won't hate to skip those gladiator heels, too. The overall get-up you get has a tad of classy and comfy-looking aura at the same time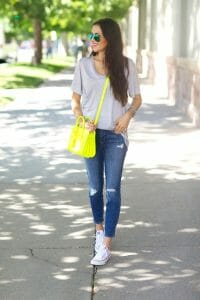 Go easy with a gray tee and distressed pants! Then to set the day with a bit more vibrant mood, take that neon-colored handbag with you, too. The striking yellow bag paired with those royal blue pants is surefire your best assets that will go in sync with your casual walks!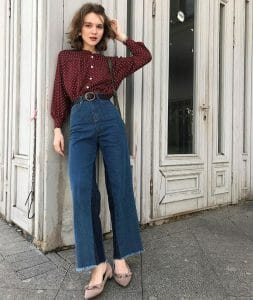 Two thumbs up for this pair of hem drop sleeves and wide-legged blues! The match is stylish enough for your all-day getaway this weekend. Might you, simply wearing this displays your confidence towards throwback styling. Do not forget to finish up your whole OOTD with chic kitten heels in nude color!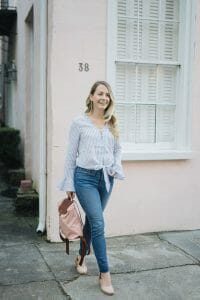 With blue pants, why not throw off a blue shade of top, too! Try to achieve a blue overall by choosing a lighter shade of blouse to match your pants. As an example, you can try the sky-ish color front-tie blouse here, prepped in slim blue pants. Go on to take more color variety by wearing light brown platform heels!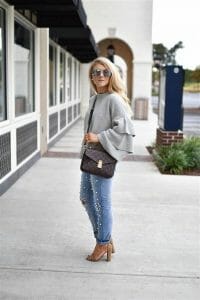 Do you get some flowy sleeves? Then make it a regular to your present wardrobe and make it go well with your blue trousers! The chunky heels will be your best shoes in making this whole look perfect for an entourage!
Yes, for elegance in a simple layering of light-colored cardigans and blouses! Tuck in a white sleeveless smock or crop top to those slim blue pants and wear over a nice-looking cardigan of your choice. Do not forget to slip into those strappy sandals, okay?
Navy blue should be your superior color for modern lifestyle clothing! Indeed a classy addition of white blazers makes that urban sailor-themed garb a first-rate, too! Get that extra striped navy blue shirt for a forthright effect in your overall clothing. Lastly, slip into some white stilettos!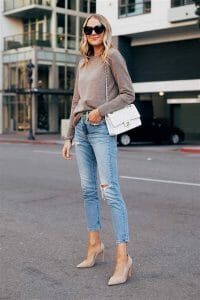 If you love wearing comfy but in an elegant way at the same time, then knock off your next fashion garb with this set! Nude brown tops and an equally delicious look of beige-colored pumps must be your get-go. A gorgeous ivory white shoulder bag must do the stellar grade for you, too!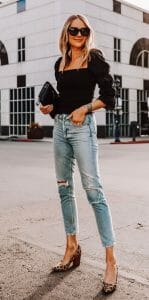 Yes, for frills and box-square collars! The top goes well with your ripped-design pants and is probably one of our easy-to-wear slim bodice tops here. Take it that your tapered pants are of steel blue color, and you are ready for the day!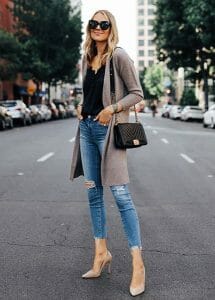 Heels and long svelte cardigans are true must-haves with your blue pants. Sure, you know that neutral colors are part of any woman's wardrobe, but having a-plenty of them in your closet will do so much more for your favorite staples! You must wear a black Henley blouse or chemise and a medium-fancy handbag to finish the look!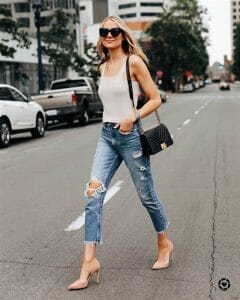 Here comes a candid but dauntless look that is just pure bliss for those hot, sunny afternoons. Take it easy and give your confidence a different hit by wearing a sheer halter-like top and a pair of Dorsay shoes. Do not miss bringing a black Michael Kors handbag for that extra hype!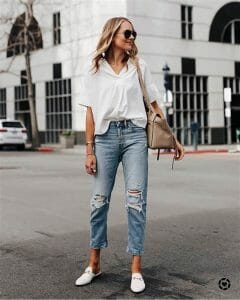 Bell-sleeve blouses can give you the day-off vibes! We have here some pigeon-colored blue pants that instantly do a good charade with the homey white top. Also, complete your travel look by donning into some natural brown shade of duffel or handbag, too.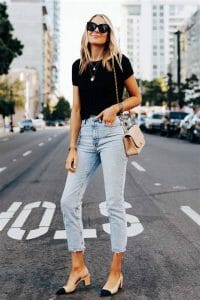 Nothing wrong with a slim black crop top on those lazy days. Take more emphasis on your top curves by wearing washed powder blue pants— and yes, those with above-ankle hems, please! Mind that you are wearing a pair of low chunky-heeled shoes, too that have the same color as your bag.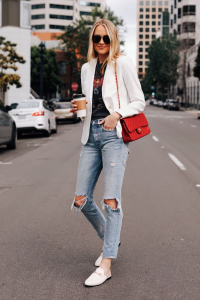 Business as usual? So how about business and— casual? Now those two themes can get you straight to this very appealing set of white blazers and ripped jeans! Oddly, this is a modern styling suitable for any slick get-up for your outdoor meetings with different people. Sure, you can also pride your alluring handbags on these overalls!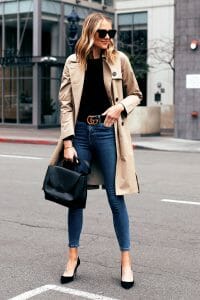 Yes, for more trench coats! You probably have more brown-hued trench coats, and oh, how they match very well with any blue-shaded pants! The color combination they make must be one of your most ideal go-to palettes in this list. TBH, whatever color your coat be, and whether you are going for pea or wrap-type trench coat, it will surely do great in any Azul pants you wear!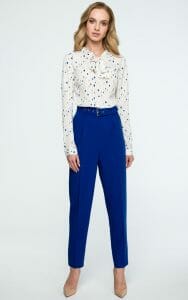 This favorite set among mall stall mannequins can be your next make-do outfit, too. Consider wearing those tiny floral prints from a silk-like blouse and have it tucked in with a pair of Navy or Egyptian blue straight pants. Well, we don't even need to tell you that the whole get-up is nice to wear in the casual workplace!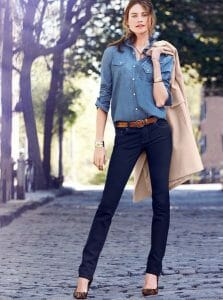 We will not be missing this Western shirt matched on skinny blue pants! Rock this look by wearing a Bleu de France pocketed shirt and a dark denim color of pants. A cinnamon-colored leather belt is all you need, too, in creating a stylish effort in between the top and bottom! Undeniably, these colors are one of the best complementing colors out there.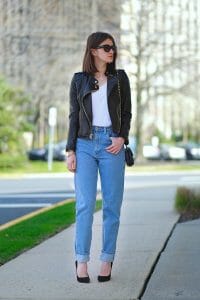 No way will you leave out leather jackets! Just as simple and classic as your blue trousers are, why not just look more iconic with that black shiny skin coat? The pair offers that through and through retro fashion that will never be out of style.
Yup! Show some love for your blouses with cut-out styles! You don't need to go far anymore in what pants might do well for your favorite tops. Just give those classic blue pants a go for your today's walk— plus, don't forget the open-toe shoes to add some boldness to your strides!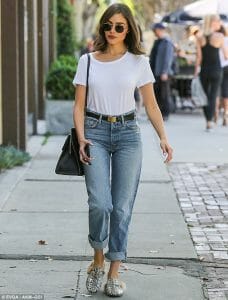 Look no further for a fashionable piece. White tee shirts are one of our favorite matches for any blue boyfriend pants! They are easy to wear and are anyone's go-to for breezy walks or errands! Tees are comfy enough for any regular activity in or out of the home. So yeah, the ease it does on your daily styling is worth a place in this list.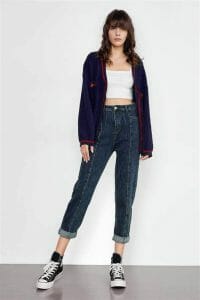 Off to some viewing of play-offs? Then just couple up a pair of blue pants and a dark-hued bomber jacket! The impression you give off is that of one getting ready to cheer all-out in the game! Funny how an outfit can give off such vibes, right?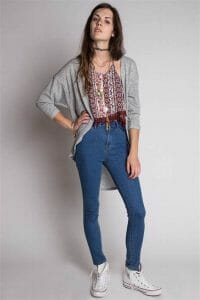 In those days that you want to go for a little bit of hippie look, then let the blue pants do justice for your vibrant choice of OOTD! Here we have poncho-like cardigans over some tucked-in patchwork spaghetti strap blouse. Now you look like getting into the fad!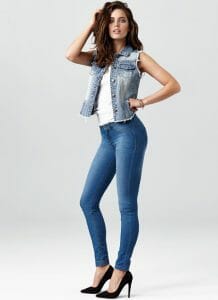 Go confident for a lot of denim! The blue overalls are a total mood in itself. The black stilettos are your game-on shoes in this whole attitude. While there are a lot of blue denim vests you can choose from, know that styling it with blue trousers is still so clever-looking!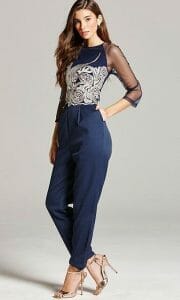 Another shot on blue outfits on this list! If you are going for a royal splendor style tonight, then slip on those blue gaucho-like pants and a svelte satin mesh top. Also, take your feet to a treat down the red carpet with some gold-lined ankle strap sandals!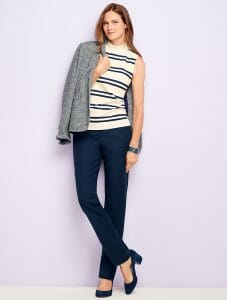 By all means, wear both gray and dark blue colors from time to time! These shades speak business and sophistication and are a great addition to your work clothes. If you are looking for an offbeat entry of OOTD for office, then you should shop for those gray blazers right away!