11 Trouser Fabrics: What It Is and How To Wear It
---
Women can Rock Trousers
Typically worn by men until the mid-20th century, trousers were not appreciated as an everyday clothing option for women. Appearing less feminine while in trousers has long been gone and we all know that there are numerous ways to maintain women's fashion senses. In today's world, different get-ups with trousers are continuously evolving and the online market is getting more accessible to the public. But some women do not have that It-Girl! idea to flaunt their trousers made in a certain fabric that could still match the occasion. There are different trouser fabrics that you can depend on. Some that could last the test of time, some with versatility, some that bet for hundred percent comfortability, others can get on the vogue runway, while few are made to be durable, breathable, lightweight, professional, and functional. 
Other women just click and add everything on the cart without taking into consideration the kind of fabric, the upper garment to match, the footwear to sport, and the perfect style to display these with. Good news, ladies! Here are 11 fashion inspirations on how to show off fashionable trousers with specific description on the fabric, styling, and some adorable suggestions for footwear. Purchase links are handed over to you as you upgrade your closet and flaunt it on your favorite runway out in public!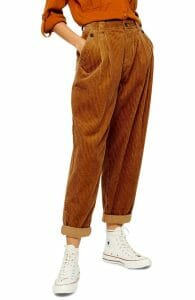 Trousers in corduroy fabric are stapling fashion interests for those who break free from their same old jeans and khakis. It is made of durable fabric with a rounded "cord" or wale that protrudes a little bit from its channels. It is perfect for both casual and preppy looks from your ankle boots to your girly strappy heels and white sneakers. Going out in comfortable trousers and a long-sleeved upper in the cold weather? Do not worry! Being warmer than jeans and more casual than khakis, these mid-rise folded corduroy trousers got your back, Siz!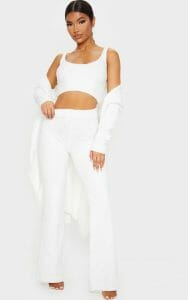 Chenille is a lot stronger than most clothing fabrics out there! This hairy woven fabric made of cotton is durable and can accentuate the soft drapes of your curves. This high-waist chenille trouser can be styled with a mid-rib sleeveless top under a cardigan of the same garment as your favorite stylish suit. This wide-leg flare can put a premium on your legs, especially if you opt to wear shiny footwear and accessories since the woven yarn of the trousers minimizes natural shine. Be cheeky!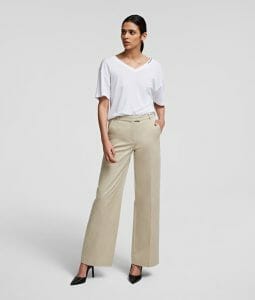 This comfortable trouser made of pure cotton is bold and fit for your professional vibe of the day! But not just that! This kind of clothing fabric always provides the wearer with an excellent fit with its versatility – channeling your vibrant and colorful moods all year-round. You can also sport it in all seasons and provided that it is used and laundered properly. Get ready with your stilettos and plain white shirt to match with your wide-leg fit cotton trouser as a combo of your lesser formal but sophisticated summer glow!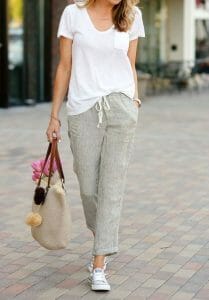 Looking for cooling and breezy summer bottoms that are breathable and can wick away your moisture? Your linen trousers are the best choice for you! Its cute little drawstring for closure gives you freedom in the tightness of your choice. This light fabric allows air to pass through your clothes on the hottest days of the summer. So, in your much-awaited travel and tours in tropical countries, your linen trousers can save you by packing easy pull-up pants that are both comfortable and modish! Your plain loose white shirt is a great combo with any shade of this fabric. Yes! This is a subtle outfit but one chic update, too!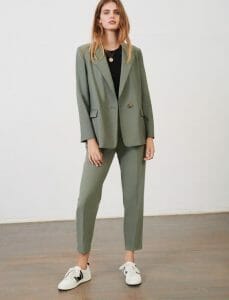 Going back to the buzz of work after working from home? Worry less! Your fresco wool suit trouser can relive your professional working feels but also retain the comfortability you used to have at home. This lightweight fabric is processed from multiple yarns and tropical and high-twisted wool which allows for an open weave; thus, creating more space for breathability and maximum air circulation. This wrinkle-resistant trouser fabric can save your busy day in the office and still permits you to flaunt your best-looking suit in an all-day freshness galore!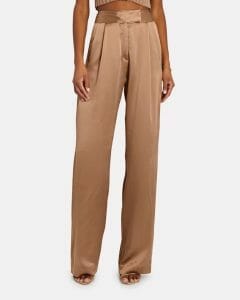 Sustainability and elegance are the beautiful features of silk fabrics! This organic textile is the strongest fabric made through natural processes. Thinking about donning silky trousers on your way to work? A big fat YES! This luster clothing will provide you with an incredibly soft feel and classy appearance with a high level of absorbency, wicking moisture from your body. These high-waisted silky trousers are ideal for your mid-rib sophisticated top as you stride and glide yourself on your way to your favorite places! Silk trousers will bring out your most feminine gait!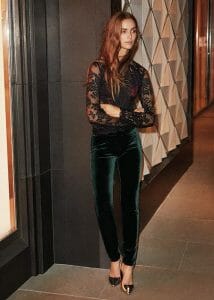 We all love an extra drama in our wardrobe! Velvet fabrics are richly hued and have an extreme softness and smoothness! Its elastic and lightweight material can easily flatter one's figure but also has the power to forgive the lumps and bumps of the wearer. Its natural fabric shades from where it drapes from your thighs will display an illusion of slender and long legs. You can pair it with a sequin top, a blazer over your plain bralette, and a pair of heels. But if you are looking for your casual and comfortable combination? Well, grab your favorite denim jacket and pair it with your velvet trousers and sneakers. Your laid-back and ready-to-go vibe on a weekend is always achievable!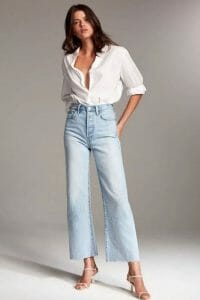 The queen in your wardrobe has the longest life and the most versatile item you have ever owned. From your go-to office bottoms to your unexpected girlfriend meet-ups to your sweet and exclusive date night, your high-waisted denim trousers will find their way to look chic and up on the fashion pedestal. This fabric is made from cotton twill that is woven with mottled yarn, usually in the shades of indigo, gray, or white. Its subtle diagonal ribbing pattern produces a sturdy fabric that effortlessly overcomes rough conditions! It comes in different sizes, shapes, styles, types, functions, rips, washes, and fits. Call the shots and combine them with anything! All Hail the Queen Denim!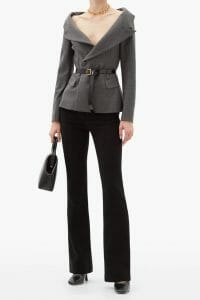 This sturdy fabric can stand tests of time. Being the main material for military uniforms, serge is a twill fabric that is both durable and resistant to air and water. Looking closely, there are visible diagonal lines or ridges made through twill weaving. Serge trousers are perfect to be paired with leather bags and a leather belt on top of your low-cut off-shoulder top. Surely, your serge mid-rise flared-leg twill trousers will insert an extra edge to your already-sleek fashion. Everybody will salute your sassy but empowered post-pandemic vogue comeback!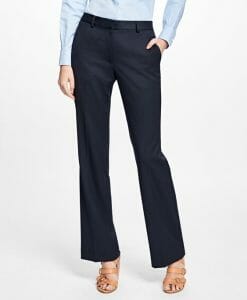 This fabric is a tightly woven twill weave which is usually the main material for well-made jackets, functional spring outerwear, spring suits, and also trousers. This garment has a 3- or 4-harness twill weave which creates a small diagonal texture. Gabardine is a firm fabric that lowers the level of its elasticity and increases firm and hard-wearing capacity. With that, this look is perfect to sport a sustainable fashion style that will last long. Trousers made from gabardine fabric are smooth and will unleash your professional and stylish look! So, what are you waiting for? Go for the gabardine galore!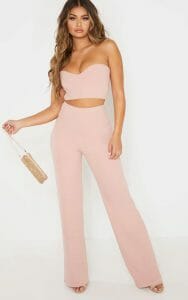 Deriving from the French word 'crepe' which means small and thin pancakes, crepe fabric is breathable and lightweight. Its synthetic fibers create crisp and crimped façade, providing more space for enough ventilation. As a fact, formal events and occasions are more enjoyable if you are modeling a special look of comfortable and excellent body moisture-absorbent trousers. These cute high-waisted crepe pants can be perfectly matched with a playful cropped top or your mid-rib camisole! These items will make your crazy crepe fashion ideas designer-approved!
Generally, trousers are your clothing items that experience the most of your actions and are more prone to crease marks, dirt, shape deformities, natural stretches, and other fabric damages. Your outfit of the day must be carefully chosen based on the activities and events that you are attending.  
After the pandemic shock, the next days to go out and have the best time of your life should not be taken for granted anymore. Make new memories, take more pictures, flaunt your most natural vibe, and spread nothing but positivity around you. 
You might have a minor step back but the healing world is dazzlingly waiting for your major comeback! Rebuild your wardrobe and rock your everyday look!