What To Wear With Trouser Jeans?
Trouser jeans always make their way not only for casual Sunday walks but also in the highly modernized office environments that are very accepting towards diversity of clothes. So for the next time that you have to go to your schedule with friends but have to do so after working hours, maybe slipping in one of these trouser jeans outfits will save you much time and worries! 
Pairing your trouser jeans has endless possibilities! You may give one of our best ideas here to try and to pose like you know your fashion very well. Who knows? Any of the following styles can be the most game-changing outfit idea that you can try from now on!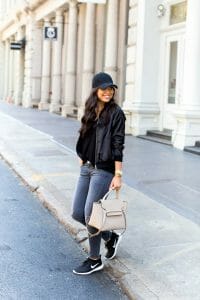 A ribbed collar jacket and some sexy black folding shades can be your next biker mode outfit! You may play on different inner shirt designs to go with the whole ensemble. Get the look more vibrant with some matching sneakers or boots, and wear those that complement well the colors of your top and bottom pants.
Note: What's superb with trousers is unlike many centuries ago, they are more available in various colors and trendy designs today! This means that you will be available to get a pick not only for a similar classic blue one but also for color options in the spectrum! Still, the key to acing the look must go with both the style and color palette that you will choose!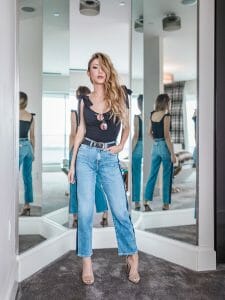 This outfit goes well with all women who love trousers! Whether it's a sleeveless adorned top or some classy off-shoulders, the pants will take it to a warm, casual theme for the sunny outdoors! Start wearing that thick leather belt and those dangling bracelets that you almost forgot you have!

Long-sleeved shirts offer that cozier style for women. Outdoor or road-tripping with this kind of top will not only assure the wearer of that "homey" look but also diffuses that confidence of high fashion sense! Best to wear along with dark-hued trouser pants and some form-fitting boots on!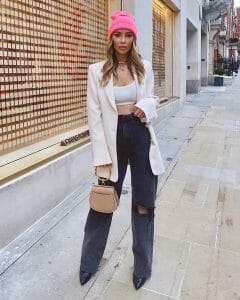 Though used for contrasting purposes, the formal suit and the trousers can still be partnered! Prepping in this layered match results in an exquisite mix of the contemporary but relaxed image of you. Bringing close to your body a versatile handbag will help you achieve that finished look!
Just like with our model here, a light-colored (e.g., ivory or cream) plaid suit is smartly domineering the casual aura of the dark-colored pants. Not that bad for bringing a variety of looks every day!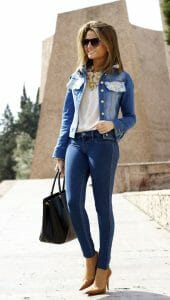 Denim jackets are never listless in the fashion world. This piece of clothing should always own a specific place in anyone's wardrobe, especially with those who always wear trouser jeans! It is like wearing a classic and decent flair to show off at your fieldwork or the county drive. Either way, the whole image it creates has never failed the wearer in terms of clever outfitting. Brown combat-like boots are a nice treat for your OOTD here.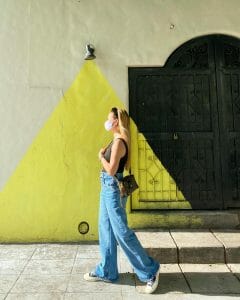 You should not call quits to any straight-legged jeans or bulky-looking pants! Large-framed bottoms, graced with sleeveless blouses, will balance the head-to-toe shape for you. No awkward walks for you as a perfect, dainty top will do the wonders of fashion for those pants! Plus, you may try the outfit either on some sneakers or even heeled shoes. Whichever you choose, don't hesitate to sport the clothes depending on the event you're going to or simply with the mood you have for the day!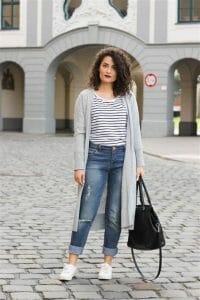 Well, who does not love shirts? Given that they are plain, basic clothes to anybody's wardrobe, you can still give hype to this essential top for daily fashion! Shirts do come in different styles, that's for sure. Those that have statement designs may already be staying in your closet for so long. But, if you have striped or patterned ones too, we bet you got a better collection of shirts! Patterned shirts and pants are always an easy go-to. Swing that cool jacket in your shoulder and you are set for the day!
A big yes, for flaunting the shoulders and a lot more than that! Women who fancy wearing trouser jeans in those cozy afternoons may have already tried this fashion, but if you still haven't, simply add this pretty blouse to your week's wardrobe!
The style exudes an extra positive air on the wearer, like wearing something out of sheer confidence. You can pump up your look with a ripped style of pants over good-looking heels to be runway-ready!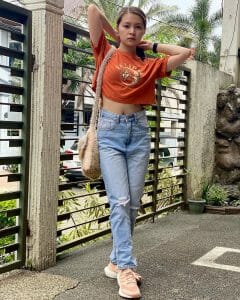 Maybe you will be out for grocery shopping or a short walk to your friend's house, either of which you may opt to wear the short-cropped top blouse! For women, this could already be an essential shirt in their hangers. Because, why not? They don't look bad on any trouser jeans, if any, they are not dependent on body frame as they can be of free size. No doubt that they can make it to a woman's top shirt collection.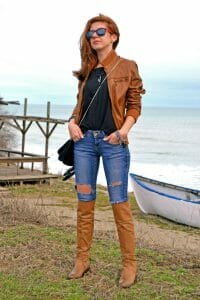 Wearing brown is perfect when you are ought to go along with people. As we know, the color brown is associated with being approachable and friendly. But more than that, if you have more blue-colored trousers, of course, they would pair perfectly! Not only will your clothes speak of honesty and all, but you also get the assurance of having a good sense of fab outfit planning. Note that the belt will make you feel extra, too!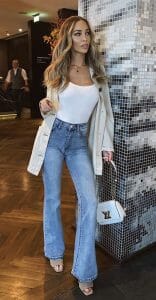 Spruce to an elegant version while wearing your favorite pants! A classy cardigan layered on top of an underneath blouse, shirt or bralette, is very eye-candy for those dull days to work. And for your socials, for sure you'll even get praised for looking great on it! And sure, men can also have their share of fashion attitude with their cardigans on. If you are planning to don these layers, carrying a stylish handbag that has a close or similar hue as your cardigan will make your clothes a marvel for anyone's eyes!