Bralette vs Bandeau: How Are They Different?
The simplest difference between the bralette and the bandeau is their construction. Bralettes have no underwires, are typically made from lace, and are generally sexy in the look. Meanwhile, bandeaus are stretchy tube tops but are narrower in proportions.
Ending up in the undergarment section sure is not easy for any lady who is practically in search of the best clothing piece that can replace traditional bras. A bralette and a bandeau are two of the best garments to consider getting as they can be worn under or as stand-alone tops.
Get to know more about these trendy fashion choices before you head your way to the counter!
What Is a Bralette?
Bralettes are non-wired, lightweight supports that are alluring to the eyes when worn by women with smaller breasts. Should you happen to fall under the plus-size category, don't be too quick to turn your back from these revolutionary pieces produced in the bra universe! 
These days, there are bralettes that have heavy-duty support and other more supporting features that would provide anyone who is well-endowed in the chest area a comfortable experience throughout the day.
With so many styles out there, shopping for the right bralette has never been easier. Although this piece of clothing is generally featured without the annoying wires, some may still come out structured while retaining the bralette look.
The variety ranges from lace ones to crop tops too. Some have pads and can be removed while others don't. That basically tells that although a bralette is meant to be worn as is, some can't be if they're too see-through. 
Pros 
Bralettes are typically cheap. Some of them are made with less fabric, hardware, and other essential materials, which means they can be sold for less.
The number one reason why people wear bralettes is comfort. Of course, with the non-existent prominent structures underneath the bust, any lady can have the needed support and concealment without feeling anything poking or constricting around the chest.
Bralettes are also stylish. Anyone can sport this garment and pair it with a coat, jacket, or blazer.
Nothing is more helpful than a bralette whose cut complements the plunging neckline of the top you choose to wear. 
During summer, bralettes are the best option of clothing for women who need a little ventilation. Since a bralette is made from less fabric, fewer portions of your skin are covered, therefore, they can breathe and get cool despite being under the sun!
During pregnancy, your hormones can make your breasts feel sensitive. Wired traditional bras are a big no-no for future moms should we talk about comfort and relaxation. Bralettes are the thing for them. No question.
Lastly, bralettes are also the best choice as post-surgery lingerie. Since the pads are thin and it isn't structured, the garment becomes gentle on the scar tissue.
Cons
The number one issue in bralettes is no other than the limited support it gives. If the coverage isn't enough, this garment might not be the answer to your needs and that's beyond ok.
Some bralettes that are worn over the head can be non-adjustable. The absence of the hook-and-eye closure is deemed a negative feature.
Since bralettes appear in different styles, the triangle ones can be problematic, especially for those who have larger breasts. The coverage isn't enough making them easily spill out which can be extremely uncomfy and anxiety-inducing.
Although a bralette's main job is to provide luxurious comfort, a good number of people still find it unsatisfactory and far from ideal. This boils down to the wrong fit, size, and design. It sure is quite hard work to find the most suitable bralette in certain cases.
When to Wear a Bralette
A bralette can be worn mostly on parties, night-outs, casual meet-ups, festivals, and other casual or party-ish events. In some instances, you can definitely opt not to wear this as is and put it under some top of whatever kind.
It is absolutely stunning and mysterious to sport plunging v-neck silk sleeveless with a lace bralette underneath. The edges of the undergarment add more character to the whole appearance. 
Due to how thin bralettes can be, it sure is a risky and non-ideal option for winter wear, but they are the best when it comes to beating the heat during the warm months. 
5 Types of Bralettes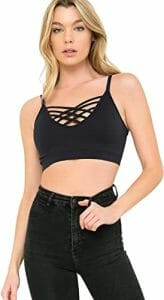 The name cage bralette really does exhibit a cage-like feature that is seen above the cleavage. It is purely for decorative purposes should we talk about the numerous straps and it's a popular modern style that tickles the right spots of bralette lovers.
This construction is seen to have been inspired from the realm of bondage wear– a true tempting piece of garment that can attract any man in sight!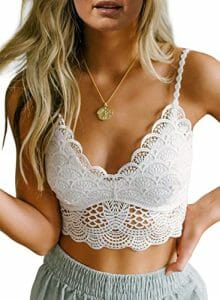 Time to recall the hippie fashion that boomed around in the 1960s! Despite being around for so long, crochet bralettes are still acceptable according to today's fashion standards. In fact, if you love to crochet, you can make a DIY bralette with just a few resources. If you can embroider different striking patterns, do so! Make your crochet bralette the most distinct among others.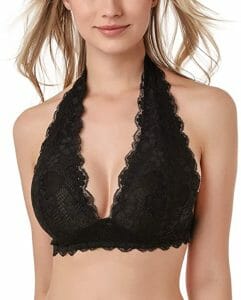 This one-band bralette obviously has no straps so you're free from experiencing the infamous slipping straps! You can show off your sexy back with only the thick band that holds the bust at the front. Some halter bralettes offer different coverage options and styles, but nothing is better than a high-necked style.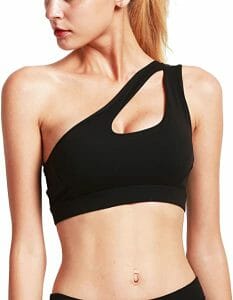 For something that can look more formal than your typical bralette, the one-shoulder garment is a go-to choice. This is great when matched with a bodycon skirt, jeans, or pencil skirt. Although it won't be acceptable in work settings, this bralette would boost your confidence and appeal on dinner dates or any similar occasions.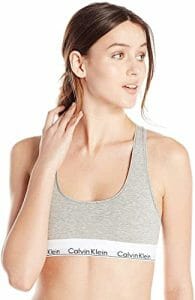 The one that inspired it all–the sports bra but bralette version! This is perfect for yoga and other activities, but you can also use the sports bralette with your suit or feminine trousers or slacks. A sports bralette looks more like a cropped shirt with a narrow midriff and a low neck. Undeniably, it's sporty to the core yet stylish, to begin with.
What Is a Bandeau?
The easy-to-slip-on narrow piece of fabric is no other than the bandeau bra. It's closely similar to the strapless bra but it does not have any closure. It is super stretchy and is known to have a thick band on top and bottom to guarantee a better hold. 
Most bandeaus have pockets and removable pads. These are perfect for body-tight dresses or tops without showing nipple ridges through the clothes. There are no straps to bother you too as they are generally in a tube style.
If you're lucky enough, you can also find a bandeau bra with removable straps. 
Pros 
A bandeau bra provides extra support to the breasts. With the right fit and elasticity of the garment, there surely will be no accidental slips so quality is the main important thing here.
It's no longer a time-consuming task putting a bra on as a bandeau has no hook and eyes. All you have to do is put it over the head like you would with a tee shirt.
Easy to style with a variety of outfits. Bandeau bras are versatile, trendy, sexy, and chic. 
Unlike most lace bralettes, a bandeau bra can be machine washed without anything to worry about concerning the fabric. 
Plus size women can certainly enjoy the convenience bandeau bras offer! No matter how large the bust is, the suitable bandeau bra can keep everything in place without having to constantly pull up the top.
Cons 
For some who aren't used to strapless undergarments or tops, a bandeau bra would not be the best choice for wear. You can opt to purchase a tube top with straps that can be removed, however.
The absence of closure can also be a con for bandeau bras. If the stretchability of the garment is not enough, there will be no room for more adjustments. 
A padless bandeau bra can cause an impression of a flat chest. This is unflattering for small-busted girls, but confidence can go a long way to keep sporting an unpadded tube top.
When to Wear a Bandeau?
Upgrade your wardrobe choice by including a quality bandeau bra to your formal, casual, or loungewear. If you find it as the comfiest clothing in your closet, you can also jump on your bed and sleep in it. 
Due to its versatile nature of being available in padded or non-padded pieces, you can easily find comfort by seeing what your body prefers more. Its breathability feature also helps wick away moisture and sweat– a plus point for summer outfits!
To keep things simple and on point, a bandeau bra is all-day comfortable wear that may come in different sizes, shapes, and fabrics. 
4 Types of Bandeaus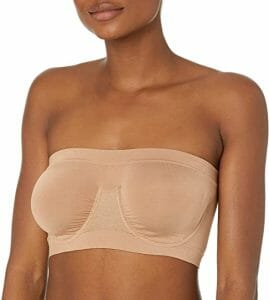 An incredibly cozy bandeau bra many women love comes with a seamless underwire. The thick band on top makes sure you get the right fit so it won't roll down your treasures. Your back rolls won't also show thanks to the smooth surface it features. Despite having two wires for the bust, the bandeau bra remains to commit itself to the comfort you deserve.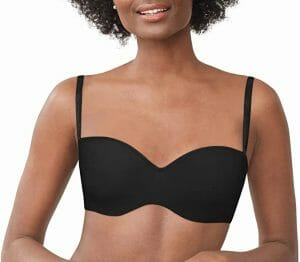 Want to try a bandeau bra but are still a bit hesitant about it? We have the convertible bandeau bra with straps that can be easily removed once the tube vibes kick in. Be in for a surprise as to how a great pick this is! You are certainly hitting two birds with one stone here as you can indulge yourself in a dual-purpose undergarment that comes at one price only.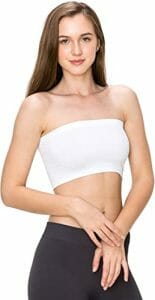 Feel some sort of protection and support even if you're sleeping. The healthiest alternative to any undergarments available in the market is no other than a non-padded bandeau bra. Aside from using it as your new sleepwear, this version can also be used along with a low neck or tank top.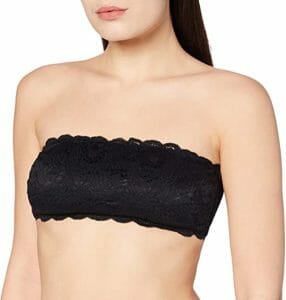 You don't have to just feel satisfied with all the practical features you can find from a bandeau bra. The best undergarment that can be worn as a top needs to look exquisite and stylish too! The most ideal and attractive tube top is a lacey one. It adds drama and sexiness to your whole look, you'll surely not regret buying it. Just carefully choose one that's not scratchy to the feels.