Can You Sleep in a Bralette: 9 Sleeping Bras You Can Wear
As we all know, bras are an essential piece of undergarment for women. It is used to cover and support the breasts which can then provide comfort and various other effects to the body which may benefit you. While some suggest the elimination of this garment and freeing the breasts entirely, many other women still prefer wearing one. Whichever your preference is, it is important to pay close attention and listen to your body. Women must be able to choose the right type of bra for them to wear.
With many kinds of different types of bras that have gone out in the market, the bralettes have become widely known for their comfort and versatility. You're probably here because of the lingering question in your mind if you can sleep in a bralette. You may be asking because of your need for it because for some, sleeping in a bralette gives them a sense of relief and comfort especially when the breasts are experiencing soreness, but might also produce in them constant worry about whether it is safe. So, we're here to tell you that there is nothing wrong with it – yes, you can sleep in a bralette. 
Understanding Your Body and Your Bra
It is important to know and to be aware of our own bodies. Women undergo a lot of changes in their bodies just with their monthly cycle, and this involves changing levels in hormones. When our body experiences hormonal changes, especially during menstruation or pregnancy, one of the physical symptoms is breast soreness, which can be very uncomfortable and painful. That is why some women prefer wearing a bra or keeping it on even during sleep – because it provides tremendous comfort and support, most especially during these monthly periods.
We cannot emphasize enough the importance of wearing a good quality bra, since they have a huge effect on our body and our health. While there are many factors to consider in choosing the right bra, always watch out for the fabric material and size. Wearing a bra can help with your posture and reduce back pain, especially for women who have larger and heavier breasts. It can also help with skin irritation and chest pain. So, make sure you get yourself a good-sized bra that will snuggle around your chest and fit you to its maximum comfort. Always remember that health comes first, so make sure not to compromise when it comes to choosing and wearing your bra.
According to Healthline, there is no medical evidence that says it is bad or detrimental to sleep with a bra on. In fact, sleeping in a bra can keep the breasts intact, thus limiting breast movement. This can help alleviate breast pain and lead to a more comfortable sleep. 
Understanding Your Bralettes
Bralettes are a highly improved type of bra that provides great comfort. It is less structured and it is without the underwire, making it a gentler option since it is, by design,  less restrictive to the breasts. So, before we get into detail or statistics, you have to ask yourself first what your very own preferences are – like, whether or not you find bras comfortable. Because on days when you need that extra support especially when your breasts are swollen, bralettes can perfectly help you with that. To answer your question on whether you can sleep with a bralette on or not, it is a big, resounding yes.
What Happens When You Sleep in a Bralette
Some women just find comfort in sleeping in a bralette. What you have to understand now is that sleeping in a bra is not more about the support but about the containment. There's been a talk that sleeping in a bra prevents sagging and that it keeps the breasts perky. Since the breasts have no muscles, gravity and poor support stretch the ligament which causes the boobs to sag. So every time we go about without a bra to support the breasts, those ligaments are being stretched down, causing sagging. The more the support, the more you contain the breasts to keep them firm and looking young. With a right-fitting bra that is comfortable and without the underwire, you can provide the containment and added support it needs even during sleep. With that being said, here are 9 sleeping bras you can wear: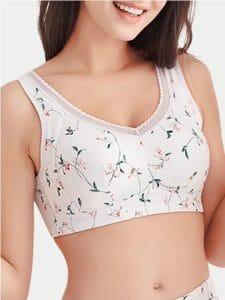 A full cup in spandex and polyamide material that brings full closure to the breasts. This bralette is a very breathable and soft bra you can wear to sleep. It serves great comfort in every detail. Not too constricting with its wide straps that lay gently on the shoulders, and its midrib that perfectly surrounds the torso provides enough support for movements in sleep. It is a good quality bra you can add to your wardrobe for that everyday essential.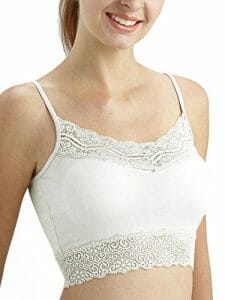 This half cami is good enough to serve as your sleepwear top already. That in itself already sounds great and oh-so-comfortable, because you will have lesser layers to put on! What's good about this bralette is how it provides the right amount of coverage and support for sleeping. You wouldn't have to worry about your breasts bulging out while you are unconscious sleeping. It is made out of cotton, spandex, and stretch lace which is very soft, comfortable, and breathable. It is great for layering or simply just wearing it alone. This piece is a great addition to your wardrobe because it is most likely that you will be wearing it almost every day.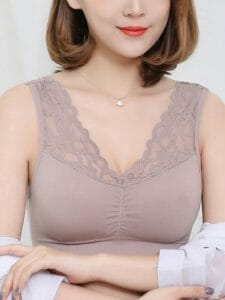 Just by the looks of it, you can already tell that it is a very good and comfortable bralette. Wait till you get your hands on it! Feel the smooth texture as you gently run your fingers on it. This wireless, wide lace straps bra is made of polyamide material which is abrasion-resistant and very durable. They are breathable and good for sleeping, and even for yoga at home. Experience maximum comfort with its full cup coverage and elastic material that feels like a gentle warm hug around your upper body.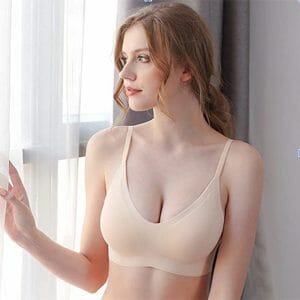 This thin, soft sleeping bra is like your second skin and will make you feel like you're wearing nothing at all. It is a perfect daily bra for women, made of nylon and spandex, and is great for sleeping, lounging, and even low-impact sports. It gives an invisible look under clothing, and is very gentle and smooth on the skin, leaving no mark or whatsoever after wearing it for many hours. Easily, this might be your next favorite type of bra to take with you to sleep. It is very breathable and lightweight which makes it lovable for many women out there.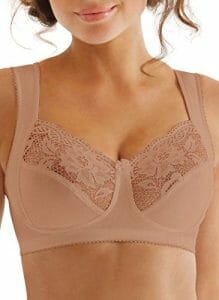 This seals the deal with it being 100% cotton. Nothing beats choosing natural fabric over synthetic ones – specifically cotton. Its best qualities include being breathable and absorbent, where it absorbs excess moisture and removes the build-up of heat from the area. There are a lot of changes that occur in the body when we're asleep, so this type of bra makes the perfect cut for those instances. It is always best to consider the seasons in choosing what fabric is best to use at the moment, but generally, cotton is impeccable for everyday wear.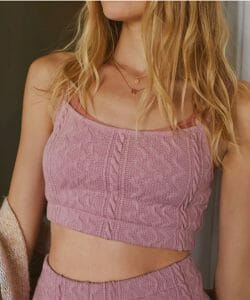 For that warm, fuzzy feeling, this sweater knit bra gives you just that. It brings a different level of comfort that is unique and precious, just like that of an old memory that brings tons of warm and comforting feelings. There's something about knitted wear that makes it so homey and safe. Its wool hair fibers help maintain body temperature which makes it cozy, warm, and comfortable. Knit fabrics also have great breathability and soft texture. This is definitely great for sleeping and lounging around.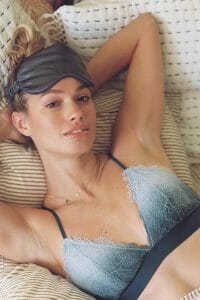 Talk about lightweight. This triangle lace bralette is nice because it follows the unique natural shape and form of your breasts. Lace bralettes tend to fit better because of their flexibility, while the seams and panels of it provide lift and structure. Its breathable material allows your skin to dry off any perspiration more quickly. If well taken care of, these lace bralettes can last you years of wear because of the durability and strength in the weave of its construction. Not gonna lie but, another good reason to own these bras is because of how pretty it is. Aesthetics do matter, and it sure can add a boost of confidence.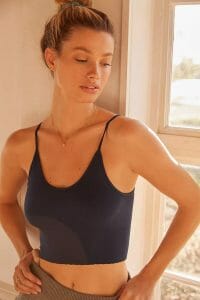 Here is another piece that definitely makes the cut for best sleeping bras. This longline bralette is known for its convenience. Having to easily put on your top that already provides support and protection to your breast is such a win. Hopping straight into these is just perfect after that hot relaxing shower after a long day of work. Its stretchable material gracefully embraces your upper body and breasts to such a comfortable extent, that you will be comfortably dozing off and sleeping in no time.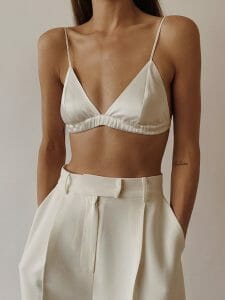 This affordable luxury is more than just glamor. This fabric material is way more gentle than the other materials. Its natural fibers allow the skin to breathe properly by allowing air to circulate and by wicking moisture away from the skin. It is also hypoallergenic and has anti-fungal qualities which makes it such a good-quality fabric. The comfort it brings with its silkiness makes for the sweetest possible slumber. If you have sensitive skin, this luxury would be a perfect choice for you.
Despite the many different suggestions and news about whether it is good to sleep in a bra or not, always remember that it all depends on what suits you and your body best. If it makes you more comfortable sleeping in a bra, especially during your period or during pregnancy, by all means, wear it. There is no proven study or any published data that indicate sleeping with a bra as harmful. Just make sure to note the important points you have to keep in mind in order to keep a healthy body, like wearing the right bra size for you and using the right fabric materials. If you're here because you are having trouble sleeping because you are feeling uneasy about your breasts, make sure to check out the various sleeping bras we've posted above that you can wear.