Bralette: When to Wear and Where
The last thing you'd ever want to commit is the sartorial fashion faux pas. Even though bralettes are a huge thing these days, you can't expect everyone to be non-critical of how you dress yourself up. 
Admittingly, it takes a lot of confidence to sport this dual-purpose undergarment. To ace it with this garment of choice, any lady must know the right time when to wear it– this includes the occasions where showing your bralette is acceptable.
Unsure when to sport your bralette? We are here to guide you on this one.
Can You Wear a Bralette Every day?
One among the many things you can include as your day-to-day basic wear is your bralette. Unfortunately, many women are still struggling to do so due to the bralette's unstructured design. They feel unprepared to show themselves out in the public with a light padded garment.
However, if you have experienced feeling the discomfort of wired bras that come in the wrong size, the riveting alternative is no other than a bralette.
You just have to trust that it's going to provide you with a positive experience. By choosing the right bralette, once you flaunt one, you'll mostly never go back to the traditional bras.
3 Bralettes for Everyday Affairs
For places where there aren't a lot of rules when it comes to clothing, there are at least 3 best bralettes you can purchase so you can look smoking hot every single day. Check out the list below: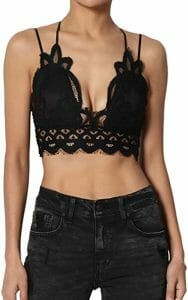 A true fashionista's choice! This is a bralette with intricate details with a lace fabric all over to add a sense of drama to your whole appearance. The back has a thick band with the straps crossing for an attractive look and they have to be exposed. This bralette is best matched with a pair of jeans and a long, flowy blazer.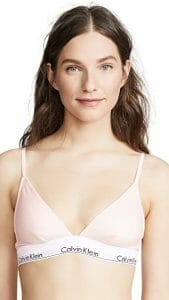 For your loungewear, nothing beats Calvin Klein. This brand manufactures a lot of bralettes that may typically come with a band that features its name. This is perfect for small-busted women and you're guaranteed a perfect fit and a sexy look with its thin straps and feminine color.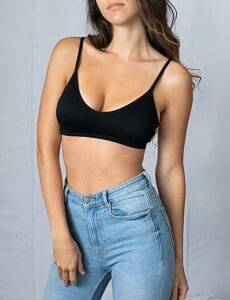 Whether you want to layer this with a sheer top or wear this as is with a high-waisted pair of jeans or skirt, you know you're far from looking unpleasant in the eyes of a fashion critic. The fabric is comfy for the skin as it's made from a blend of materials. The classic black color can go with anything, but there are other colors you can choose from.
9 Occasions Fit for a Bralette Outfit
Wearing a bralette is undeniably daunting for first-time users! Usually, you'll ask yourself a lot of questions and one includes what occasions would a bralette outfit be most appropriate to be worn.
Although we have agreed that a bralette can be an everyday choice of clothing, it's definitely helpful for everyone if we list out at least nine events where you can sport this sexy undergarment.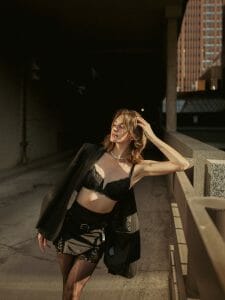 Night-outs are one of the most interesting and invigorating topics for many women. The main priorities set before heading to the club are comfortability and sexiness. Both are the qualities of a bralette.
If before, you and your friends are having a hard time agreeing on what to wear, you'll no longer have to waste so much time planning out your BFF's dress code. Without a doubt, everybody wants to look hot and attractive throughout the night while mingling with new people.
If I were to be asked, a black lace bralette on a leather jacket and black pants is a combination you can never go wrong with. Swap your pants with a mini skirt and a pantyhose for an ultra-smoking evening with your girls.
Source: Megan Ruth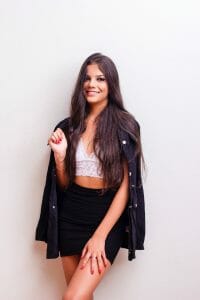 First impressions are hard to forget and what you wear can inevitably make people have a sort of judgment about you. If you're off to your blind date, it's always better to plan ahead your look and outfit.
Keep it alluring and at the same time, not too exposed unless you have the idea that your date is as filled with liberty as you are. Needless to say, it's much wiser to balance everything.
Of course, a bralette is the go-to wear for your romantic evening. Ideally, this is worn with a blazer in case the weather gets cold.
Source: Marlon Alves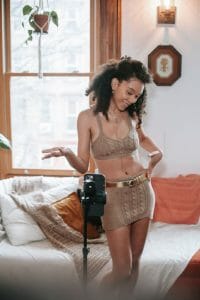 Can you relate to the fact that you have to schedule a meeting with your old friends? Adulting can be very busy, especially with work as one of our top priorities, and seeing our friends is somewhat a luxury.
In case the meet-up in your favorite restaurant is confirmed, save yourself from the stress of thinking about what to wear. Sport your crocheted bralette and a skirt to match it up.
For something to cover you up, a crocheted blazer will do. Go monochrome in light colors for a more pleasant daytime vibe.
Source: Miriam Alonso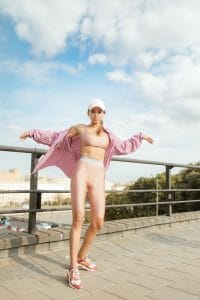 If you don't know it yet, a sports bra falls into the bralette category. One of the popular daywear famous personalities are fond of is athleisure wear due to how extremely comfy it is.
You can go anywhere with this outfit like if you are out for an errand or you're in the mood to hang out in your local Starbucks cafe. With a bralette, you will no longer feel constricted throughout the day. Plus, you'll fully enjoy your morning without the painful underwires beneath your chest.
Source: Polina Tankilevitch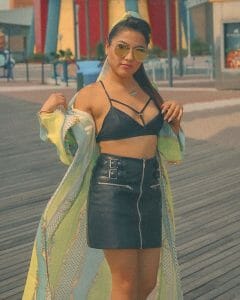 A fashion event is another occasion where showing off a bralette is deemed acceptable. In this affair, it's unlikely to have loads of limitations when it comes to being creative and artistic concerning your outfit. Of course, you have to stick with the theme if there are any.
Anyhow, you can definitely look stylish with a strapped bralette. It doesn't matter whether you want to sport a pair of pants, a maxi skirt, or whatnot. You just have to make sure everything falls in its place without losing your fashion taste.
Rock a pair of combat boots for a fierce aura or heels if the day calls for a feminine look.
Source: Anibal Ceron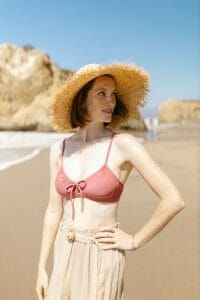 For beachwear, you will absolutely not go wrong by wearing a bralette because everybody else in the place is in it for a suntan! Since a bralette leans more on the aesthetic side, this won't be the most suitable wear if you ever think about swimming in the sea.
A bralette is more like an add-on to your attire for early morning or late sunset walks. It's a fun choice for beach photoshoots too. With so many varieties for this undergarment, you won't run out of beach outfit ideas to strut with your pals.
Source: RODNAE Production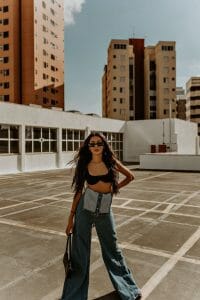 Music cons and festivals are two events that are notoriously filled with people who are not late when it comes to fashion and style. You have all the freedom to wear what you want, but of course, without looking too much.
You don't have to look basic either. The goal is not just to enjoy the night filled with blasting music and fun companions around but as well as turn heads effortlessly.
Rock the event with a stylish bralette and a denim jumpsuit with a pair of sexy pumps. Other ideas that suit your taste are welcome as well! As you know, bralettes make almost everything classy!
Source: Matheus MMK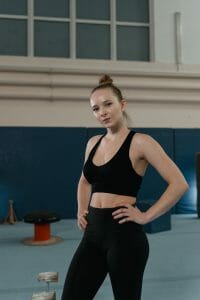 We might have mentioned that you'll never go wrong with wearing a bralette, but it can be a mishap if you put on the wrong type. If you are planning to sweat out the whole morning, what you need is a sweat-wicking top– a sports bra.
There are loads of sports bralettes to choose from in the market and although they are advertised to entice the public, you have to remain cautious on what you purchase as not all carry the same kind of quality.
The thing about sportswear is that they now commonly come in sets, so contemplating your outfit will no longer be that much of a challenge.
Source: Tima Miroshnichenko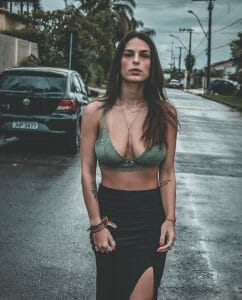 Last but not the least, the perfect time to wear a bralette is whenever in a sense. It's one of the comfiest garments you can put on thanks to its wire-free feature and soft materials used.
To give you an idea aside from the ones mentioned, you can don a bralette for lounging, doing your everyday errand, enjoying a cup of coffee on the balcony, and so on. It's a fashion fad that will not vanish from the mainstream too quickly.
And, while it's here, popular and booming, indulge yourself in a one-of-a-kind experience this garment will give you. And while we are at it, here is an article that lists What to Wear With a Bralette Under.
Source: Felipe Hueb
Times When a Bralette Should Not Be Worn
True, a bralette is ultra-stylish and chic clothing you'll never get tired of wearing. However, even though this can match almost every outfit you have in the wardrobe, it doesn't mean you can throw this on all the time without considering where you are going.
Wondering where the exposed bralette is off-limits? We are listing three below:
If You're off for Work
Your company building requires you to look professional. Aside from gaining respect from your clients, a decent attire also keeps everybody focused on doing their projects.
Usually, your work will have certain acceptable dress codes and they will list the ones that are considered a no-no. You can still use your favorite bralette, but all of it has to be concealed by another top. It shouldn't also form ridges and must have enough padding.
If the Weather Is Freezing
Is the temperature outside below zero degrees? If yes, it might not be the best timing to wear a bralette of any kind as a stand-alone garment. You still can though, as long as you layer it with several thick clothing or a winter jacket.
Still, there is not much of a rule when it comes to what you want to wear. If you want to brave the cold with a bralette for a quick snap to update your Instagram, do so, yet it's quite risky. 
If It Seems Inappropriate for Gatherings
Family gatherings ideally call for decent attires. Do so out of respect not only for the adults around you but as well as for the kids. It would be an unpleasant slight if a nip slip happens all of a sudden while you are in front doing the opening remarks or while you're entertaining your nephews and nieces!
You know the drill. Despite the unwritten rules for this kind of event, it's much better that you fully scrutinize your attire in the mirror before stepping out of your door.