Bralette vs. Bra: Is There a Difference? (Here's All YOU Need to Know)
While many are confused with bras and bralettes, you can tell the difference by looking at their design and structure. 
As such, bras are an undergarment that is underwired, structured, and padded to give more support to your breasts. Meanwhile, bralettes are a combination of a bra and a crop top, typically come with various styles, non-wired, and non-padded that are much more comfortable to use.
In this article, you'll know more about bra and bralettes, especially their purpose, advantages, and disadvantages. Taking a look at these concepts will also help you find the right type of lingerie for your breasts. 
What Is a Bralette?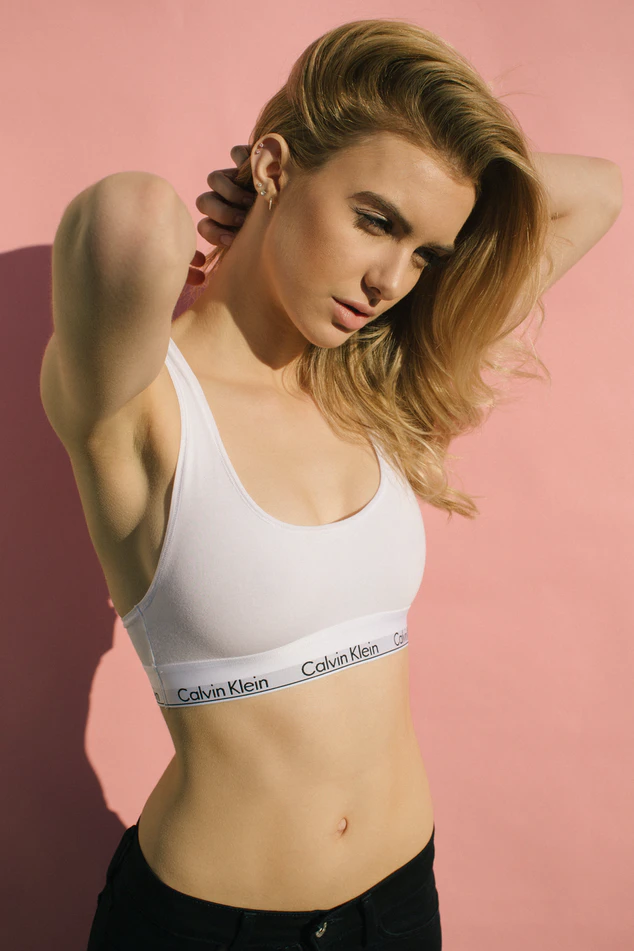 A bralette is an undergarment that usually comes with a soft cupped or unpadded (or removable pads) structure. The suffix "lette" (or "let" in some brands) means a lesser or smaller bra, which can denote a younger version of a standard bra. 
In addition, they sometimes have wider bands that sit at the bottom of the cup that are cozy and comfortable to wear, especially for those who have sensitive boobs or breastfeeding moms.
In terms of structure, bralettes merge a crop top and a bra crafted with stylish laces or exotic covers. They encompass non-wired cups and extend towards your upper waistline. Bralettes' structure does not expose too much of your skin, making them an appropriate outerwear top worn at casual events.
Bralettes' key selling factor is their oh-so-comfortable paddings, which women think are a "free bra." Plus, they come in a plethora of back designs that are perfect when married with a backless shirt. Bralettes function the same way as bras but are more acceptable to wear out in public for their trendy design.
What is the Purpose of Bralettes?
Bralettes can be worn as loungewear, workout gear, athleisure, or summer wear. They generally give you a "no-bra" bra feel.
Bralettes are primarily designed to give you fashionable but comfy lingerie without any hassle that a standard bra gives. So if you are looking for a more fashionable outerwear top during warm seasons, a bralette is the answer.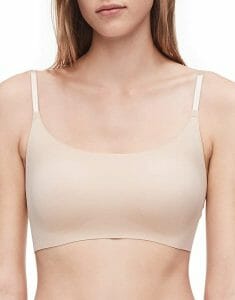 Bralettes are less structured, more lightweight, and prettier than your typical bras. As such, they provide light support for women with smaller chests or petite bodies. 
Women prefer to show their bralettes out in public. That is because bralettes provide a more sexy topwear that is not too revealing since it offers more breast coverage. Nonetheless, you can either let your bralette peek out of loose-fitting tops or jackets or wear them as it is.
Benefits of Wearing a Bralette
More comfortable to wear at night. There is no scientific proof that wearing a bra at night causes health concerns and issues. But since bralettes are softer and more lightweight, sleeping while wearing one makes you feel more comfortable and cozy. Bralettes have no wirings, so it is OK to sleep with them on.
It can be worn every day. Bralettes provide more comfort, which is the very reason why women prefer to wear them every day. Further, bralettes are a compelling and free alternative lingerie to women suffering from underwire pains and discomfort from a typical bra.
More fashionable. Bralettes provide more breast coverage, especially when worn under a low-cut or revealing top. Compared to bras, bralettes are sleeker to wear, which go well under pretty much anything. Thus, they are OK to wear even in public.
Drawbacks of Wearing a Bralette
Nipples might be peeking. If you go out wearing a bralette in public, make sure that it has the right pad and thickness so it won't expose your breasts' natural shape. And since most bralettes come with light paddings (sometimes unpadded), be aware that your nipples might show through them.
Lack of adjustability. Most bralettes come with a stretch-style strap, meaning you won't be able to adjust the length like bras do. Likewise, they are worn over the head, which means they are tougher to wear on some occasions. If you still go for a bralette, consider the ones with a hook-and-eye adjustment and a slider on the straps.
Lack of support. Bralettes are usually unwired and unstructured, which means they are not concerned about carrying your breasts' weight. As a result, they only offer little to no support for a full bust. Nonetheless, bralettes are not generally considered for large breasts in terms of support.
Who Should Wear a Bralette?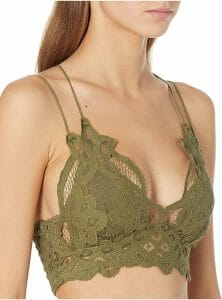 Bralettes provide an excellent fit for women with smaller boobs, as they need less support and pillar. Those looking for an undergarment that can be worn all day and every day might find bralettes a God-sent gift from heaven.
Suppose you opt for a more natural-looking but fashionable look. In that case, bralettes do a great job showcasing your breasts' size and shape. Finally, minimalists would find bralettes a much better option than bras.
When Should You Wear a Bralette?
Currently, women wear bralettes almost every day, thanks to their cozy features. As such, you can wear a bralette anytime and anywhere, but consider how appropriate it is for the occasion. 
Wearing a bralette as an outerwear top is completely your call. You can use it as everyday wear for the high level of comfort it gives to your chest. Thus, you can wear them while sleeping because bralettes provide the right temperature to your breasts.
If you are making a good impression on a date, wearing a bralette is a no-brainer. The confidence and esteem you need show instantly. 
Another good thing about bralette manufacturers is that they are now catering to athleisure and sports. So wearing a bralette while working out, jogging, or running is still appropriate. 
What Is a Bra?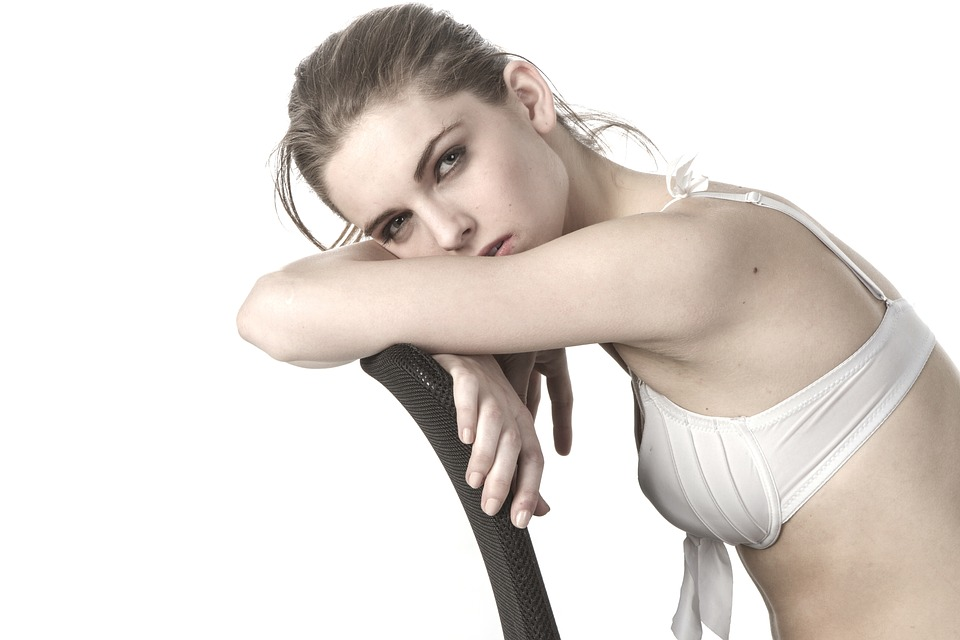 Unlike bralettes, bras are structured undergarments to provide breasts with support and cover. When worn under top clothing, they look invisible that suit women's outfits. They could come wired or unwired, padded or unpadded, but still gives the support your breasts need to not look saggy.
They also come in various shapes, styles, and sizes, but not as many bralettes could offer. When it comes to health, bras preserve your breasts' subtle connection of the ligaments lifting the breasts upward. 
Since they offer much support, bras generally help improve your posture, reduce spine problems, and eliminate back pain. Women have to find the right size and cup for their breasts to avoid discomfort and health issues.
What is the Purpose of a Bra?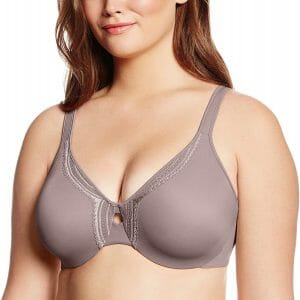 Bras are a figure-hugging undergarment intended to cover, support, and elevate a woman's breast.
Moreover, a bra features several elements that a bralette cannot cater to. In deconstructing a bra, the four involved are the underband, underwires, cups, and straps. These parts play different roles in supporting your breasts' size.
A bra's underbrand hugs your bust line, which should run smoothly and never arch upwards. Meanwhile, the underwires provide support and rigidity to the breasts (some bras don't have wires, which is still good). 
The cups are the most crucial part when buying a bra, as they're the ones covering your breasts. They could come padded or non-padded. Finally, bras have adjustable and elastic straps that run over your shoulders, from front to back.
Benefits of Wearing a Bra
Provides complete coverage on your breasts. Unlike bralettes, bras generally come with excellent paddings that give your chest an almost perfect shape. Another perk of padding in a bra adds more volume to your chest while maintaining nipples invisible from clothes.
More structured, more support. Bras and bralettes cater differently to support breasts. Furthermore, bras dominate this field because they come in varying degrees of support, especially for heavy or large breasts. In essence, underwired bras provide a "lift" feature so breasts would not look saggy.
Caters to different breast sizes. Again, thanks to their molded cups and padding that make it easier for you to support your breasts under clothes. Compared to bralettes, bras come in different pads, cups, and bust lines where you can easily find the right fit for your chest. Got a small rib cage, but with a large cup size? Again, a bra would be the ideal choice since bralettes don't have one.
Drawbacks of Wearing a Bra
Discomfort issues. Bras have underwires that you will feel dominantly when wearing them. Thus, prolonged use of wired bras might actually cause pain under the breasts. An underwire that presses too much on the breast implies that you've got the wrong bra size. Consider replacing the bra with the right one.
Limited designs. Although bras come in different shapes that cater to different breast sizes, the designs and styles are limited. Bras don't have such interesting designs as bralettes, as the former's sole purpose is to support your breasts.
Causes breast and chest pains. As mentioned earlier, finding the right bust and cup size is essential when buying a bra. Wearing the wrong bra size can cause your chest, breasts, and back pains. Prolonged use of bras (while still suffering from the mentioned pains) can also result in shoulder aches.
Who Should Wear a Bra?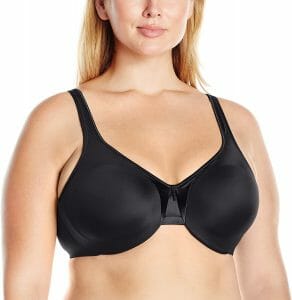 Bras can be worn pretty much by every woman, especially those who have large boobs, for more support and pillar. Moreover, women who want to relieve the pain of carrying the weight of their busts should definitely find the right bra fit for their chest size and shape.
If you feel like your boobs get saggy in time, a bra can perfectly lift and shape the breasts. 
When Should You Wear a Bra?
Like bralettes, wearing a bra is entirely your point of preference. In fact, there are no right or wrong occasions as to when to put them under your clothes. But in formal and professional events, it is best to wear a bra for a more sleek and tailored appearance.
Although bralettes are more comfortable to use all day long, bras are more preferred when doing heavy activities. Women who have a busy day might actually need a bra that adds a lift and full coverage to their breasts. This way, they'll feel more supported in many ways.
Is It Better to Wear a Bra or Bralette?
Wearing either of the two depends on your choice. Still, you need to consider that bralettes provide coziness and comfort while bras offer lift and support to your breast.
Furthermore, it is unquestionable that fuller busted ladies need bras for more support than a bralette. Bralettes are not concerned with breast support, as they only offer a comfortable cushion for the chest.
Is Prolonged Use of Bralettes Bad? How About Bras?
As noted above, bralettes offer a comfortable cushion for the breasts. In addition, women particularly love how bralettes can be worn every single day, let alone for all-day use. Subsequently, there is not much evidence that wearing a bralette all the time can cause the breasts to sag.
Likewise, wearing a bra all the time doesn't have any adverse effects on your health and body. However, it is worth mentioning that finding the right bra fit makes a significant difference to your body's posture. Still, there is no medical proof that bras can prevent breasts from sagging since it is a body's natural process as you age.
As long as you are wearing the proper fit of bralette or bra, you don't have to worry about health concerns that others fret all about.
Can a Bralette Replace a Bra?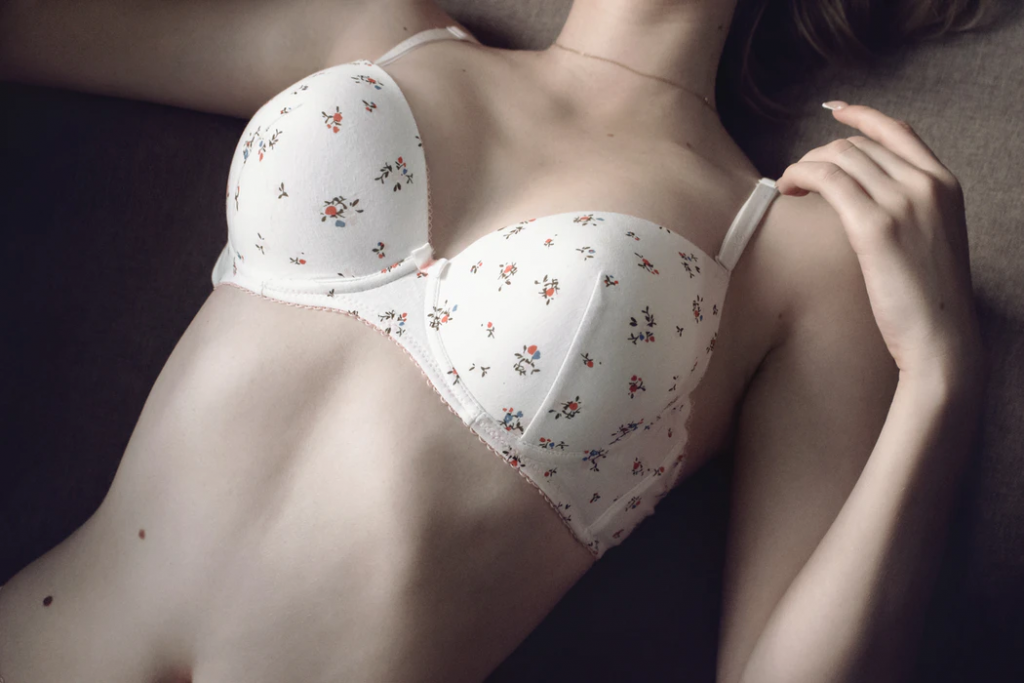 Bralettes provide great comfort for women; however, they are not meant to replace bras at all. 
The reasoning is that bralettes don't offer the features that bras have, like the support and convenience during a busy day. For instance, bras have thicker and adjustable straps that let you modify how high or low the cups would lie on your breasts.
Moreover, bralettes prove their versatility if you are into the fashionable side of outerwear clothing.