33 Types of Bralettes We Bet YOU Don't Know (with Names and Images)
Has anyone told you that bralettes aren't supposed to be worn as loungewear alone? In fact, bralettes come in different colors, styles, and designs that make them more acceptable to wear in public.
Bralettes are becoming a thing now, and maybe, you need to jump into this trend right away. With oh-so-many styles to choose from, you don't have to worry about not finding the right design that fits your preference.
Let's dive into the world of bralettes by understanding what each style has to offer!
Bralettes Types and Designs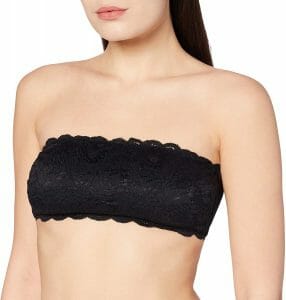 Strapless bralettes are considered "boob tubes," usually made from an elastic and flexible fabric covering the entire breast. You can wear a strapless bralette with any top that features an unusual cut or if you don't want to show your bralette's straps. They can be perfectly paired with tops with a wide-neck or off-the-shoulder style and high-waist jeans.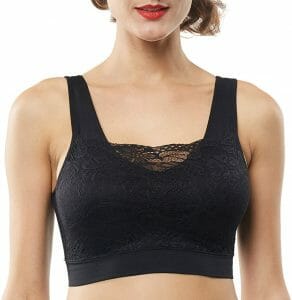 Overlay bralettes best fit those with larger breasts. This bralette features a plunge-bra design with a transparent mesh covering joining the breast cups together. Further, this style provides more support across the bust. If you're body-conscious but want to show a little portion of your breasts, an overlay bralette will work.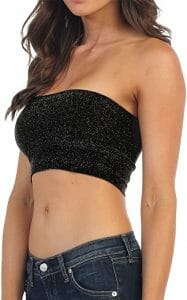 Bandeau bralette can easily be confused with the strapless style. Although both designs are worn without a strap, bandeau bralettes feature a thicker band on the tube's top and bottom parts for better support and hold. They usually have spongy cups, so you won't have to worry about nipples showing through them. They're versatile enough to be worn under different tops or body-hugging outfits.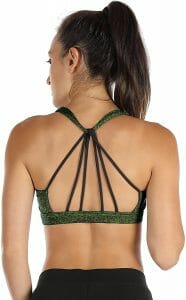 The name says it all. Strappy bralettes provide more decorative straps found on the front, back, or side of the bralette. Aside from aesthetics, the straps offer more support for breasts. They're comfortable enough to be worn on different outfits but are perfect when paired with yoga pants or gym outfits.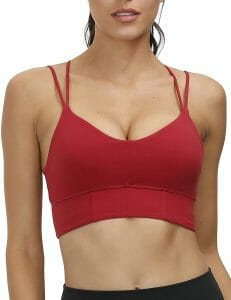 Double-strap bralettes aren't your ordinary lingeries. They feature two straps anchored in the front part and separated as they run on the back, creating a unique back design. Unlike normal bralettes, double-strap ones give a stronger hold on the bust area. You can wear this bralette style with a co-ord set, making your OOTD so dang effortless!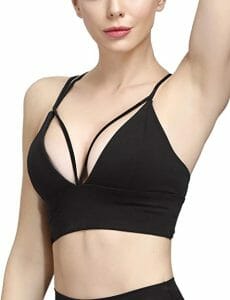 Cage bralettes give your chest a "caged" vibe with the extra straps anchored on the bralette. Depending on the style and color, cage bralettes can be on the Goth side when matched with outfits that deliver the same theme. Wearing a caged bralette under a boiler suit would be a no-brainer.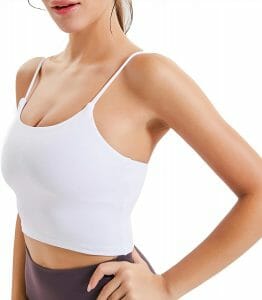 Camisole or "cami" bralettes encompass a more extended (sometimes full) length than the usual bralettes. They're among the most popular styles that give off a luxurious feel with their seamless design. Since they provide maximum comfort, women mainly use cami bralettes when working out or exercising. This looks good when worn with a midi skirt topped with an oversized blazer!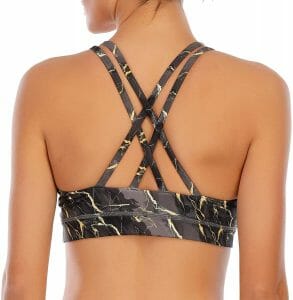 As the name denotes, cross-back bralettes feature straps that intersect, creating a cross design at the back. Aside from wearing it when going to the gym, a cross-back bralette goes well with low-back tank tops or shirts.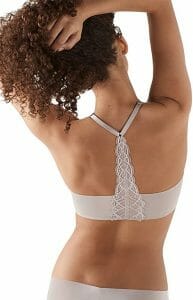 T-back bralettes come in various sizes and colors. But one thing's for sure: T-back bralettes have only a single band running at the back, meeting the horizontal body band. This style also gives good chest coverage, which means they can be worn as it is with any knee-length skirt or jeans. Consider a denim jacket if you want to elevate your OOTD.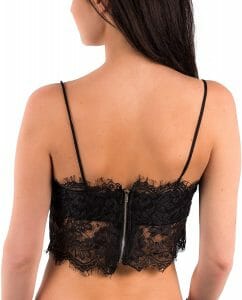 Zipped-back bralettes would be a God-sent gift for those having difficulties wearing normal bralettes. Unlike the worn-over-the-head type, zipped-back bralettes are much easier to wear since it would only take seconds to connect the bralette.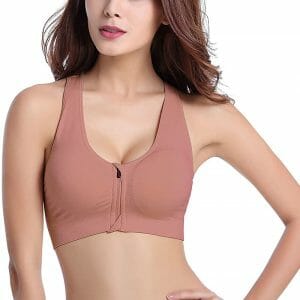 Aside from zip closure design, some athleisure companies also produce zipped-up bralettes. They are considered a "more" supportive type of sports bra since it anchors and holds the breasts firmly, especially when running or jogging. They can be best worn with yoga pants or trendy shorts and a loose-fitting or cropped tank top. Either way, the choice is yours.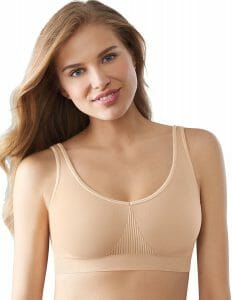 Bandage bralettes give an adequate amount of support to your breasts with their added ribbed paneling and wide straps. Unlike other designs, a bandage bralette doesn't have a spongy cup, which means they don't provide any shape to your chest. Nonetheless, they go perfectly with sheer or see-through tops and wide-leg pants.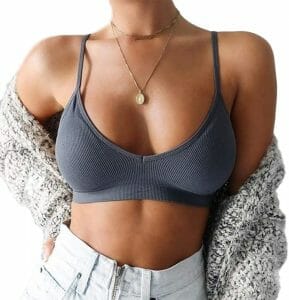 Knitted bralettes have been a trend ever since, thanks to celebrities that made it even more popular. From joggers to hoodies, these knitted bralettes will surely be your go-to loungewear when you just want to stay at your home all day long. Besides, they're super comfy enough that you won't even think you're wearing one.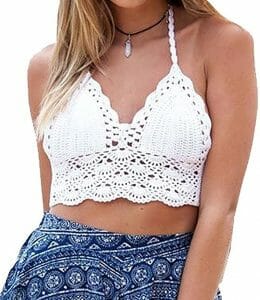 Crochet bralettes are far different from knitted ones (as some tend to confuse the two). This bralette design particularly emphasizes attractive embroidery patterns. Since they usually come unpadded, those with small breasts will find this perfectly stylish. This could even be your next beachwear paired with denim shorts or a flared skirt.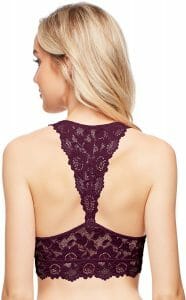 Bralettes manufacturers seem not to run out of ideas and designs with their lingeries. Racer-back bralettes are the ones that go well with any sheer tops or loose-fitting shirts. They're always up to par when used for workouts or other activities since they make your casual look always on point.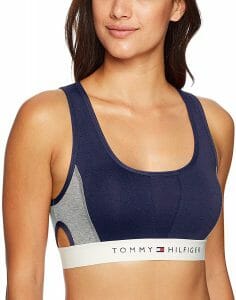 Perhaps you've known about sports bras so far, but did you know that they also come in bralettes? Sporty bralettes are made with quality elastic fabric that makes a great pair with your workout wardrobes. Besides, they offer sufficient coverage on the chest, giving your chest the support and hold it needs when you're working out. Sports bralettes often have the same style, but some come with extra straps and different colors.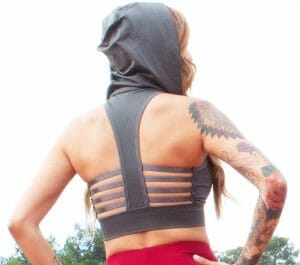 What are the odds you'd find a hood anchored in a bralette, right? The hooded bralette has a drawstring hood at the back you can use to keep your head area warm. This can be your next favorite workout outfit, especially when out in the gym. This can be more fashionable when paired with high-waist leggings or jogger pants.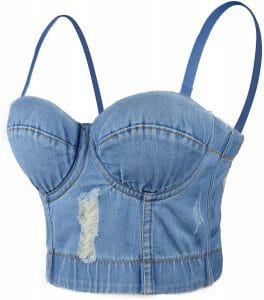 Who said denim is for jackets and jeans alone? Denim bralettes are a thing now, and it's best to have one if you want to jump into the trend. They are usually worn with denim pants for a casual look or with ragged shorts for beachwear.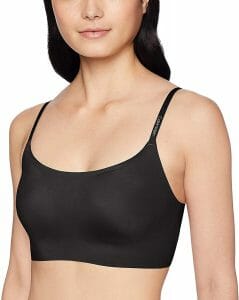 Seamless bralettes are worn perfectly with an oversized shirt or cardigan. They give a simple look with a low-cut design that provides enough coverage to the bust area. Seamless bralettes usually have a horizontal bottom that is thick enough to hold and support the breasts. Nonetheless, they can be worn alone or be styled with accents for a more casual but sleek look.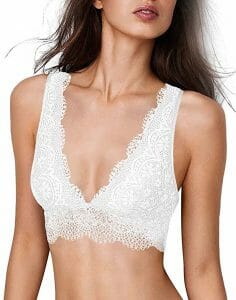 Turn up the heat with a plunge bralette that features a plunging neckline. You'll instantly impress your significant other since this style adds a more delicate but sensuous touch to your lingerie. As such, it highlights your bust's shape, which can make a difference as well. Some plunge bralettes come in various styles and designs; some are knitted or laced.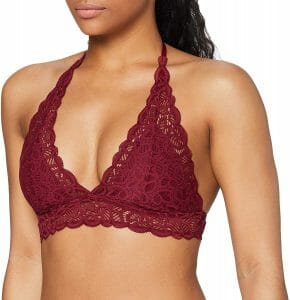 Halter bralettes are ideal during hot summer days. The style features one strap that runs from the cup sections towards your neck. Also, halter bralettes show off your shoulders and back fully. Having this said, you can marry your halter bralette with any fashion wear that has deep-back tops. Consider wearing a halter bralette with your favorite off-shoulder dress to make your back more bare and open.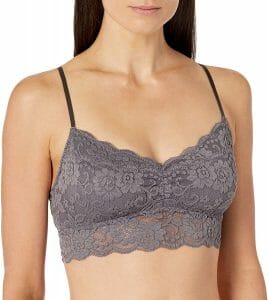 No bralette can stimulate a laid-back romance than a lace-padded bralette. The delicateness and sensual touch of this bralette is enough to make you more confident with your body. If you opt to wear a lacy-padded for the running-an-errand look, pairing it with a comfortable jogger will do.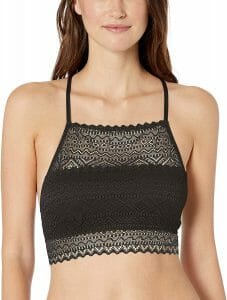 High-neck bralettes would definitely rock your OOTD (when worn casually) in an instant. This style has been around for years and comes either padded or unpadded. You'll love how high-neck bralettes look good when matched with deep neck tops or tees. Nevertheless, this cutout style is here to be added to your sleek appearance!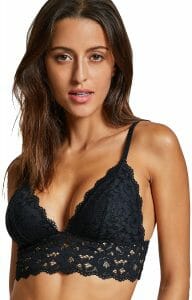 Longline lace bralettes could come either padded or unpadded. Either of the two longline lace bralettes gives a more sensual look. This means that you can't wear them alone without any tops. But hey, you may consider these longline lace bralettes for a night with your significant other! Wear them pretty in black (or any different color) paired with silk shorts or pants.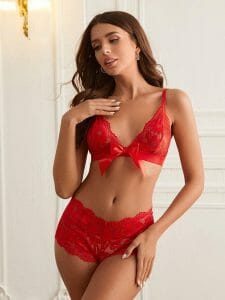 Tie-front bralettes are generally ultra-soft and are made with stretchy lace materials. The sheer floral lace with a ribbon-type tie-front design would be your next favorite nightwear for a fun night. Further, they also come with adjustable straps that let you adjust the bralette according to your fit preference.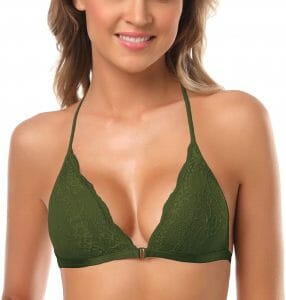 Bet you have a moment when worn-over-the-head or hooked-back bralettes are challenging to put on. Fortunately, bralette manufacturers heard you. The hook-up bralette makes it easier for you to wear one, unlike tube-like bralettes.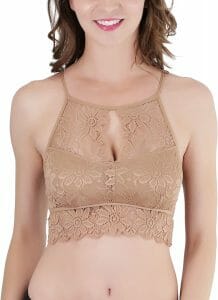 Keyhole bralettes feel like a hug to your chest, usually covering your chest with lace. But with a keyhole design elevates the look since it adds to the overall appearance. They feature a high-neck bralette style with a "peek-a-boo" twist. You can wear it as a summer top for a more daring look.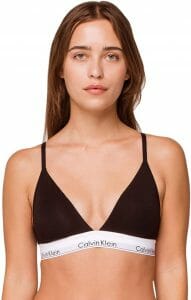 You can actually distinguish triangle-cup bralettes by merely looking at the cup's shape. Unlike other bralettes (like plunge style), triangle-cup bralettes provide less coverage. Yet, they're an excellent alternative for bras because they have a more casual look. Women with small breasts can definitely see this style as a great fit for their bodies.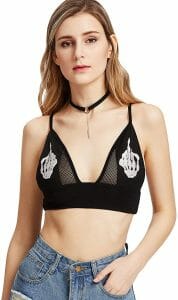 If you're a little brave and bold to show some chest skin, a fishnet bralette is an answer. This design comes in a different offbeat style that's perfect when worn under a denim jacket, a cropped top, or a loose-fitting shirt. After all, fishnet bralettes have a see-through design, which makes them perfect and comfortable nightwear.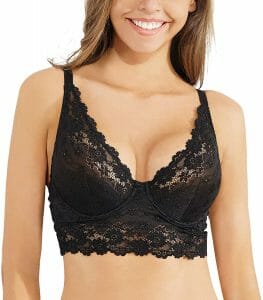 Bralettes come either wired or unwired. But for those who need much support and comfort for the chest area, an underwired bralette makes a great difference. As such, underwire bralettes can support full bust effortlessly. You can wear this together with a statement jacket, a skirt, and heels.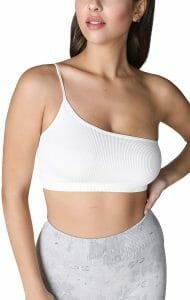 Obviously, a one-shoulder bralette features a tube-like bralette but with a strap. They'll look more formal than tubes when worn casually. One-shoulder bralettes create a chic silhouette that is best matched with a bodycon skirt.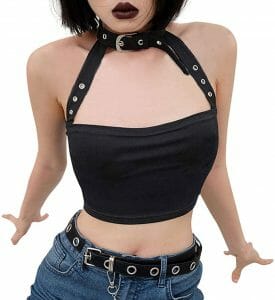 Going into a night party or club with a plain bralette wouldn't get you anywhere. This choker neck bralette features a Goth-like style with thick, buckled neck-straps. It provides full coverage on the chest but sleek enough to give a rock or pungent vibe. You can wear this conveniently at any outdoor event, such as concert festivals or rave night parties.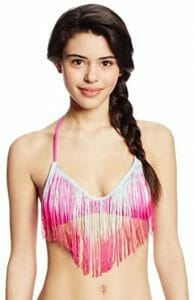 Finally, shake those little edge hems while wearing a fringe bralette. This bralette style is perfect for those who have smaller bust areas since it doesn't provide full support for the breasts. Yet, they can be impressively worn as beachwear topped with knitted crop tops and ragged shorts.